St Mary's Church, Battersea and its Monuments
St Mary's Church Battersea is made of yellowish London brick, with edgings of stone, and has a short square tower with a clock and steeple above the four-columned Ionic porch. It is the view from the front of this porch with the tower which give the Church its characteristic rocket-like appearance; the closeness of the surrounding trees and buildings means that the views from further away to the side are principally of the tower. It dates from 1775-77, the work of Richard Dixon, to the plans of the architect Joseph Dixon, after the old and decaying church on the site was declared irreparable by Dixon himself.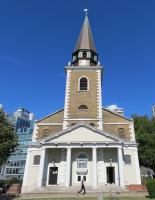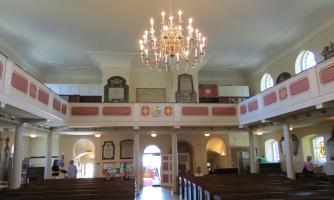 St Mary Battersea, by Richard and Joseph Dixon, 1770s.
Inside, the Church is of rectangular form with a projecting chancel, and there are galleries on the other three sides. The interior was fiddled with by Blomfield in the 1870s, but reverently so. All is white and pale and bright. The monuments which we have come to see are scattered around the walls on the ground floor and in the galleries, where the more precious ones are. They number a little over 40, including eight or nine (one is a brass) preserved from the previous church on the site, all of significance. These early monuments include four fine cartouches, an obelisk monument, a pair of portrait busts by the eminent sculptor Nicholas Stone, and a pair of portraits in relief which are by the no less eminent and far better remembered Roubiliac. The later monuments include two with figure sculpture and an early 20th Century portrait, but are mostly of the common white-on-black panels, not overly decorated, forming the majority of monuments in so many British churches. However they are interesting in showing some of the usual types of such panels – tomb-chest ends, caskets, with draped pots and pediments and little feet – and in that many of them have been signed by the masons and sculptors who made them. Alongside various local and obscure artists, we have one by Richard Westmacott Junior, one by Henry Weekes, two by James Bubb, one by Samuel Joseph, and two by Charles Regnart, all significant sculptors in their own right, and a good monument from Mrs Coade's artificial stone manufactury.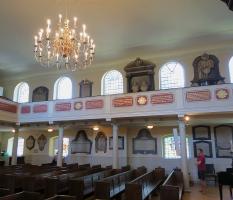 View of some of the monuments.
Monuments
1630-1751 (monuments taken from previous Church):
Baron Oliver Nicholas St John of Lydeard (Viscount Grandison), d.1630, and his wife Joan (Roydon), Lord High Treasurer and Lord Deputy of Ireland. With two busts in white marble facing forward in front of the Latin inscription. He looks typically Elizabethan, with pointed beard and moustache, broad collar, and wearing a cloak over plate armour. She, in one of the typically unflattering depictions of females on tombs of the time, looking older than her husband, and wears a headpiece which serves to give her a bald look, and a full ruff which frames her broad chin. Below, she wears a similar overmantle to her husband, with some furry thing underneath. The two busts stand on dark marble bases, and are set under a Classical canopy supported by black-shafted pillars to the sides. The curved pediment has in front of it a large painted shield of arms. Fairly typical of the period, and the carving to a much higher standard and subtlety than that usually found. The monument is in fact documented as being by the celebrated sculptor Nicholas Stone the Elder (1586/7-1647).

Baron St John of Lydeard, Viscount Grandison, d.1630, by Nicholas Stone the Elder.

Edward Wynter, d.1685/6. Monument with a bust, sculptural frieze and other adornment. With a Latin inscription, and then one in English script. A typically extravagant eulogy, starting 'Born to be Great in Fortune as in mind. // Too Great to be within an Isle Confind;...' and noting that 'Nor less in Martiall Honour was his name// Witness his actions of Immortall Fame: // Alone, unarm'd a Tigre He opprest; // And crushed to death ye Monster of a Beast.// Thrice twenty mounted Moors he overthrew // Singly on foot, some wounded, some he slew...' The bust is at the top of the monument, and shows a noble portrait styled with panache: he wears a full periwig of boisterous curls, a long neckerchief, and a cloak knotted in front. His head is angled a little back and a little to one side in self admiration, perhaps, emphasising his moustache and little beard or barbichon above a full chin. One cannot but help admiring the sheer chutzpah of the portrait. The head is on a base which forms the keystone to a curved arch above the inscribed panel, with in addition a cherub head, and copious though slender drapes hanging from that, to the sides, where they are knotted, and falling to frame the inscription. There is an outer, receding border. Beneath, a shelf, then an apron panel with carved upon it cavorting cherubs in two groups: one a single figure wrestling with a faun or satyr, the other a group of figures around a donkey, one of whom is mounted on the beast, and another appearing to beat it with a small sword. Behind in low relief are a house, a tree and a ship coming in to shore. To each side of this frieze is a supporting cherub head, with painted shield of arms and a bracket of Acanthus leaves. And beneath, more of the Wynter family are commemorated: Mrs Catherine Wynter, d.1771, wife of the grandson of Edward Wynter, and her son William Woodstock Wynter, d.1747, and a note that a great grandson, Edward Hampson Wynter, d.1797, had re-erected and repaired the monument in 1781. Three cheers to them all for this splendid monument.
Sir John Fleet, Knight, d.1712, with a eulogy, the most significant bits of which are capitalised, and which notes that he was 'unanimous elected Lord Mayor in 1695,... and constantly instructed with the highest stations in Parliament, in all of which offices and honours he was universally applauded...'. The monument is a large cartouche, the earliest in a series of four in the Church. Unlike the typical Classical monuments which dominated in the 18th Century, which are essentially little works of architecture, the cartouche is a purely sculptural alternative, based on an oval shape with sculptural borders (see the Introduction to Church Monuments page). This piece dwarfs the surrounding early 19th Century pieces, and is flamboyant in the extreme. The central field is wavy-edged but approximately round, and is surrounded by a variety of sculptural features: grand curtains to the sides, with gilt tassels, scrolls and more drapes to sides and top, an d below, a plethora of fruits and flowers and leaves and grains and more scrolling, really a tour de force of decoration. At the base crossed sword and sceptre, with painted shields to the sides, and below, a pair of winged cherub heads. At the top, another painted shield of arms, with more cherub heads, and the summit to the knight's helm being a water-lion (picture below right). A most excellent monument, good enough so we can forgive the bombastic text.

Sir John Fleet, d.1712, and details of text, carved flowers, and water-lion.

James Bull, d.1713, Merchant, and his son John Bull, d.1729. Another cartouche of exceptional quality. The central panel is carapace-shaped, narrower below than above, and is surrounded with an exemplary selection of scrolling, drapery with tassels, and foliage. Aboe is a painted sheld of arms, surrounded with more drapery and with a winged cherub head on each side; the knight's helm etc above occupy as much space again. Towards the bottom of the central plaque are a further pair of winged cherub heads, and then below that, a broad panel with complex vegetative decoration, including ears of corn near the top, and a variety of other flowers and bunches of grapes below. The supporting structure underneath is carved with two further winged cherub heads, making six in all (if you like cherub sculpture, see this page), and also includes two more painted shields of arms. Another extremely good piece.

Cartouche monuments to James and Frances Bull, early 18th Century.

Martha Hale, d.1736, and husband Charles Hale, d.1737. A smaller cartouche, with scrolls to top, sides and base around the central oval inscribed area, and a painted shield of arms above.
Frances Bull, d.1738, and her son John Bull, d.1738 (see earlier Bull monument above). Another cartouche monument, violin-shaped, surrounded by broad scrolling. With a painted shied of arms at the top, and at the bottom, a rather good sculptural grouping of flowers, almost a festoon, with two heads of corn in the middle.

Obelisk monument to the Hon. Holles St John, d.1738.

The Hon. Holles St John, d.1738, put up by his sister, the Hon. Henrietta Knight. He was the youngest son of the Rt. Hon. Henry, Lord Viscount St.John and his second wife, Lady Angelica Magdalena Pelissary. A fine obelisk monument. The obelisk, tall and black, is behind a casket, above which is a shield of arms within a cartouche, with hanging chains of flowers. To the sides of the base of the obelisk are flaming pots, and all this stands on a shelf. Under this, the rather short lower part of the monument consists of a curvy base with a border in different coloured marble, two ornately carved scrolly brackets, and between them, in what is known as the apron position, the inscription. The use of different coloured marbles is characteristic of the time, and it is always good to see a noble obelisk monument in a church collection.
Henry St John, d.1751, Viscount Bolingbroke, Secretary of War and Secretary of State under Queen Anne, 'one of the brilliant lights of the Augustan age of literature in England', noting that 'his attachment to queen Anne exposed him to a long and severe persecution; he bore it with firmness of mind. He passed the latter part of his time at home, the enemy of no national party, the friend of no faction, distinguished under the cloud of a proscription which had not been entirely taken off, by zeal to maintain the liberty, and to restore the antient prosperity of GREAT BRITAIN.' The other half of the shield-shaped, black polished panel commemorates his wife, Mary Clara des Champs de Marcilly, Marchioness of Villette and Viscountess Bolingroke, d.1750 – both epitaphs were in fact written by Bolingbroke himself. To either side of the inscribed shield are cameo portraits of the deceased, carved in high relief, and facing towards each other. He is shown as a sensitive, intelligent looking, middle aged man with curled hair and a high forehead, dressed in some robe of office with tassels. She is shown younger, with smooth complexion, long neck, and curly hair with two plats. She wears a light drape which emphasises her youthful and curvaceous figure. The upper part of the monument, above a shelf, consists of sort of arch on which is the painted shield of arms within a small cartouche. From the arch hangs a curtain, which is drawn to one side to expose a double-urn for the deceased. The sculptor, who signs at the base, is the eminent Louis-Francois Roubiliac.
Monuments from 1792 onwards (new Church)
John Camden, d.1780, and his eldest daughter Elizabeth Neild, d.1791. With a poetic eulogy. Signed by Coade of Lambeth, 1792. The monument consists of a girl standing next to a Classical pot or funereal urn on a square pillar. She wears Classical drapes, a cowl over her head, cloak behind, and lighter drapes underneath, gathered high under the breasts in Greek fashion, and with sleeves down to the elbow to leave the lower arms bare. She stands with body facing forward, slightly leaning, and her head twisted towards the pot, in contemplation or mourning, with one hand resting on either side of the base, the one almost cradling the pot, an understated and calm pose. Her face is ancient Greek too, with the nose descending directly from the forehead, but in extremely un-Classical fashion there is a tear in the corner of each eye. The piece is a good example of the better work produced by the prolific firm of Mrs Coade, which was the most successful of the statuaries working in artificial stone of its time.
Robert Banks Hodgkinson, d.1792, and his wife Bridget (Williams), also d.1792. He was a son of Joseph Banks. Rather cold monument, with upper shelf, spare wide-bodied pot under a semicircle in place of a pediment, with stylised flowers in circles to the sides in place of acroteria (the 'ears' on the side of a normal pediment), and carved coat of arms at the top. At the base, a broad enclosed panel, blank, and two scrolly supports.
Mary Anne Chalie, d.1796, her sister Catherine Sarah Hoper, d.1828, and Elizabeth Hoper, d.1852, one of a series of monuments to the Chalie family, of identical design, and one of no less than five in the Church signed by the monumental masons Bedford of 256 Oxford St.
Samuel Fitch, d.1799, and wife Elizabeth Fitch, d.1800. Breadboard-shaped pale panel affixed within a dark Classical surround, with borders and a narrow pediment above, little feet below.
Thomas Fletcher, d.1800. Classical panel, the text at the top with room for relatives to be commemorated, but never used (see picture below left). There is a narrow border, and then outer side-pieces in black marble, with the remains of hanging flowers, blue-bell style. At the top, a thick shelf, which forms the base of a pediment, broken at the top and including a pot with a small gil flame carved in relief; there is no backing. At the base, another shelf, and a short apron, again in black marble, with a shield of arms, now blank, and two moulded supports.

1800s Classical panels: Thomas Fletcher and Russell Manners.

Russell Manners, d.1800, 'a General in the Army and Colonel of His Majesty's twenty sixth Regiment of Light Dragoons', and added later, his daughter Mrs Mary Sneyd, d.1839, and his son, also Russell Manners, d.1840. Hefty Classical monument with border, upper pediment with carved ribbons and a central wreath around a painted shield of arms, and Roman repeating pattern at the bottom, sitting on a deep base with curved fluting (perhaps a modern replacement for a lost frieze), and a blank central roundel (see picture above right). Signed by Richard Westmacott Junior, London. A bit of a puzzle, as the date would mean it was made when his son died in 1840, but the writing seems to have been added subsequent to the initial inscription - which would put it as a work by Sir Richard Westmacott RA rather than his son, R.W. Junior.
Thomas Fletcher, d.1800, with black frame, then outer border to sides with hanging flowers, only surviving on one side. Above, a shape somewhat like a pediment, broken at the top and containing a flaming pot. Below, a shelf, and a low apron with a now blank shield of arms.
Thomas Astle, d.1803, with upper and lower shelf, and a fine pot above, encircled with a wreath of lowers. The black backing rises in a curious lobed shape behind. The monument is by Charles Regnart, of Cleveland Street, Fitzroy Square, London.
William Francis, d.1805, with upper and lower shelf, small flaming pot above with a black, arched backing, and a slight, convex-curved apron below (see picture below left).
Nathaniel Middleton, d.1807, daughters Sophia, 1790, and Augusta, d.1802, and his wife Frances Middleton, d.1823, with further members of the family noted on the black backing panel underneath. Rectangular panel with upper shelf, fluted sidepieces with termini, and on top, a simple funeral urn with a flame. On a curvy black backing, with a painted shield of arms at the base.
William Young, d.1807, and wife Frances Young, d.1810. As a casket end, thus with outward slanting sides, a pyramidal lid above a shelf or lip, a lower shelf, and two feet acting as supports, each carved with a leaf. The sides are fluted. A satisfying geometrical composition. By Randall of the New Road, London.
Mary Sophia Vardon, d.1808, and husband Thomas Vardon, d.1809. With fluted side borders, upper shelf, and a relief flaming urn on top, coolly Classical. There is a small painted shield of arms below, and the black shaped border is wavily curved at the top.
Thomas John Crowder, d.1814, and William Henry Crowder, d.1816, brothers. Panel cut with small feet, and with an upper shelf carved with reverse-S shapes in a repeating pattern, and with a small, broad urn on top surrounded by a drape. On a shaped black backing. It is signed by Bacon, 1816, who would doubtless be John Bacon the Younger, known for much more elaborate things.
John Chalie, d.1800, Matthew Chalie, d.1816, and Marianne Chalie, d.1793, an infant, and noting their relation to Robert Vaughan Richards, noted below with a similarly designed monument. Tomb chest end, with upper lid, pediment shaped, and small feet, on a black shaped backing. Signed by Bedford of 256 Oxford Street, whose work we have already met.

Pots, draped and undraped: early 19th Century panels to Francis, Vassall, Hollingsworth.

William Vassall, d.1800, his wife Margaret Vassall, d.1791, and relatives through to Margaret Vassall, d.1819, whose will directed that the monument be put up, which dates it. Above a panel cut with little feet is a shelf on which rests a draped pot under a weird, wavy roof, which closely hugs the top of the drapery, falls to the sides, then rises again over two anemone-carved acroteria ('ears'). At the base, a small shield of arms carved in high relief, and the backing is a variegated marble similar to Serpentinite. The work was made by Samuel Joseph, a significant sculptor. Picture above, centre: you will need to click to enlarge to appreciate the detail.
Margaret Susanna Pounsett, d.1820, and her daughter, Ellen Anne Pounsett, d.1834. Rather a nice monument, with the central panel surrounded by vegetation and with a casket on top - picture below left. The panel itself is plain, with the thinnest of shelves on top, and supported on two odd brackets, carved as tongue-like leaves with scrolling. Below is a painted shield of arms with a little griffin bust on top. Above the shelf is a base, with a wreath in front behind which are crossed two branches; off to the left goes an Olive branch, thickly covered with drooping leaves, and to the right some sort of conifer I think, pitted with numerous holes; together, these two extend the width of the panel by another half. Above is the casket, slant-sided, supported on quarter-round feet like acroteria, and with a lid of scrolling and acanthus leaves, simple and elegant. There is a short Biblical quote on the front. The black backing is shaped with curves and reverse curves, unusual but again with elegance, and altogether this feels like the work of an accomplished artist. The sculptor fortunately signs the work: he is the notable sculptor J. G. Bubb, who we shall meet again in the Rothwell monument below. Bubb specialised in architectural sculpture, his most recognisable work being the statues for the Nash Terraces alongside Regent's Park, though few would know they were by him.
Richard Rothwell, d.1821, and his wife Eleanor, d.1834. A monument in two halves. Below is the short inscription to him (hers is a codicil on the base) in a panel flanked by a nicely carved pair of angels, and above a larger panel with a long eulogy and a curved pediment above, with acroteria and enclosing a wreath with ribbons. There is a narrow black backing all the way round. The angels are good things, and below are pictures of the monument and one of these fair creatures; a view of the other is at the top of this page. They kneel on cushions, facing inwards, thus towards each other, and are dressed similarly in light shifts which reveal the curves underneath. While clearly a pair, they are different in the detail and in the way they are posed. She on the left looks somewhat upwards, her head tilted up and her hair piled up to show her youthful, rather plump neck. She holds in her hands an open book, doubtless the Bible. She on the right looks modestly downwards, her hair falling freely over her shoulder, and her arms crossed over her breast, again an attitude emblematic of Religion or Faith. Very sweet. The sculptor was J. G. Bubb, whom we met in the Pounsett monument above, and who signs rather nicely beneath one well-turned foot on the side. The two monuments together show Bubb's figural and floral style, and I do not know of another church with two monuments by him.
William Willis, d.1821(?), wife Ann, d.1817, and other members of the family, with a separate panel to Philip Crowe and his wife Ann, related by marriage to the Willises. The main panel has upper and lower shelf and is cut with a pediment above and an apron below; the smaller panel just below has an upper shelf and is cut with simple feet. On a single black backing, and signed by the Patent Works, Westminster.
William Hollingsworth, d.1825, and his sister Phoebe Franck, d.1824, and his brother John Hollingsworth, d.1776, and the latter's wife, Honoria, d.1775. As a casket tomb end, with outward sloping sides, on which is a lid and then a low plinth bearing a high relief carving of a draped pot (see picture above right). The monument bears further minor embellishments in the form of scrolls to the sides, and jelly-mould feet, and is on a shaped black backing cut to a low obelisk above.
Thomas Ashness, d.1827, his wife Abigail, d.1823, and added later, nephew George Ashness, d.1853, his wife Mary, d.1840, and another nephew, Joseph Whitaker Ashness, d.1845. Panel with shelf above, on which rests a pot, asymmetrically draped, the well-carved drapery spreading out and falling about half way down on each side to form an upper frame to the inscribed panel. There is a black backing panel, cut in a tent shape to accommodate the pot on top, and with a small segment of a circle below to allow for a pair of crossed branches. Two block supports complete the monument, which is signed by Regnart of London - we have already seen his panel to Thomas Astle.

White-on-black panels: Ashness, by Regnart; and Rapp, by J. Loft.

The Right Revd. John Inglis, d.1830, Bishop of Nova Scotia. As a tomb chest end, with upper shelf, with repeating patterns carved in light relief, thick base, and two feet carved as small scrolls, rather elegant. In between is a small shield of arms, painted. At the top on the lid is a carving of a Bishop's mitre, and a ribbon, and two outer scrolls. All on a black shaped backing and signed by the mason, T. Marsh of New Road, London.
John Rapp, d.1834, 'eminent merchant of Switzerland', a native of Basle, Switzerland, whose Swiss relatives erected the monument. With a curved pediment above enclosing a shield of arms and a ribbon, a blocky lower shelf, and feet in the form of compressed half-ovals with low relief stylised flowers carved upon them. On a shaped black backing. Signed by the obscure mason J. Loft, of Ebury Street, Pimlico, London.
James Broadhurst, d.1837, and wife Mary, d.1846, erected by their nephew and nieces. As a tomb chest end, with moulded feet, upper shelf or lip, also moulded, a curved lid, and above, a small carved wreath of leaves. On a curved black backing, and signed by the makers, Garland & Fieldwick of Camberwell; this firm also has a panel in St Mary at Hill in the City of London, to William Old (d.1833).
Matthew Chalie, d.1838. Simple tomb chest end, thus with upper lid, pediment shaped, and small feet, all on a black shaped backing. Signed by Bedford of Oxford Street.
Harriet Camden, d.1795, daughter of John Mangles, d.1837, by the mason Bedford, dated 1840. Simple tomb chest end with upper shelf and little feet, both moulded, and a shaped backing of streaky black and grey marble.
James Franck, d.1843, Inspector General of Hospitals. White panel with slanting sides with upper and lower shelf, above which is a pot in high relief, asymmetrically draped at the base, a hill-shaped apron. On a black backing which is vaguely shield-shaped, rising in a curve at the top to go behind the pot. There is a small support at the bottom, signed by the company which made the monument, the Patent Works, Westminster.
Charles Wix, d.1845, his sons Henry Wix, d.1845 and William Wix, d.1822, the latter being but three years old, and their mother Elizabeth Wix, d.1861. A tall blocky panel with upper shelf, tall entablature with a vaguely Egyptian repeating patter carved upon it, another shelf and a pediment shape. Below, a thick base supported by two scrolly feet. On a rectangular black backing, and signed by the monumental mason, Cockerell & Son.
Sir George Wombwell, Baronet, d.1846, daughter Georgiana Eliza, d.1834, and wife Elizabeth, d.1856. Large, tall panel with repeating pattern at the top, and a pediment bearing a high relief coat of arms and ribbon. On a shaped black backing, and signed by the sculptor, Henry Weekes of Pimlico, an important and prolific sculptor of portrait busts, commemorative statues and funerary monuments.
Robert Vaughan Richards, d.1846, and wife Jane, d.1822. As for the Matthew Chalie monument. Signed indistinctly, I think by Bedford of 256 Oxford Street, and if so, the latest in date of the several panels by this firm in the Church.
Thomas Ponton, d.1853(??), a simple tomb chest end, with shelf, lid, solid base and two block feet, and no sculptural decoration. On a black shaped backing, bearing the name of the statuary, Cundy of Pimlico.
Sarah Willis, d.1857, a blocky tomb chest end with upper and lower shelf, lid and block feet, on a shaped black backing. By the Westminster Marble Company.
William Connor, d.1879, glazed tile lozenge with a small tree emblem on a shield.

Victorian Gothic: Thomas Dives, d.1880.

Thomas Dives, d.1880, and wife Ellend, d.1879, erected by their children. The design is of a Victorian Gothic window, with trefoil top, surrounded with carved leaves, and with slender pillars to the side in a dark grey marble, and an outer surround, and supported on two brackets with further leafy carving. The inscribed panel is in white marble, the pillars in dark, and the main body in a red-brown colour, giving a pleasing polychromy to the piece.
Martha Johnson, d.1898, square glazed ceramic tile in brown, red-brown and glossy white, with a green frame made in several pieces. Such ceramic panels are found in various churches from about this time but were never popular.

Early 20th Century bust of William Taylor, d.1907.

William Taylor, d.1907, a local headmaster (presumably from Sir Walter St.John's School), erected by the school governors. A nice bronze portrait bust on a panel, showing the subject in mature age, with Edwardian beard and moustache. Beneath, a lightly sketched coat of arms and concertina of ribbons.
Percy Melville Thornton, d.1918, Battersea MP, plain white panel with border and black backing.
John Erskine Clarke, d.1920, 'builder of many churches, educationist and philanthropist', Vicar of Battersea and with various other titles. With a painted coat of arms above, frame with nipped corners, and outer backing of strikingly banded marble. The text of the inscription is bold and striking too, and this monument has some panache to it.
Edward Vaughan Morgan, d.1922, 'for 50 years associated with the industrial life of Battersea', plain white panel on stone backing.
Brass
Angelica Magdalin St.John, d.1736, 'daughter to Mr Pellisary, Surintendant of all the Ships and Gallies of France and Treasurer General of ye Marine', wife of the Rt. Hon. Henry Lord Viscount St.John. Brass plate with flowing script, and an inscribed coat of arms. Not so usual to have a brass from this time.
There is also a plain modern Brass, to Lt. Col. H.C. Clements, who served in Flanders in WW1.
Also in the Church:
The East window is apparently of 17th Century glass, kept from the old Church, originally given, it is understood, by Sir John St John in the 1630s, and perhaps the work of the glass painter Bernard van Linge. It includes portraits of Henry VII, Elizabeth I, Margaret Beauchamp and the arms of the St John's, Viscount Grandison etc.
Note too the little roundels of stained glass in the sanctuary of a Lamb of God and the Dove; they date from 1796 and were painted by James Pearson.
A square sided font with inlay.
Fine plaster decoration on the ceiling, contemporary with the building of the Church.
A rather high wooden pulpit, reached by a curved staircase.
London Regiment, 23rd Battalion, WW1 monument, brass panel with arched top, in a dark surround, with two regimental arms, and crossed flags, coloured (see picture above right).
Parish War Memorial, WW1, with Classical pediment on top bearing wilting flowers on each side of a crucifix and crown.
A wooden panel to those of Sir Walter St.John's School who died in WW2.
Another WW1 monument, erected by the staff of Morgan Crucible, 1920. Panel on a backing, with a carved wreath and central cross.
A Parish WW1 and WWII monument, originally for the first of these, as a terra cotta arch with a semi-figure of a winged angel above, and relief sculpture of birds etc down the sides (see picture above left).
Modern stained glass, commemorating people associated with St Mary's: Sven Tester, Archivist of St Mary Battersea, kindly adds the following information about the subjects of these modern windows: J.M.W. Turner made a sketch of the Church and lived just across the river. He is said to have painted from the vestry. William Curtis was a very eminent botanist and is buried in the churchyard. The painter-poet William Blake was married in St Mary's. Benedict Arnold is buried under the crypt with his wife and daughter, and is of course famous (notorious) in the USA; he has a modern monument in the crypt. Some of the monuments described above are of other American loyalists, and it is partly because the Arnolds attended the Vassall funeral that he is thought to have chosen St Mary's for burial. He was more or less bankrupt when he died and could not afford a memorial plaque.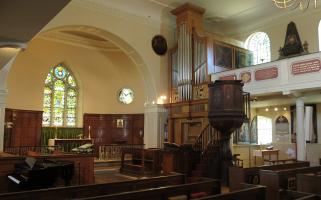 View of St Mary's showing the high pulpit.
Outside:
The Church stands in its own small churchyard, mostly cleared, but with a few decaying tablets against the walls, and a couple of 19th Century tomb chests still in place – one has the markings of long-gone iron railings round it.
With many thanks to the Church authorities for permission to show pictures of the monuments inside; their website is http://www.stmarysbattersea.org.uk/.
Battersea was once part of Surrey, becoming officially part of London in 1899. Other churches on the Surrey borders noted on this website include: St Martin's, Epsom // All Saints Carshalton // St Mary's, Beddington // St Mary the Virgin, Merton // and St Lawrence, Morden
Some other London Churches // Introduction to church monuments
Visits to this page from 20 Jan 2016: 8,138