Morden Church monuments, South London (border of Surrey)
Morden Parish Church, dedicated to St Lawrence, as we see it today is a brick building with a low embattled tower, built in about 1636, thus dating from the reign of Charles I, and with windows of stone, said to be preserved from the previous church on the site, though Pevsner, the architectural historian, doubts this.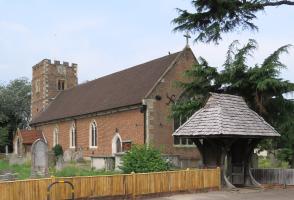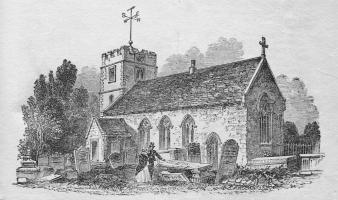 Morden Church of St Lawrence, little changed in the last 170 years.
Inside, the long, low body of the Church, aisleless and with no clear division between nave and chancel (there used to be a step up), has as its most conspicuous feature the main beams of the roof, between which hang hatchments. Along the walls are the monuments we have come to see, a dozen and a half of them, some plain, but including several panels of goodly size and one with a carved portrait bust. Seven of them are to the Garth family, Lords of the Manor of Morden, and we start with them.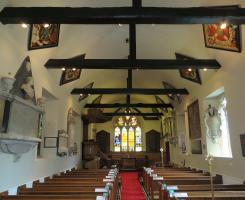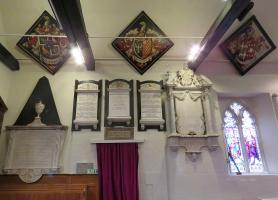 Interior of Morden Church, and hatchments.
Monuments to the Garth family:
Anne (Carlton) Garth, d.1655. Black panel, hard to read, with a brown-veined alabaster surround, which is usual for that period. To the sides, the frame is carved as receding pilasters decorated with simple drapes and hanging fruit. At the top, a slight curly (swan-necked) pediment, or the outer parts of one, for it is broken to allow for a large cartouche of arms, once painted doubtless. At the base, a thin shelf, and a very shallow strip of alabaster underneath with festoons of fruit joining the outer curly brackets to a small central cartouche, also now blank; there are likewise blank shields on the bases of the pilasters.

Early members of the Garth family: Anne Garth, d.1655, and Elizabeth (Garth) Gardiner, d.1719.

Elizabeth (Garth) Gardiner, d.1719, with a much worn inscription, helpfully transcribed onto a note by the monument. William Gardiner was her second husband, her first being Samuel Gawden, and her parents George Garth and Jane (Benet) Garth. She was a benefactor to the parish, leaving money to found and support a school for poor local children. A nice monument combining two different genres: the inscribed area is carved as a hanging drape, a widespread but never common device, and the surround is a conventional Classical one on the grand scale, with fluted Corinthian columns to the sides, a broken pediment above enclosing a large cartouche with a lozenge of arms painted upon it; nicely carved flowers hang from the sides. On the very outer edges of the pediment are the bases of two small pots – only one survives in situ. At the base of the panel is a gadrooned (corrugated) shelf, with the bottom of the drapery just touching it, and raised up a little in the centre over a skull, a memento mori to remind viewers of their own impending demise. Under this are two blocks to the sides supported on moulded brackets, and a central, blank field or apron which has underneath the centre a central corbel carved as a winged cherub head, thus directly below the skull. The marbel chosen is a white one with black streaks, likely a form of Carrara marble, and such black veined marble is often used for Classical monuments of this date.
Richard Garth, d.1787, Lord of the Manor of Morden, wife Mary (Leheup) Garth, d.1780, sister Mary Garth, d.1787, erected by his three daughters, and noting them and their marriages: Clara, who married Owen Meyrick, is commemorated by a panel in the Church noted further down this page, and Elizabeth married William Lowndes, and their son Richard inherited the estate, name and arms of the Garth family. The third daughter of Richard Garth, Mary, married Sir John Frederick, Baronet. Tall panel with curly side pieces, shelf above and below, and on top, a broad pot or funereal urn with ringletted handles, surrounded by garlands of leaves hanging from three pins, the centremost of which has a carefully carved fluttering ribbon. The base of the monument consists of a pendant in high relief, carved with identical leaves, closer bound Acanthus leaves, and a swelling flower at the bottom. On a grey streaky marble backing cut to a rounded arch shape. A picture is a little further down this page. A page of information attached to the monument gives details on the Garth family. The piece is signed by Westmacott, London, who from the date would be be Richard Westmacott the Elder, founder of the dynasty of sculptors and monumental masons – see this page.

Snake biting tail emblem, by William Storey of London.

Clara (Garth) Meyrick, d.1826. White on black tablet, a tomb-chest end, with upper shelf on which rests a broad pot carved in relief, with an asymmetrical drape loosely forming a pediment shape. Underneath, two little feet and a central lozenge of arms. The feet have carved snakes upon them, wound round and biting their tails as a symbol of eternity and rebirth (see this page for more carved snakes and their meaning). A picture is above. On a shaped black backing and signed by Storey, London, which would be William Storey of Mount Street, a monumental mason with tablets dotted around London and the vicinity, including three in St Mary Paddington Green.
The Revd. Richard Garth, d.1862, of Farnham, Surrey, and Lord of the Manor, his wife Mary Garth, d.1849, daughter Mary Jane Garth, d.1855, and son the Revd. Henry Garth, d.1859. The centremost of three similar monuments, each being a tall panel with heavy, moulded upper and lower shelves, an upper portion bearing the painted shield of arms surrounded with crossed boughs and flowers carved in high relief, and supported on a pair of brackets carved with Acanthus leaves. Each panel is on a black shaped backing. The Revd. Richard Garth, being earlier, is a little more ornate, with the upper shelf bearing repeating carved leaf patterns, and having under it a band with low relief carving of flowers, lilies I think. By Purves and Norton, not a familiar firm of stonemasons to me. See picture below right.

Westmacott the Elder's panel to Richard Garth, and Revd. Garth by Purves & Norton.

Rt Hon. Sir Richard Garth, d.1903, Lord of the Manor at Morden, Chief Justice of Bengal, one-time MP for Guildford and son of the Revd. R. Garth of Farnham, Surrey. Also his wife Clara (Lowndes) Garth, d.1903, just before him, and three of their sons, Douglas Garth, d.1900, George Loftus Garth, d.1904, and Henry Charles Garth, d.1908, and a grandson, Humphrey Garth, d.1916, killed in action in World War I. Signed by Forsyth, London NW. The Forsyth family was a dynasty of stone masons, with their most successful member, James Forsyth, being the sculptor of various significant tombs, reredoses and other church furniture through the latter 19th Century – I have seen a modest tablet by him signed J. Forsyth, so this is probably one of the other members of the famly (William Forsyth, his younger brother, might be the man).
Richard George Lowndes Garth, d.1916, George Douglas Garth, d.1922, Sir William Garth, d.1923, Lt. Col Richard Garth, d.1931, and Charles Garth, d.1948. Similar to the two monuments adjacent, noted above, with no visible signature of the stonemason who made it.
We may note that there are several floor slabs to the Garth family, one being to the Richard Garth who died in 1639, Lord of the Manor and who is believed to have paid for the rebuilding of the Church. The oldest floor slab, with a brass inscription, apparently is dated 1609, but I did not see it.
Other monuments:
John Roland, d.1702, wife Elizabeth Roland, undated, son, also John Roland, d.1691, and a second, infant son, Thomas Roland. A final additional bit of text, squeezed in, commemorates Rowland Hemsley, but while noting that he died aged 33 on 30 July, misses the year. The monument is in the form of a cartouche, a beautiful and elegant sculptural alternative to a conventional Classical panel. It is shaped like the body of a violin, carved with rolled up scrolls at the sides, coat of arms at the top, rose branches in high relief near the base to the sides, and three winged cherub heads – two at the top sides, and one below the base. Cartouches appeared in numbers from the 1780s through to about 1760, so this is a fairly early one.
Peter Leheup, d.1777, with a faded inscription noting his marriage to Clara Lowndes in 1721 (see her monument below), and various members of his family. The upper part of the monument is in the form of a black pyramid, on which is a carved cartouche of arms, and in front of which is a fine bust of the deceased in the style of a noble Roman, thus carved wearing heavy drapery, the effect being enhanced by his short, wavy hair. A fine piece, but I could see no signature to identify the sculptor who made it. To the sides are small free-standing pots, and these and the bust stand on a broad shelf above the inscription. To the sides of that are receding pillars, in black and an orangeish marble, a reminder that monuments up to 1800 were partial to using coloured marbles in contrast to the largely austere black and white which followed. The base shelf is a different marble again, heavily veined, and beneath this is an apron, likewise receding at the sides, and supported on a single central bracket with moulding, bearing an odd little winged cherub head in relief, very slight, which may be a maker's mark.

Pyramid or obelisk monuments to Peter and Clara Leheup, late 18th Century.

Clara (Lowndes) Leheup, d.1773, the monument being erected by her son, Peter Leheup, d.1774, who is also commemorated. Other members of the family are also noted. An obelisk monument, thus consisting of an upper black backing cut to obelisk shape, and a lower portion bearing the inscription. The upper portion bears a thin-stemmed Classical pot. The lower part, separated by a shelf, is unusual in its very delicate carved decoration, somewhat in the manner of Robert Adam style. Thus to the sides are thin, twisted chains of tiny flowers, with very low relief stylised leaves between them, and there are outer curly borders with further floral decoration. At the base is a portrait medallion of Clara Leheup in profile, Grecian in fashion though not in features, with short hair curled around her forehead and above the neck; it is supported on a ring from a pin with ribbons, from which hang festoons of further tiny flowers to each side. Very nicely made, but who did it?
Henry Hoare, d.1828, wife Lydia Henrietta Hoare, d.1816, and family through to 1838, as best I could read the date. White on black tablet, with a chunky border, cut to pediment shape above, and with a blocky base resting upon short legs. On the pediment is a stylised heraldic eagle head, and at the base, a small shield of arms with a Latin motto, In Ardua ('In a steep place'), on a ribbon. By the sculptor Legrew of Pimlico. He became best known for portrait busts, and also made a few full statues, but also made occasional funerary monuments throughout his career: this one, presumably dated from shortly after the death of Henry Hoare in 1828 with the family members added later, is one of the very earliest of his monuments. He also made a font for the Church, but alas, I did not see this.

James Legrew of Pimlico's panel to Henry Hoare.

Revd. John Witherington Peers, d.1835, plain panel erected by the voluntary contributions of the inhabitants of Morden and their Friends, who in his memory also funded the Chancel window to be restored and otherwise beautified.
Revd. Edmund Turner Beynon, d.1842, Curate of Morden for 36 years. Plain white panel.
Richard Jones, d.1848, of Morden Lodge, Surrey. Plain white tablet on a black backing.
Sarah Dow Jones, d.1857, married first to William Bell, d.1826, then Richard Jones, d.1848, who has a separate tablet noted above, another plain tablet erected by her one surviving son, Edwin Bell.
Jane Hughes, d.1865, and husband Richard Hughes, d.1872, of Morden Lodge. Carved as a vertically-unrolling scroll, a lively alternative to a conventional tablet. On the top is a heraldic head and shoulders of a deer. On a black backing.

Henry Weekes' portrait of Charles Hoare, d.1869.

Charles Hugh Hoare, d.1869, and wife Isabella Elizabeth Hoare, d.1910. This monument sees the return of the Gothic, with a central pointed arch, and repeated designs similar to the teeth on a Gothic spire (crocketing) at the top. Above the inscription within the arch is a fine relief portrait in profile of the deceased, showing him in late middle age, with short hair, a sideburn, and a highly modelled, intelligent-looking face. At the base, there are two carved corbels. The sculptor of this fine piece was Henry Weekes, a portrait sculptor of some renown who made some number of memorial pieces – his monument to another member of the Hoare family, Henry Hoare, d.1842, can be seen in Mitcham Church nearby.
Hilda Lilian Livermore, d.1984, and husband Canon Tom Leslie Livermore, d.1988, Rector of the Church. Plain grey marble with gilt lettering, in the modern fashion of eschewing all ornament.
Modern brasses:
Lancelot Chambers, d.1861, and his wife Mary Chambers, d.1856, and two of their children. Long rectangle with a border decorated with la repeating leafy design with budded crosses at the corners. Mary Chambers is significant as the designer of some of the stained glass in the Church – see below.
Henry James Hoare, d.1859, and youngest son, George Matthew Hoare, d.1862. With a coloured border, bearing alternate red and green and blue leaves on a stylised vine, and corner crosses on a red backing within quatrefoils. One of these crosses, irreverently, is signed by the maker, Cox and Son of London, a prominent maker of church furnishings of all kinds, particularly vestments (the firm had started out as a tailor), stained glass and metalwork.
William Winlaw, d.1900, Rector of the Church. As a trefoil window, on a black backing. In the typical manner of such revival brasses, with black lettering, red for the principle capitals, with a border of a simple repeating pattern, and at the top, a more ornate design. Made by Gawthorp of London.
George Allen, d.1799, yeoman of the Parish, and his wife Sara, d.1820, erected by their descendents in 1900. Plain square with inscribed border line.
William Henry Langhorne, d.1927, another Rector of the Church. With a broader, more ornate border of clematis with two angles at the top, one with a censor, the other a harp.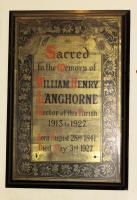 Modern brass to William Langhorne, d.1927.
Also in the Church:
A series of painted hatchments, escutcheons showing the various coats of arms of the Garth family and others.
A wooden pulpit, hexagonal, raised up to some height and with a sounding board above.
Stained glass, including in the East Window a couple of small, old panels showing interior scenes - St Paul and the gaoler of Philippi apparently, and said to have been brought from the chapel of Merton Abbey when it was pulled down. Above this the main composition shows Moses and Aaron supporting the Decalogue, and at the top are two cherubs emerging from the clouds and a dove in front of a sunburst, well-conceived and designed by a parishioner, Mary Chambers, whose monument, together with her husband Lancelot Chambers, we noted above. Elsewhere in the Church are several other larger panels ofstained glass of the 19th and early 20th century, the latter being particularly arresting.
A pair of carved chairs.
And at least to note the font by James Legrew, which I did not see but is in the porch, nor did I see a broken ancient font ornamented with quatrefoils, thought to have been buried in the Cromwellian war, and rediscovered in the 19th Century.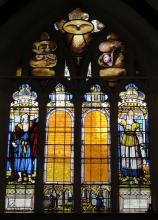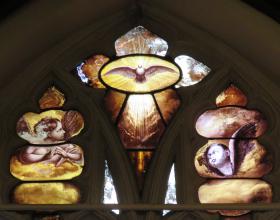 Stained glass in East Window, and detail by Mary Chambers of Morden.
Morden Churchyard
Morden Church stands within its own graveyard, and there are a variety of headstones and tomb chests of the usual sort. Among these can be found:
an interesting one to the Mauvillain family, from the mid 18th Century. It consists of a tall block with a cartouche of arms on one corner, bearing upon the top a strange upper part, of a heavily ogee-curved roof with at its apex a heart-shaped object, perhaps indeed intended to represent a heart, though it has some minor decorative embellishments so it may be a much-decayed urn of curious shape. See picture below.
Elizabeth Rudd, d.1909, and family, in the form of a cut-off pillar, popularly used 50 or 100 years previously to show the end of the male line, which is not the case here.
Augustus William Louis Schermuly, d.1929, 'inventor of the Pistol Rocket lifesaving apparatus'. With a neatly carved relief of a tall ship in full sail - see pictures below. It should be protected or brought inside.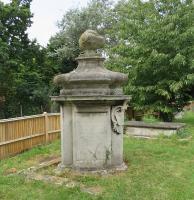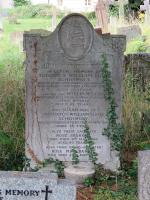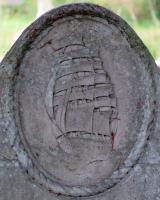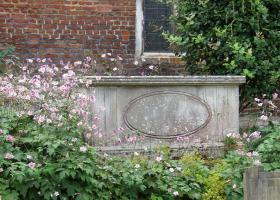 Mauvillain and Schermuly monuments, and a tomb chest.
Finally, we may note that the Lych gate is particularly elegant, with curved supports to the roof.
With many thanks to Revd. David Heath-Whyte, Team Rector of Morden Parish, for permission to show pictures of the monuments inside St Lawrence; the Church website is https://stlawrencechurch.co.uk/about-us/history/.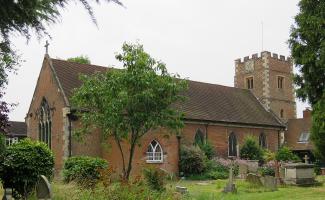 Monuments in some London Churches // Churches in the City of London // Introduction to church monuments
Other Surrey border church monuments: Battersea Church // Carshalton Church // Epsom Church // Beddington Church // Merton Church // Wimbledon tramline monuments
Angel statues // Cherub sculpture // London sculpture // Sculptors
Visits to this page from 9 September 2016: 3,542