J & T Bedford of 256 Oxford Street, Stonemasons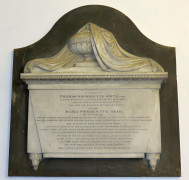 Typical monument by Bedford of 256 Oxford Street.
A firm of statuaries, or monumental masons, established in the 1800s and lasting through most of the 19th Century, with by far the majority of their work produced in the 1830s through to the 1860s. The firm seems to have been started by John Bedford, passed to his sons, with the leading figure being Thomas Bedford, who at his peak in the 1850s employed at least 10 workmen at the firm; his sons, also Thomas and John, ran the business in the 1860s and 1870s. All of this time the works was at 256 Oxford Street, as can be traced in Census returns and the Post Office directories, but the latter generation later traded as Bedford Brothers, from North Row, Grosvenor Square in London – not really that far from Oxford Street of course. The sculptural historian Rupert Gunnis noted that they had produced various military and naval monuments with sculpture in relief, but most of their work, scattered across England with an unsurprising preponderance in the south and near to London, consists of fairly simple panels with just a little sculptural adornment, though it was unusual for their panels to be completely plain.
Among the more sculpturally ornamented works of the firm in the London area, we may mention the monument to Jane Bonnell, d.1841 at Walthamstow, with a mourning girl kneeling by a funeral urn, all in high relief (see picture on this page), and a portrait statue of Capt. Ellice, d.1853 in Hampton Church, also various draped pots in high relief, such as at Kew, Teddington and Acton, and at the end of the Metropolitan line, three works in Watford, Hertfordshire. The firm favoured a particular type of Classical pot, egg-shaped, with a central band of ornament around the widest circumference, leaf patterns beneath, and a narrow foot, with the drape falling in a roughly pedimental shape and heaped up at the sides. These can be alike enough that they are almost replicas of one another.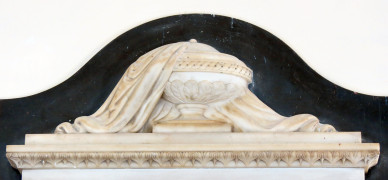 Bedford's characteristic egg-shaped pot design.