Sir Richard Westmacott RA (1775-1856)
Sir Richard Westmacott RA was one of the most successful sculptors of the earlier 19th Century, eclipsing his father and son, both also named Richard Westmacott, and other sculptor members of the family. His most famous works are the pediment of the British Museum and the giant statue of Achilles in Hyde Park.
The sculptor Richard Westmacott studied under his father, Richard Westmacott the Elder, before going to Rome in 1793 to become a pupil of Canova. He achieved rapid success, and in 1797 was able to return to England and set up his own studio, next to the parental residence in Mount Street, London. He exhibited work at the Royal Academy from that year through until 1839, and was elected ARA in 1805 and RA in 1811. He was Professor of Sculpture at the Royal Academy from 1827 (after Flaxman), and was knighted in 1837. His studio, which by 1818 had expanded to the point where he had to go round the corner to larger premises in South Audley Street, was said to be the largest establishment of any English sculptor bar that of Chantrey.
Ideal Classical figures by Westmacott.
Westmacott produced a prodigious number of public statues, busts, monuments and other works in stone, among the latter being the chimney piece for the Music Room in the Royal Pavillion, Brighton, the reliefs for the north side of Marble Arch (as well as other reliefs which ended up above the entrance to Buckingham Palace when the Arch was moved to its present location), the pedimental sculptures for Robert Smirke's British Museum (see this page for pictures), and the Waterloo Vase.
The Waterloo Vase has a 'marble story': the enormous chunks of beautiful marble from which it was made were first spotted by Napoleon, passing through Tuscany on his way to Russia. Ever with an eye to posterity, the great general earmarked the marble to be kept in order to make a victory trophy for himself. Events did not turn out that way, and after Napoleon's fall, the Grand Duke of Tuscany cautiously decided that presenting the marble to King George IV of Britain would be a good move. King George decided a Waterloo trophy would be most suitable, and Westmacott was given the commission. He produced a vase showing George on his throne, Napoleon unhorsed, and various allegorical figures. It was to go to the Waterloo Gallery at Windsor, but its great weight - 20 tons - meant that it in fact went to the National Gallery. Finally it was set up in Buckingham Palace Gardens.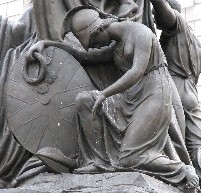 A Britannia by Westmacott.
Westmacott's style was of course classical, initially in a spare style rather after Flaxman, later more complex and naturalistic. His statues are consistently of high standard, but his lesser church monuments, many of which presumably owe a lot to his assistants, sometimes fall below par.
Westmacott's sculptural work includes his diploma piece Jupiter and Ganymede at the RA, various allegorical works at Woburn Abbey, monuments at Westminster Abbey and St Paul's, and over 240 monuments elsewhere. Of his public statues, outdoors in London may be seen the Duke of Bedford (Russell Square), C. J. Fox (Bloomsbury Square), Canning (Parliament Square), the monumental Duke of York on his pillar at Waterloo Place, and the even more monumental Achilles by Hyde Park Corner (more pictures on this page). Of all these, the Canning, in his dignified Roman vestments, is perhaps my favourite. Several of these are pictured here on this page; hover over the pictures for captions and click to enlarge.
Outside London, apart from his numerous church monuments, we may give particular mention to statues of Nelson in Birmingham, Liverpool (see this page) and Barbados, George III in Liverpool (see this page), an equestrian statue which was later reproduced in large size at Windsor, and ideal works for Woburn Abbey. Abroad, in New York, in the Church of the Transfiguration, is his Madonna and Child, and he made various statues for the Victoria Memorial in Calcutta, and monuments in Calcutta and Bombay.
Sample funereal figure sculpture by Westmacott.
Westmacott had more or less retired as a sculptor by the 1840s, his last major work being the British Museum pediment, completed in 1851, but he remained active in official artist circles.
Two of Westmacott's brothers (George Westmacott, 1782-1864; and Henry Westmacott, 1784-1861) were also sculptors (a simple monument by Henry Westmacott is shown on the Teddington Parish Church page on this site, and two others on the page to Beddington Church), though of modest accomplishment, and his own first son, Richard Westmacott the Younger, continued the dynasty. For a note on the monuments by different members of the family, see this page.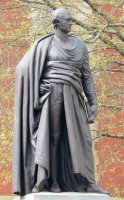 George Canning.