Charles Regnart (1759-1844)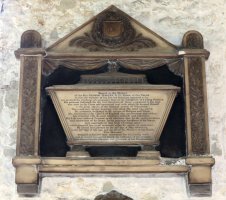 Charles Regnart: typical monument.
The statuary and sculptor Charles Regnart carved a large number of church monuments from the early 1790s through to the 1830s. Many of these are of the white panel on black type so common during this period (see this page), but Regnart was far above the commonplace mason-sculptor in talent, and most of his monuments have significant decorative carving upon them, ranging from low relief ornaments to high relief pots and urns, to full figure sculpture. According to Rupert Gunnis, the monumental historian, Regnart's masterpiece is the altar tomb at Farthinghoe, Northamptonshire, to George Rush, d.1806, a full-length recumbent figure of an aged man, reminiscent of 16th and 17th century figures in winding sheets. His smaller mural monuments are generally Classical in style, normal for his times, tending towards the Baroque, particularly in his carving of drapery, where even the humblest low relief pot with a drape allows opportunity for variety in folds and twists.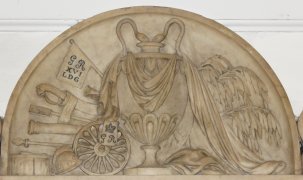 Snake-handled urn.
Regnart was working as a sculptor by 1791, when he was listed as such on his marriage to Miss E. Hunter, of Little Mary-la-Bonne. By 1795 he lived in London, at 12 Cleveland Street, off Cavendish Square, which was both his dwelling house and sculptor's workshop. He remained there for some years, before moving to Hampstead Road, certainly by 1818. Gunnis suggested that some of the earlier monuments signed by Regnart may in fact be by his father, Philip Regnart, 'carver and gilder', who when he became bankrupt in 1805 had an address in Cavendish Street, thus very close to his son. The Regnarts were something of a sculptural dynasty, because Philip Regnart himself had studied carving under his father.
Charles Regnart exhibited just twice at the Royal Academy, his second work being a bust towards the Rush monument noted above, but in the early 1800s at least was prosperous, employing several workmen, including the stonemasons William Allen and, more obscurely, Benjamin Waterman.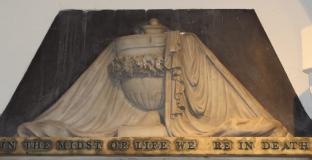 Nicely carved pot and drapery by Regnart.
A large number of his monuments may be found scattered across southern England, with a few further afield. In London, he has work in the City in St Mary Aldermary, St Margaret Pattens, and St Dunstan Stepney (where the monument shown at the top of this page is). And further out in London his work may be found in St John Hackney, Kentish Town, Barnet and St John's Wood to the north, though I did not see his work in the last of these, and Battersea, Carshalton, Charlton and Teddington to the south. Further south from London, a very nice reclining girl with a pot by Regnart is in Guildford, in St John the Evangelist Church, for example.