Joseph, Samuel (1791-1850)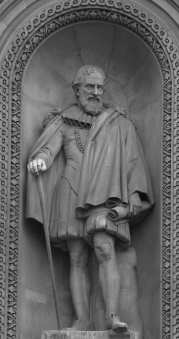 Myddleton, by Samuel Joseph.
The sculptor Samuel Joseph, best known for his monument to William Wilberforce in Westminster Abbey, studied under Peter Rouw the Younger, an important sculptor of monuments and portraits active in the early part of the 19th Century, and at the Royal Academy, where he won silver and gold medals. In 1823 he went to Edinburgh, where 3 years later he became one of the founders of the Royal Scottish Academy, and taught at the School of Arts, before returning to London where he settled in 1828.
The Wilberforce statue, dating from 1838, was the peak of Joseph's career, and of his other work – mostly portrait medallions and busts, little is on public display. A bust after the Wilberforce statue is in the Museum in the subject's house in Hull. A few portraits are in the national collections in England and Scotland. Fewer monuments are known, in churches in Kent and elsewhere, in particular the bust of William Franklin in Rochester Cathedral. And most accessible, the statue of Myddleton, the water engineer, on the exterior of the Bank of England is by him. All bar the Wilberforce statue seem to have arrived without acclaim or great note, and towards the end of his life, Joseph became a bankrupt and his studio contents were sold off.
What can we say about his work? The Wilberforce is characterful, undoubtedly a touch eccentric for the time. The Myddleton statue, in ruff, cloak and pantaloons, is of soft stone, looking to have been cleaned after perhaps some weathering, and perhaps unrepresentative of his work. The Rochester bust is ascetic, classical, and noble, and this may be most typical of a sculptor of strong male portraits - and those I have seen have all been forceful and have some nobility.
Wilberforce statue by Samuel Joseph.
Visitors to this page since 22 Nov 2011: 4,706