Henry Weekes RA (1807-1877)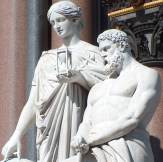 Manufactures for the Albert Memorial, by Weekes.
The sculptor Henry Weekes was born in Canterbury, became apprenticed to William Behnes in 1822, and in 1823 entered the RA Schools. In 1827 he became an assistant to Chantrey. This proved foruitous for the young man, as on the death of that famous sculptor, Weekes took over his studio, and finished off some of his master's incomplete statues - a quick route to respectability. One of these works was the Wellington by the Royal Exchange in London.
Weekes developed a speciality in portrait sculpture, including in 1838 winning the first commission to make a bust of Victoria after she became queen. His style for portraits was sympathetic without being sentimental or idealised. As well as many portrait busts, he also designed full figures, e.g. Charles II for the House of Lords, and Flaxman for Burlington House, and monuments, including that of Shelley at Prior Church, Christchurch, Hants, Bishop Sumner at Winchester, and the more elaborate monument of the same man as Archbishop at Canterbury. Also in Canterbury Cathedral is Weekes's memorial to George Gipps. A modest tablet by Weekes in Leyton Parish Church is shown on this page, and others with portraits are for example in Mitcham Church and Morden Church. And in Oxford are his three statues on the Martyrs' Memorial.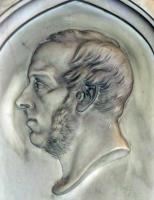 Portrait of Charles Hoare by Weekes in Morden Church.
He did conceive at least a few ideal works, and we should mention at least Luna, a flying woman with hands raised and a circle of fabric behind her as the moon, with a religious rather than pagan look, and a series of ideal female figures, including The Young Naturalist, The Suppliant and Girl with Hoop.
Weekes exhibited at the Academy from 1828, and became ARA in 1850. In 1862 he showed The Young Naturalist at the International Exhibition, and in the same year he was elected RA. Another major milestone came in 1864, when he sculpted the Manufacturers group of the Albert Memorial. He was the Professor of Sculpture at the Academy from 1868/9 until 1876.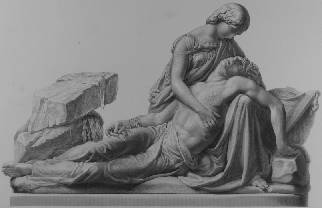 The Shelley Monument.