James H. Bubb (1782-1853)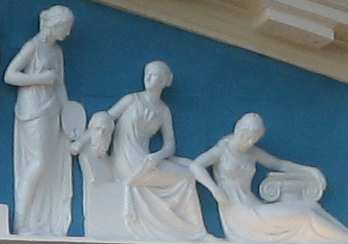 Painting, Sculpture and Architecture, by Bubb.
The sculptor James Bubb, now obscure, was a prolific sculptor in the early 19th Century. He trained at the Royal Academy Schools from 1801, exhibiting there from 1805-1831. He achieved note in 1806 with his large monument of Pitt the Younger for the Guildhall, London. By 1809 he was producing architectural sculpture, most prolifically for John Nashís developments around Regentís Park. He worked at one time for Mrs Coade, and from about 1818 he was working with J. C. F. Rossi, who had also worked for Coade, on terra cotta works. Later his fortunes declined, and he worked for a certain Joseph Browne, who took over his business. In the 1830s he returned to working in marble, but his health had worsened, and he died poor.
His largest work is undoubtedly the frieze in the pediment of Cumberland Terrace in Regentís Park, and by him also are probably the standing figures on several of the terraces there.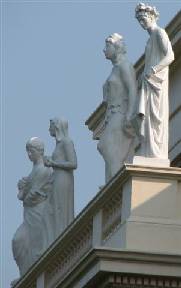 Some of the figures presumed to be by Bubb.
His Pitt the Younger in the Guildhall, where he notoriously won the commission due to the cheapness rather than the excellence of his design, is his only significant monument. A pyramidal group of Pitt, flanked by two Greek youths, with Britannia on a seahorse below, and in the figures, hints of the long neck we associate with Bubb. Much more modest monuments known to be by Bubb include two in Battersea Parish Church (which I have not seen), and the monument to Thomas Burne (d.1812), which is in St Michael Cornhill Ė I missed seeing the signature on this work, but the long neck of one of the figures is again indicative of this sculptor.
Lost are his Customs House sculpture, and four Quarters of the Globe on the Royal Exchange building previous to the current one.
Outside London, in Bristol are three statues, rather like the Regentís Park ones, on the top of the Commercial Rooms in Corn Street, now a pub. Apparently there was a bas relief by him too. And in Manchester, Heaton Park, are apparently remnants of works by Bubb for Manchester Town Hall. The much decayed heraldic lion and unicorn in Hastings are also ascribed to him.
Visitors to this page since 22 Nov 2011: 5,069