Thomas Marsh of New Road, Fitzroy Square (active 1820s-1840s)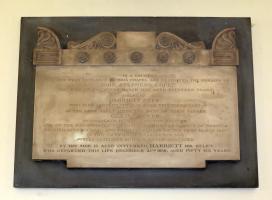 T. Marsh of New Road, sample carved panel.
T. Marsh, New Road, Fitzroy Square, was a monumental mason of the earlier 19th Century whose work is mainly in and around London.
One of the many statuaries who clustered along the New Road, which later became Marylebone Road and Euston Road. He made a fair number of funerary monuments in the 1820s-1840s, signing T. Marsh, New Road, or a fuller version of his address, which in full was 20 Quickset Row, New Road, Fitzroy Square. The work of his which I have seen generally consists of simple panels, but generally with at least some sculptural decoration. He favoured white-on-black panels and beige stone monuments carved as blind Gothic windows.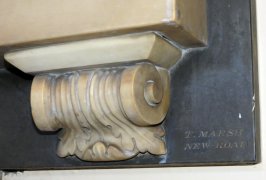 T. Marsh's signature.
Marsh's work can be found in the City of London in St Benet Welsh Church (Duncan Maclaren, d.1837), also Battersea Church (Revd. John Inglis, d.1830), Barbara Murphy, d.1932 in St Mary Paddington Green. Further afield he has surviving work in Surrey (St George, Esher - Barwell Browne, d.1840 and Frances Woodhouse, d.1834), Hertfordshire (Broxbourne), Kent (East Wickham), and as far afield as Worcester and Birmingham. At his best he produces delicately carved foliage, grape vines, flowers and scrolly corbels, and he has at least one figure-piece, the one in Worcester, though I have not been to see it.