Monuments in St Martin of Tours, Epsom, Surrey
A Church with significant monuments, including four with full figure sculpture, by Chantrey, Flaxman and John Bacon Junior, vying with each other to produce the most beautiful marble girls. There are various other interesting things in a collection of almost 40 wall panel monuments. Epsom is just within Surrey, part of the South London commuter belt, one of a number of towns which we may refer to as within the 'Surrey borders'.
Epsom Parish Church, St Martin of Tours, is raised up on a flight of steps, for it is on sloping ground, and is faced in flint, with soft beige stone dressings. A low Tudorish tower to the side, with octagonal turret on one corner, is set somewhat back from the frontage, which has two pinnacles emphasising the distinction of the central nave, with its taller, pointed roof from the flat aisles to the sides. The windows along the side are huge, giving the appearance of some Edwardian building based on iron rather than an ancient church, excepting the tower, with its lower windows grudgingly admitting light into the solid walls, and it is unsurprising to find a panel towards the rear bearing the date 1907. So it is unsurprising to find that the tower is 15th Century, the nave and aisles of 1820-25 (the work of the architect Hatchard of Pimlico), and the crossing, transepts and the east end are the 1907 part.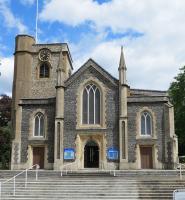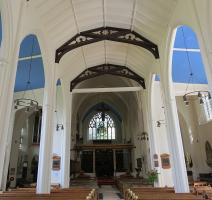 St Martin of Tours, Epsom Parish Church.
Inside, the church is tall, up to the many-ribbed ceiling, separated from the aisles, still tall, by thin clustered columns forming pointed arches. The colour is white and sky blue, an inspired choice, giving an effect of light and height. There were once galleries, now removed, so that while the majority of the monuments are convenient for the viewer at ground level, some of them are 'skied' and difficult to appreciate without visual aid.
Monuments
17th Century monuments
Robert Coke, d.1653, and wife.

Robert Coke, d.1643, and wife, d.1653. Black panel with a long Latin inscription in tightly written capitals. To the sides are curly brackets, supporting a curved, broken pediment containing a blank cartouche, once doubtless with painted arms. There is a plain lower shelf. Overall, it looks like half a monument, probably once having a longer panel, the curly sidepieces once being brackets supporting a heavier lower shelf, with an entablature and with the cartouche raised up somewhat; this looks to be the quite clever reconstruction of a smaller monument from the remains of a larger one.
Richard Evelyn, d.1660, son of Richard Evelyn of Wootton. Another black panel with Latin script in a Classical surround. There is a frame, with raised centre to the top and a small carved winged cherub head, and to the sides, two long-shafted pillars with Ionic capitals. Above, a swan-necked pediment enclosing a stump where once a coat of arms would have rested, or more likely from the dimensions a pot. Under the bottom shelf are a pair of curled brackets, and between them on the low apron is a now-blank cartouche of arms, with two small festoons hanging from it.

Richard Evelyn and Elizabth Evelyn monuments: Classical and Classical Baroque

Robert Coke of Nonesuch, d.1681, noting his pedigree (grandson of Sir Edward Coke, Lord Chief Justice of England) and family, and writing that he 'Faithfully Served as a Commander his late Majestie King Charles ye 2st, & lived to see ye disappointment of his Enemyes in ye Restauration, & above 20 year's happy Reign of our present Soveraign'. What a monument – a cartouche with the finest sculptural imagery. The inscribed panel, oval with a point at the bottom like a plump lemon, is surrounded by a generous border of carved vegetation and figural sculpture. From the top, wherein is a now blank cartouche of arms, with scrolly surround, hang two bordering festoons of flowers and seed pods, to two knotted drapes which then hang down by the sides. Just within these are a pair of busts, male and female shown as more than head and shoulders by virtue of some lower wrapping of body height but not shape, rather disturbing, and on the inner side of each is a thin fencing sword, upward-pointing. In between the points of the swords, thus above the central inscription, is a female head surrounded by ruffs and headpiece, and a stretched out sort of star shape, dissolving into scrolls, again slightly disturbing. Around the lower part of the central panel are more fruits, including a bursting pomegranate, tendril-like scrolling, and leaves, and a central grotesque face. Below all this, a shelf and terminating bracket with crossed branches. The effect overall is somewhat grim, macabre, evocative and atmospheric – the work of a master.
Elizabeth Evelyn, d.1691, wife of Richard Evelyn of Woodcott, and relation of Carolus [Charles] Calvert, Baron of Baltimore, to whom she left her fortune. A grand Classical Baroque monument of prodigious size. The central panel, with domed top, sits within a frame of two corkscrew pillars, supporting the ends of a completely open and broken segmental pediment, within which are a pair of knotted drapes forming a canopy over the panel. Outside the pillars are further knotted, hanging drapery. Below, an apron bearing a now-blank coat of arms within a sort of cartouche, with small winged cherub heads, and with curly brackets to either side. At the base, a leafy supporting corbel. A good thing, in the quality of the carving, the fairly original composition, and the general ambience of crabby baroque of the design.
18th Century monuments
The Revd. Owen Ludgate, d.1705, Minister of the Parish, plain panel in white marble with dark lines streaks and speckles, and a bevelled edge.
John Lloyd, d.1718/19, of the Middle Temple London Gen[t], and his wife Dorothy Lloyd, d.1705, and their son John Lloyd, d.1715, erected by his brother Mountagu Lloyd in 1720. A cartouche monument, in white marble. Cartouches have a round, oval or violin-shaped centre, surrounded by scrolls and knotted drapes and Acanthus leaves, as here. The scrolling points towards the viewer, with concentric loops, and the drapery is caught at the top sides in large knots, which is the convention, and fall freely and fairly symmetrically at the base; there is a central mini-cartouche also at the base, which once would have contained a painted coat of arms. A nice piece.
John Peirce, and wife Mary Peirce, erected by their son John Peirce in 1743. Panel with chunky Classical pediment above, empty, a thin backing to the sides in a dark, shelly marble, and a lower shelf, domed in the middle. It is underneath that the sculptural decoration lies, in the form of a roundel with three winged cherub heads in relief, with trumpets, little flowers, leaves, and cloud forms at the top with sunrays bursting through, and across the lower portion, two crossed branches tied with a ribbon. Extremely competent carving.
Anne Mary William Bury, d.1757, wife of John Fleetwood, also William Bury, d.1777, with Latin inscription, plain panel with dark-streaked white marble, and joined to it underneath, a separate tablet to Miss Elizabeth James, d.1783, and Mrs Martha James, d.1791. With upper and lower shelf and moulded supporting brackets.
John Edwards, d.1756, and wife Priscilla, d.1766. Small Classical monument with upper pediment and lower shelf, and two moulded supports.
Elizabeth (Alston) Rowe, d.1756, and her husband, Henry Rowe, d.1769. Classical monument with side pilasters, fluted and with Corinthian capitals, an upper shelf, and below, big brackets terminating in carved leafy corbels, and a central apron with elegant cartouche of arms – really fine in composition, now blank; a shelf at the bottom of this allows for a terminus of acanthus leaves. The flat top looks somewhat bare, and may once have contained an entablature and pediment.

Monuments to the Cuthbert family – we put them together though the latter members are 19th Century.

Sarah Cuthbert, d.1777, wife of Arthur Cuthbert of Woodcott, d.1788, and their young son Charles Cuthbert, d.1777, also Richard Brand Cuthbert, d.1806. An obelisk monument, with the rather short, black obelisk bearing a well-executed carving of a heraldic arm, clad in plate mail and wearing a gauntlet. Below is the inscribed panel, with upper shelf, and Ionic side pillars with black shafts. Below, a slight shelf, with half roundel bearing a low relief carving of the shield of arms, including a small snake, and to the sides, moulded brackets. The black-shafted Ionic pillars, and the black, moulded supports give a unity to the piece as a whole. Signed by the stonemason, Vidler.

Cuthbert monuments: Obelisks, carved gauntlet, and shields of arms with snake carvings (click to enlarge).

James Ramsay Cuthbert, d.1821, and his wife Sophia Cuthbert, d.1857. An obelisk monument almost identical to the Sarah Cuthbert monument, but the obelisk having a carved coat of arms in white marble upon it. There is a further shield of arms at the base – note the wiggly snake on the arms.
Frederic John Cuthbert, d.1850, plain panel cut with a pediment shape, on similarly shaped black backing.
James William Cuthbert, d.1874, plain white panel.

And after this diversion, the last couple of 18th Century monuments:

Richard Cambridge, d.1779??. with a Latin inscription. Plain panel with rounded top and a bevelled edge, a slight shelf below, the whole being of pale, dark-streaked marble. There may well have been an outer border and top in the past.
Elizabeth Culling, d.1790, a plain panel with the narrowest of borders, exemplifying a popular style whereby the text was made exceedingly small, and crammed in to fill the entire space as solidly as possible. This very long inscription covers her various bequests, but is mostly about how funds should be invested to provide an income to keep the family vault in the Church in good repair, including the stonework, keeping the text legible, and even oiling the railings. It suggests that she had seen, or been advised by someone who had seen, the decay of earlier memorials in the Church and was anxious to avoid that fate for her own family.
19th Century monuments monuments
John Braithwaite, d.1800, with along eulogy in tightly spaced capital letters, concluding that 'such was the man whose virtues this marble attempts thus imperfectly to record'. Under the panel are two chunk moulded supporting brackets, and on top, a small statue of a standing girl with a square pillar monument on which stands a small bowl. In a style popular 50 years or so previously, the girl lounges against the pillar, legs crossed, elbow leaning on the pot, staring abstractedly into space. The drapery is a simple robe over some long-sleeved garment underneath, but has a strip of fabric looped around the outstretched arm, and the drapery in her other hand unusually over the hand itself. This female figure would seem not to represent the wife of the deceased, as the monument was put up by three nieces. The eminent John Flaxman is the sculptor.
John Henry Warre, d.1801, and his wife Mrs Braithwaite Warre, d.1824, one of the aforementioned nieces of John Braithwaite, whose monument is noted above. A similar style of monument to that one, with the inscribed panel supported on two brackets, and above, a mourning girl with a pillar monument. But here there is more pathos, with the girl standing head in arms, her body leaning on the pillar as if to stop herself collapsing in grief. The drapery is more textured, and there is a finely rendered tie around her upper body and over the top of the pillar. Flaxman was again the sculptor.
Elizabeth Price, d.1801. Small monument with upper shelf and above this, black marble carved to the shape of a curvy pediment, with a small lantern or urn carved in relief upon it.
Eleanor Belfield, d.1802, a teenager, interred in the vault of John Brathwaite, though the relationship is not made clear. With a eulogy. Round panel with border on a square backing panel of streaky marble, and signed by John Flaxman; the sole carved decoration is a cut head of flowers, as if carelessly let fall on the panel; their budlike form an allegory of the youthful Miss Belfield dying too young. (There is another monument by Flaxman noted as being in the Church, which is that to the Classical dictionary author Revd. John Parkhurst, but I did not see it).
Jane Rowe, d.1810, with a eulogy. An excellent monument with figure sculpture. We see an alto relievo group of two Classical girls standing at the base of a tall, Classical pot in high relief – one of the type with narrow stem, and then an egg-shaped body, and tiny mouth and handles. From these small handles hangs a fine festoon of carved flowers. The female figures have the most complex of drapes, very thin almost diaphanous, clinging to the limbs and bodies, hanging in sweeping curves and breaking up into myriad little wrinkles, extremely sophisticated and assured in execution. Their faces are as much 1800s as Classical, and their bodies softer and more feminine than the Greek ideal. One girl holds a Pelican feeding her young, the other an open bible and tall crucifix with the cross-pieces broken off, so they would seem to be allegorical representations of Charity and Religion. They are the work of the prolific and talented sculptor John Bacon Junior, and representative of his work. For the rest, the inscription is on a panel forming the central plinth beneath the girls and the pot, and there are blocky receding sides to this, and an apron underneath with a coat of arms in a roundel, tied with a ribbon. The backing, in orangey streaked black marble, is cut to a pointed arch above.
Rebecca Gibbons, d.1815, wife of the Revd. John Gibbons, Rector of Brasted, Kent, and niece of John Brathwaite. Round panel with frame on a square backing of grey, veined marble, hanging below and to the same design as the Eleanor Belfield monument noted above.
Susan Warre, d.1820, and son John Braithwaite, d.1821, an infant. The inscription is below a Classical panel bearing an alto relievo statue of the deceased, kneeling and holding her sleeping infant. She wears the lightest of drapes, pulled down from one breast by her offspring, to expose chest and shoulder and neck, emphasising her youthfulness – she was only 24 years old when she died. There is a softness of aspect to the marble limbs and the expressive hands, and the lines of the drapes are extremely harmonious. No less than Francis Chantrey was the sculptor of this exquisite figure. The surround is a Classical panel, with thin border and upper segmental pediment, cut with large 'ears' or acroteria and with a central emblem, above the girl's head, of a halo like circle of stars. There is a narrow black border all round, the inscription is at the base, and there are two half-round supporting brackets with lightly carved flower petals.

Chantrey's statue of Susan Warre.

Benjamin Pugh, d.1823, and Sarah Pugh, d.1867, with a brief Latin inscription with red capitals. A curious monument, not large, consisting of a panel with wavy side pieces bulging extravagantly towards the top, supporting a wide shelf, on which sits a small alto relievo pot, its body covered with carved acanthus leaves. At the base, a much shorter shelf supported on two square blocks, with concentric circles. Idiosyncratic, and looking as if something is missing, yet rather pleasing.
Edward Knipe, d.1825, his wife Caroline (Western) Knipe, their son Samuel Knipe, d.1827, and the latter's wife Margaret (Sampson), d.1843. With a frame, and upper pediment of the curly or swan necked type, the outer curls forming the acroteria, and embellished with stylised flowers and carved anemone patterns. In the centre of the pediment is a sheld of arms carved in low relief, and another shield is at the base, with delicate carving. On a black shaped backing, and signed by Hopper. The sculptor Humphrey Hopper made a large number of monuments, some simple, like this one, other with figure sculpture, like the beautiful mourning girl to J.H. North in Harrow. This is the earliest example in St Martins of a sequence of Classical panels in white marble on a black backing, the characteristic style of wall panel of this era found in so many churches up and down the country.

Variety in early 19th Century panels: Price, Belfield, Pugh and Haygarth.

William Haygarth, d.1825. White marble panel with upper pediment, beneath which is a line of Roman S-patterning to substitute for an entablature. Within the pediment is an oval surrounded by nicely carved leaves, perhaps once containing arms. On top are a central embellishment and two acroteria, all carved with anemone patterns, and a very narrow strip of drapery hangs down on each side.
James Trotter, d.1833, wife Elizabeth (Meyrick) Trotter, d.1820, and further Trotters through to 1868. Classical panel with side pilasters, upper pediment, lower shelf supported by small brackets, and a thin panel below with a Biblical quotation. On a shaped black backing.
Peak Garland, d.1841, and offspring Ann Hitchins, d.1838, Edmund Garland, d.1840, and Lewes Garland, d.1844. Tablet with outward angled sides, upper shelf, and an upper portion too large for a pediment, bearing a shield of arms carved in relief.
Thomas Brown, d.1846, and his sister Susanna, d.1836. Tomb chest end with chunky pediment, and brackets at the base with anaenome patterns. On a black backing with nipped corners, and signed by a local stonemason, Andrews of Epsom.
Elizabeth Carter, d.1852, another novel monument. It consists of an attached pillar or plinth, on which is the inscription, supporting a draped pot in relief, the drapes falling simply but asymmetrically down the sides of the pillar. On one side leans a guttering upside down torch, an allegory for the snuffing out of the deceased's life. The pillar rests on a broad step with relief carving of two crossed ferny leaves, with between them a snake swallowing its tail, symbol of rebirth and eternity. (For more snake sculpture, see this page). Then below, a broad shelf with an inscribed border, supported on two moulded brackets with minor carving.
Gertrude Pagden, d.1866. A casket end, crisply cut, with fluted sides, upper and lower shelf, pediment and acroteria, the latter carved with anemone patterns, the former blank but bearing an attached roundel with the inscribed initials of the deceased. At the base are two block feet with minor carving. The shaped backing is of a fossiliferous black marble with the visible edges of multitudinous shells, rather unusual in a monument.
Lieut. Col. Francis Vernon Northey, d.1879, from wounds in the Battle of Ginghilova, Zululand. Horizontal panel with moulded edges and curved to left and right, on a similarly shaped streaky grey marble backing.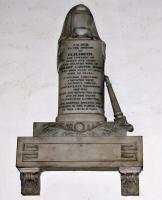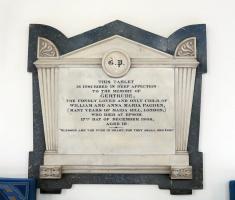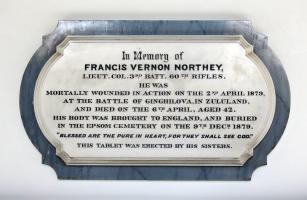 Later 19th Century black and white panels: Carter, Pagden and Northey.
20th Century monuments monuments
Brasses
William Thomas Furniss, d.1874, in black letter with principle capitals in red, and with an inscribed border with simple repeating leaf pattern, and mounted on a black backing.
George White, d.1898, churchwarden and vestry clerk. Panel with inscribed border of linked whorls and a small shield in the corner.
Also in the Church
An octagonal font in white stone, with quatrefoils on each side in low relief, dating from the 15th Century, thus contemporary with the tower, the base appearing more recent.

World War I memorial.

WW1 memorial the the men of St Martin's Epsom who died in the Great War. Classical five-panelled monument in the fashion of a broad reredos. The central panel contains a crucifix and the main inscription, in gilt Arts and Crafts text, and is flanked by two black-shafted Corinthian pillars, and headed by a curved pediment; there are similar clustered pillars, attached, at the ends. The other panels give the names of the fallen, and all are surrounded by narrow borders of carved leaves.
WW2 memorial to those who died in the Burma Campaign, 1942-45; plain speckly stone with a medal, the Burma star, in the centre.
A Virgin and Child in coloured pottery; the figures white on blue, with a fruity border.
A two-level reredos, with several small statues of saints, singly and in pairs, painted.
A brass eagle lectern.
Wooden pulpit, octagonal on an elegant, slim shaft, with a sounding board above.
The royal coat of arms with lion and unicorn supporters, painted thickly so the material cannot be deduced.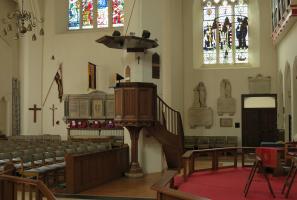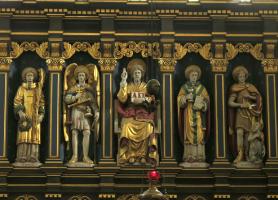 Pulpit, and part of the altar-piece.
Churchyard
All around the Church, not so large, but well filled with tablets, tomb chests and an unusually large crop of table tombs - great solid panels raised up on free-standing columns, four or usually six at a time. Some of these have collapsed, or been knocked down, and the panels lie with the stacked pillars upon or beside them.
We may also note headstones with skull and crossbone designs, 18th Century, and various other shaped, carved headstones of similar date, and a not very diligent search will turn up a variety of winged cherub heads, drapery, hourglasses and frivolous designs. (For more on types of churchyard memorials, see this page.) And as well, a modest churchyard cross, placed high up on a pyramid of steps.
With many thanks to the Church authorities for permission to show pictures of the monuments inside; their website is http://stmartinsepsom.org/.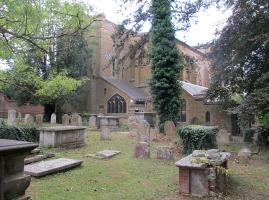 Also in Surrey: St Mary, Walton on Thames // Christ Church, Esher // St John the Evangelist Church, Guildford // St John the Evangelist Church, Guildford // All Saints Church, Carshalton // St Mary's Church, Beddington and formerly in Surrey: St Mary the Virgin, Merton // St Mary, Battersea
Monuments in some London Churches // Churches in the City of London // Introduction to church monuments
Angel statues // Cherub sculpture // London sculpture // Sculptors
Visits to this page from 4 Jan 2017: 7,090