Monuments in St Mary the Virgin Church, Merton, South London
The Church of St Mary the Virgin, Merton is now part of South London, but was once part of Surrey. It stands down a quiet side road a few minutes walk from one stop on the Croydon tramlink, and is a low building of flint with stone dressings, all broad tile roofs, with a stubby spire and no tower to speak of, a sort of English Vernacular church, and most picturesque to see from the churchyard. There is one Norman arch, and the rest is mostly of Early English and Victorian dates. As with West London churches, so here in South London there is a contrast between the Victorian and later suburbs all around, with the squat medieval Church, preserving something of many centuries previous.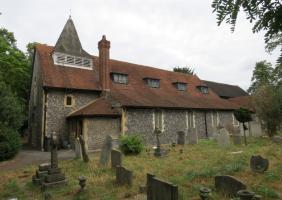 St Mary the Virgin, Merton.
Inside is low, dark, atmospheric, with ancient exposed timber roof, particularly attractive above the chancel, and dark pews, the aisles separated from the nave by low pillars and tall pointed arches, and a brighter chancel with exposed masonry. The monuments are along the aisle walls, with a row of hatchments above (including Nelson's), and in the Chancel. There are about 15 in all, including one important early one, one plainer, and the rest split roughly half and half between the 18th and 19th Centuries and managing to give an example or two of each of several of the characteristic types of monument.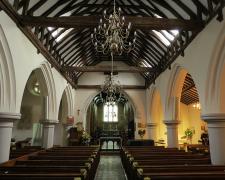 Interior view towards the altar.
Monuments
Gregory Lovell of Merton Abbey, d.1597, 'Cofferer of her Majesties household', noting his two wives and offspring. When Merton Abbey was dissolved, it was to Gregory Lovell that the land and buildings were afterwards rented. So unsurprisingly, this is the grandest monument in the Church, an Elizabethan mural monument with kneeler statues, the characteristic type of memorial of the time (see this page). Gregory Lovell is on the one side, with a round-headed arch above him, facing his two wives, under a separate arch, all three kneeling on tasselled cushions and in an attitude of praying, which is the norm. All three wear black-painted gowns, and all three have splendid ruffs around the neck, also characteristic. We expect to see the offspring underneath or behind their parents, much smaller in size, and we would normally have the male issue under the father, the females under the mother. Here though, with two wives, the children of the first wife, Joan [Whithead], are shown underneath the husband, facing the five offspring by the second wife, Dorothy [Greene], positioned under the ladies. This mixing of sexes is really rather uncommon. They closely resemble their parents, each on their own little cushion and each praying. Underneath all this sculpture is a gadrooned (corrugated like the edge of a shell) shelf, and the inscriptions are below this on small black panels surrounded by the type of carved decoration known as strapwork, and with a central hemisphere in darker coloured marble or alabaster. To the sides are tall Corinthian pillars, and above these are an entablature, shelf, and a structure supporting three painted heraldic arms, with minor strapwork. The whole monument is in a mix of beautiful alabasters and marbles, most colourful, and with the painting of the principal figures and the addition of other ornament - flowers, ball-shaped finials, and little heads above the pillars - the impression is of grandeur and opulence.
Eliza Garrett, d.1670, plain shaped panel on a backing, with a worn inscription and some stylised flower ornament at the base.
William Baynes, d.1717, Land Surveyer of the Customs under three monarchs, 'having always a Just Regard both to ye Revenue and the Merchant'. Also his first wife, Hester (Burgess) Baynes, d.1712, and second wife Joanna (West) Baynes, d.1716, erected by Walter Baynes, whose wife Margery (Green) Baynes, d.1711, is also commemorated, also Walter Baynes, d.1727 – it is probable but not quite made clear that it is the same one – and his (second?) wife Elizabeth Baynes, d.1743, mother of Joanna, noted above. A large Classical panel, with fluted side pilasters, entablature and curved, broken pediment within which is a coat of arms in a cartouche. At the base, moulded shelves, two heavy brackets and a blank central panel or apron, with a carved flower at the base. There is very little carving, and the monument, in white and black streaky marble, is effectively monochrome, relying on its size and solidity for impact.

18th C grand Classical panels: William Baynes and Judith Wilson.

Anne Robinson, d.1730, 'Daughter & Heiress of William Walters of Cundale, and Wife & Widow of William Robinson of Rookby Park, both in the North Riding of the County of York'. The white inscribed panel has a round top, with a delicate yellowish and black veined marble arch over it, and an outer border. At the base, two brackets and a central apron of black and white marble. Monuments up to 1800 tended to the colourful; sometimes flamboyant, sometimes restrained and subtle, as here (picture below left). The earliest of three panels to the Robinson family in the Church.
Elizabeth Robinson, d.1738/9, oval panel with long Latin inscription, bevelled edges and a cartouche above, with the remains of one side of a festoon of carved flowers (see picture at top of page, far right).
Judith Wilson, d.1745, another Classical panel with weight and solidity, this time nearly all in a grey and white brecciated (lumpy) marble aside from the central area and the minor carving, quite dramatic (see picture further up page). At the top, a shallow pediment, this time with the cartouche, now blank but presumably once containing heraldic arms, seated on top. At the base the usual shelf supporting the sides of what is effectively a frame, brackets below, curved apron and a lower terminus or corbel carved with Acanthus leaves.
Henry Merton of Merton Place, d.1757, long-serving Gentleman of the Privy Chamber to his Majesty King George II. A cartouche monument, with the inscription on a central curvy panel, and surrounded by a carved border with scrolling, Acanthus leaves, flowers, and a winged cherub head at the base. At the top is a smaller cartouche, enclosing the shield of arms, with knight's helm on top and more acanthus leaves. A nice example of a most sculptural type of wall monument.

Henry Merton, d.1757: a cartouche.

Sir Thomas Robinson, Baronet, d.1777, white panel in a grey, streaky marble surround, with upper shelves separated by a band of red marble, and with a curly pediment shape on top with a shield of arms in a carved frame. At the base, a small pot on a supporting bracket in white marble. As indicated earlier, the use of different coloured marbles as an alternative to a more sculptural monument was fairly popular at the time (picture further up page, right).
George Bond, d.1792, and his wife Eleanor Bond, d.1797, daughter of Sir Thomas Chitty, with other members of the Bond family added through to 1846. A plain Carrara marble panel with a curved top, to the bottom of which has been added a second, shorter panel with upper and lower shelves, in memory of the Revd. Essex Henry Bond, d.1848.
James Kenworthy, d.1831, plain shaped panel on a painted white backing.
Rear Admiral Isaac Smith, d.1831, and others of the Smith family, erected by their relative, Elizabeth Cook, wife of the explorer Captain Cook. Smith sailed with Cook to Australia, and was the first European to set foot on Australian soil. With a fine carving in alto relieve of a half-kneeling girl, Classically draped, one fair arm resting on her kneeling leg, the other in an open-handed gesture filled with pathos. The carving of the drapery is delicately done to follow and emphasise the curves of the figure. Behind her lies an anchor as a reminder of her famous husband. The monument as a whole includes an upper, recessed panel which has the names and dates of the four deceased members of the Smith family in wreaths across it, with above, a shelf and pediment. The main inscription is on a blocky lower panel on two chunky supports. This is a work by the significant sculptor R.J. Wyatt, cousin of Matthew Cotes Wyatt and related to the various architects of this gifted and artistic family. The signature, on the side of the monument, shows that he made this piece in Rome, in 1832.
Thomas Ripley Winder, d.1845, 'senior special magistrate of the Bahama Islands, who died of fever, while zealously fulfilling the arduous duties of his office'. Plain white marble panel cut with a pointed top, on a similarly shaped painted white backing with small supports.
Elizabeth Mary Maclachlan, d.1845, and her son, Lieutenant James Colebrook Harvey, d.1845, killed at the battle of Ferozeshah. Same design as the Winder monument noted above.

Edward Rayne, d.1847, shaped as a shield.

Edward Rayne, d.1847, and his eldest daughter, Eliza Margaret Rayne, d.1847. Plain panel cut to a fancy shield shape, mounted on a white-painted backing.
Mary Rayne, d.1875, wife of Edward Rayne, and various offspring through to 1914, to the same design as her husband's monument.
Brasses
We may note three modern brasses, each showing a different style:
Also in the Church
The most important element by far aside from the monuments is the set of stained glass windows by Burne-Jones, working for William Morris's firm which was located not far from here. (Incidentally the potter William de Morgan, who supplied Morris's firm for a period, moved for a few years to Merton, perhaps to be closer to the firm, before settling in Fulham in the later 1880s.) There is the usual glowing glass which Morris excelled in, the confident and complex drapery, the beautiful faces of the younger saints, really a pleasure to see (pictures below; you'll need to click to enlarge to see). The figure of Isaiah, with his long beard and sad expression, is reminiscent of Burne-Jones' own appearance in later life. Among various other stained glass, there is a really rather good modern piece – an Annunciation – in memory to Harry May, d.1965.
The hexagonal font, squat and solid, would seem to be of considerable antiquity but renovated somewhat.
Various floor slabs, including 17th Century examples with coats of arms. They include Sir Henry Stapylton, Baronet, d.1679, with finely cut script, and his daughter Grace (Stapylton) Robinson, d.1676, ancestor of the later Robinsons whose monuments are noted above.
A late 19th or early 20th Century Reredos and surround of colourful alabaster, with three panels of bright Italian mosaic, mostly blue and gilt (see this page for an introduction to mosaics in London).
A brass eagle lectern, probably of similar date to the Reredos.
A faded painting of the Descent from the Cross, Italian.
Antique chairs, including one with a scene of a saint being clubbed to death by a wild man in front of bushy trees.
On a window ledge, a fragment of sculpture of some beast with its tongue sticking out, perhaps a dog (picture above right).

Outside, at the corner of Church Lane and Church Path, we should note the War Memorial, a great Churchyard Cross in pale stone, with inscription in nice text at the base, and a small standing Christ in the centre of the cross.

And as well, there is a Norman gateway, with characteristic chevron patterning, which is interesting as a gate from the original Merton Abbey, moved here in the 1930s. There seems to be nothing else left of that abbey, once a substantial ecclesiastical institution where Thomas a Becket studied.

With many thanks to the Revd. John Hayward, Vicar of Merton Parish Church, for permission to show pictures of the monuments inside; the Church website is http://www.stmarysmerton.org.uk/history.htm.

Norman gate from Merton Abbey.

Monuments in some London Churches // Churches in the City of London // Introduction to church monuments

Out into borders of Surrey: Wimbledon Church // Wimbledon tramline monuments // Battersea Church monuments

Or Carshalton Church // Epsom Church // Beddington Church // Mitcham Church // Morden Church

Angel statues // Cherub sculpture // London sculpture // Sculptors

Visits to this page from 8 Oct 2015: 12,468