Monuments in Beddington Church (St Mary), Surrey
Beddington Church, on the railway line out of London towards Epsom and thence the south coast, has two early grand monuments and several monumental panels from the 18th and 19th Century, various brasses old and new, and a splendid and complete decorated organ gallery by William Morris and Co.
A flint church with pale stone dressings, it has a fine site by an open space so that we can get a clear view of the square tower, three stories with newel tower, and the low-roofed body of the Church behind. What we see from the outside is mostly 19th Century, including the tower, but the porch is 15th Century. Inside, the Church gives an impression of breadth, with the nave separated from the aisles by hexagonal columns below Gothic arches. The Carew family were Lords of the Manor since about 1360, and gave money to erect the Church in 1390, and there is a chapel to them built by Richard Carew in 1520 with important tombs of the 16th and 17th Centuries. The later monuments include examples of the work of the notable sculptor John Bacon Junior, and two of the Westmacott dynasty. The 19th Century work on the Church, by the architect Joseph Clarke, took place from the late 1860s, and includes the aforementioned screened organ gallery, highly decorated, by Morris and Company.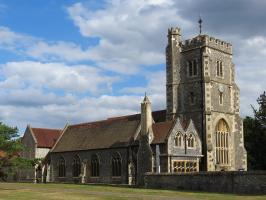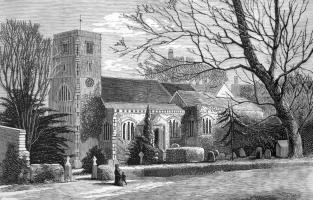 St Mary Beddington, exterior and interior views, and late Victorian appearance.
Monuments
Carew Family Monuments
The village of Beddington was dominated by the Carew Family, who lived in a grand Elizabethan mansion nearby with famous gardens around it, and had connections with the area back until the 14th Century, and apparently were earlier were among the Saxon nobility who successfully made the transition into Norman times without losing their lands.
Sir Richard Carew, d.1520, and Lady Malyn.

Sir Richard Carew, Knight, d.1520, Governor of Calais, and Lady Malyn, his wife. A grand altar tomb, with a backing of stone against the wall in Tudor architecture: pilasters at the sides with cut angles as if octagonal in cross-section had they been solid (think of Tudor gate towers), and a central, broad Tudor arch with remnants of a decorated backing; above is an entablature, bearing a stylised repeating pattern of grapevines, and along the top is a line of cut-out lozenges, very characteristic; there are three stone shields along the top. Below, the front of the altar tomb has three panels, each with a quatrefoil bearing a central device, and coloured red, blue and orange-brown. The dark slab which forms the top of this altar tomb has upon it brasses of Sir Richard and Lady Malyn, standing and praying, looking somewhat towards each other. Sir Richard is shown in plate armour, wearing his complex coat of arms on chest and tunic. He has straight hair, parted in the centre and hanging down almost to the shoulder, and a moustache, but only a hint of whiskers on his chin rather than a beard. His scabbarded sword hangs behind him, and he has spurs on his charmingly broad foot-pieces. Lady Malyn is shown with a youthful face, and wears long skirts and a robe down to the ground; her hair is covered with a hood, and she wears what seems to be a necklace, and a crucifix seen under her hands, and a belt adorned with three flowers.

Other brasses to the Carew family, including Nicholas Carew the second, d.1432 and his wife Isabella, are apparently under the carpet, but I did not see them.

Sir Francis Carew monument, 1611, portrait, Lady Marie, and detail of column.

Sir Francis Carew, Knight, d.1611, 'sonne and heire of Sir Nicholas Carew, Knight of the Honorable order of the Garter, Maister of the horse, and privye Councellour to King Henry the VIII'. The large and splendid alabaster monument has a full length effigy of Sir Francis Carew, dressed in plate armour, lying on an altar tomb, and with full pillars to the sides, supporting entablature and large shelf; there is a third support mid way along, so Sir Francis is under a canopy. On top, strapwork and a central roundel with painted shield of arms, and to the sides, tall, black obelisks. There are two panels with inscriptions, gilt on black, above the effigy. One is in Latin, and the other in English, stating that Sir Francis Carew was the son and heir of Sir Nicholas Carew, and being unmarried, adopted Sir Nicholas Throckmorton, his nephew, as his own heir, to his estate and his surname – it was Sir Nicholas who erected the tomb 'to the memorie of his deare and well deserving unckle'. The effigy of Sir Francis shows him with short-cropped hair under a skullcap, a severe face above a tightly cropped beard, and a moustache. He is dressed in full plate armour, and lies with his head supported on a folded cloth, his sword in its scabbard by his side. The praying figures underneath number nine in all, two large ones, the rest much smaller. Each sits on their small tasselled cushion, and each is a copy of the father, or identical females (for more on such monuments, see this page). The scale of the monument, and the use of richly carved and coloured alabaster, makes this a most impressive tomb. There is a second panel on the tomb in Latin, and a third, smaller panel with the kneelers below notes Sir Nicholas Carew, Knight, d.1643, was the 'youngest sonne of Sir Nicholas Throckmorton, adopted into the surname and armes of Carew, married Marie, eldest daughter of Sir George Moore of Loseley, Knight'. So we can deduce that the two larger kneelers at the front of the ensemble are Sir Nicholas and Lady Marie, and the seven smaller figures behind, pictured below, are the children.

We should note that the connection to the Throckmorton family was made in the previous generation by Sir Nicholas Throckmorton (d.1570), who married Ann Carew, and whose grand monument survives in St Katharine Cree in the City of London; this earlier monument has an alabaster effigy which is rather similar to the one at Beddington.

Lady Mary Carew, d.1633, wife of Sir Nicholas Carew, d.1743, whose inscription is noted above, an impressive wall panel in the grand style, with the black inscribed panel having a frame, outer pillars with black marble shafts, an entablature above, also black and now blank, and an upper shelf with projecting corners. Above these are black ball decorations, and it it is likely that there would once have been some central coat of arms. At the base, another shelf, beneath which are supporting brackets to the sides, each terminated with a pendant of dark stone, and in the centre, a modest apron with small black panel and the faded remnants of some short inscription.
Nicholas Carew, d.1721, with a lengthy Latin inscription. A most splendid cartouche monument. Cartouche monuments, with their violin-shaped centres and surrounds of knotted drapes and Acanthus leaves and scrolling, are widespread but always among the less common monuments, requiring a level of skill of the sculptor which was beyond the ambitions of the majority of stonemasons. This cartouche is a particularly good example, with the drapery descending from a small upper cartouche in deep-cut curves to thick knots at the top of the sides, descending in almost straight folds like hoods, with further knots and then hanging folds beneath. The upper cartouche originally held painted heraldic arms, dimly seen today, and has a knight's helm on top with flamboyantly carved acanthus leaves around. At the base is attached a second small cartouche, with a separate inscription, dated 1722. At the very base, a batwinged skull or death's head provides a suitable terminus. Splendid.
Sir Nicholas Hacket Carew Baronet, d.1762, wife Catharine, Lady Carew, d.1762, daughter Catharine Carew, d.1769, and Richard Carew, formerly Richard Gee of Orpington, d.1816. Massive wall monument of white marble based on a pointed window design, with the inscription on the blind window, with large coat of arms above, and two spirited horses as the supporters, excellent things. There is vaguely leafy, scrolly decoration in the triangular spandrels above the window, and then an upper shelf or entablature, deeply carved with vines, extremely well done; two pillar tops hang down on the sides with carved termini. On top of this is a balustrade, and then the backing panel rises to a point, with upon it, a carving of a dove descending from in front of a sunburst. At the base of the monument is a broader shelf, and this has two supports carved as queenly heads.
Admiral Sir Benjamin Hallowell Carew, d.1834. A distinctive casket end monument. The casket end, with outward sloping sides, has the inscription, flanked by wavy lines, and supported on little feet. Above is a lid, on which is a crossed flag and sword, well carved, with a wreath behind labelled 'Nile' (Sir Benjamin was an officer at the battle of the Nile under Nelson); the unusual aspect is that this is placed very asymmetrically, piling up towards the left. The casket rests on a shelf supported on two blocks, and the whole is on a backing cut with 'ears' and a slightly raised centre. Signed by Richard Westmacott Junior, London. Several of the Westmacott dynasty made church monuments - see this page.

Richard Westmacott Jr's monument to Admiral Carew, d.1834.
A couple more of the later Carews are noted under 'Modern Brasses' below. We may note that 'the old stock of the Carews, in spite of having been bolstered up by entails and adoptions of the name by descendants in the female line, passed away [around 1900 presumably] in a London lodging, when the last bearer of the name died, homeless and landless. Such, indeed, are the 'Vicissitudes of Families'.'
Other Monuments, 18th–19th Centuries
Elizabeth Chapman, d.1718, with a long Latin inscription, grand panel of white marble, with fluted side pilasters, shelf above, bearing two pots to the sides and acentral shield of arms, painted, within an ornamental surround. At the base, curly brackets, a blank central portion, and an apron with carved ribbons, knotted at the centre.
Mary Knight, d.1797, an obelisk monument, with upper obelisk and lower outer panel in a visually arresting grey and black streaked marble. On the lower part is the inscribed panel in white marble, and two draughts-piece circlets, then a substantial dividing shelf with mouldings, and then on the short upper obelisk is a narrow stemmed egg-cup shaped pot, most refined.
John Walton, d.1802, erected by his wife Anne Walton, d.1816, and sister, also Anne Walton, both also commemorated. Rather like an obelisk monument, except that instead of an obelisk, we have an upper panel carved as a pointed arch. In front of this is a high relief carving of an egg-shaped pot, bearing a shield of arms and with a festoon of flowers across the front. Underneath is a supporting shelf, forming the upper edge of the inscribed panel and its two receding side pieces. There is a gentle curve to the monument at the base. Signed by John Bacon the Younger, a prolific maker of monuments as well as a notable sculptor.

John Bacon Junior: monuments to Walton and Brdiges, early 19th Century.

William Bridges, d.1805. Similar to the John Walton monument, with upper panel carved as a pointed arch. Here, the pot in front bears a wreath enclosing a heraldic device, cloth hangings with knots, and a lid. The supporting plinth is carved as a shelf of arms with festoon of flowers. Under all this is a shelf, and below, the inscribed panel between two fluted mini-pillars. Again by Bacon the Younger.
Arthur Blake, d.1806, wife Anne Susanna Blake, d.1815, and son Arthur Garland Blake, d.1812, at Rajahmunery in the East Indies, the tablet being erected by desire of the surviving son, Edward Parker Blake, d.1860. A white on black monument in the style of a vertically unrolling scroll, a nice alternative to the Classical panel. There is a small crucifix above this, and the black backing is supported on two small blocks.

Elizabeth Tchitchagoff, d.1811, by Henry Westmacott.

Elizabeth (Proby) Tchitchagoff, d.1811, with a Latin inscription. Tall monument with the inscribed panel as the side of a plinth, with heavy lower base and upper shelf, supporting a pot carved in high relief. This pot is almost entirely covered by a drape, which loops through one curly handle and covers the other, hanging down to one side of the plinth. The shaped backing is of streaky black marble, and there is a supporting shelf of the same colour at the base. It is signed by Henry Westmacott, a member of the dynasty of sculptors finding most fame in the person of Sir Richard Westmacott RA.
William Gee, d.1815, erected by his wife Anne Paston Gee, d.1828, who is commemorated on a separate panel below.
James Dredge, d.1819, and wife Mary Dredge, d.1850. Plain white panel with inscription looking old-fashioned for that period. The two panels, with a shared border, were made as a piece, and we can presume that the lower one was left blank until Mary Dredge died. The surround is a blind Gothic window, with shield of arms carved in low relief filling the arch, with leafy surround, and an outer frame with a twisted leaf carving all the way round, heavily undercut giving an interesting pattern of light marble and shady depths, most effective. At the base, a heavy shelf, as if the window sill, in stone, and attached to the bottom of this, two shields, now blank. By Henry Westmacott, whose work we met in the Elizabeth Tchitchagoff monument noted above.
Mary (Barclay) Tritton, d.1827, and husband John Henton Tritton, d.1833, banker of Lombard Street, and daughter Mary Tritton, d.1852. Classical panel with side borders, upper and lower shelf in correct proportions, and a blocky upper pediment bearing a painted shield of arms and crossed ferny fronds carved in relief. At the base, a curved apron between two blocks each bearing a carved flower. There is a shaped black backing, signed by the mason Lupton of New Road, London, one of the better stonemasons of that street, the address of so many of that profession.
John Tritton, d.1832, and wife Elizabeth Mary Tritton, d.1834. Panel with upper shelf and roughly cut pediment with painted shield of arms in a roundel, on a black shaped backing.
Patrick Maxwell Shaw Stewart RN, d.1846, 'killed by the accidental discharge of a fowling piece at Beddington Park'. A rectangular white panel on a black backing, made unusual in design by the low relief carving at the corners, showing little flowers, and with a small Royal Navy arms upper centre.
Brasses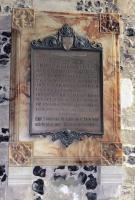 Alexander Henry Bridges, d.1891, modern brass and alabaster.
Also in the Church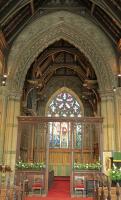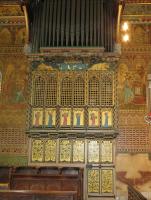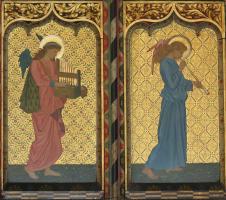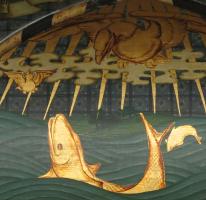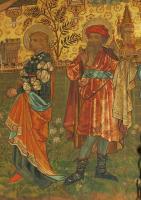 Morris Organ Gallery and details.
Firstly must be noted the William Morris organ gallery, beautifully decorated in the manner of that establishment. There is a series of six angels, mostly as winged girls but with one male figure, each on its own golden panel, but forming something of a processional, and each with a musical instrument. Other panels show religious scenes. Lower down are panels with different plants with fruit and flowers, harmoniously arranged. Above are charming scenes, one with a bird flying above waves with giant fishes leaping from it, others with reclining animals, symbols of the apostles. There is a wealth of small painted wood carvings, and larger heads of angels as corbels supporting the arches of the ceiling. There are four full angels in flight, praying, projecting out from the sides, and there are coffered panels with more gilt decoration on the ceiling. Really quite a remarkable and beautiful ensemble, all of a piece, and showing how Morris's firm could make a complete furnished space with a range of materials and techniques, all united in a common theme and style.
Second, is a huge painted screen, some sort of reredos, completely filling the end of one aisle. It contains 13 painted panels, in a Continental style. They form three rows. At the top is Christ in Majesty in the top centre, flanked by two panels with groups of angels, standing on clouds and carrying appropriate accoutrements: ladder, crown of thorns, 30 pieces of silver and so forth. The middle row has a central panel of angels, with two panels either side with saints – a lot of them, conveniently named on their halos. The lowest level, with the largest panels, is the most lively. In the centre, is a scene from Judgement day, with mortal souls being separated to left and right. Those on the left as we look at the panel are destined for Heaven, shown in two panels on that side, in pleasant out of doors scenery. The panels on the right are for the damned, with horrified figures being encouraged into the flames by pointy-eared demons. A pleasure to see this fine piece. Pevsner, the architectural historian, says it is by Clayton and Bell and dates from 1869, when the Morris organ gallery was made.
We should note the stone font with a square top, arcaded, on a central shaft with four outer columns – this would seem to date back as far as the earliest portions of the Church - see picture at top of page, to left.
And there is a World War I memorial, a stone plaque with the names of the men of the parish who were killed, a border, and at the top a small basso relievo figure of Christ.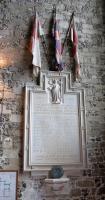 Beddington Church war memorial.
With many thanks to the Church authorities for permission to show pictures of the monuments inside; their website is http://www.stmarysbeddington.org.uk/index.html.
Also in Surrey: All Saints Church, Carshalton // Christ Church, Esher // St Martin's Church, Epsom // and formerly in Surrey: St Mary the Virgin, Merton // St Mary, Battersea // and Wimbledon tramline monuments
Monuments in some London Churches // Churches in the City of London // Introduction to church monuments
Angel statues // Cherub sculpture // London sculpture // Sculptors
Visits to this page from 7 Oct 2015: 5,799