All Saints Parish Church, Carshalton, South London/Surrey - Monuments
All Saints Parish Church, Carshalton is classified as being within South London today but is also or was part of Surrey in the not so distant past. It should definitely be on the list of churches in the vicinity and suburbs of London to visit for anyone interested in church monuments.
It is a large church with a splendid position by a lake, but with trees screening it in the summer, and from the roadside appearing from the rear view, fine enough but not grand. The low, square castellated tower is best appreciated from the side view of the Church seen from the graveyard, looking more or less north and east. We see a mix of styles and materials, reflecting the long history and many changes to the body of the Church.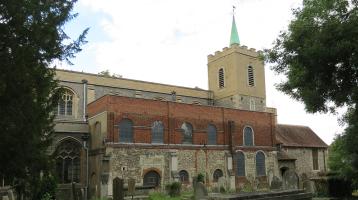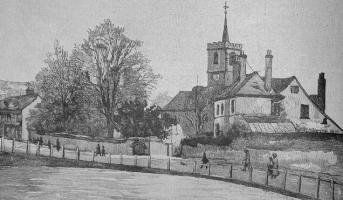 All Saints Carshalton, modern picture and 1880s view.
Inside, the nave appears a more massive space than expected, heightened by the suspended organ over the great screen by Bodley and Comper; it is separated from the aisles by pointed arches on thin, clustered columns, but even these aisles are of some considerable height. The Church is of mixed periods, the Tower, Lady Chapel and southern aisle being from the 12th Century, a variety of other bits through to the 18th Century, and then at the end of the 19th Century and from 1910, the nave, chancel, north aisle, all by Arthur Blomfield and Reginald Blomfield, with no less than G. F. Bodley designing many of the furnishings, and then Ninian Comper prettifying it all in the 1930s and adding extremely good ironwork.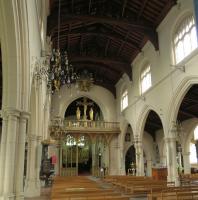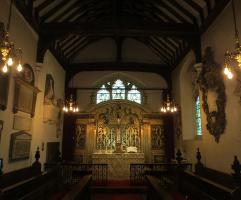 All Saints Carshalton, interior.
Monuments
We start with the two grandest ones:
Dame Mary Scawen, d.1700, eldest daughter of Sir William Maynard of Walthamstow, Baronet, and her husband, Sir William Scawen, d.1722, Governor of the Bank of England and three times MP for Surrey. The effigy is of Sir William, surrounded by grandiose sculpture and architecture. His statue shows him reclining, in the fashion of a noble Roman, and wrapped in a great cloaklike coat, but dressed in the clothes of his own time, with full wig, ruffs at the wrists, and rather high-heeled, square toed shoes. A skull rests on his outstretched leg, and he rests his hand upon it, in the fashion of a philosopher. The most remarkable aspect to the modern eye, though, is surely his face, upturned and with a haughty expression. Who today would wish to be remembered quite like this?

Sir William Scawen and Dame Mary Scawen, early 18th Century figure sculpture in the grand manner.

The monument brings to my mind the statue of Archbishop Richard Sterne, in York Minister, reclining in a somewhat different pose, but with a similar sense of self importance. Regardless, it is a work of great merit. An inscription notes that the monument was repaired by James Francis of Clapham in 1811, a rather minor sculptor of his day. But who was the original sculptor?

The effigy is upon an altar tomb, or sideboard-shaped tomb, with the inscription to Sir William, and his wife's inscription is on the wall above and behind him. Tall free-standing pillars on either side, with flat pilasters behind, all Corinthian, support not a pediment, but a more piecemeal, baroque structure; thus there are upper pillar-capitals, with flaming urns upon them, and in between, a broad panel, fireplace style, with upper shelf and lower, broader shelf on carved brackets, which forms the setting for a standing, mourning cherub, with three winged cherub heads above emerging from a billowing cloud. The motto at the top is 'Respiciendo et prospiciendo', or 'looking forwards and looking backwards', appropriate enough for a monument. At the very top stands the painted coat of arms, within its own cartouche and on its own base, with two festoons of flowers hanging from the sides. Altogether a remarkable monument, worthy of the grandest cathedral, and worth the trip to the Church on its own.

D. John Fellowes, Baronet, d.1724. A colossal monument, incorporating many tons of marble. It is an obelisk monument, with the great obelisk, itself of prodigious size, of grey marble with white inclusions, and bearing upon the front a painted shield of arms, with a knight's helm on top, surrounded by broadly carved acanthus leaves. It rests on two feet carved as the heads and shoulders of heraldic beasts, either bearlike lions with long muzzles, or leonine bears; the same animal features on the heraldic arms. Below is the tablet, with the minimalist Latin inscription, and receding sides and upper and lower shelf of bicoloured marble. To each side is a large pot set into the wall, with lion heads around the sides with drapery hanging between them. (If you like sculptured lion heads, see this page.) All this mass rests on a casket tomb or casketlike altar tomb, again set into the wall, with heavy gadrooning (corrugated appearance). Overall a grand monument indeed, but despite the carved pots and coat of arms, this is essentially a piece of architecture rather than a predominantly sculptural work – an opportunity missed.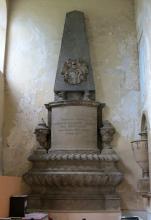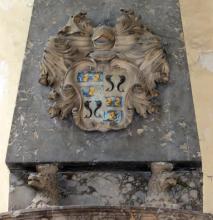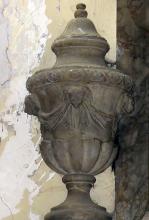 John Fellowes, Baronet, d.1724, gargantuan obelisk and details.
Other monuments
There is one very early monument, five from the 17th Century, about nine from the 18th, and 16 from the 19th and two from the early 20th. We take them in date order.
Nicholas Gaynesford, d.1400, and his wife Margaret Gaynesford, d.1400. Table tomb with backing slab above and behind it, which contains brasses of a couple and their children, and shields above, and on the front of the table tomb, three more shields. These shields, and the figure of the woman, seem to be enamelled in basse taile, with a heraldic red and a turquoise pigment. The brass of the woman shows an elegant, slender creature, wearing a large headdress, many necklaces, and long skirts heaped up on the ground (picture below right - you will need to click to enlarge). She is kneeling, praying, with a castle-like prayer desk in front of her with an open book. Behind her, the matrix for four missing daughters. In front of her, rather than her husband facing towards her, we see four small sons, all kneeling and praying, and in front of them, still facing towards the right, their father, who along with his eldest son, is in plate armour. Though he kneels on a grassy field with flowers, his hands are not in prayer, but held a little distance apart. Most interesting and really an unusually early monument.

Gaynesford monument, and enamelled brass of Margaret Gaynesford, 1400.

William Quelche, d.1654, with the long inscription, in English and Latin, commencing 'Under the middle stone that guards ye ashes of // A certayne Fryer some times vicar of this place is // raked up ye duste of William Quelche B:D. who // Ministred in ye same. Since ye reformacon, // His lott was Through Gods mercy to burne // Incence here....' As characteristic for this period, the inscription is gilt on black stone, with pale pilasters to the side and an upper and lower shelf. Above the shelf is an entablature and an oversize pediment, or a triangle too steep-sided to be a proper pediment, partly obscured by an equally oversized cartouche, with a low relief flaming pot on it. At the base, a shield, now blank, and some terminus with scrolls at the sides, conceivably the remnants of some strapwork feature.

Mid-17th Century Classical panels: Quelche and Longe monuments.

Dixeus Longe, d.1664, put up by his wife Theodosia. Like the Quelche monument, it is a Classical panel, with the same elements of Classical border, swan-necked (curly) pediment, broken to allow for a hefty shield of arms, painted and here surrounded by feathers, but a less solid feel than the earlier monument. The black inscribed panel is a streaked, slatey affair, with crisply cut Latin inscription, in a thin moulded border of pale stone. At the base, a small apron consisting of two scrolls with a nicely carved pinecone between.
Dorothy (Jackson) Burrish, d.1685, wife of Edward Burrish, Citizen of London and daughter of Joseph Jackson, Citizen and Turkey Merchant of London. A baroque monument that appears to be a sort of proto-cartouche, with the general cartouche shape, a few fine but isolated scrolls on the outer edging, and the central inscription on a field carved to form a small hanging drape, a form revived as a separate monument type finding some popularity at the beginning of the 19th Century. The drape is knotted at the top sides, with a carved dove on either side, most naturalistic, and in between a miniature cartouche which would have held the painted arms; this is adorned with small scrolls and mini-festoons of flowers. At the base, under an elegant scroll and acanthus leaf, is a cherub's head and little wings.
Elizabeth (Herringman) Byne, d.1687, daughter of Henry and Alice Herringman, see below. Definitely a cartouche monument, and to be compared with the Burrish monument above (they are both pictured here), with oval, slightly domed panel surrounded by complex carvings of scrolls and drapery. From a smaller cartouche at the top of the monument, doubtless with painted arms at one time, hang drapes, tied at the sides into knots, then hanging down to the sides, caught by hooks, and then hanging in drop folds, with the central portion bearing a fringe. In the bottom centre is another small scrolly cartouche, again blank. Just above the text, the ribbed scrolls to the side curve inwards to leave space for a grinning demonic creature, bat-winged and with spiky head, some Boschlike conception of the sculptor.
Revd. Thomas Bradley, Vicar until 1689, and his wife Elizabeth Bradley. Back to the Classical panel, with veined marble side pieces, and a swan necked pediment, or something like it, above, with a small pot in the centre, and two finely carved skulls to the sides, without lower jaws, as is the general custom. At the base is a narrow shelf and an apron with ferny branches. What a difference from the earlier Classical monuments with their contrasting and darker colours.
18th Century Monuments
Henry Herringman, d.1704, and wife Alice, also d.1704. He is described as 'Citizen and Stationer of London', and was an important bookseller and publisher of his day, his shop being referred to in Pepys' Diaries. He seems to have profited from the demise of many of his competitors' stocks in the Great Fire of London, and was at one time Master of the Stationers Company. This is the third and last of the cartouches in the Church, with the carapace-shaped central inscribed panel dominated by the bulky surround. At the top, a canopy from which descends two carved drapes, pulled aside by two naked cherubs to reveal a pot in high relief. Further drapes fall to the sides, with extra scrolls, two further cherub heads, and a looping round the base where a small coat of arms in low relief is placed. Copious carvings of flowers, leaves, corn and a fine bat-winged skull or deaths-head add to the ensemble. Festoons of flowers to the lower sides are like curving horns inwards to the base, where there is a downward-pointing terminus with scrolling, signed by the significant sculptor William Kidwell - this is an excellent example of what he was capable of.

Herringman monument, 1704, and details of deaths-head and carved flowers.

Robert Teagge, d.1711/12. Plain panel with inward curving upper sides, redeemed by a jolly little ditty: 'Here lies ye Body of ROBERT TEAGGE // Whos Life is at an End, // He was the best of Husbands // And the truest Friend. // He resteth hear as I do hope to be // Happy with him to all Eternity.'
Edward Fellowes, d.1730, the inscription very worn. Interesting stone monument, a Baroque development of the more austere Classical panels we saw earlier. Here the central panel, with nipped upper corners and curved base, is within a Baroque frame with short pediment on top, flanked by two statues of standing cherubs, theatrically posed (one is shown at the top of this page) and a world away from the calm and static Classical figure. At the base, low relief ferny branches, a shelf, and an apron bearing a small cartouche enclosing painted heraldic arms.
Arabella Brace, d.1744, with some prose, and her husband James Brace, d.1747, Secretary to the Irish Society in London for over 40 years. Grand Classical panel, with attached pillars to the side, a broken pediment above, containing a cartouche of arms, painted, and with bases to the sides which presumably once contained urns or some other carved device; the arms would also have once been raised up somewhat, I would think. At the base a shelf, then two curved side brackets under the pillars, and a central apron bearing high relief carvings of two crossed branches; there are three terminal corbels carved with Acanthus leaves. The whole is in a variety of coloured marbles, the pillars being particularly appealing.

Brace and Braddyll monuments, late 18th C Classical, latter by Rysbrack.

John Braddyll, d.1755, with an account of his travels, rather a grand monument, Classical again but this time the decoration rather than the structure moving to the Baroque, with a broad frame of veined marble, crenellated on the sides, and a chunky pediment above, bearing a fluted bowl, and one complete and one incomplete ewer or lantern on each slanting side. Below is a shelf, supported by two carved brackets, and with a central cartouche of arms, painted, on a curved apron. By no less a master than the Flemish sculptor J. M. Rysbrack.
Sir George Amyand, Baronet, d.1766. The inscription is on the blocky base of a complete, perfect Greek pot or urn of prodigious size, on a thin stem, rising parabolically to the widest point, with a sudden change of angle to give a flat top to the body on which is the spout. The monument sits in a niche, round-headed and surrounded by a border with lightly carved Roman S-shapes. Rather grand, were it not dominated over by the Fellowes monument at right angles to it. Most refined. Monuments like this are more usual outside than inside a church, and are an alternative choice to a panel for a Classical monument.

Classical pots, late 18th Century - Baronet Amyand and Thomas Potts.

Thomas Potts, d.1788. Panel with upper and lower shelf, a short obelisk on top, on the front of which is an attached pot, egg-shaped and perfect. The monument is made in several coloured marbles, in the fashion of the time, and is simple, restrained and elegant. Nothing can compete with the vast Fellowes monument noted at the top of this page, but this represents another type of obelisk panel monument, which we shall meet in other forms in the 19th Century panels in the Church.
19th Century Monuments
Beynon family:
We take the three panels to members of the Beynon family together, then the Shepley family, and then revert to chronological order. They are interesting in that all five are signed works, with Charles Regnart and Edward Physick being significant sculptors, and Denman and above all Gaffin being prolific London stonemasons.
Shepley family:
Michael Shepley, d.1837, with a short eulogy and poem. The inscription is on a white panel styled as a casket end, with outward sloping sides, and brackets forming feet underneath. On top of the lid, though, is a black panel on which is a tableaux carved in high relief, of the dying man, lying on a divan or bed and covered with a sheet – or perhaps he is already deceased and this is his funereal shroud. Kneeling in front of the bed, thus turned more than three quarters away from us, is a girlish figure, reaching forward to support his head, and her other hand clasping a fold of drapery at his side. The pair are under a tall tent-like structure of drapery, carved lightly and excellently. The figure of the girl, too, is very fine; her fairly full drapery showing something of the feminine form within, and the sole of one foot beeping out. Charming. The monument is signed by the sculptor E. Physick. The Physick dynasty of sculptors includes nearly a dozen members, and Edward Physick could be one of several by this name, with church monuments signed like this in and around London, in Berkshire, Hertfordshire, Surrey and further afield.
Susanna Shepley, d.1840, with a nice statue of a girl leaning against a casket with pot on top, lion's feet underneath, against a grey backing with a pediment. The inscription is on a panel underneath, separated by a shelf forming the base of the ensemble above. The girl is perfectly Classical, with her face in profile, straight nose descending from the forehead, and somewhat heavy chin favoured by the ancient Greeks. Her neck has some strength to it, and her bare arms show a gentle swell of muscle. Her one arm has the elbow resting on the casket, forearm back inwards across the breast, so that with her other arm, holding her drapery, her pose is one of cradling some lost or imagined form, most symbolical. She has her legs crossed, an affectation of the late 17th Century onwards, but where often this makes the standing figure have an insouciant aspect, here, with her bowed head and back, the image is of grief, this despite the expressionlessness of face which the pure Classical personage must have. More on this monument on this page. This splendid piece of figurative sculpture is again by the sculptor Edward Physick, of Park Terrace, Regent's Park.
Other 19th Century panels:
With this period we are well into the era of smaller, plainer panels, often white on black, with little or no sculptural decoration.
George Taylor, d.1814, of Carshalton Park and the Island of St Christopher in the West Indies. With a long eulogy referring to the love and fidelity of his 'numerous old domestics'. Tomb chest end, with fluted sidepieces widening towards the top, a moulded shelf above, and on this a semicircle of black marble with upon it a painted shield of arms surrounded by a relief carving of two branches, crossed over at the bottom. To left and right are small Roman-style torches, or rather the surviving one of a pair. At the base of each pillar is a small corbel, carved with scallop shells.

George Taylor, d.1814.

Thomas Plummer, d.1818, merchant of London, Ellen, b.1811 with no date of death, Eleanor Ann Plummer, grand-daughter of Thomas Plummer, and Emily Warren Plummer, d.1835. Tall panel with black backing, high relief pot or urn on top, and at the base, painted shield of arms within a circle which, though broken and headless, retains the lightly carved scales which mean it was once a snake about to swallow its tail; a symbol of eternal life and rebirth (more snake sculpture on this page). Attached beneath the monument is a white panel to John Plummer, son of Thomas Plummer, d.1839, with room for more inscriptions which were never added.
Robert Houstoun, d.1828, with a short Latin inscription, and his wife Isabella Houstoun, d.1829, with a longer one. His panel is above hers, and together they form, with their borders, a tall structure, with an arched pediment with oversized acroteria above, and a heavy base with inscribed repeating pattern below; the acroteria contain rather oddly carved space-filling shapes, vermiculated rather than anything else, and are unusual. Henry Burlowe was the stonemason.

Harriet Murray, d.1929, relief figure.

Harriet Murray, d.1829, wife of James Arthur Murray, captain in the Royal Navy. Obelisk monument with figure sculpture: a high relief figure of the deceased, unless she be some allegorical figure, leaning on a tall anchor with a rope attached to it, and behind her, a plinth with two large books resting upon it. Her hair is tied back in a bun, and her head rests on one hand, concealed within her long sleeve. She is seen in absolute profile, and her pose is one of lounging against the anchor, propped up as it were, and legs crossed, which as noted above is a familiar stance of the period and found on many a girl-with-pot monument. She stands atop a low tomb chest end, on the side of which is the inscription, a square plinth behind her bearing two books. The backing consists of the obelisk, and a wide border round the rest o the monument, with enough space underneath to allow for a painted shield of arms. It would have been nice to have a signature of the sculptor.
Elizabeth Dorothy Rose, d.1755, and daughter Elizabeth Dorothy Fearon, d.1803, and eight unnamed infants, and the Revd. William Rose, d.1829, Rector of the Church and of Beckenham – the style shows we have a 19th rather than mid-18th Century monument. Plain white marble cut with a loosely pedimental shape on top, on a similarly shaped black backing. Signed by Charles R. Smith, who has done much more ambitious things.
Mary Kennedy, d.1837, and her parents, John Bourke, d.1806, and Mary Bourke, d.1816. Plain white panel with shallow border and upper shelf, on a black backing with block supports bearing concentric circles upon them. Signed by R. Maile of the New Road, London.
Mary Burra, d.1839, daughter Elizabeth, d.1843, and husband Robert Burra, d.1846. Classical panel with a swan-necked or curly pediment on top, with minor carving and a central shield of arms, now blank. At the base, a thick shelf and two block feet, and the whole is on a black shaped backing. By the masons Noakes & Pearce, New Road.

Mary Burra, d.1839, by Noakes & Pearce.

William Matthews, d.1849, and his wife Caroline, d.1858. Tall monument, sort of an obelisk monument, though the black obelisk is very wide at the top. On it is a tall plinth bearing a pot containing a dying tree carved in high relief, a common allegory for the death of a husband. The inscription is on the blocky base, and below are two small block supports.
James Burra, d.1851, solicitor of Bread Street in the City, and son of Mary and Robert Burra noted above, and his wife Elizabeth Susanna Burra, d.1903. Plain white panel on plain black backing, made by Thomas Gaffin of the prolific firm of monumental masons based in Regent Street – we have met him already in the carved monument to Edmund Beynon noted above, of later date.
Elizabeth Devereux Kennedy, d.1852. Conventional tomb chest end, with cut-out lid or pediment above, two feet with mouldings, and on a shaped black backing. By the firm of monumental masons Bedford of 256 Oxford Street, London, another central London company producing work across England, but mostly in and around London; very often with at least some minor sculptural adornment, so we are a little unlucky here.
20th Century Monuments
Juland Patrick Dingwall, d.1910, wooden panel with fluted border and decoratively carved squares at the corners.
George William Taylor, d.1917, who perished from wounds received in action in France. With a long text in small capitals. A narrow shelf above, and cut to a pediment shape, on a shaped grey marble backing. A typically spare WW1 version of the Classical white on black tablet which had been so popular for the past century.
Douglas Clifton Taylor, d.1917, member of the Artists' Rifles, killed in action near Cambrai. Plain slab of masonry in the wall.
Brasses
Aside from the brasses on the Nicholas Gaynesford monument pictured near the top of this page, we also have an ancient brass fragment consisting of the Arms of Gaynesford, surviving from the monument to Joan (Moresby) Gaynesford, d.1492 with an inscription from 1916 when the brass was relaid.

We might also note a modern brass, a plain panel to Charlotte Sophia Peirs, and Hugh Vaughan Peirs, d.1936; they donated a window.
Also in the Church
Not noted in detail, as there is so much to see with the monuments, but it would be impossible not to note the main furnishing in the Church, which draws the eye and lingers in the mind's eye, which is the screen, and behind it the vaulting, much work by Bodley in the 1900s, with painted panels and decorations by Ninian Comper from the 1930s, including a series of cherubs and nude male angels in pastel colours, and gilt, painted statues of saints; close up they are too clean for the modern taste – a century of grime and avoiding any attempt at cleaning would help – but from a short distance away, most dazzling. There is much other decoration by Comper in the Church.
The Reredos is painted by Comper, standing up to close examination, with half-figures of angels, full figures of saints, and a fine Adam and Eve, depicted nude, which would have been unusual even in stained glass during Victorian times, but was completely acceptable by 1930, and in pose hearkening back to something of the spirit of Cranach. There is much to be enjoyed elsewhere around the Church by Comper and Bodley.
Finally, we might note en passant, wooden panels recording the bequests of Christopher Muschamp, d.1660, and Henry Byne, d.1697, also Henry Smith, d.1613, and John Welford, who bequeathed land to repair highways in 1750.
Outside the Church
The Churchyard is worth exploration, with a goodly number of gravestones of the usual sorts (see this page for some examples of such things), and including examples of gravestones with a low relief skull and crossbones, wilting plant in a pot, and other symbolic relief sculpture, as well as crucifixes, the odd Egyptian obelisk, and chest tombs.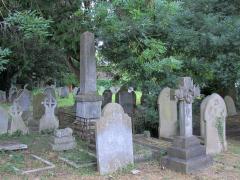 Carshalton Parish Church graveyard, typical monuments.
With many thanks to the Church authorities for permission to show pictures of the monuments inside; their website is http://www.carshaltonallsaints.org.uk/History.htm.
Also in Surrey: St Mary, Walton on Thames // St Martin's Church, Epsom // St Mary's Church, Beddington and formerly in Surrey: St Mary the Virgin, Merton // Mitcham Church // St Mary, Battersea
Some other London Churches // Introduction to church monuments
Visits to this page from 6 Sept 2015: 8,023