The Second Website of Bob Speel
This website is mostly about sculpture, mostly in England, mostly Victorian and Edwardian. It is simply intended for those interested in sculpture and related arts.
Recent additions to this site include pages on the a page on monuments in All Hallows Church, Tottenham, one on the monuments in Broxbourne Church and in St Mary the Virgin, Walthamstow, a long overdue page on Parliament Square, a small page on the sculptor Edward W. Wyon, a page on Wimbledon tramline monuments, pages on monuments in three Hertfordshire churches: Aldbury Church, St Helen's Wheathampstead and St Peter & St Paul, Tring, another on those in Morden Church in South London, another on Walton on Thames Church, Surrey, and a large page on Beauty in Sculpture.
Sculpture of the Month for December is a seasonal thematic page on Winged Cherub Heads.
Starting points: You can take a tour of the sculpture down Oxford Street or along Chelsea Embankment in London or Colmore Row in Birmingham. You can see the sculptured monuments in various churches, such as St Stephen Walbrook in the City of London, or Hillingdon Parish Church or Ealing Parish Church in the suburbs. Or tour churches elsewhere in the country, for instance St Bartholomew's in Wednesbury, St Stephen's in Bristol, or Bradford Cathedral. You can see brief biographies of over 100 British sculptors, such as the New Sculptor Alfred Drury, the Victorian architectural sculpture H. H. Armstead or the terra cotta sculptor and designer W.J. Neatby. You can explore the statues in some of the great squares of London, including modern South American works in Belgrave Square or the ancient queen of Queen Square. Or see groups of civic statues in other cities, such as another Queen Square in Wolverhampton, a noble equestrian king in the Queen Square in Bristol, or the set of statues in St John's Gardens, Liverpool. There are several pages on animal statues, including snakes, elephants, and of course lions. And mythological ones too - you may like dragons or mermaids. And there are lots of allegorical figures representing ideals, moods and emotions, such as Truth and Tragedy. And there are other things too, including architectural sculpture such as on pillars and above archways in spandrels or as part of the archways as bearded keystone heads, or supporting them as Caryatids.
Throughout the site, click on any picture to enlarge it in the usual way (rather than expanding the small pictures using your hand, if you are using a touch sensitive screen).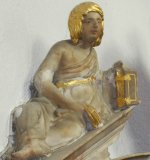 Main sections of this site:
Thoughts/comments/other regarding this site are welcome, though I am unable to write back to everyone. If you do wish to write, please put some sensible title as anything that looks like it might be spam I generally delete without opening. Please also note that this is not a commercial site, and I neither buy nor sell artworks or prints, nor speculate on values of artworks. Address above, which you will need to type in if you want to contact me, as I've scanned it in to reduce spam. Note this is a change from my previous email address.
Visitors to this page since 29 Sept 2016: 4935