The Second Website of Bob Speel

This website is intended for those interested in sculpture and related arts. It covers Victorian and Edwardian sculptors, an amount of earlier sculpture, and material on London sculpture and monuments in London churches, and sculpture in some other towns and cities in England. There is also a section on allegorical sculpture, the 'alphabet' in the list below. As ever, throughout the site, click on any picture to enlarge it in the usual way. Main sections are:
Recent additions to this site include a page on St George and the Dragon sculpture and another on just Dragon sculpture, a page on the pediment of the British Museum, shown above, one on the Albert Memorial mosaics, and a detailed page on architectural sculpture in Regent Street. Also pages on St Mary's Church, Rickmansworth and St Stephens, Rochester Row, Westminster. Also, there are small new pages on the Mazzini portrait relief plaques near Clerkenwell Road, the St Volodymyr of Ukraine statue, Holland Park sculpture and Pimlico Gardens in West London, and on the sculptor William Reid Dick.
Sculpture of the Month for March is Queen Victoria in Portsmouth, by Alfred Drury.
Thoughts/comments/other regarding this site are welcome, though I am unable to write back to everyone. If you do wish to write, please put some sensible title as anything that looks like it might be spam I generally delete without opening. Please also note that this is not a commercial site, and I neither buy nor sell artworks or prints, nor speculate on values of artworks. Address below, which you will need to type in if you want to contact me, as I've scanned it in to reduce spam.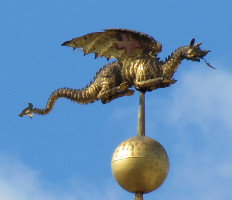 Visitors to this page since 22 Nov 2011: 12474