The Second Website of Bob Speel
This website covers Victorian and Edwardian sculptors, a small amount of earlier sculpture, and material on London sculpture and monuments in London churches, and sculpture in several other towns and cities. There is also a section on allegorical sculpture, the 'alphabet' in the list below. As ever, throughout the site, click on any picture to enlarge it in the usual way. Main sections are:
Recent additions include a fulsomely illustrated page on Fleet Street, a longish page on mostly architectural sculpture in Cornhill, City of London, and a page drawing together the several pages on this site on Animal sculpture.
In the occasional addition to the series of Manchester pages on this site, there is a new, short page on the Abraham Lincoln Statue in Lincoln Square. In London, there is a new page on St Martin's Ludgate, and in West London, a note on monuments in Ruislip Parish Church.
For those with an interest in drawing, there is a new page of horse sculptures for drawing.
Sculpture of the Month for May is the Statue of Eros, Piccadilly Circus.
Thoughts/comments/other regarding this site are welcome, though I am unable to write back to everyone. If you do wish to write, please put some sensible title as anything that looks like it might be spam I generally delete without opening. Please also note that this is not a commercial site, and I neither buy nor sell artworks or prints, nor speculate on values of artworks. Address below, which you will need to type in if you want to contact me, as I've scanned it in to reduce spam.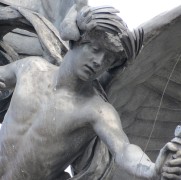 6370