Oxford Street Sculpture: West from Oxford Circus to Marble Arch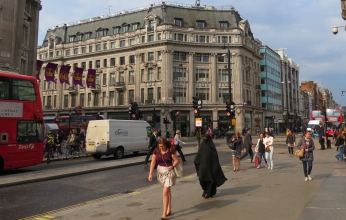 Oxford Circus.
Along the western reaches of Oxford Street are ever more modern buildings, for this is the richer, more desirable part of London's premier shopping street, and every redevelopment is a chance to build higher, deeper, and maximise the retail space. However, there remain a number of Victorian and Edwardian buildings with architectural decoration, above all the varied rooftops with domes and spires, but also some architectural sculpture. Standing out as the most significant sculpture is the group of allegorical figures on the front of Selfridges, and at the end to the West is the early 19th century sculpture on Marble Arch. A separate page goes East from Oxford Circus.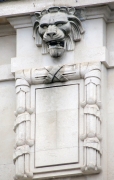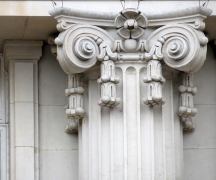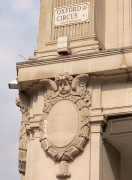 Oxford Circus sculptural detail: lion head, Ionic pilaster, oval reflecting evening light.
Oxford Circus is the meeting point of the two halves of Oxford Street, and bisects the upper part of Regent Street, with between these four grand roads, four identical Portland stone corner ranges, though built over some period of time, and with one damaged façade redone after WWII. Each group is truncated to form the central circus, the three broad bays facing the centre dominated by three-storey high giant attached pillars and pilasters, fluted Ionic in style, starting at the first floor. Above is a fifth storey, and then a sixth dormer range. At ground floor level, the bases of pillars and pilasters are marked by carved oval wreaths with winged cherubic heads on top; more wreaths are above the second floor, and at fifth floor level, below the balustrade, are lions' heads, stylised and looking forward to Deco rather than anything more naturalistic (for lots of architectural lion head sculpture, see this page). We might remark that near to Oxford Circus from the early 19th Century was the premises of a fairly prominent stone mason-sculptor, Thomas Bedford, whose simple monuments in many churches are generally signed 'Bedford of 256 Oxford St' - more on him and his family business on this page.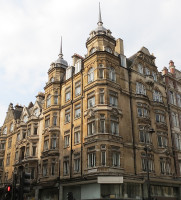 By Harewood Place, spires and frieze with grotesque griffins.
As we head west from Oxford Circus, almost immediately on the south side is a range of Victorian and Edwardian 4-5 storey buildings, narrow in frontage, leading up to Harewood Place. On the nearer corner is a bright red terra-cotta building, and opposite on the West side, is a splendid buff-coloured building with corner dome and spire, no. 293, which runs the full distance along Harewood Place with three further spiky domes, pointed gables, and minor sculptural ornament in relief, as well as affording a view through to leafy Hanover Square. The sculptural décor includes little frieze panels showing grotesque griffins and cartouches with scrolly shields.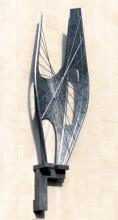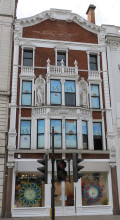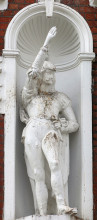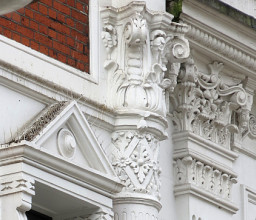 John Lewis's Barbara Hepworth sculpture (left), and Noah's Ark Tavern, 1890.
Continuing, in the next block on the south side, opposite John Lewis, with its abstract sculpture by Barbara Hepworth, called Winged Figure, and dating from 1963, are taller showier buildings, with opposite Old Cavendish Street a red brick and white edged building, just three narrow bays wide, which bears two full sized statues in niches at second storey level. A variety of more minor sculptural decoration – acorns, a lion's head with flowers depending below, and beneath the central balcony, the supporting brackets being styled as grotesque winged beasts. The statues appear to have been painted many times, and have a lack of detail which may reflect a cheap production or simple overpainting. The one is a debonair young man with long wavy hair and a mousache, lounging against the side of his niche, hand on hip; he seems to be a soldier, for he wears a military cap and his hand seems to rest on the scabbard of a short dagger; he has a long cloak behind. On the other side, a standing girl, again with hand on hip, her rather heroic head somewhat in the style of Rossetti contrasting with her full figure. She wears a light top with puffed up arms, and a long skirt with simple but nicely captured folds. Each statue has one arm pointing up, ridiculously lengthened in the forearm, seemingly on account of the hands having very poor repairs or replacements to the originals. The building was the creation of the architect J.T. Alexander as the Noah's Ark Tavern, and its date is 1890.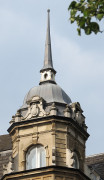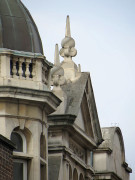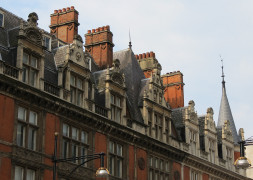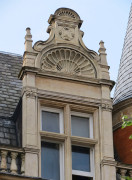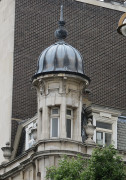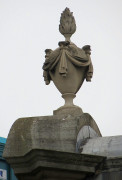 West Oxford Street Victorian and Edwardian skyline - domes, spires, pots.
We quickly move to modern buildings on the south side, but on the north side, between House of Fraser and Debenhams are a group of older buildings, with minor ornament and a nice pot high up. Next, on the south side after Woodstock Street, a pale stone building at no.353, with another small dome, and a central pediment with three spiky ornaments, acroteria if you will. The minor carving includes a central corbel with a pair of grotesque monsters, skilfully rendered, and the date of the building, 1905, is inscribed on a pedimented panel. Simple but attractively swirly ironwork on the upper balcony.
Stratford Place, pediment to Aldborough House.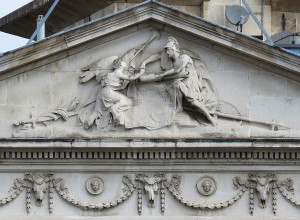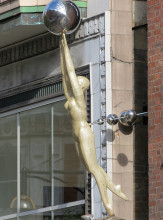 St Christopher Place figure.
Continuing on the south side, above Bond Street Station another Queen Anne style building with summit dome - our eyes have familiarised themselves by now with this style of building as characteristic of Oxford Street, though rather effaced from the consciousness with the bigger, showier Edwardian Portland stone buildings as at Oxford Circus, and the giant modern blocks increasingly to the West. Almost opposite on the North side is a close called Stratford Place. At the end of this is an 18th Century residence, the home of the Earl of Aldborough (Aldborough House, later Stratford House), completed in 1774. Houses along the two sides were put up as part of the composition. Those on the right hand side (East) survive intact, as does one of the gateposts – big enough to have a door to make a little lodge - at the Oxford Street end, with a small Coade stone lion on top, and a stone panel with gryphons and a pot in relief. We thus have a little enclave of formal Georgian architecture. Stratford House has a pediment, above a tall ionic portico, with a sculptural group within it. We see a Roman soldier in helmet and tunic, gladius at his back and spear and shield on the ground, holding in one hand an unrolling map with two indistinct shields and an equally worn motto, and with the other grappling with a winged allegorical figure of Fame, blowing a trumpet (for another allegorical statue of Fame, see this page). Behind Fame, a long (hand-and-a-half) sword with some sort of ribbon around it. The statues show some damage, and although the head of the soldier, what remains of his hands and lower legs, and the drapes of the angel's body are well sculpted, the further arms of both figures are improbably lengthened. Below the pediment, a line of bull's skulls linked by festoons, with little roundels bearing identical female faces between.
Continuing on the south side opposite Stratford Place, a modern interloper is on the opposite corner of Davies Street, then Victorian red and stone range (nos 385-397) with 7 bays and corner to Gilbert Street, putti frieze, heads, and spire. Opposite, the H&M store occupies a white building with shields, then a modern nude statue marks the narrow entrance to St Christopher Place. The corner building to James Street has another Queen Anneish red and white building with a corner summit – an octagonal steeple here – and the bulk of this building proceeds along James Street for some distance, succeeded by more humble Victorian brick buildings.

Late Victorian cherub frieze, Queen Anne style.
Proceeding westwards, the corner to Binney Street on the south side marks the start of a similar red and white Queen Anne range all the way along the block to Duke Street, less ornate, marked by chimneys and dormers rather than steeples or domes. Much more ornate décor in terra cotta down Duke Street itself allows us a glimpse of the former Weigh House, typical, excellent work of the architect Alfred Waterhouse, now the Ukrainian Cathedral in London. Back in Oxford Street, a very narrow Victorian building survives opposite, on the corner with Bird Street, with a fine little spiked dome with windows on the short turret below, as if to make the dome a cupola.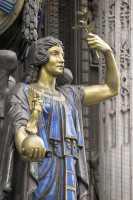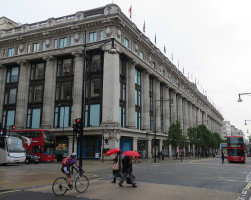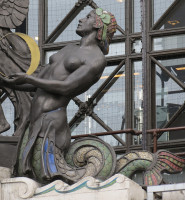 Selfridges, with Queen of Time, and a Mermaid, by Gilbert Bayes.
The next block on the right hand side, vast in length and height and mass, is Selfridges. Commonly quoted as no.400, it actually encompasses nos. 398-422 or 454, and occupies a great long block from Duke Street to Orchard Street, 21 bays in all. Massive ionic pilasters dominate the view, 21 and there is much ornate minor sculptural work dating from the building's erection in 1908, as well as important sculptural group above the main entrance, the extravagant Queen of Time statue and attendant bronze statuary, by the sculptor Gilbert Bayes. The Selfridges architect was R. Frank Atkinson, with an American consultant, Daniel Burnham, and according to Pevsner, the latter's hand is much in evidence in the finished design. The Queen of Time has her own page on this site, as one of the iconic statues of London. As well as her, and the other bronze sculpture, including two mermaids (see this page for lots more mermaids), two small winged figures, a pair of figures higher up, and assorted putti, we note a plethora of Portland stone sculpture decorating the rest of the building, carved by W. B. Fagan and W. Arrowsmith from models supplied by J. Else. W. B. Fagan produced allegorical sculptures of America and Germany for the Hamberg-Amerika Linie Building in Cockspur Street (illustrated on this page). On the Selfridges building, the most prominent stone sculpture, by Fagan, consists of the male and female heads above oval frames encircled by wreaths of flowers and ribbons. They are echoed in the similar motifs incorporating winged cherubic heads which we saw at Oxford Circus.
Back on the south side, opposite the western part of Selfridges and after the pedestrian cut-through to Balderton Street, there is more of the by now familiar Queen Anne with gables, red and white bar the pale stone-clad central two bays, and at the corner to North Audley Street, with much terra cotta, is another short spire.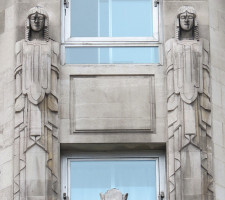 Deco figure sculpture on the Cumberland Hotel, Marble Arch.
We then pass a variety of modern buildings of prodigious size, before coming to Marble Arch Station; the building above it on the north side is the massive Cumberland Hotel, with three motifs along its length, high up, each comprising a pair of pilasters, and a pair of deco figures in stone. Across Great Cumberland Place is a similar, shorter range, with a further motif.
And we end opposite that, with the Marble Arch itself, originally made for Buckingham Palace, and moved in 1850. The architect is John Nash, creator of the terraces in Regent's Park, and the sculpture is mainly by Westmacott (panels on the North side) and E. H. Baily (South side); J. C. F. Rossi also contributed, all according to the conception of John Flaxman. More about Marble Arch is on this page.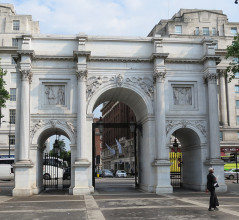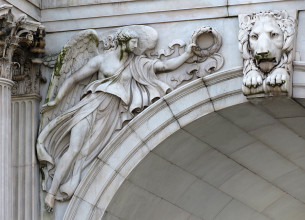 Marble Arch, and one of the spandrel angels.
West to Marble Arch // South along the edge of the Park to Hyde Park Corner // North and East from Selfridges to the Debenhams Building, Wigmore Street
Queen of Time sculpture, Selfridges
Eastern half of Oxford Street // Regent Street
Visits to this page from 22 June 2013: 14,833