Monuments in St Stephen's Parish Church, Bristol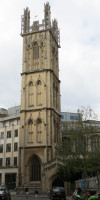 The tower of St Stephen's Parish Church, 15th Century.
St Stephen's Parish Church is on Clare Street, just off Broad Quay, and its tall tower is viewable from there between two buildings. This tower is the glory of the church, Perpendicular Gothic of 1470 or thereabouts, four stages reaching to a superior height of 140 ft, with large pinnacles at the top, each itself splitting into smaller crocketed pinnacles, and one of which bears a weathervane with a summit cockerel. Inside, a big, bright interior, and the viewer is struck by the high ceiling to the nave, of dark wood panelled and with bosses. There are two aisles, rather lower, of unequal length, and separated from the nave by clustered pillars. The Church had a makeover in the late 19th Century, with some rebuilding and particularly apparent in some of the more solid furnishings.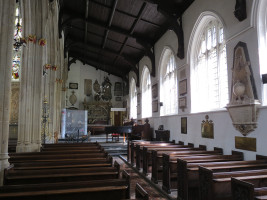 Interior view of St Stephen's Church, aisle and monuments.
From the point of view of these pages, it is the monuments we have come to see, and the collection is rich - see picture above. We have around three dozen of them, including two dating from the very earliest days of the current church building in the 14th Century, and three more from the late 16th/early 17th Centuries, about 10 from the 18th Century, and the balance from the early 19th Century. While the more sculptural monuments tend to be the earlier ones, the more modest later ones show a good variety of types of wall plaque of the period, including work by important local stonemasons and sculptors – the Tyley family, H. Wood and Pugh, so exemplifying the local style.
Earlier monuments: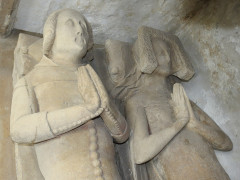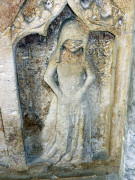 Effigies of the Edmund Blanket Memorial, and one of the small figures.
Edmund Blanket, d. 1371, and wife ( the attribution is thought sound, though there is no hint left on the monument itself), two full length recumbent effigies, placed in a niche in the wall, sunk below the current floor, resting on a tomb chest bearing six attached carved figures, each in its own niche; the whole is fronted by a fine pointed arch with several heads, and on its outer border, waves of acanthus leaves. The recumbent figures are elongated, simultaneously graceful in their limbs and slenderness, awkward in the positioning of their praying hands. The male figure, nearest to us, is dressed in a short tunic, with a richly carved belt, and appears to be wearing a short wig. His legs and feet are bare, showing shapely musculature. His wife is even more slender in the body and especially the wrists, and she wears a light, flowing robe down to the ground. Her head is encased in a great lump of what is presumably some fashionable but rather rigid hairstyle; very strange.

The little figures on the front of the monument show from left: a much damaged figure in profile, drapes gathered up over one arm; a large-headed cleric with a full beard, enveloped rather than draped in his cloak; a slenderer, seemingly female figure in a long gown and with a head covering, with a nice swaying pose; a bearded man holding something and with one hand against his chin; a woman in Tanagraian style drapes, and cowled, seen in three quarters view; and another female, facing forwards, again cowled, with her elbows out and her hands at her waist. All the figures are damaged to a later or lesser extent, and all show evidence of restoring and, I would think, some recarving, of date unknown.

Walter Tyddesley, d.1385.

Walter Tyddesley, d.1385 – the attribution is not certain – another wall niche, with only the effigy surviving, a dark stone piece, showing a bearded man lying on a tasselled pillow, his feet resting against some heraldic animal, it is not certain what. He is dressed in a long robe, with rather straight, rather harmonious folds, and is shown praying.
Robert Kitchin, d.1594, and wife, a brass with stone surround, with finely cut delineation of the pair of them above the inscription, kneeling, with a prayer desk as in a conventional sculpted tomb of the time, but both angled towards the viewer, and with offspring behind, also seen in three quarters view. The brass panel is set within a wide stone border, embellished with little leaflets, scrolls and cut outs, painted red and black and gilded.

George Snygge, d.1617, monument, portrait, and small figure.

George Snygge, d.1617, the principal monument in the Church, a grand affair in the Elizabethan style – it has been also described as Flemish. A full size effigy of the deceased, reclining on his side, lies within a sumptuous setting, with a curved arch above, which incorporates the Latin inscription on the tomb, flanked by small full carved figures of Death as an old, winged man with an axe, and a plump naked boy holding a wisp of drapery. These figures, each within its own niche, are surrounded by ornamental strapwork incorporating skulls with crossed pickaxe and shovel, various scrolls, bosses and ribbons. At the top of the arch in the keystone position is a winged female head with curly hair, above the shield of arms of the deceased, and on either side, the spandrels above the arch have further rbosses and ribbons. The entablature is held up by two freestanding Corinthian pillars, on square bases. At the top, the upper shelf holds a central coat of arms in a roundel supported on fretwork scrolling, and to left and right are small Egyptian obelisks, associated with death.

The whole is in a variety of coloured marbles and alabaster, and pianted and gilded. There is a variety of minor ornament, most especially on the rim of the arch itself, and above the figure it is written that the monument was repaired at the expense of Thomas Hodges, grandson. The figure of Snygge is extremely opulent in dress, with rich cloak over a long undercloak, carved with deep undercutting to the drapery, but as typical of the period, gravity goes to the right towards the feet rather than down. He has a complex ruff under his chin, and smaller ruffs at the sleeve ends. He rests his head on one hand, the elbow being supported on an embroidered pillow, and wears a black mortar-board style hat. His face, beardless, is heavily lined and his expression serious. His other hand holds a tightly rolled scroll. Snygge was an influential MP, a baron of the Exchequer, and later, a judge. Hodges, who repaired the monument, also became an MP.

Martin Pringe, d.1616, a painted figure, and one of the spandrel girls.

Martin Pringe, d.1616, 'Merchant Sometyme Generall to the East Indies and one of ye Fraternitie of the Trinitie House', with a long poem to him in nice script in a large oval panel. This is set in a rectangular backing, creating four large spandrels, occupied by seated female figures. To the side, Corinthian pilasters, above, an entablature, broken pediment containing a shield of arms on a square panel with lion behind, and flanked by cheerful painted figures of two more reclining females. At the bottom, a large apron with two carved figures of a mermaid and faun (not a merman as one might suppose at first glance), with between them an hourglass with crossed pickaxe and shovel, common symbols of mortality, and an anchor and long-handed scythe beside - see pictures at the bottom of this page. The whole is a rather jolly monument, not serious at all, much painted in less than the best possible taste. The painting of the mermaid and faun particularly reduce them to the status of seaside art, and the reclining figures at the top, one baring her body and clutching an eyeglass, the other somewhat less exposed and with a serpent bracelet wound round her arm, are rather commonplace, unless this is the effect of several coats of paint. Better are the four relief spandrel girls, whch are at least not painted, and where we can see some quality to the modelling of the limbs and exposed chests and the drapery. The one at the top left holds forth a compass, her other hand on a globe; she is faced by a girl holding a long crucifix up to use as a sextant (above right), and also holding a globe – these are presumably allegorical figures of Geometry and Astronomy. Below, one figure holds a book and a large key; she is faced by a girl holding a stone tablet, pointing to something upon it with one finger. According to the experts at the PMSA, these are taken from engravings by Cornelis Floris, the 16th Century Flemish artist perhaps most familiar (to me at least) from his grotesques, and work as an architect in designing Antwerp City Hall. A small note is added that 'Mrs Hannah Oliver, Widdow, beautified the monument in 1793' [?]. Pringe notably voyaged to America, firstly in 1603, exploring Maine and Massachusetts Bay, and returned to England with accounts of the fertility of the land and encouraging the later colonisation of this part of America. He also discovered Cape Cod. The monument is signed by William Pugh of Bristol, who signs the 19th Century monument in the Church to William Delpratt, see below, and who presumably repaired the Pringe monument.
18th Century Monuments: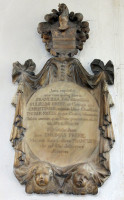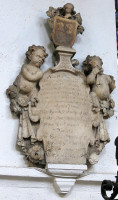 18th Century cartouches: Frere and Holyday memorials.
Francilsa Frere, d.1724, and Thomas Frere, d.1732, with Latin inscription. A cartouche, with the border carved as hanging and knotted drapes, and at the bottom, pushed up by two plump cherubic heads with small wings. At the top, the coat of arms, surrounded by Acanthus leaves to make a second, smaller cartouche. Though never as frequent as rectangular panel monuments, cartouche panels are found widely in this period. This is a particularly fine example, delicately carved.
Revd. Doctor Chidly Coote of Ash Hill, Ireland, d.1730, with inscriptions added to his great grandson Robert Eyre Purdon Coote of Ballyclough, Cork, and the latter's wife Elizabeth, d.1844. Plain marble panel, white with a black streak, a narrow incised border, and a lumpy support in black stone underneath, which may once have had carved text. The carving of the 1730s text is large, bold and elegant.
John Frankland, d.1730, son of a Yorkshire Baronet and rector of the Parish, in a hard-to-read inscription on a panel with side pilasters and receding curls. Above, fluting and a broken curved pediment on which rests a shield at arms flanked by two Roman dolphins, boldly carved, finned and scaly. Underneath, baroque apron with low relief hour glass, pickaxe and spade, and trumpet forming something of a trophy, and two heavy brackets, fluted and carved below. By Michael Sidnell of Bristol, who has various things in Bristol churches.
Holyday? d.1734 etc – the only decipherable name and date on a decayed inscription to several members of a family, on a cartouche with some drapery hanging at the side, but this overshadowed by two large cherubs, one on either side. Naked and pot-bellied, the one dries his eye with a handkerchief, the other, who has lost his hand, seems to be gesturing melodramatically. Both emerge from several flowers. Towards the base, a grotesque eel-like fish is curled on one side, a flower on the other. At the top, a shield of arms.

Monument to David Peloquin, d.1766, in coloured marbles.

David Peloquin, d.1766, alderman and son of a merchant, erected by his only surviving sister Mary Ann Peloquin. A grand panel monument. The inscription is on a pale marble panel with slanted sides, with outer slanting bordrs in red and white brecciated marble. Above a shelf, the upper portion of the monument consists of a tall obelisk cut out, streaked black marble on the outside, then a white-edged inner panel of yellow and black marble, again brecciated. In front, an egg-shaped pot, above which are carved, tied drapes in a sort of canopy. At the base of the monument, on the apron is a winged cherubic head, with the hair in a separate, darker marble than the whitish-yellow face. A bronze panel below notes that the sister, Mary Ann Peloquin, died in 1778, the last of a family who had settled in Bristol in the 17th Century, and benefactor to various charities.
John Heylyn, d.1766, City Merchant, native of Turnham Green near London, panel with upper shelf, small feet and central bracket.
Bartholomew Alston, d.1776, with Latin motto 'hic pulvis, hic nihil', or 'here is dust, here is nothing', a shortened form of 'hic iacet pulvis, cinis, et nihil' - 'here lies dust, ashes, and nothing'. With receding sides, top and bottom shelf, and black pediment, all in black-streaked white marble. A lower apron below is unmarked.
John Crasier, d.1779, son of a High Sheriff, in difficult to read text, on a slightly domed oval, with baroque pot at the top, bearing wreath of flowers which hangs down on either side. At the base, a single fluted bracket.
Lydia Acraman, d.1791, and husband William Acraman, d.1825, merchant of Bristol. As a simple tomb chest end with shelf, on a black backing, with a small bracket signed by Henry Wood of Bristol, a significant local statuary (there were two of them, Henry Wood the elder and Henry Wood the younger; this one presumably by the elder). See also a relative, Daniel Wade Acraman, noted below.
John Maddick, d.1795, 'a native of Rattery in the County of Devon, late of Clare Street in this City Haberdasher'. Oval panel with above, a relief pot with upon it, a carved leaf design and set square and compass; not the obvious tools in trade of the haberdasher. At the base, a support.
Lieutenant Colonel Oliver Richard Lambert, d.1796, with the inscription on a curved lower part of a monument, with the upper part, above a shelf, being an obelisk in dark stone with a shield of arms in front of a carved trophy upon it. Unusual.

Lieut Col Olver Lambert, d.1796.

19th Century Monuments

A 'Spanish Merchant of this City', whose name when I visited was covered by scaffolding, d.1803, with an egg shaped draped pot on top, somewhat carved, and a leafy bracket at the base.
Mary Witliers [?]. d.1804, with a lengthy inscription, rather difficult to read in parts, on a plain oval, and signed 'D. Britt, painter', which presumably refers to the carver of the inscription.

Robert Howe, d.1809, by F. Wood; Ann Garden, d.1819, by Tyley; and Richard Blake, d.1829, by W. Tyley.

Robert Howe, d.1809, and wife Elizabeth, d.1833. An oval panel, sunk in a rectangular plate of black stone, with upper and lower pale stone shelf, curved pediment and apron, these being again in black. Upon the pediment is a high relief fluted pot or urn with a drape, and the apron bears a small coat of arms. Signed by J. or perhaps F. Wood, presumably a relative of the Henry Woods.
Richard Thomas, d.1817, a child, sister Sarah Taylor, d.1835, mother Sarah Williams, d.1825, and father Richard Thomas Williams, d.1847. A strangely truncated monument, with the inscriptions on three horizontal strips, rounded pot above, nicely carved, and with acroteria, on a black backing, and terminated abruptly below with a bracket carved with leaves. Signed by W. Tyley, the earliest of several monuments by this firm in the Church.
Elizabeth Beck, d.1818, and husband Lancelot Beck, d.1849, plain panel with upper shelf on black backing, by Tyley of Bristol.
Ann Garden, d.1819, panel with upper shelf and lower feet, with above, a panel with sculpture in high relief of a seated woman holding an anchor – the cross piece gives it an overtly religious aspect. She gazes towards a Classical pot, resting on a base, with a sheaf of withered corn in front of it. The female figure is in Classical drapery, and the grace of this work comes from the sweep of her cloak down her back and curled up to rest on her leg. On top, a shallow pediment with a low relief sunburst, the whole being on a black backing. The short central bracket at the base is signed by Tyley (see picture above right).
Anna Bickley, d.1824, and husband Benjamin Bickley, d.1846. As a simple tomb chest end, with shelf and rather geometric pediment and acroteria, on a black backing.
William Delpratt, d.1826. Panel with flamboyantly curved side pieces, upper and lower shelf, little pediment and ears, all on a black panel. A small bracket at the base is signed by the mason, William Pugh, Bristol, whom we met as the presumed restorer who signed the earlier Pringe monument.

Work by Thomas Tyley of Bristol: James Ames, and William Cormack.

James Ames, d.1828, and wife Mary, d.1839, and infant son James, d.1810. Solid monument, with fluted pilasters, swan-necked pediment with curly sides forming both acroteria and filling much of the pedimental space, the rest being filled by two acanthus leaves, the top broken by a fluted fanlike device. All on a black backing. Signed by T. Tyley, Bristol.
Richard Blake, d.1829, erected by his widow Anne Augusta Blake, as a tomb chest end with thick shelf, on dark backing, with coat of arms below. By W. Tyley.
William Cormack of Cork, Ireland, d.1830, and wife Sarah Maria, d.1828, and daughter Emma, d.1828. Tomb chest end with slant-sided Doric pilasters, pediment and acroteria, on black backing, signed by T. Tyley of Bristol.
Elizabeth Emma Peyton, d.1830, plain landscape panel with black backing.

Henry Wood of Bristol: Philip Elliot, d.1831 and wife Elizabeth, and detail.

Philip Elliot, d.1831, and wife Elizabeth, inscription as the supporting plinth of a small tomb chest, seen end on, with a carved heraldic lion on the visible end, and draped with a large cloth, falling asymmetrically down both sides of the plinth. The drapery is complex and carefully worked out, but rather heavily executed, for impact from a distance rather than close inspection. There is a black shaped backing, and the whole is borne on a thick shelf supported on two brackets. Signed by H. Wood, Bristol.
William Jenkins, d.1833, one time of the Treasury, Dublin Castle, and wife Eleanor, d.1837, and daughters Harriet, d.1809 and Sophia, d.1831. With angle-sided pilasters, each with a relief carving on the column of a flaming bowl on an exotic shaft. Above, blank pediment with anemone-fluted acroteria, and below, a shelf and two stubby feet. A black backing to the upper part.
Stephen Turner, d.1836, panel with backwards-curved pilasters, then large S-shaped outer pilaster, with the scrolls enclosing stylised flowers carved in high relief, and the body of the S enclosing a fern frond. Above, an upper shelf with plank pediment and acroteria; below, curved lower shelf; on a black backing, signed by H. Wood of Bristol.
Eunice Jennings, d.1844, and husband Revd. Thomas Fryer Jennings, d.1876, plain panel on black backing by Tyley of Bristol. Rather a decline in interest from the earlier monuments by the family firm noted above.
Anne Augusta Blake, d.1847, daughter of the Very Revd. Charles Harward, Dean of Chichester and later Exeter, plain white marble panel with nipped corners.

W. Evans of Bristol: Monument to D. W. Acraman, d.1847.

Daniel Wade Acraman, d.1847, 'the friend of industry and the patron of talent and the fine arts', as a tomb chest end with thin shelf, top, and feet each with three bosses. On a black backing,a nd signed by W. Evans, Coronation Rd, Bristol.
John Dorey, d.1849, oval panel in black rectangular surround. Signed indistinctly Tyley, Bristol, the most recent monument in the church by this prolific family of sculptors.
George Macready Chute, 1st Volunteer Battalion Gloucestershire Regiment, Manager of the Prince's Theatre in Bristol and Comedian, d.1888, at Aliwal North, Cape Colony, a brass with holly leaves and a cut out top with crucifix and leaflets, noting a stained glass window.
Other interest in the Church
Also in the church we may note:
The Eagle lectern is obvious from first glance as being of some greater antiquity than the 19th Century norm, and apparently is as early as the 15th Century, its origin being St Nicholas, bombed in WWII.
An ornate wrought iron screen, with complex leaf designs and little pots at the top – according to information in the church, this dates from the early 18th Century and was also taken from St Nicholas.
The Royal arms of Charles II (thus mid-17th Century), above the southern entrance.
At the top of the clustered pillars dividing the nave from the aisles are half angels holding scrolls, gilt and red, surprisingly effective in giving an air of preciousness.

Several features deriving from the late 19th Century restorations, including:
The Font, of the type with a central column and four corner columns, octagonal in section, with shields and carvings of leaves. Crisp.
The reredos, apparently by the architect Joseph Hansom, famous as inventor of the Hansom Cab.
The Pulpit, also dating from the late 19th Century restorations, with carved figures of Christ and saints in niches, and a base like that of a font, with different coloured marble pillars round a central shaft. Competent mid-late Victorian work.
Finally, we may note a marble screen, behind an alter table, with two modern figure carvings, one of a cleric holding what seems to be a font basin with a baby in it, the other a monk, praying.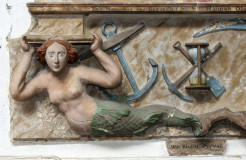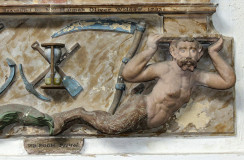 Mermaid and Faun from the Martin Pringe Monument.
The pictures of the monuments inside the church are included here with kind permission of the church authorities; the website of St Stephen's Parish Church is at http://www.saint-stephens.com/, and they note that they have friendly vegetarian café open 10-3.30 daily, weekly lunchtime concerts, a meditation group and regular exhibitions.
Christ Church with St Ewen // Ruins of St Peter's Church, Castle Park // Ruins of Temple Church, off Victoria Street
Statues along Broad Quay, Bristol // Sculpture in Corn Street, Bristol
Sculpture in England // Sculpture pages // Introduction to church monuments
Visits to this page from 13 Mar 2014: 11,667