Statues in Queen Square, Bristol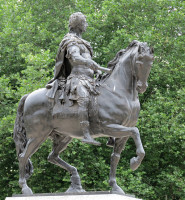 William III, by J. M. Rysbrack.
Queen Square, on one of the natural routes from the main railway station to Bristol's city centre, contains an important 18th Century statue by one of the most significant 18th Century sculptors working in Britain at the time. There are also four allegorical statues associated with one of the 19th Century buildings in the Square.
Rysbrack's statue of William III
In the centre of Queen Square on a tall rectangular plinth stands J. M. Rysbrack's equestrian statue of King William III, dating from 1736. As with paintings, it was customary at that time to show kings and warriors in classical costume rather than contemporary clothing, and the King is shown wearing Roman clothes, with toga, cloak, and Roman sandals, and seated on a cloth rather than a saddle. Emphasis is given to the musculature of the chest and arms and the profile, with hooked nose and short-cut curly hair, again fits to a Roman ideal. His short cloak swirls around and behind in dratic folds, adding to the overall bulk of the man, who otherwise risks being dwarfed by the mighty horse. For the horse, one foot raised, is also a noble and powerful beast, with the massiveness of a war horse rather than the slender lines of a racer. He has a long, wavy mane, carefully delineated. The style of the head, with its large eyes, and the barrel shaped body, put the horse squarely in the 18th Century. An extremely good sculptural group, bearing comparison with any statue of a horse and rider in the country.
Allegorical Statues of the Continents
On one side of Queen's Square, a large terra cotta building, called Queen Square House, originally built for the Bristol Docks Authority by William Venn Gough, a local architect who also designed Cabot Tower, has at first floor level four free-standing allegorical figures. Each is a standing girl in white stone, somewhat pitted and worn, and they represent the four Continents. We can still read the names of Africa and America; the others have worn away, but it is easy to establish which is which. We take them from the left.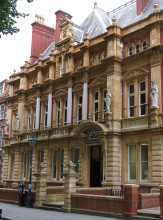 Queen Square House.
Europe is fully dressed in a classical robe over a short-sleeved shirt, the drapery being clasped below the neck, falling behind, and then being gathered round from the side and across the stomach, an elegant sweep. She is crowned, and carries in her hand a globe, as in 'Europe bestriding the world'; the other hand is much damaged and anything it once carried is now gone.
Allegorical statue of Europe, Queen Square.
Asia is semi-nude, wearing only some thin garment falling from a cowl over her head, and again with drapery loosely sweeing across the front at thigh level, this time being held by one hand; it seems she was also carrying something else, but only a shapeless lump is left now. We can see the remains of some pendant between her breasts. This figure really is rather worn, but from what remains, her arms are slender and elegant, but her body a little dumpy compared to the narrow waist and flaring hips of Europe.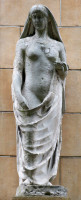 Asia statue.
Africa is of the Egyptian type, with headdress at the back and sides in front of the ears, with some protrusion over the forehead which may have been a bird's head, and combed and stiffened hair falling over her shoulders. Her skirt falls to her ankles, with diagonal folds diagonally from waist across the thigh. Her upper torso is bare, and she wears a triple necklace with a pendant between the breasts. In one hand she carries a palm frond, and in the other, the over-weathered remains of a tiny sphinx (for larger sphinx statues, see this page). The sculptor has taken advantage of her semi-nude state to sculpt a swaying, S-shaped pose, and even in its somewhat decayed state, the contours of the torso are very fine.

Africa, with sphinx.
Finally, then, America. She, considered semi-civilised, is a little more dressed. She wears a long skirt down to the ground, and her cloak, clasped at the neck, covers her shoulders more demurely and hangs down in graceful folds to the sides; underneath, a strap is tied across her chest. Her hands are empty now, but bits of bronze indicate she once held something. But it is easy to identify her, by her feather headdress. She stands slightly contrapuncto – a nice pose.

Statue of America.
These figures are rather above the average for architectural sculpture; they need to be, because by standing far forward, rather than in niches, they can be seen not just from the front but the sides, so have to have interest from all angles. Who could the sculptor have been?
Sculpture in England // Sculpture pages
Visits to this page from 22 Aug 2013: 8,879