Henry Hugh Armstead (1828-1905)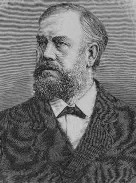 H. H. Armstead.
The sculptor H. H. Armstead is most familiar through two key works of architectural sculpture in London – half of the 169-figure frieze on the Albert Memorial, and some of the allegorical and portrait figures on the much-decorated Foreign and Colonial Office in Whitehall.
Armstead was both a sculptor and a silversmith. Born in London, he trained under his father, a heraldic chaser, and then at the School of Design at Somerset House, under Leigh (at the instigation of the Pre-Raphaelite Holman Hunt) and Carey, and then the Royal Academy Schools. For some years he worked mainly on decorative work in silver for the silversmiths Hunt and Roskell, giving up this art when his masterpiece, The Outram Shield, received almost no public appreciation. He also designed a very little (but very good) illustrative work. Anyhow, at the age of 34 he turned entirely to sculpture. He was elected ARA in 1875, RA some four years later, and taught in the Academy Schools himself for a period. His naturalistic figures to some extent foreshadowed the New Sculpture Movement, and among his pupils were T. Nelson Maclean and A. C. Lucchesi. His figurework is always excellent, and he tends to a certain coolness which helps give dignity and strenghth to his work.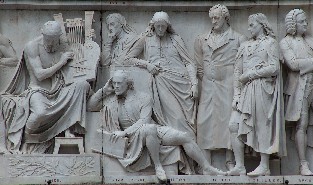 Portion of the Albert Memorial frieze by Armstead.
As noted above, Armstead's major work was for the Albert Memorial: some 80 figures for the podium frieze, which he executed at the rate of about 10 a year, and the four statues of Chemistry, Medicine, Astronomy and Rhetoric. Second only to his work on the Albert Memorial was his architectural sculpture for the Foreign and Colonial Office in Whitehall, where he is responsible for allegorical figures of the Continents and others, and 8 Colonial Secretaries up above. In both these works, he shared the figural sculptures with J. Birnie Philip.

Armstead designed various other friezes and illustrative panels, some of which are very much in the New Sculpture vein. But much of his remaining oeuvre consists of free-standing figures and lots of church monuments. In London, as well as the architectural sculpture already mentioned, are his niche figures for the reredos of Westminster Abbey, the monument to G.E. Street in the Law Courts, a mosaic - the Applied Mechanics part of the exterior frieze on the Albert Hall - and a pair of figures on a building in Northumberland Avenue (off Trafalgar Square). Tate Britain has an excellent allegorical girl entitled Remorse, alas, rarely on show. Outside London we may pick out the figure of Aristotle for a pillar in the Oxford University Museum, the fountain for King's College Cambridge, Lieutenant Waghorn for Chatham, and the elegant high relief panel of his daughter, Lottie Armstead, in Cardiff's National Museum of Wales. Among memorials outside of London, we must mention Archdeacon Moore and Dean Howard for Lichfield Cathedral, Bishop Wilberforce for Winchester Cathedral, and Bishop Ollivant at Llandaff Cathedral.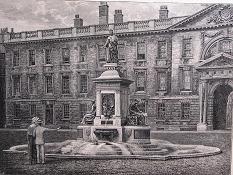 Fountain for Kings College, Cambridge.