Alfred Drury (1859-1944)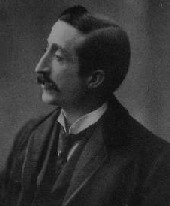 Alfred Drury.
The sculptor Alfred Drury is a key figure in the New Sculpture movement, with a varied output of portrait sculpture, ideal nudes, and architectural sculpture.
Alfred Drury, a key artist of the New Sculpture movement, is one of my personal favourites, and any person of taste with Pre-Raphaelite inclinations should make his acquaintance.

Sculpture by Drury on the old War Office, Whitehall.
He was born in London, and studied first in Oxford, and then at the National Art Training School, South Kensington. He was there when the French sculptor Dalou came to teach there, and went with him back to Paris to work in his studio for some four years. While there, he had his first exhibited sculpture at the Royal Academy – a terracotta called The Triumph of Solenus, in 1885. Later that year, he returned to London, where he was an assistant to J. E. Boehm. In 1893 he exhibited a plaster version of Circe (see below), and in 1896, his bust of a girl, called Griselda, was bought under the terms of the Chantrey Bequest. His Leeds City Square statues came in 1898-99, and he was shortly thereafter elected Associate of the Royal Academy. He became a full Academician in 1913.
In his subject matter, Drury produced good masculine portraits, and had a speciality in children, as ideal portraits and cherubic pieces, also introducing them in allegorical compositions. However, across his whole oeuvre, it is fair to say that he strongly favoured the female form. His allegorical girls are strong featured, with hair short or tied back rather than long or flowing, and characteristic often slightly smiling mouths (his children and cherubs have similar mouths, and one can imagine them related). Drury gives a strong emphasis to the drapery, whether light and close-fitting, or heavy and enveloping, and has a clear fondness for the organic and the floral, with garlands, designs on dresses, twigs and boughs and flowers incorporated in the design.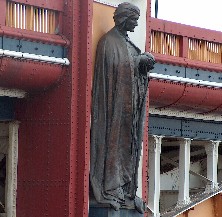 One of the colossal figures on Vauxhall Bridge, Science.
Drury's works can be best appreciated in London and in Leeds. In London, his three major works are sculpture on the Old War Office in Whitehall and the front of the V&A, and the four huge figures on the downstream side of Vauxhall Bridge, all featuring characteristic allegorical girls. Of these, the Vauxhall Bridge statues can only be seen properly from a boat, and otherwise have to be viewed at a distance from the shore, or squinting over the edge of the bridge itself, too close and from the rear side; the War Office figures are very high up; hence only the V&A figures can be appreciated properly. These consist of statues of Inspiration, Knowledge, and a series of half a dozen panels around the archway, as well as portrait statues of Queen Victoria and Albert. Also in London, in the courtyard of the Royal Academy on Piccadilly is his Sir Joshua Reynolds, and a little way down Piccadilly on the corner of St James Street is a minor panel with two cherubs supporting a shield showing an aggressive-looking bird, for the former Royal Insurance building. He was also responsible for four of the cherubs (amorini) on the gateposts surrounding the Victoria Memorial, pictured at the bottom of this page. In Finsbury Square we might also mention a large bronze keystone head, much admired, for the entrance to the former Royal London Friendly Society.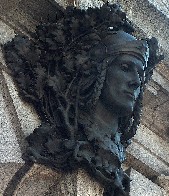 Finsbury Square keystone.
In Leeds in Park Square stands, or stood, Drury's beautiful Circe, and nearby, in City Square, are four identical pairs of girls by him as lampstands (Morning and Evening, the latter of which has two more pictures on one of the Allegorical sculpture pages, and a statue of Priestley. Elsewhere, Drury's portrait statues include versions of Queen Victoria for Bradford (see this page) and Portsmouth (see this page), the Eighth Duke of Devonshire for Eastbourne, and a good statue of Richard Hooker in Exeter, as well as various busts etc in museums. We should mention too his fine Stag on the Hertford War Memorial. Abroad, an excellent panel of the Fine Arts is on the base of the Queen Victoria Memorial in Wellington, New Zealand, and in City Gardens, Auckland apparently stands an allegorical figure of Spring.
Evening and Circe.