Colmore Row, St Philip's Cathedral
Colmore Row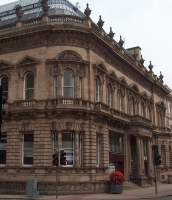 85-89 Colmore Row, and detail.
A few good Victorian buildings, largely Italianate, are near the Town Hall (Council House) end of Colmore Road. In particular note no. 85-89 which is the former Union Club, put up in 1870 by Yeoville Thomason (responsible also for the Council House), with various mostly bearded keystone heads above the first floor windows, a pair of prehistoric-looking griffins in the vein of Waterhouse's Natural History Museum capping the second floor principal corner window, and a row of pots on top. (Here the road crosses Newhall Street and Bennett's Hill, subject of a separate page.) Next to it is what is now the Royal Bank of Scotland, with a pair of demure angels holding torches and sheltering palm leaves in the portico spandrels, and up above, roundels with portrait busts of Ghiberti (he of the doors) and Cellini, most refined. Further along, 122-124 is Lethaby's Eagle Insurance Building, and near the far end, an entrance to the Great Western Arcade, noted in passing on a separate page.
On the southern side of Colmore Row, mid-way along, is the Cathedral.
St Philip's Cathedral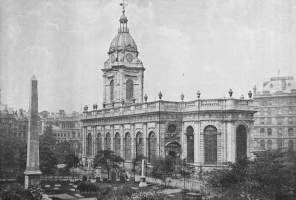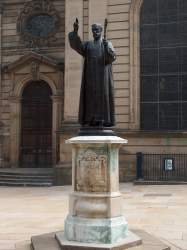 St Philip's Cathedral, and Stirling Lee's statue of Bishop Gore.
The Anglican Cathedral of St Philip's was originally built as a church in the early 18th Century, by Thomas Archer (who also designed St John's Smith Square, London in a similar but more wayward baroque fashion). In the 1880s it had a Victorian makeover by J. A. Chatwin, and was only granted Cathedral status in 1905. What we have then is a rather good Parish Church-sized building, without the medieval interior or accoutrements and monuments expected in a building of longer standing. Having said that, of direct interest to these pages are the four very important Burne-Jones windows, designed for Morris's firm in the 1880s. These are excellent examples of his work, and obtain a superb jewelled effect found with most Burne-Jones stained glass. Three of the four windows are at the sumptious altar end of the Cathedral ( which has round and square Corinthian style columns, the round ones being painted to resemble marble). I have not seen better windows by Burne-Jones – note especially the angels' faces, archetypical of the artist, and the drapery of the principal figures – Burne-Jones was a master with many types of drapery, and here chooses long, flowing robes that envelop the figure and hang down to give an impression of stillness and solemnity.
The monuments are few and simple. Most notable are two by Peter Hollins, a local sculptor, one showing a fairly conventional though nicely executed design of a classical girl seated next to a shrouded pot (the Wilkes memorial), the other a slight profile portrait of R G Breay.
Also see the small monument to Moses Haughton (d. 1804), 'eminent artist', with a good high relief portrait in profile with books and painters' tools strategically placed – this is by Peter Rouw the Younger.
In the square and churchyard surrounding, a statue of the first cathedral Bishop, Charles Gore (ca.1914), by Thomas Stirling Lee, and a tall obelisk to Burnaby with bewhiskered portrait. And outside the railings, a charming bronze Angel fountain, moved from another Colmore Row church demolished in 1899.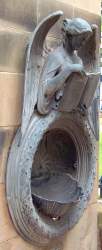 The Angel Fountain.
Architectural decorative interest north of Colmore Row
The return to the Museum can be made through Church Street, on the opposite side of Colmore Row from the Cathedral, and via Edmund Street and Cornwall Street, offering the opportunity to see a remarkable terra cotta building. This is number 19 Newhall Street, once a home for the Bell Edison Telephone Company, on the corner of Edmund Street, pu tup in 1896 by the architects F. and W. Martin. It includes among its ornamentation floral motifs, faces, snarling heads of bears as gargoyles, and the most splendid hippogriff reposing catlike on a balcony, which I have depicted here.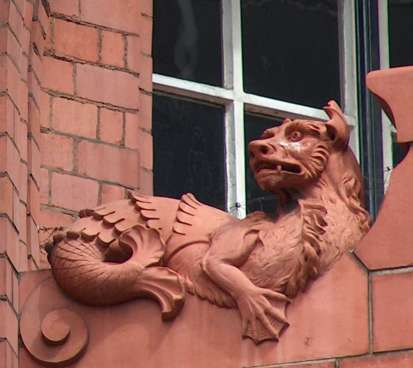 Other things are to be seen amongst these few streets. Notably, along Cornwall Street is a building with a whole series of most hideous little cherubs above the windows, and on the corner of Cornwall Street with Newhall Street is a pale stone building with medieval-style griffins oddly combined with a series of small panels showing more classicalized figure subjects – a philosopher with his book and skull, girls with harps, another pair of girls with mirrors and Roman table lamps, and another pair with masks, also a painter and a weaver (as noted above, see separate page.).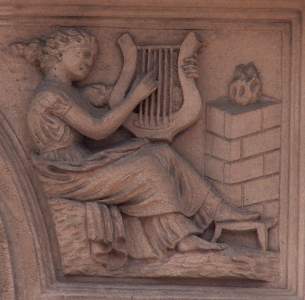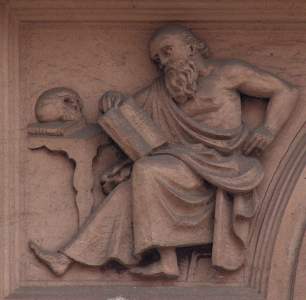 Birmingham pages // St Chad's Cathedral // Bennett's Hill and Newhall St // A Black Country Church - St Bartholomew, Wednesbury
Sculpture in England // Sculpture pages
Visits to this page from 23 Nov 2011: 8,572