William James Neatby (1860-1910)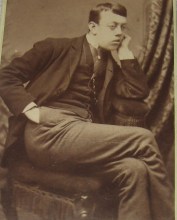 The artist W. J. Neatby.
The arts and crafts ceramic sculptor and artist W. J. Neatby is best known for his designs for the tiles in Harrods food hall - though it is the designs rather than the name of the artist which will be familiar to most. His work is fairly widespread, as decorative tilework and architectural sculpture in terra cotta for Doulton's, with which company he had a long association. The portrait of Neatby above was kindly sent to me by his great grandson, Ron Neatby.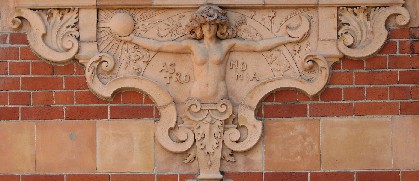 Neatby was born in the town of Barnsley, and trained as an architect, being influenced in his tastes by the monumental medieval architecture he found in the village churches of East Yorkshire. Aged 23 he became a craft worker, designing tiles for the famous company of Burmantofts in Leeds, learning the practicalities of painting and industrial manufacture of the ceramics as well as the creation of the designs. A little before he turned 30, he went to Lambeth, to work for Doulton's, as so many artists with a predilection for sculptural work did. His position was a senior one, in charge of the mural ceramics department, which brought him back to the architectural interests of his youth. At the turn of the century he became independent, though still working on an ad hoc basis for Doulton's, so that he could pursue other arts and crafts: his oeuvre, as a proper A&C Renaissance Man, included as well as tiles and sculpture, carrying out designs in metalwork, enamelling, painted murals, furniture, and stained glass. The Yorkshire churches meant that Neatby had a ready familiarity with a wide range of medieval work in many of these domains.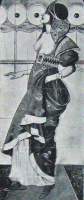 Jacinth, one of a series of 27 tile panels by Neatby.
With Neatby, we see a sculptor of detail, of architectural adornment, of faces and friezes and spandrel figures. His genius is in the appropriateness of his works to the architecture, the excellence of design, the flamboyance which complements and completes rather than overwhelms a building. Much of his work, in the graphic arts as well as his sculpted figures and faces, is archetypical arts and crafts, or art nouveau: girlish faces framed by long, swirly hair or wearing complex headgear over perfect, symmetrically composed features. There is as well a part of his work that is harder-edged, with cruel demons, cynically smiling faces and femmes fatale – again, this comes out strongly in his drawn work, which in some cases is akin to that of Beardsley.
In London, apart from his work for Harrods, just off Victoria Street at the Parliament Square end is Great Smith Street, wherein is the remnants of Orchard House, with a terracotta frieze of peacocks and apple trees by him (see the walk on this page.) His too are the demons high up on nos. 54-55 Cornhill (see the Cornhill page), and the terra cotta work at the Greenwich Observatory. Elsewhere, he designed the tiles and terra cotta for some beautiful arcades: the New Arcade in Birmingham, the Royal Arcade in Norwich, and the Emporium Arcade in Northampton. As well, his is the Turkey Café in Leicester, the Everard Building in Bristol, and what sounds very nice, though I have not seen it, the New Palace Theatre in Union Street, Plymouth.
A further note on Neatby's work in Birmingham is on this page.
Atlantes by Neatby in Cornhill.
Visitors to this page since 22 Nov 2011: 13,045