Wimbledon Tram Line Church Monuments
The tramline from Wimbledon goes via Merton, Morden, Mitcham and Beddington, all originally within Surrey, and all bar Beddington incorporated within Greater London in the 20th Century, and each of these places has its historic church with monuments. This page looks at what we can see in these five churches.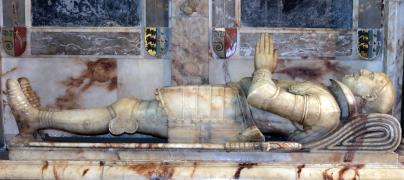 Sir Francis Carew, d.1611, effigy and seven kneeling children.
There are a few early grand monuments – members of the Carew family in Beddington, Gregory Lovell in Merton, Sir Edward Cecil, Baronet, in Wimbledon. The earliest of these is half a millennium in age, the tomb to Sir Richard Carew, who died in 1520. It is a heavy sideboard-like structure of Tudor architecture, consisting of an altar tomb below, with fine brasses of Sir Richard and his wifeon top, and a tall backing against the wall, with thin attached multi-sided pillars to the sides and a shallow canopy above with heraldic shields and a carved grapevine pattern. Next to this monument is the still grander one to Sir Francis Carew, d.1611, with a full length alabaster effigy, and his wife and several children shown kneeling and praying below. Another Elizabethan monument with kneelers is the Gegory Lovell monument in St Mary the Virgin, Merton: he is shown facing his two wives, all three kneeling and praying, with the offspring of the two marriages below. Sir Edward Cecil's tomb in Wimbledon is a simple jet black altar tomb. Early large panels without figure sculpture include William Walter, d.1587 at Wimbledon, and Anne Garth, d.1644, at Morden.
But it is in the 18th Century where this area of the Surrey borders comes into its own, with over two dozen Classical panels, some of prodigious size, above all Sir Ambrose Crowley at Mitcham Church, pictured below left, and including typical Classically framed plaques like pieces of architecture, with pillars or attached pillars or flattened pillars (pilasters) to the sides, a pediment above which may broken to include a large coat of arms, and often featuring different coloured marbles. Impressive examples are Bridget Glover in Mitcham, William Baynes in Merton (see below centre), Elizabeth Chapman in Beddington, and Elizabeth Gardner in Morden, all these dating from the first two decades of the 18th Century.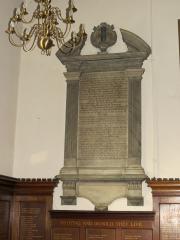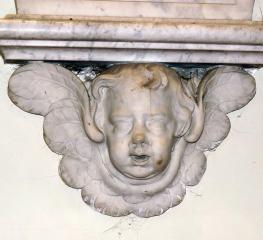 Grand panels of the 18th Century, and a detail.
One of the finest types of wall monument is the cartouche, with a violin or tortoiseshell-shaped panel surrounded by carved scrolling, drapery and sometimes foliage, often with winged cherub heads. There are three nice 18th Century examples along the Wimbledon tramline: John Roland, d.1702 in Morden, Nicholas Carew, d.1721, in Beddington, and Henry Meriton, d.1757, in Merton.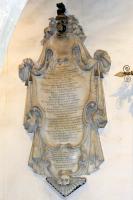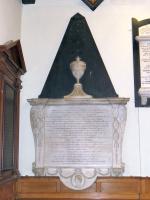 Cartouche and Obelisk, 18th Century.
One more 18th Century type of monument to look out for is the obelisk monument, sometimes called a pyramid monument, where the backing panel rises up in the shape of an obelisk, giving grandeur and a flat surface for a shield of arms, carved pot or similar. Examples along the Wimbledon tramline include Elizabeth Crammer and Martha Tate in Mitcham Church, Clara Leheup and Peter Leheup in Morden, with a pot and a Roman style bust of the deceased respectively, and Mary Knight in Beddington.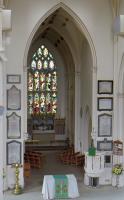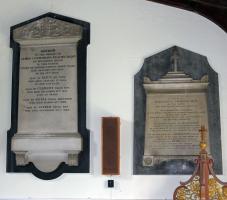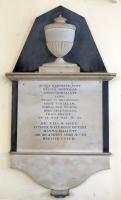 White on black 19th Century panels: group in Mitcham Church, and examples.
Then the 19th Century, where our five churches feature mostly the smaller white panels on black that form a goodly proportion of all British church monuments. Some of these are very simple and have no sculptural ornament, while others have a range of pots carved in relief, the odd piece of foliage, open books and so forth. Figural work is unusual in these churches, but in the 1800s-1830s we have two figures by Sir Richard Westmacott RA, in Wimbledon and Mitcham, and a seated girl by the sculptor R.J. Wyatt in Merton, as well as the odd portrait in relief, with a few more profile portraits in Victorian times.
The Victorian era mostly continues the Classical tradition, but amongst the pilasters and pediments are a handful of Gothic revival panels, something we associate very much with Victorian architecture – the best in the area is Charles Hoare, d.1869, with a profile of the deceased within a Gothic arch by the eminent portrait sculptor Henry Weekes, in Morden Church.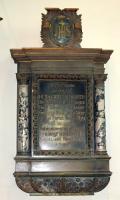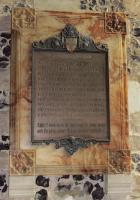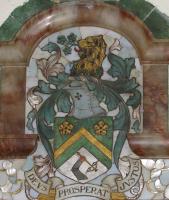 Arts and Crafts monuments: Haygarth, Bridges and Boustead.
The end of the 19th Century sees a few excellent Arts and Crafts pieces, including Revd. Bridges in Beddington Church and Gladys Blount at Mitcham Church as examples with pinky brown alabaster, John Boustead in Wimbledon Church with mother-of-pearl mosaic, and John Ferrier, in the same church, in beaten metal with fine script.
In terms of sculptors, of well over a hundred marble monuments to see in total in the five churches along the Wimbledon tramline, around 45 are signed. The biggest name is Sir Richard Westmacott RA, an important sculptor of many grand monuments, above all the Achilles in Hyde Park in commemoration of Wellington (see this page), and the British Museum pediment (see this page). His business as a monumental mason was very large, one of the largest, and Mitcham Church has several examples of pieces from his workshop. His father, Richard Westmacott Senior, has a panel to Richard Garth in Morden, his brother Henry Westmacott has pieces in Mitcham and Beddington, and also in Beddington Church is a piece by his son, Richard Westmacott Junior; there are a few panels simply signed 'Westmacott' where we cannot be sure which member of the sculptural dynasty carved it (see this page).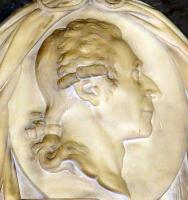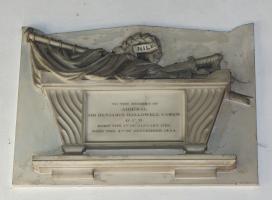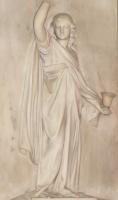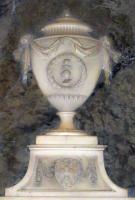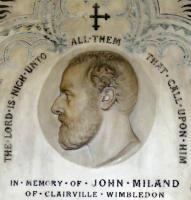 Monuments by Peter Rouw the Younger, Sir Richard Westmacott RA, John Bacon Jr and Calder Marshall.
John Bacon Junior was another prolific stonemason as well as an accomplished sculptor, and has two panels with pots carved in relief in Beddington Church. Other important sculptors whose work as monument makers, sometimes quite minor, may be seen along the Wimbledon tramline are William Calder Marshall and E.H. Baily in Wimbledon (though I missed seeing the latter), R.J. Wyatt with a panel in Merton Church, and Peter Rouw the Younger and J. Evan Thomas with a panel each in Mitcham Church. Another work at Mitcham has been attributed to Rysbrack, but this is uncertain.
Among more minor craftsmen, stonemasons rather than sculptors, the most prolific of all was the firm of Gaffin, whose address was in Regent Street for a hundred years – their staple fare was rather plain white-on-black panels, but the two along the Wimbledon tramline are both more interesting – Daniel Wilson with a carved portrait in Mitcham Church, and Sir Joseph Bazalgette, notable engineer and creator of the Victoria Embankment, at Wimbledon, with a complicated border of finely carved flowers. A firm nearby to Gaffin, Bedford of 256 Oxford Street, was nowhere near so prolific but his works can be found in many churches around London: the example in this area is Marianne Archer, also in Wimbledon Church. There are three pieces by Burke & Co, in Wimbledon and Mitcham, and also in Mitcham Church, three works by Charles Harris of the Strand. James Legrew of Pimlico has works at Wimbledon and Morden. Many early 19th Century stonemasons had their yards along the New Road, later Euston Road and Marylebone Road, and along the Wimbledon line we can see works by several of these.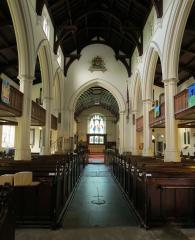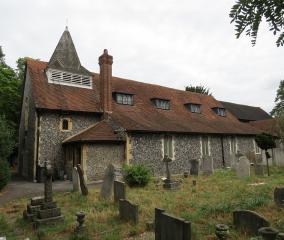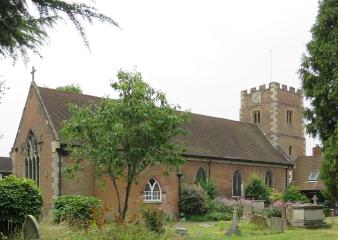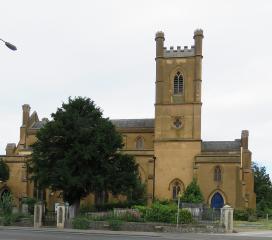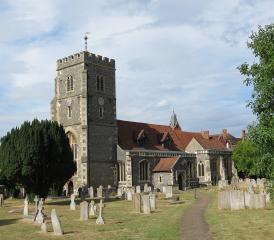 Wimbledon, Merton, Morden, Mitcham and Beddington Churches.
So much for the monuments. The five churches themselves are mostly replacements or enlargements of earlier churches, though St Mary Beddington retains fragments of Norman and medieval work, with the Carew chapel dating from 1520, and enlargement in the 19th Century. St Mary the Virgin, Merton, is rather small, and is a mix of early English and Victorian, with a single Norman arch brought apparently from Merton Abbey. St Lawrence, Morden is a narrow church of 1636, and retains much of its original appearance. St Peter and St Paul, Mitcham, is a much larger church, put up around 1820. And the current building of St Mary Wimbledon dates from 1843, and was designed by the celebrated architect Sir George Gilbert Scott.
What else can we see inside the churches on the Wimbledon tramline? Morden Church is notable for its series of painted hatchments, largely I think of 18th Century date. 19th Century reordering and refurbishment gave rise to some excellent Victorian furnishings, above all the William Morris Organ Gallery in Beddington Church, encrusted with colourful decoration, and the painted Reredos there by Clayton and Bell, best known today for their stained glass. And in Merton Church are an excellent series of stained glass windows by Edward Burne-Jones, again working for William Morris. And from the early 20th Century, apart from the Arts and Crafts monuments already noted, we may mention the World War I memorial in Mitcham Church, with a painted St George and the Dragon (picture at top of page; for more St George and the Dragon sculpture, see this page).
Beddington, Mitcham and Merton have large churchyards with a fair variety of the usual types of outdoor monuments. But Wimbledon has the best collection of larger and more ornate monuments, including as well as a vast tomb to Bazalgette, a pyramid to Gerard De Visme, and a carved palette and brushes on the tomb of a painter, Gilbert Newton RA. And in the small churchyard at Morden is the curious Mauvillain monument, mid-18th Century, with what may be a heart on top.
With thanks to the Church authorities in the several churches mentioned for permission to show the monuments inside; if you are planning to visit them, then do get in touch with them first to make sure you can go when they are open.
More on each Church: St Mary, Wimbledon // St Mary the Virgin, Merton // St Lawrence, Morden // St Peter & St Paul, Mitcham // St Mary, Beddington
Monuments in some London Churches // Churches in the City of London // Introduction to church monuments
Angel statues // Cherub sculpture // Sculptors
Visits to this page from 15 September 2016: 3,333