Monuments in St Mary Wimbledon, South West London
St Mary's Parish Church in Wimbledon is a Victorian building, but inside is a collection of monuments some of which are from the earlier church on the site. There are just over 30 monuments in all, including a couple from the 16th Century, one 17th Century, and several 19th Century panels dating from before the 1843 rebuilding; then more from the 19th Century and early 20th Century, with a modern one of 1992. Among the collection is the artistically interesting monument to Bazalgette, engineer of the Victoria and Albert Embankments. Some of the variety of plainer things are signed by the sculptors and masons who made them, mostly local and rather obscure, and there are a few important names, including Sir Richard Westmacott (James Percy monument) with figure sculpture, and William Calder Marshall (John Miland, with a portrait bust).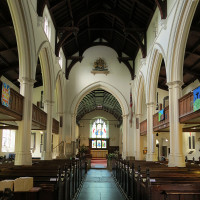 Wimbledon Parish Church of St Mary's, interior.
First, a couple of words on the Church itself. St Mary's was put up in 1843 to the design of the quintessential Victorian architect Gilbert Scott, in Perpendicular Gothic style, five bays long and with a tower, all faced with flint and with pale freestone dressings, and a really rather tall spire. It replaced a medieval church, bits of the structure of which were incorporated in the rebuild. Inside, the Church is lofty, bright, retains boxed pews in dark wood, and has a hammerbeam ceiling, and galleries on both sides, all helping to keep an ambience of warmth and age.
Monuments – 16th and 17th Century
Early 19th Century Monuments (from before the Church was rebuilt):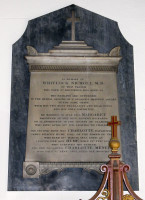 Whitlock Nicholl, d.1838, by H.O. Smith of the Savoy.
Later 19th Century Monuments (after the Church was rebuilt):
Marianne Lucy (Archer) Wrottesley, d.1848, grand-daughter of the above. With slight feet, and upper shelf, on black backing. By the mason W. Hanson of Albion Wharf, Kensington Basin.

Tomb chest ends by W. Hanson of Albion Wharf, and Bedford of Oxford Street.

Marianne (Wright) Archer, d.1866, daughter and co-heiress of Robert Wright. With moulded feet, upper shelf, and on a black backing. By the masons Bedford of 256 Oxford Street>, a family firm operating for nearly the whole of the 19th Century – see this page.
Marmaduke Robinson, d.1836, as a tomb chest end, with frame around the inscribed panel, feet below, shelf above, on a black backing. Another work by W. Hanson of Albion Wharf, Kensington Basin.

J. Skikelthorpe's panel to Emma Grosvenor.

Emma Grosvenor, d.1793, brother the Revd. Robert Grosvenor, d.1842, and Elizabeth (Heathcote) Grosvenor, d.1830. A tomb chest end, with the feet carved as half-flowers, quite decorative, beneath side pilasters to the main panel. Above, a pediment with shield of arms. On a shaped black backing panel. By the mason J. Skikelthorpe, Abridge, Essex. The Skikelthorpe family were widespread in Essex in the mid and later 19th Century, and this may be John Skikelthorpe, (1796-1871), who was known as a painter.
Frances Lucy Wright, d.1851, as a tomb chest end with moulded feet and an upper shelf, on a black backing panel.
James Courthope Peache, d.1858, wife Alice, d.1859, son Clement, d.1857, daughter Kezia, d.1899, and another son, Alfred, d.1900. One of the tall panels with heavy pediment ant base, a bit more ornate than many, with the pediment covered in low relief carving, rather light, with pot of flowers, swirly leaves etc. At the base, two brackets adorned with acanthus leaves with a wavy apron between. All on a black shaped backing.
General the Hon. Sir Henry Murray, d.1860, with a long list of his military exploits, and son Captain Arthur Stormont Murray, d.1848, the panel being put up by his mother in 1862. Panel with upper shelf, on a black backing. By Edwardes, Burke & Co, 17 Newman Street, Oxford Street.
Bertie Entwisle Jarvis, of Antigua, d.1862, panel with narrow border and coat of arms on a black backing panel with two small supports.
Henry Stormont Murray, d.1863, 'who died resignedly at Wimbledon Lodge'. Cut with small feet, and with an upper shelf and cut to pediment shape above, on a black, shaped panel. By the masons Burke & Co, Warwick House, 144 Regent Street, London, clearly an evolution of the company producing the General Henry Murray monument noted above.
Emily [De Visme], Hon. Lady Murray, d.1873, and daughter Susan Emily Murray, d.1874. Cut with small feet, with slight upper shelf, on rectangular black backing.
Courtenay Mansel, d.1874, panel with upper and lower shelf and little feet, and above, shield of arms on a wavy edged black backing.
Robert Graham, d.1874, and wife Ann Graham, d.1888. A splendid Arts and Crafts panel, with the text in dark gilt on black, a line of inscribed gilt leaves half way up, and mosaic surround (more like Opus Sectile) in repeating diamond patterns in different earthy colours and an outer narrow border of alabaster (see picture top of page, far right). Splendid of its type, and early.
Lieut. Frederick William Holland, d.1876, (monument erected in the following year), 'who died of Cholera... at Sialcot, East Indies, while fearlessly discharging the duties of an adjutant in visiting the sick'. A type of panel design fairly popular in the later 19th Century being the inevitable white on black, sparely Classical piece cut in shaped blocks rather than with much carving, made as a vertical panel with chunky pediment shape above, and heavy base below, both protruding somewhat, and with block feet under that. The result is a much more solid and imposing panel, less delicate and more muscular (see picture above right).
Emma (Powell) Haygarth, d.1876, wife of the Revd. H. W. Haygarth, whose panel is noted below. And Henry Evelyn Parry, d.1881, their child. Two separate white panels, one above the other, on a shared black backing panel. The upper one, to the mother, has a relief carving of an open book upon it, with religious inscription.

William Calder Marshall, bust of John Miland, d.1877.

John Miland, d.1877, and wife Elizabeth Miland, d.1914. Ornate panel as a blind window with trefoil top, coupled pilasters left and right, spandrels containing fern leaves, and small repeating patternings on the outer border of the rectangular surround. In the centre above the text is a portrait bust in profile of the deceased, bearded and with a powerful neck. It is signed by a notable sculptor, William Calder Marshall RA, whose work includes the group of Agriculture for the Albert Memorial.
Charles Norman Bazalgette, d.1888, second son of Sir J. W. Bazalgette, a tomb chest end with moulded feet, upper shelf, pedimental top with a carved shield of arms upon it, all on a black backing.
Sir Joseph William Bazalgette, d.1891. The famous sanitary engineer and builder of the Victoria, Albert and Chelsea Embankments alongside the River Thames in central London is commemorated with a distinctive plaque, with the central panel surrounded by four crossed sticks with thorny wild roses growing upon them, carved in high relief, with a black frame behind. The work of the prolific monumental masons Gaffin of Regent Street, and one of their better pieces. See also his mausoleum outside the Church, noted at the bottom of this page. Bazalgette also has a memorial bust on the Victoria Embankment (see this page).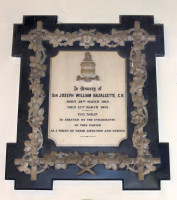 Sir J.W. Bazalgette monument, by Gaffin.
20th Century Monuments:
Revd. Henry William Haygarth, d.1902, Vicar for 43 years, the monument being dated 1905. It is an Arts and Crafts interpretation of a Classical 18th Century mural monument, with decorated frame, Corinthian pillars to the side, entablature, shelf and coat of arms above, and base and wide corbel below. Thus the side pillars are in a brecciated black and white marble, most arresting, and the frame of the central panel has William de Morgan-like roundels with seeds within them. The arms are in fact the IHS symbol surrounded with Acanthus leaves, and on a turquoise background. The base carving in low relief is of stylised flowers in a turn of the 19th Century idiom.
Frederick Stormont Murray, d.1903, and Gertrude Louisa Murray, d.1904, brother and sister. Cut as a tomb chest end, with upper shelf and pediment-like lid. An out of date type of monument for the 1900s by a very long time. Signed by the local mason W. H. Milledge of Wimbledon.
John Boustead, d.1904, and grandson John Raoul Edgar Boustead, d.1905, erected by John Melvill and Leila Boustead of Colombo, Ceylon, and Westfield Wimbledon Common. A fine Arts and Crafts panel, with border of mother-of pearl mosaic with simple flowers and leaflets, coat of arms above, and outer borders of red-brown alabaster, and then green-blue tile. Excellent of its type.
William Woodward Doke, d.1911, and wife Esther, d.1907, a just-about-Gothic panel, with the inscription in a trefoil-headed blind window, with above and to the sides in the spandrels, finely carved renderings of lilies (I think) and a rose bush, really rather nicely executed, all within a rectangular frame.
Launcelot Gough Gubbins, d.1914 at Potchefstroom, and on an identical panel above, Sir Launcelotte Gubbins, d.1925, each on a beige alabaster panel with red brown frame, a favoured colour of the 1900s and through till a little after WW1.
John Ferrier, d.1917, a beaten panel of metal, brass or brassed, with embossed italic text, a segmented top, and a frame. Arts and Craftsy.
Kathleen (McKane) Godfree, d.1992, and Leslie Allison Godfree, d.1971, thick marble panel with gilt edging.
Modern Brasses:
Charles Oxtoby Barker, d.1893, a characteristic type,with inscribed Gothic window surround, and border decorated with stylised flowers in squares, and in a mix of red and black. On a stone panel.
Frederick Greenfield, d.1916, typical of the simpler brass panels, with an inscribed line border, and the main capitals in red. Affixed on a black backing panel.
Also in the Church:
The font, a heavy stone one, of the type with octagonal sides and a single hefty shaft below, also octagonal. Both the exterior of the bowl and the shaft have on each side a blind window of Gothic form, trefoil above, trefoil with gable below, and in the upper windows are shields, bearing the Lamb of God, a bluebell plant, bulrush, crucifix, etc. Under the bowl are winged half angels all the way round.
A Royal coat of arms standing on a little shelf, which must be of wood, painted and gilt.
A stone pulpit with minor sculptural decoration, doubtless 19th Century.
One triple light window of stained glass is in such bright colours that it could only be the work of William Morris's firm.
A pair of small wooden statues, gilded, of a knight, and Justice trampling Falsehood (see picture of latter at top of page).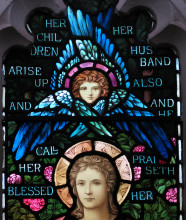 Churchyard:
Outside, the evocative churchyard stretches around the Church, with a variety of large stone monuments, many in Portland stone, including a large number of altar tombs – great box-shaped monuments in a variety of proportions, sometimes with a bit of carving, but predominantly architectural rather than sculptural monuments.
The grandest monument is that to Sir Joseph Bazalgette, a panel to whom we saw inside the Church. A massive capped plinth, or sort, wide topped obelisk, with acroteria at the corners, and resting on a broader structure with steps leading down to an iron door underground.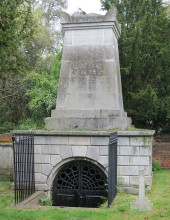 Sir J.W. Bazalgette, d.1891, tomb outside the Church.
A wander through the Churchyard finds many interesting tombs, among which we can mention:
Gerard De Visme, d.1797. A grand pyramid monument to a Huguenot refugee from France, who made his fortune from trading interests in South America, and for a while resided in Lisbon, Portugal, before returning to England. Such pyramid monuments were of course inspired by ancient Egyptian pyramids, with their association with death and the afterlife.
Gilbert Stewart Newton, d.1835, the American painter of portraits and genre pictures, who became a Royal Academician in Britain and died young. A blocky altar tomb with a carved palette and brushes.
Nieuwenhuys monument, later 19th Century, a Victorian altar tomb or table tomb of grey and pink marble.
Hopkins monument, 1840s, very solid altar tomb raised up on steps, and with gadrooned (corrugated) top and heavy coat of arms carved at the end.
With many thanks to the Church authorities for permission to show pictures from inside St Mary's; their website is http://www.stmaryswimbledon.org/about/history/.
Merton Church monuments, a mile southwards // and Wimbledon tramline monuments
Monuments in some London Churches // Churches in the City of London // Introduction to church monuments
Angel statues // Cherub sculpture
Visits to this page from 8 Mar 2015: 5,049