Westmacott Monuments - Bob Speel's website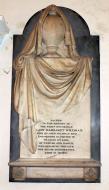 Sir Richard Westmacott RA, typical small monument.
Many early 19th Century church monuments are signed by the Westmacott family of sculptors. The most important by far, and one of the most prolific of all monument makers, is Sir Richard Westmacott RA (1775-1856). His fame came from his grand public sculpture such as the Achilles in Hyde Park and the pediment of the British Museum. But his monument making business was enormous, and works from his practice may be found across the country, from the grandest tombs and statues in Westminster Abbey to humble plaques in small rural churches. His monumental work starts in about 1797, when he returned to England after studying in Italy, and continues to the end of the 1830s, with just one or two examples from the early 1840s.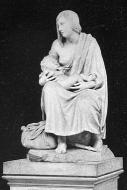 Sir Richard Westmacott RA, figure monument.
Now both his father and first son were sculptors and monument makers, and both were called Richard, so we have to distinguish him as Sir Richard Westmacott RA – his election to Royal Academician was in 1811, and the knighthood came much later, in 1837.
Richard Westmacott the Elder (1747-1808), his father, made monuments and chimney pieces, some very grand, but is not known for statues. His monuments first appear from about 1770, and last through till 1803, when he was bankrupted. Gunnis, the sculptural historian, lists just a couple of later ones from 1805, and I have not been to see these. As his work overlaps that of his more illustrious son, Sir Richard Westmacott RA, those small, simpler tablets marked simply 'Westmacott' from 1797-1803 could be by either.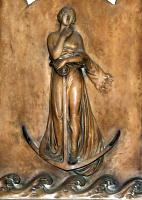 Richard Westmacott Sr, monument with figure.
Richard Westmacott the Younger (1799-1872) was also an RA, training under his father, as his father had trained under the elder Westmacott. He joined his father from 1826 at his premises and home in South Audley Street, and from 1830 set up on his own at 21 Wilton Place. His main work consists of portrait busts and some ideal works, with the pediment of the Royal Exchange as his most prominent public work. But he was a monument maker too, with works from 1820 through to the late 1850s. Some of these have figures, but again, with smaller tablets, if the signature is just 'Westmacott' without an initial or address, for the 1820s and 1830s tablets it is difficult to assign them to Sir Richard Westmacott RA or to Richard Westmacott the Younger.

Snake, signifying wisdom, from a Richard Westmacott Jr monument.
There are other member of the Westmacott family who became sculptors, but so far as church monuments go, there are two more we need to mention. The more significant one to look out for is Henry Westmacott (1784-1861), 13th son (!) of Richard Westmacott the Elder. He was best known as a portrait sculptor, mainly of busts, and also made decorative masonry, but was a moderately prolific sculptor of monuments too, though nowhere near the vast output of his more famous elder brother. When his father the elder Richard Westmacott died, it was Henry who took over his sculptural practice. The work I have seen by him consists of decent panels, white marble on dark, with simple decorative sculpture such as leafy boughs, draped pots, and scrolly pediments, which seem to have been a speciality of his.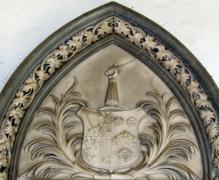 Henry Westmacott carving, a rare Gothic example.
Our final Westmacott is the son of Henry Westmacott, James Sherwood Westmacott (1823-1900). Again he was mainly a figure sculptor, of busts and various statues, including for the House of Lords and three for Burlington House in Piccadilly (on the rear side). He made a few monuments, mostly in the 1860s; they do not form a significant part of his oeuvre.
It is always nice to find the work of a familar sculptor in a church, and particularly Sir Richard Westmacott RA was so prolific that many churches have a piece or two, and an endearing characteristic of the family is how they supported each other and worked together, so that there are several churches where more than one of the dynasty signs a monument or two.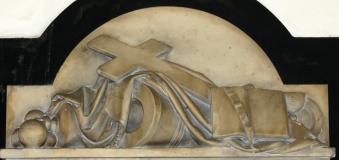 James Sherwood Westmacott, carved pediment from a monument.
Introduction to church monuments // Sculpture pages
Visits to this page from 24 July 2016: 3,673