John Michael Rysbrack (1694-1770)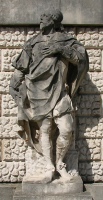 Rysbrack's statue of Inigo Jones.
The 18th Century Flemish sculptor J. M. Rysbrack (often spelt Rysbrach), son of an Antwerp landscape painter, came to England in 1720 and was for a period the most important sculptor in Britain, until eclipsed by some extent by Scheemakers. He was much esteemed by the art historian Vertue, who visited his studio, and some of what we know comes from his chronicle.
Rysbrack produced a prodigious number of portrait busts of famous people – Vertue saw over 60 in his studio in the mid-1730s. However, his reputation rests on his full statues for some of the noble houses of England and several public statues, including the equestrian William III in Bristol, and in London George II in Greenwich, and Hans Sloane for the Chelsea Physick Garden; and on his monuments, chiefly in Westminster Abbey. These latter date from soon after he came to England through to 1763, thus over 40 years, and include among others the monuments to Isaac Newton, and the poets John Milton and John Gay.
He lived in Vere Street, just off Oxford Street, and the site of the Metropolitan Chapel (a bleak little street today, with only the Chapel surviving, as St Peter Vere Street), and when he died in 1770, he was buried in Marylebone Parish Church churchyard.
Hans Sloane Statue.
I think I first came across Rysbrack in his two statues of Mona and Friga, in the Museum in Aylesbury, Buckinghamshire, two of a series of stone statues of Saxon gods and goddesses that he made. Crumbling and speckled with ingrained dirt and lichen, they still convey something of the spirit and personalities of the ancient deities they represent, and have a solidity and mass that gives them the impression of being larger than they are. In London, the statue of George II in Greenwich, carved from a single giant block of marble, is completely exposed and much eroded. We are left with the fine pose of the body and head, pliable and poised to move. The Chelsea statue of Hans Sloane, also eroded, is reproduced by S. Smith (2007) a little way along the King's Road, Chelsea, near to the Saatchi Gallery. Still in London, in Chiswick House Gardens, by the House, are statues of the architects Inigo Jones and Palladio. In both cases, the statues again look poised to act, and are powerful works. A statue presumed to be Alfred the Great in Trinity Church Square may be by Rysbrack. Outside of London, the statue of William III on his horse by Rysbrack in Bristol Queen's Square is particularly important, both because of its nobility and because being bronze, we can see a work of the sculptor without erosion. Rysbrack's terra cotta bust of Edward Colton, the Bristol merchant and philanthropist, is also in Bristol, in the art gallery.
So far as his numerous and often splendid Baroque monuments go, aside from the Westminster Abbey ones, there is a notable, noble bust by Rysbrack in the monument to Samuel Tennant, in the City Church of St Michael College Hill. A good example of a monument by Rysbrack with an architectural trophy is in Twickenham (see picture on this page), and a less sculptural piece is in Carshalton Parish Church. And outside London, I would recommend the Wyndham monument in Salisbury Cathedral as exemplifiying Rysbrack's style. A mourning Minerva-like figure with a long spear, wipes her tears, and leans her elbow on a funerary urn; the baroque drapery is excellent and typical of Rysbrack. Two panels with more modest figure sculpture in Aston Parish Church, Birmingham, are noted on this page.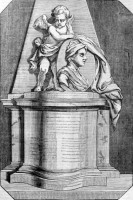 The John Gay Monument by Rysbrack.
Visits to this page from 21 Aug 2013: 6,600