Monuments in St Mary Paddington Green, West London
A church with many monuments of interest to these pages with their sculptural concerns. There are by my count 56 monuments in all, all wall panels, from the grand to the utterly plain, mostly small ones without carving, or without significant carving, but at least a half a dozen with serious figural sculpture, several with elegant pots in high relief, drapery, and smaller carved items, and a good collection showing the variety of styles and shapes of monument from the early decades of the 19th Century. Indeed the great majority of the panels are from the 1800s to 1840s, with just five from the end of the 18th Century when the Church was first built, and a couple each from the later 19th Century and 20th Century. A goodly number of them are signed by the sculptors and masons who made them, giving good opportunity to become acquainted with their work.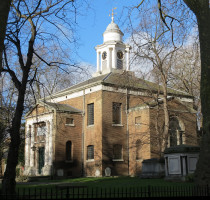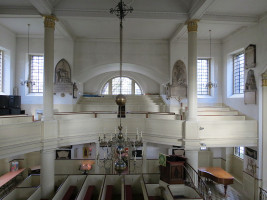 St Mary Paddington Green, exterior and interior.
The sculptural interest goes further, for here is the monument to the great sculptor Joseph Nollekens and the humbler statuary William Whitelaw, and the churchyard was the burial place also of the eminent sculptor Thomas Banks, and the less respectable, more interesting and somewhat tragic sculptor John Bushnell, though neither appear to have surviving tombs. And several members of the Thrupp family of coachbuilders are buried here, including Joseph Thrupp, father of the sculptor Frederick Thrupp, who was born in Paddington Green and lived there for much of his life. And it must surely be mentioned that it was here that Hogarth married Jane Thornhill, herself the daughter of the painter Sir James Thornhill, creator of the Painted Hall in Greenwich.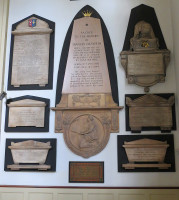 The Church itself was built between 1788 and 1791 to the designs of John Plaw, an architect who later emigrated to Canada and in the main seems to have been better known for his writing than his buildings, and of those buildings, this being his only church. The building, restored in the 1970s to the late 18th Century style from when it was put up, is an almost cubical design with projecting bays on each square side – the entrance being through a portico on the western one – and only when the visitor enters inside is it apparent that the Church is in the shape of a Greek cross. There is a shallow roof with a short clocktower in the centre, a miniature Baroque thing, with a clock on each side with projecting coupled pillars at the corners, and above, a bell shaped roof on a circular base, with a weathercock. Inside, all is painted white, with galleries on three sides of the lofty interior – the fourth side or arm of the cross being a short chancel with eight or nine monuments on each of the walls to the sides of the altar. The rest of the monuments are distributed around the walls of the ground and first floors.
Monuments - Late 18th Century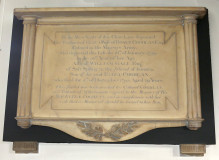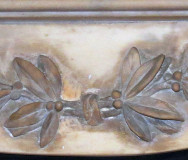 Robert Blore's monument to Eliza Coghlan, d.1799.
Monuments - 1800s and 1810s
Lieut. General Anthony George Martin, d.1800. As a cloth, tied in two knots, with hanging drapes to the sides, and hanging flat in the centre, leaving room for the inscription, the same concept as the Captain William Graham panel above, and with really rather similar folds to the drapes.

Hanging drape monuments to Capt. Graham and Lieut.Gen. Martin.

John Colborne, d.1802, with a long inscription, a man 'of most excellent fancy, and possessed, in an eminent degree that species of wit which seizes on and combines, not only the broad and characteristic, but even the latent traits of human folly'. Cut in a 'breadboard' shape, thus a rectangular panel with the very base of two triangles protruding like handles from the sides. By Richard Westmacott the Elder, an important sculptor, founder of the Westmacott dynasty.
Elizabeth Helen Gowland, d.1803, daughter of a City of London merchant and grand daughter of the Hon. Thomas Beach, Attorney General and Chief Justice of Jamaica. As a tomb chest end, with blank pediment, acroteria carved with simple anemone patterns, and on a black shaped backing. Signed by Westmacott - but which one of this prolific family of sculptors and tomb-makers, whether Richard Westmacott the Elder or some other, is not clear.
Catherine (Graham) Greville, d.1803, plain panel.
Margaret (Delancey) Clifton Jukes, d.1804, panel with fluted side pieces, shelf above and below, and on top, a black obelisk with upon it a symmetrically-draped pot or funereal urn with narrow stem (see picture at top of page), most chastely Classical. At the sides of the obelisk are little Aladdin-style flaming lamps, and at the base, a curved black apron between two supports, bearing a painted shield of arms. Obelisk monuments were most popular in the 18th Century, but did also appear in the 19th, and this one is quite short, being about two fifths of the total height of the monument. A rather similar one is in Marylebone Parish Church, by Whitelaw of New Road (Euston Road), whose own monument is noted below.

Margaret Jukes, and General Crosbie, 1800s low relief sculpture.

General Charles Crosbie, d.1807, another, grandly sized obelisk monument. The inscribed panel as usual is underneath a shelf, and has a wavy base and receding sides. The broad obelisk, which accounts for almost three quarters of the total height, is in a greyish marble with black border, and has on it a painted shield of arms, and a draped pot. The base of the latter has in front of it an architectural trophy, that is to say a group of crossed weapons and other accoutrements, here with a Britannia shield in front wreathed with olive and oak leaves. We see spears, a poleaxe, sabre, cannon and cannonballs. The sculptor was the important and prolific John Bacon Junior. Below is also noted the monument to Gen. Crosbie's wife, Sara Crosbie, d.1824.
Martha Rawlinson, d.1808, wife of Henry Rawlinson, MP for Liverpool, erected by her daughter Elizabeth Rawlinson, d.1826 and commemorated on a separate panel below, in the form of an apron. In this case, the original monument was a simple tomb chest end, the inscribed panel being in a frame cut with feet, having an upper shelf, and a plain pediment with two acroteria, and a black, shaped surround. Because there was no room on the panel for the daughter, a lower shelf was added, and then the separate curved apron with inscription, and two blocks to the side, and an additional backing panel to give a similar-sized border to the original.
Jane (Lyne) Tucker, d.1809, white panel in a moulded black frame; her husband's similarly plain tablet is noted below.
Mrs Elizabeth Williams Price, d.1810, wife of John Price of Jamaica. A tomb chest end, with small feet, and a broad upper shelf, on a black backing cut to shape, and with a bulging base indicating an apron.
Eliza Kent, d.1810, erected by her husband, Captain William Kent RN, and noting that together with him she was induced to 'visit countries far remote, and twice to circumnavigate the globe'. The panel has receding sides, and thin shelves above and below, and above the upper shelf is an obelisk with alto relievo figure sculpture. In the centre is the funeral urn of the deceased, standing on a plinth and covered on one side with a drape. On the right hand side, leaning her elbow on the monument, is a sombre female figure, wearing a long, off-the-shoulder dress caught by a belt beneath the breasts. As common with such figures, she is lounging rather than standing, one leg casually crossed over the other. Her second hand rests on a tall anchor with attached rope. On the other side of the urn is a kneeling cherub, one hand supporting his head, bowed in mourning, the other holding an upturned torch. The monument is signed by Sealy Junior of Lambeth, presumably a relative of John Sealy, cousin and one-time partner of Mrs Coade who produced so many sculptures in her eponymous artificial stone.
Hugh Dive, d.1811 (the monument is undated but the date is taken from a 19th Century list of inscriptions from the churchyard), and his brother in law Nicholas Bayly, d.1812. An extremely long inscription, rather tightly spaced on a panel in a fashion of over 100 years previously. There is an upper shelf and a lower shelf, and two small supports with roundels, and a shaped black backing cut with acroteria and a pediment above, and feet and apron below. But the sculptural decoration consists of a small black-painted shield of arms with festoons of cloth behind, caught up in knots to each side and freely hanging, and on top of the shield, a charming little dragon, just two birdlike legs, wings, and long tail. By William Storey, a London mason - we shall meet more of his work below.

Hugh Dive by William Storey of London, and Mary Baker by Randall of New Road.

Lieutenant Colonel Thomas Aubrey, d.1814, and son Captain Thomas Aubrey, d.1806. Above the inscribed panel is a tall panel shaped as a Gothic window, with high relief sculpture showing a tomb chest with a double portrait of the deceased in a roundel on its side. It rests on a raised heap of rock, and leaning against it and on top of the lid is a female figure in profile, intended as the grieving widow and mother, but shown here with youthful girlish figure and arm: this arm is thrown forward, so that we cannot see more than a bit of her face. She is Classically draped, with a light dress hanging down to her feet in many thin folds, and an outer, heavier wrapping which makes graceful curved creases around her upper body, waist and leg; a most pleasing composition. Above, in the background, are a pair of flags hanging at half mast from spears. To the sides of this structure are acroteria, and at the base of the monument, terminal hanging flower buds; in the centre, a pendant with painted low relief shield of arms, with four bird's heads and a motto on a ribbon: 'Solem Fero' or 'I bear the sun'. The sculptor was Henry Rouw of Portland Road, London, brother to the more prolific Peter Rouw the Younger, whose monument to Stephen Pellet is noted below.
Catherina Henshaw, d.1814, white panel with nipped corners on black backing. A humble production by a mason called Crake – there are several masons so named, and this one is probably Michael Crake of Portland Road, London.
Mary Anne Baker, d.1815, and husband John Baker, d.1838. A short obelisk monument, with the lower, main part of the monument consisting of the inscribed panel, here with sloping sides, and a large apron or corbel at the base, carved with spreading acanthus leaves – really a harmonious design, and quite unusual – either side of a central oval, presumably once containing a painted coat of arms; depending from this is a flower bud beginning to open at the base. Above the upper shelf, the pyramid or obelisk of black marble is rather short, as already indicated. It bears a squat, draped pot carved with a flame emerging from the top. To the sides are two acroteria with anemone patterns. See picture a little way up this page. Sculpted by the mason Randall of New Road.
William Holebrook, d.1817, and relatives through to 1836, plain white panel on black backing, with two block supports.
John Plenderleath, d.1817, erected by his wife Janet, d.1828; a separate panel underneath notes the death of Janet Livingstone Plenderleath, d.1835, and David Plenderleath, d.1852. The main panel is a tomb chest end of simple type, with upper and lower shelves and block feet. There is a black backing, rising to a short, broad obelisk above, enclosing a painted, low relief shield of arms with ribbon.

Relief sculpture of flower with broken-off bud, to John Backhouse, d.1817.

John Christian Backhouse, d.1817, an infant. With a band of repeating S-shapes in low relief, and a projecting pediment on which is carved a stem of lilies – two open ones and a bud pulled from the stem ere it could flower, to symbolise the infant not being given opportunity to grow up.
Salomon Knobel, d.1817, and daughter Elizabeth, d.1819. A casket, of sorts, and rather decorated. The central panel has sidepieces, slanting outwards, and above, a narrow shelf and then a pediment – the lid of the casket, which like a proper pediment has a border (though absolutely no entablature below), enclosing a draped pot carved in high relief, the drapes going sideways and crinkling up to fill the available space. To the sides are the familiar acroteria with anemone designs. Under the lower shelf are the two supports at the corners, each bearing a hideous little winged cherub head, the puffed-out cheeks being somewhat grotesque; to the centre, a curvy apron with fine crossed frondy branches, well proportioned and harmonious in the repeating lines; what a contrast with the cherub heads. The monument was made by William Storey, whom we met as the sculptor-mason of the Hugh Dive monument above.
Robert Burnet Jones, d.1817, and wife Elisabeth Susanna Jones, d.1843, and three sons. With frame, upper shelf, and a rimless pediment bearing a relief carving of Bible, crucifix behind, crossed with a a frondy branch. A heavy base below and two block feet, and a black backing forming a rim around the upper parts and side. The motif of Bible, crucifix and branch is not unusual, but is generally associated with a cleric.
Charlotte Cumberbatch, d.1818, and added later at the base, her young son Benjamin William Robert Cumberbatch, d.1820. With side pilasters, curvy base or apron bearing the painted shield of arms and with a pendant below, and above the upper shelf, a tall panel with figure sculpture. While curved as it goes up to a point the slant of the sides means this is not Gothic. The scene is quite busy, and centres on the figure of the deceased, as a female figure shown apparently bursting out of the collapsing pediment of a tomb. Her head is tilted back, her arms crossed over her breast, and she wears more a shroud than a drape wound round her arm, flowing cloaklike behind, and as a cowl over her head. There is an emphasis in the figure on the taut, backstreched neck and underside of the chin, most assured in execution. Above and behind her is an angel, also feminine,with more swirling drapery, short wings, and holding what seems to be a broken branch of some palm tree. To the left, a putto, added for compositional reasons, hands gesturing dramatically and in direction somewhat mirroring and emphasising the poses of the other two figures. Behind, in low relief, we see clouds and a sunburst. This melodramatic piece is by W. Cramphorn of Greek Street, Soho.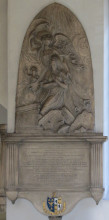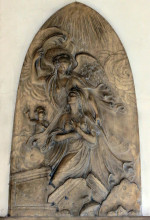 Charlotte Cumberbatch, d.1818, by the sculptor W. Cramphorn.
Monuments - 1820s-1840s
The distinction from the earlier 19th Century monuments is arbitrary, but by this date we have almost come to the end of the obelisk monuments – there is one later example – and encompass the series of panels designed in the form of casket-tomb ends, eight in all, each with outward slanting sides, lids like pediments with small 'ears' or acroteria, and with little feet resting on separate shelves. More on these sorts of monuments on the white-on-black monuments page.
Joseph Pickering, d.1820, with a short Latin inscription, on a roundel which forms the centrepiece of a sculptural composition. Above it rises a Crucifix with thin crown of thorns looped about it; leaning on the right hand side is a bound Bible, and on the other side is a draped chalice, all resting on steps behind the roundel. A third step forms the base of the whole panel, and is inscribed 'A Testimony of Respect by His Parishioners'. There is a frame above and behind, and two block supports below. A chunky but well composed piece, signed indistinctly.
Thomas Coombe, d.1822, with a Latin inscription – he was born in Philadelphia, and became Prebendary of Canterbury Cathedral. Panel with blocky feet, and a moulded shelf above, on a black backing panel shaped with a pediment above and apron below, the space allowing for a painted shield of arms carved in low relief. By William Storey of London, the last of his three monuments in the Church.
Joseph Nollekens, RA, d.1823. The famous sculptor is commemorated by this tablet, made by a notable later sculptor, William Behnes, and which has a high relief scene taken from one of Nollekens' own compositions: an elderly man is seated in the foreground, with a little further back a bed or low bier on which reclines a young woman, infant on her lap; she stares heavenwards, and the infant is presumably deceased. Above, in the background, a cowled Angel gestures heavenwards, indicating the departure upwards of the soul. The panel has the short inscription on a tall, eared panel above it, rather modern looking, and below is a blocky shelf, supports, and apron. All in white marble.

William Whitelaw's monument.

William Whitelaw, d.1824. One year after Nollekens' death, this rather obscure statuary died, and is commemorated by this panel, along with his wife Lucy, who later married William Patterson, and died in 1839. Panel on a slightly larger black backing panel to give a black border, within a larger frame consisting of sidepieces, upper shelf and thin lower shelf. Above, the black backing continues and curves inward to a point, as if of a Gothic arch, most elegant, and within it, a small urn with a flame coming out of it, and either a spout, or one handle left of two originals. This little pot is carved with a common device of long leaves reaching up from the narrow shaft, here a little more carefully rendered than the usual. At the base, two supports under the sidepieces, each with a curved Acanthus leaf, and between, a shallow, curved apron with two crossed frondy branches, framing a small shield of arms, now blank. Not so far away, Whitelaw made a panel to Robert Powney, in Marylebone Church, which is not dissimilar, with a similar framing, and this time an obelisk above, and a more restrained Classical pot. See this page for a bit more on Whitelaw.
Mrs Sara Crosbie, d.1824, wife of General Crosbie noted above. No grand memorial for her, but a casket tomb panel, with the usual sloping slides, upper shelf, cut-out pediment lid, and moulded feet, and resting on a shelf with its own supports, all on a black backing panel. This one, again by John Bacon Junior, seems to have been the model for later panels, to William Watson, Robert King and James Curtois, noted further down (see pictures later).
Stephen Pellet, d.1824, with a eulogy by his wife Eliza Pellet, d.1837, also commemorated. One of the tall panels with blocky upper and lower elements, the top cut as a pediment, the lower as a base, under which are two solid feet, each bearing a small carving of an opening flower. There is a mark at the top indicating something was once attached on the pediment, perhaps a shield of arms. The whole is on the usual black, shaped backing, and this is a minor work by Peter Rouw the Younger, of Portland Road, better known brother of Henry Rouw, represented by the Aubrey monument noted above.
Sir George Alderson, Knight, d.1826, father John Alderson, d.1792, the latter's wife Mary Alderson, d.1821, and Captain Joseph Alderson, d.1789, of the Bombay Marine Service. Panel with wide border of foliage carved in low relief, and two flanking statues in niches. On the top, centre, is a painted shield of arms in low relief, and the bases of the statues have blocky supports, one of which is signed by the sculptor, Sievier, and dated 1827. It is a work of some beauty: the low relief foliage consists of tied, undulating branches around the four sides, with many leaves, rather like ivy, alternating every couple of leaves with clusters of little berries; the effect is of coherence yet variety. The two standing girls to the sides turn slightly inwards to the centre. They are Classically draped, of course. The one to the left as we look at the monument wears a diaphanous top, leaving one arm bare, the other covered with a cloth that rises to cover the back of her head, and which hangs diagonally over her stomach and hips, emphasising her contrapuncto stance. Her eaqually thin skirt underneath shows the rounded forms of her legs, and exposes just the fronts of her unsandalled feet. She is Justice, and carries a small pair of scales, not balanced, in one hand; the other holds the hilt of her sword, which hangs beside and behind her robe. Her face is young, smooth, Classically expressionless, and her neck and exposed arm shows a degree of muscularity (if you like statues of Justice, see this page). The figure to the right is presumably Truth, for in one hand she carries a mirror (for more allegorical statues of Truth, see this page). She wears a single thin dress, caught high above the waist, and with the top tied over one shoulder, leaving her other shoulder and breast uncovered; her arm and hand lie diagonally across. On her other bare arm, high up, is a bracelet. Her long skirts again leave the front of the feet exposed, and the fabric across her legs is so thin that we feel there are living legs underneath. Her hair is piled up on her head and held with a circlet, except a few locks hanging to her shoulders, so we can see her long neck. Most charming. Robert William Sievier, the sculptor, specialised in portrait busts and statues, and ideal female figures, as well as making a number of monuments.
John William Dewbery, d.1827, and wife Margaret Esther Dewbery, d.1838. A casket tomb end, more ornate than some. The lid has a small shield of arms in low relief upon it, and there are acroteria to the sides with stylised flowers upon them. Underneath are carved small lion's feet, a frequently used motif, and they rest on a shelf with supports and a wavy apron between (see picture below, second from left). On a black, shaped backing panel with its own moulded supports.
Benjamin Tucker, d.1829, 'having in the Navy gained by industry and talent, the patronage and unceasing confidence of the Earl St. Vincent, he became his Lordship's private secretary, a commissioner in the Navy, and secretary to the Admiralty'. Plain panel with moulded black frame, as for his wife, Jane, who died 20 years earlier, and whose tablet is noted above.
William Watson, d.1830. As a casket tomb, with outward sloping sides, upper shelf and a lid cut as a low pediment with acroteria, little feet with mouldings, resting on a shelf with two supports. On a rectangular black backing panel. By Holmes, after the monument to Sara Crosbie, noted above (and both pictures shown above).
Newcome Kemshead, d.1831. A tall panel cut with feet, and shelf above. On that is a carving of a stag, which has lost its antlers but remains a finely done miniature carving. Underneath, a family emblem, of the letters NK in an oval made by a belt, buckled underneath, and with the motto 'Foy en Tout', thus 'Faith in All'. On a shaped black backing with wavy base.
Thomas Suffield Aldersey, d.1831, and wife Mary Ann, d.1837. Another of the casket tombs, as per Sarah Crosbie's monument. This one is by Tatham, of Lisson Grove.
Revd. Basil Woodd, d.1831, Minister of Bentinck Chapel, St Marylebone, for 46 years. Plain white panel on a single block support. His grave outside the Church is marked by a table tomb, apparently designed by the sculptor J. C. F. Rossi, who made the caryatids on St Pancras Church along Marylebone Road, and whose house still stands just off Lisson Grove nearby.
Sarah Siddons, d.1831, of great fame, whose figure sits outside the Church in a most grand monument – see bottom of page. This internal panel is styled as a casket tomb, as for the Crosbie monument. But it is signed by a significant sculptor, John Nixon and Son.
Barbara Alicia Murphy, d.1832. A rather coolly ornamented piece, architectural more than sculptural, in the form of a tall Classical pot, draped and bearing the name 'Barbara', within an arched alcove within a portico. Had there been no pot, we would have one of those tall panels with blocky upper pediment and lower base, but with the alcove, we have a miniature version of a triumphal arch. As such, a small entablature of stylised little flowers is included, to avoid the pediment being too abruptly above the alcove, and it comes forward via mouldings. There are two small brackets supporting the mass of the lower shelf or base, and one of these is signed by the mason, T. Marsh of New Road, Fitzroy Square.
James Curtois, d.1832, and wife Mary, d.1828, another casket tomb end on a shelf in the manner of the Crosbie monument.
Lettice Mathews, d.1833, with a eulogy. As a tomb chest end with an asymmetrically draped pot on top, rather nicely carved, and a black backing with a wavy top.
Major General Sir Sigismund Smith, d.1834. A casket end. At the top, above the prominent lid, is a draped, decorated pot, and the feet below are carved as lion feet, very small; they rest on the familiar lower shelf. The black backing is shaped to form a short, bevelled pyramid above, too short to call it an obelisk, giving a roughly pentagonal aspect to the whole monument.
John Butcher, d.1835. A simple, chunky tomb chest end, with shaped black backing. Signed by Radburn.
Thomas Oliver, d.1822, and members of his family through to 1834, with a note that the monument was erected in 1836. Tall panel to allow for the long inscription, and a poem, with small moulded feet, an upper shelf, and a sort of pediment with a painted shield of arms upon it. On a shaped black backing.
Lady Catherine Graham, d.1836, wife of Sir James Graham, Baronet. A slight tomb chest end, with low pediment and acroteria, and cut with feet, on a backing panel with slight cut outs to each side. Signed by J. Browne, London, 1827.
James Barnett, d.1836. A tomb chest end with pediment, and acroteria decorated with anemone patterns. At the base, the feet each have three small flowers upon them in relief. On the usual shaped black backing. His daughter, Mary Ann King, has a more ornate monument noted below.
Lady Mary Ann (Barnett) King, d.1837, and infant; both mother and child died shortly after the latter's birth. An obelisk monument, the last of those in the Church. The obelisk is somewhat over half the total height of the monument, and contains upon it a high relief carving of a rounded pot with narrow stem, asymmetrically draped and with small garlands around its widest circumference. It stands on a plinth bearing a curly shield of arms, painted, and has low relief, naturalistically carved foliage filling the remaining space. As normal, a shelf divides the upper from the lower part of the monument, which consists of the inscribed panel, receding sides which curve inwards and downwards, and beneath, two blocky supports, each with a quatrefoil flower carved upon it, and a blank central apron. Depending from this is a terminus in the form of a flower with a cluster of grapelike elements in the centre of the enclosing petals. The monument as a whole gives a sense of solidity and fine proportion (see picture above). The work of the mason C. Thompson of Osnaburgh Street.
Penley children, four of them who died as infants through to a seven year old, from 1831-39, offspring of Aaron and Caroline Penley. Panel cut with outward slanting sides, pointed top, black line border, and with two moulded brackets below. By Holmes of Edgware Road. See also the Johnson monument below for relatives.
Mrs Sarah Johnson, d.1832, daughter Mrs Susannah Penley, d.1836, her husband William Penley, d.1838, with a tribute to the latter. A white panel with triangle on top, and two moulded supports, again by Holmes, Edgware Road.
Robert King, d.1844, and wife Frances, d.1849. A casket tomb end, to the same design as the Sara Crosbie and William Watson monuments noted above. Signed very indistinctly by Holmes, St John Street, Edgware Road.
Thomas Anthony Devis, d.1810, Eliza Devis, d.1825, and Ann Devis, d.1838, a plain panel with black line border put up by their niece Isabella in 1882, 'the family tombstone in the churchyard having become illegible'.

J.S. Westmacott's monument to Capt. Finnimore.

Captain Benjamin Kington Finnimore, d.1860, of the Bombay Artillery, who died of Asiatic cholera. The panel features a carving of a curious mix of ecclesiastical and military accoutrements: thus a crucifix rests on top of a cannon, draped with a cloth and also supporting an open Bible, with a chalice visible at the edge along with what looks like a military hard hat; opposite are cannon balls. The shape is a segment of a circle above a long, narrow rectangle, and this sits on a heavy shelf, below which the inscribed panel depends; a little painted shield of arms is below this, giving the monument an odd, 'hatted' look (see picture above). The black backing panel has the segmented circular top, and is otherwise straight-sided. The piece is signed by James Sherwood Westmacott, a less prolific member of the Westmacott dynasty of sculptors of which we have already met a couple of members.
John Lewis Roget, d.1908, and wife Frances Roget, d.1908, just five days after her husband. Iron panel, with broad frame bearing repeating design of flowers and leaves, perhaps wild roses.
T.E. Utley, d.1988, the journalist. A slate panel with the brief inscription on an oval, with a low relief carving of a quill pen.
Also in the Church
There is a single modern brass, a panel to Sir William Beechey, Knight, RA, d.1839, and his wife Anne Phyllis. The little panel, with black text, has the principal capitals picked out in red, and a border of inscribed stylised vines, red and black, and quatrefoils at the corners. The panel is placed on a black backing. Such brass panels were reintroduced towards the end of the 19th Century, and the style of this one suggests it was made around 1900 or later, perhaps due to deterioration of the monument outdoors, or simply to commemorate a notable parishioner within the Church itself.
A small white panel with nipped edges on a black backing noting that the Church was consecrated by the Bishop of London, Beilby Porteus, in 1791, John Plaw being the architect, with a modern addition that HM Queen Mother attended a restoration thanksgiving in 1973. The piece is signed by J. Whitehead.
A wooden pulpit, of wood, with panels carved with St Peter, the Virgin etc.
WW1 and WW2 memorial, given by the Royal British Legion Paddington, with board, oval with inscription, flags and bench.
The font, a slender hexagonal thing with much moulding, made in white marble with dark streaks, and a black marble separator between basin and stem (see picture at top of page). Presumably contemporary with the Church.
A wooden triptych with shelf, carved with scrolls and small hangings and a winged cherubic head.
A rather grand coat of arms, painted, of the time of George III.
Outside the Church
There is a good collection of blocky altar tombs, dotted among the London plane trees which give such an atmosphere to Paddington Green. But we start with an important statue, to Sarah Siddons, the actress, who died in 1831.
The statue of Mrs Siddons is in a prominent position on a tall plinth facing the main road. She is seated on a high-backed chair, reclining with one elbow sticking out and the fingers resting against her cheek and on the side of her head. Her other hand, on the seat beside her, grips a dagger in a tight fist. Underneath this, resting against the rear chair leg is a mask of Tragedy, for this statue is Mrs Siddons as the Tragic Muse, recalling her most famous role as Lady Macbeth (for more statues of Tragedy, see this page). The statue is not in the English mode particularly, and it comes as no surprise to find that the sculptor was L-J Chavalliaud, who lived in London for some years. There is another statue by him in London, which is that of Cardinal Newman outside the Brompton Oratory just along from the V&A in South Kensington, and in Liverpool's Sefton Park are an assemblage of eight of his statues of explorers and naturalists.
We have one other exterior statue, actually in a niche in the wall of the Church, being the monument to Joseph Johnson, d.1802. It consists of a free-standing statue of a Classical girl, leaning her elbow on a tall funereal urn, with the brief inscription upon it. It abounds with good detail: the girl's drapery is complex and assured, full of contrasts, taut across the stomach to where held by one hand, then wavily hanging down in thick folds, themselves contrasting with the diaphanous wispy cloth around the lower legs. There is a further bit of drapery over the top of the urn, and wrapped around its neck is a finely carved snake – the symbolism here being of wisdom (see this page for snake sculpture). See picture at top of page, far left.
The rest of the exterior monuments are mainly tomb chests, casket tombs, and further off various slabs, mostly against the walls of the enclosure. The former have some minor carving, but are essentially architectural rather than sculptural constructions; the latter include various relief carving, including some bear or similar animal on the panel to John Harwis, d.1814, on the side of the Church, and further off, the odd skull and crossbones, winged cherub head, and armorial decoration, all crumbling away.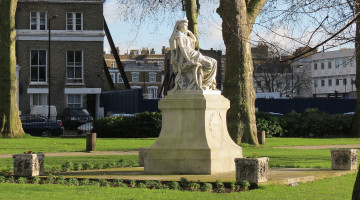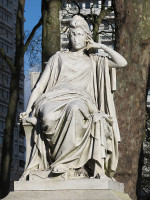 Mrs Siddons statue, by Chavallaiud.
With many thanks to the Church authorities for permission to use photos from inside; their website is at http://www.parishoflittlevenice.com/st_mary_index.php
Monuments in some London Churches // Churches in the City of London // Introduction to church monuments
Angel statues // Cherub sculpture
Paddington Station sculpture, a short walk away
Visits to this page from 22 March 2015: 7,561