John Bacon the Elder, RA (1740-1799)

Guy's Hospital pediment by John Bacon Sr.
John Bacon the Elder was an illustrious 18th Century sculptor, responsible for some important monuments, and a variety of statues in London and elsewhere. He was born in Southwark, son of a clothworker, learnt modelling under a porcelain maker in Lambeth, and by 1767 had become a modeller for Mrs Coade's Lambeth factory, also studying at the RA Schools from the following year. He later also worked for Wedgwood. He was elected ARA in 1770, and full Academician in 1777, and it was from around this time that he began to win major commissions for sculptural works, including in 1779 the monument to Chatham in Westminster Abbey.
Also in Westminster Abbey may be seen his monuments to the Earl of Halifax, Thomas Gray, General Hope, and William Mason. In St Paul's are his statues of John Howard, William Jones and Dr Johnson. Among many others, we might mention that in Salisbury Cathedral is his monument to Jacob Harris, in Bath Abbey Lady Miller, in Bristol Cathedral, Elizabeth Draper, and John Johnson in Leicester. A picture of one of his monuments is shown on the Hillingdon Parish Church page on this site, and another on the St Mary Paddington Green page.
His best known works in London are George III and the River Thames in the courtyard of Somerset House, and the group of Pitt the Elder in the Guildhall. Also in London are his William III (completed by his son), the sculptures on the façade of Trinity House, near the Tower of London, and the statues on the front of Guy's Hospital (shown on this page).

Two mermen on Trinity House.
Bacon's girls are classical, comely, full-figured and in Hellenistic or Baroque drapery. His men are cast more as Roman senators, noble and patrician (above all Dr Johnson in St Pauls), or athletic, heavily muscled figures. There is, it is true, some repetition in his work, but the excellence and sympathy of the figures mark him as a superior sculptor. Above is a portion of the Trinity House sculpture, showing two mermen supporting a shield; these slightly sombre figures, almost Germanic in their treatment of the muscular male body, are characteristic of the sculptor's best work. (By comparison, a variety of mermaids and mermen are shown on this page.)
At least two of his sons, Thomas Bacon and the much more notable John Bacon Jr, became sculptors.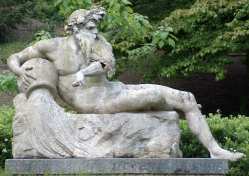 John Bacon Sr's The Thames, Richmond.
Visitors to this page since 13 Mar 2014: 6,832