The early 19th Century sculptor R.W. Sievier was best known as an engraver, but his sculptural works include ideal figure subjects and portrait busts.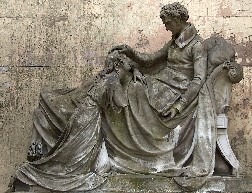 The Sievier Monument, Kensal Green.
Robert William Sievier, engraver, sculptor and later inventor, finds a place on these pages primarily for his excellent monument to himself, in his burial ground at Kensal Green, and a few good female figures in church monuments. He showed an early talent for drawing, and studied under John Young and Edward Scriven, before attending the Royal Academy Schools from 1818. His speciality was portrait engravings, though he also did other works, including subjects from William Etty (whose portrait he also engraved). By 1823, he had abandoned engraving for sculpture, where again his forte was portraits, these including Prince Albert and Thomas Lawrence, among others. (A drawing student of his, W.F. Woodington, followed him in turning to sculpture, achieving a degree of illustriousness).
Sievier exhibited at the RA form 1822-44, including several busts, and a few ideal figure subjects, including a Sleeping Bacchante, Musidora, and Pity. His oeuvre also included several gravestones and monuments. His studio was in Henrietta Street, near Cavendish Square, London, and he had a separate residence in Upper Holloway. Here, he pursued his other interest, in manufacturing inventions, and in about 1840 he seems to have given up making art, building, with a man called Cornish, the first India Rubber factory in 1841 (which grew to employing some 100 persons), and pursuing new developments in fabric manufacture and other disciplines.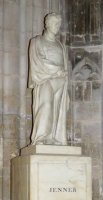 Dr Jenner, in Gloucester Cathedral.
The Sievier monument, shown at the top of the page, is in the Colonnade in Kensal Green Cemetery, and also there by Sievier is a statue of a girl under a cupola, to John St John Long. His most important statue is that of Dr Jenner in Gloucester Cathedral where also is his bust of George Paul; another statue is of Charles Dibdin, apparently at Greenwich. His bust of Sir Thomas Lawrence can be seen in the Soane Museum, and further portraits include William Harcourt (Stanton Harcourt Church, and St George's Chapel Windsor Castle), and a bust of Silvester in the Old Bailey. A nice pair of allegorical figures by Sievier can be seen in the Alderson Monument in St Mary Paddington Green, and there are two works by him, each with a figural group, in St John the Evangelist, Holloway (Archway).