William Whitelaw, New Road (1763/4-1824), and firm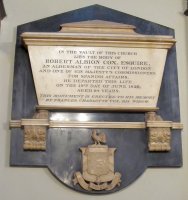 William Whitelaw of New Road, Fitzroy Square was a fairly prolific monument maker, or statuary, producing marble panels in the white-on-black style which predominated from the end of the 18th Century through much of the 19th Century. His works are mostly quite modest, with adornment of a high relief pot, a carved coat of arms, or attached details such as carved brackets or acroteria ('ears' to pediments); he has a few more ambitious sculptural works but I have not seen these. Whitelaw's works tend to be in the southern counties, with a few cropping up further afield.
His own memorial tablet (shows as the background to this page) is in St Mary Paddington Green, giving his address as Bath Place, New Road, and records that he died in January 1824, the 60th year of his age, thus was born in 1763 or 1764, and that he was a statuary. His wife is given as Lucy, who remarried William Patterson, and died in 1839. No further biographical details are given. There would seem to be a son who carried on the business, for we continue to see panels signed by Whitelaw through to the 1840s and one in the 1850s.
A good example of Whitelaw's Classical style with a nicely carved coat of arms is the panel to Robert Cox in St Botolph, Aldersgate in the City of London, pictured above (click to enlarge); two Gothic panels to members of the Timins family by the firm after the elder Whitelaw's death are in Aldenham, Herts.