Samuel Nixon (c.1803-1854)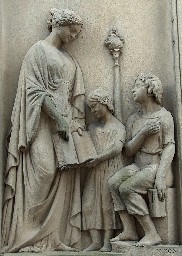 Beaufoy Institute panel.
The sculptor Samuel Nixon is best known for his very large granite portrait statue of William IV, pictured at the bottom of this page. Originally sited in the City of London in Cannon Street, this work was then apparently moved to King William Street, and then in 1936 to Greenwich, next to the National Maritime Museum, where it still resides. It was described in the 1880s thus:
The tame statue of that honest but commonplace monarch, William IV, at the end of King William St, is of granite, and the work of a Mr Nixon. It cost upwards of £2000, of which £1,600 was voted by the Common Council of London,. It is 15ft 3 inches in height, weighs 20 tons, and is chiefly memorable as marking the site of the famous Boars Head tavern.
By the time of Nixon's death, it was considered more favourably:
Not one in a thousand, perhaps, of the vast multitude that is daily entering the City from London Bridge, thinks of the sculptor of the fine statue of William IV that faces the bridge at the junction of Cannon Street and Gracechurch St;… Examined closely it will be found a masterpiece of its kind. The sculptor was Samuel Nixon; and one wonders that a hand so clever, which executed so fine an ornament, was not employed by the Corporation to execute other statues…'
Indeed, given that he won a commission for such a major work, Nixon seems rather obscure. His obituary explains the reason as 'no doubt partly to be sought in the retiring manners and unselfish character which he possessed in eminent degree.'
Nixon exhibited at the Royal Academy from 1824-1846, mainly portrait sculpture, but including some more ideal work early in his career, such as a Birth of Venus. His workshop was in White Horse Yard, Bishopsgate, and so gratifyingly close to his major commission.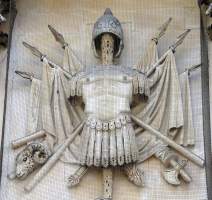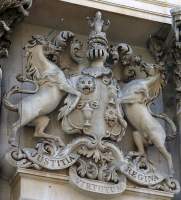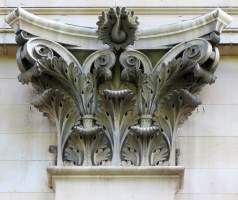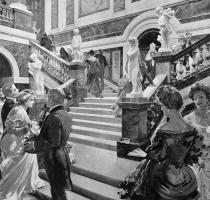 Sculptural decoration on Goldsmiths Hall, and picture of interior with staircase statues.
Apart from the William IV, Nixon's work in London includes John Carpenter for the City of London School, sculptural decoration for Goldsmith's Hall, including groups of The Four Seasons inside on the staircase as well as the exterior embellishments, a panel for the exterior of the Beaufoy Institute, Black Prince Road (see this page), a memorial in St John's Wood Chapel - the Gillespie Monument, to three sisters; and another in Hackney Parish Church, to Philip Lucas (d.1830); and another bust, to the Revd. George Avery Hatch, in St Vedast Foster Lane, by St Paul's Cathedral; and a lesser panel to John Marshall (d.1840) in St Leonard, Shoreditch. Indeed, his main employment towards the end of his life was on sepulchral works, many of which were sent to Canada. The pictures below show the monument by Nixon to W. D. Almon, d.1840, in St Paul's Church, Halifax, Nova Scotia, with thanks to the church, and to the photographer, Tinker McKay. Nixon died in Kennington in 1854, and was survived by a brother, James H. Nixon, 'an excellent painter in stained glass'.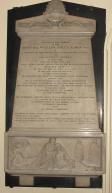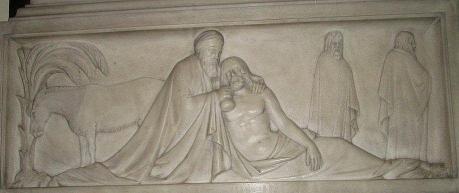 W. D. Almon monument, St Paul's Church, Halifax, Nova Scotia.
He did sculpt other statues, including one of Dr Valpy for St Lawrence Church, Reading, and various female figures, which may never have made it past the clay model stage.
In terms of the very limited ouvre of Nixon's which I have seen, apart from the William IV statue, which the sculptor made in tough granite and therefore could hardly aspire to the fine carving possible with softer stone, the John Carpenter statue is workmanlike but does not attempt grandeur. But his Beaufoy Institute panel, with a schoolteacher showing a book to two children, is a fine thing. Also in London, his bust in St Mary at Hill Church in the City is delicately rendered, and the Gillespie Monument in St John's Wood Chapel is excellent.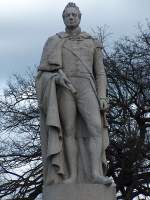 The granite statue of William IV, now at Greenwich.
Visitors to this page since 22 Nov 2011: 5,894