Peter Scheemakers (1691-1781)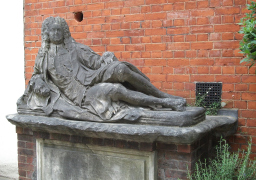 Samuel Mead monument, by Scheemakers.
An important 18th Century sculptor, who made the well-known statue of Shakespeare in Westminster Abbey, most familiar as the copy in Leicester Square by Fontana. Though the Leicester Square copy has been called 'inferior', given that this is effectively the national monument to Shakespeare, it means that Scheemaker's conception of the Bard has passed into the national consciousness.
Peter Scheemakers was the son of Peter Scheemakers the Elder (1640-1713) of Antwerp, thus the more Dutch bit of modern-day Belgium, studied in Denmark under the sculptor J. A. Sturmberg, had a short period in London under Francis Bird, and then a longer period in Rome from 1728. He then however settled in London in the 1730s, where he stayed until 1771, then returning to Antwerp. During this period of around 40 years in London, he produced some quantity of important works: statues, busts and church monuments. From the early 1740s, his workshop was in Vine Street, London, where the prodigious volume of his output suggests he employed many assistants. According to a prodigious essay by Ingrid Roscoe for the Walpole Society, from 1731 'no figure from his workshop can be identified as his [carving] after 1731', but his were the designs, drawings, and at least before he was entirely consumed with the business side, the clay models, upon which so much of his early reputation had rested. In his sculptural workshop, Scheemakers was particularly successful in cutting his costs by reducing the steps in making a finished sculptural work, including the drawings and models for those who commissioned works from him, and in publicising his own work and effectively building his own reputation.
Scheemakers had a son, Thomas Scheemakers (1740-1808) who was also a sculptor, though not at all so eminent and mainly producing church monuments, and a brother, Henry Scheemakers also a sculptor – this brother had a partnership for a time with Henry Cheere based at St Margaret's Lane. Among his pupils, Joseph Nollekins (1737-1823) achieved prominence as one of the great sculptors of the next generation.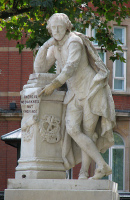 Shakespeare in Leicester Square (copy after Scheemakers by Fontana).
Aside from the Shakespeare monument, Scheemakers was the sculptor of the statue of Thomas Guy at Guy's Hospital (pictured on the Borough High Street page), London (1733), and inside adjacent St Thomas's Hospital, the statue of Edward VI. At Chiswick House, among the statues in the garden and house are three statues believed to be Julius Caesar, Pompey and Cicero, thought to be by Scheemakers, and perhaps also the Lion and Lioness, and some have suggested the sphinxes there are also by him, though my understanding is that these are by Cheere. Other statues by Scheemakers are squirrelled away in the Foreign and Commonwealth Office. Further afield, Hull has the grand equestrian statue of William III, based on Scheemakers' design for Bristol, which in the event was won by Rysbrack (see this page). Various busts survive by the sculptor in diverse locations, and a simple copy of the Shakespeare dating from 1846 is on a theatre frontage in Manchester.
Time has not been kind to Scheemakers' London monuments outside of Westminster Abbey, where he has over a dozen monuments aside from the Shakespeare: he had three in All Hallows Barking, listed by Gunnis, the sculptural historian, as 'damaged or destroyed' in World War II; in St Mary le Bow his monument to Matthew Howard, d.1737, was also lost to bombing. However, outside Temple Church off Fleet Street is his semi-recumbent effigy of Samuel Mead, d.1733, there are two wall panels by him in St Mary Paddington Green, and in Harrow Church at the top of the hill is his monument to Thomas Graham, d.1733. Further out along the Metropolitan line, in Amersham Church is a grand monument to Montagu G Drake, d.1731, and a panel to Montague Drake, d.1728, and also on the Met line, the effigy of Lord Henry Paget, Earl of Uxbridge, d.1743 in Hillingdon Church was at one time attributed to Scheemakers.
In Bradford Cathedral is his panel to Abraham Sharp, d.1742, with low relief carving. In Exeter Cathedral, his is the monument to Bishop Grant, d.1736. Several monuments by him are in churches in Reading, but I have not seen them, and others are dotted in various towns across central and southern England, many of them of grand scale and several figures, for example that to the Earl of Shelburne in All Saints Church, High Wycombe, and Abbots Langley Church, Herts. Among panel monuments with more minor sculpture by Scheemakers we may mention, for example, that to Elizabeth Cacassonnette, d.1749, in Huntingdon, Cambs.
In terms of style, Scheemakers' full statues are fairly lively, in particular the Shakespeare stands elegantly leaning on his elbow, his legs crossed, and cloak swirling; and Samuel Mead at the Temple, for example, lounges in an attitude of Roman self-satisfaction on his tomb (see picture at top of this page). Scheemakers liked complex drapery, filled with movement, while his faces are calm and Classical. His simpler plaque monuments are also Classical, with a tendency to the Baroque, and (at least in those I have seen) moderately restrained rather than overly flamboyant. The nature of his business meant that he followed certain standard schemes, for example many of his figure monuments have a dark backing in the shape of an elevated pyramid, or obelisk, which assumes a certain familiarity once seen a few times. Equally, he had a goodly output of mourning girls, seated or standing, resting their arm on one elbow and with hand supporting the chin, but at the same time a pleasing variety of drapery and arrangement of the figure to avoid repetition.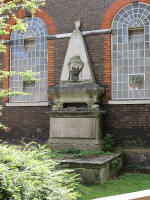 A typical non-figural monument by Scheemakers.
Visits to this page from 15 April 2014: 5,500