Robert Blore, Senior (to 1820), and Robert Blore, Junior (d.1838), of Piccadilly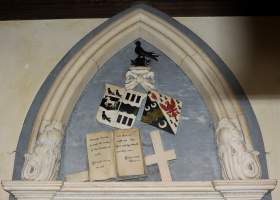 Monument by Robert Blore of Piccadilly.
There were two Robert Blores, mason sculptors, whose firm in Piccadilly produced a goodly number of funereal monuments across England, dating from the late 18th Century through to the mid-1830s. The works of the firm are generally signed R. Blore, or R. Blore and Son, without any distinction between the works of the two partners, but the younger one seems not to have been the son of the elder, but of a certain Henry Blore.
The splendid Mr Gunnis says that the Blores' monuments 'were always well carved, but the designs dull and uninteresting', but I think this is a little unfair. There is a mourning girl panel at Bedfont Church in west London. The monument to the Revd. Edward Lockwood in St Peter's Church, Northampton, places conventional motifs of an open Bible, coats of arms and a cross in an unconventional composition (see picture at top of page), and in Petersfield, Hampshire there is a signed monument by the firm to Charlotte Hoper which has a curvy pediment depicting a high relief group of a draped pot and two cherubs – this website tends to curl its lip at cherubs, and the Blore pair are indeed horrid little things, but hardly dull. In London, St Mary Abbots in Kensington has among its large collection of early 19th Century panels one by Blore, to Thomas Chase (d.1818), which may reasonably be classed at the modest, or dull end of the spectrum; we should also certainly note the almost identical pair of panels in St John's Wood Church, to George Cherry, (d.1813), and his wife Martha Maria Cherry (d.1819), the latter of which is signed by Blore, Piccadilly; and another slight work is the Eliza Coghlan panel in St Mary Paddington Green. In St Paul's is the firm's monument to John Wasdale, which I have not seen, and outside London, as well as in Parish churches, examples of the Blores' work may be found in Winchester and Chester Cathedrals.
Introduction to church monuments // Sculpture pages