St Mary Wanstead, London/Essex - Monuments
St Mary Wanstead, in that part of East London once part of Essex, contains the outstanding, enormous monument to Josiah Child, attributed to the sculptor John Nost. There are a variety of panel monuments, completely dwarfed in comparison, but of interest in their own right, including signed works by Peter Scheemakers in the mid-18th Century, and by Chantrey, Westmacott, and John Bacon Junior in the early 19th Century.
The Church building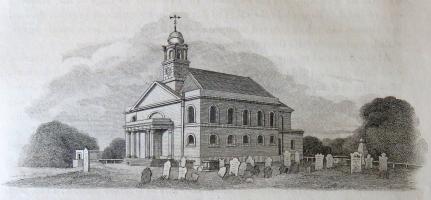 Wanstead St Mary.
A few words on the Church itself, before going in to look at the monuments. St Mary Virgin, Wanstead is box-shaped, basilica style building of brick faced with Portland stone, with two rows of round-topped windows to the sides, a Doric portico at the front, empty pediment above and behind that, and a small Classical bell-tower with a cupola on top, a sloping roof behind. The Church was erected in 1787-90, Thomas Hardwick being the architect, and, so Gunnis the monumental historian tells us, the masons were William Miller and George Boucock, who also built St Martin Ludgate in the City of London. The previous medieval church of Wanstead had been considered too small and was demolished – it might have been retained, as it stood a little to one side of the current Church.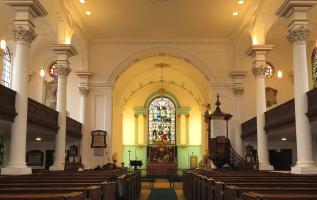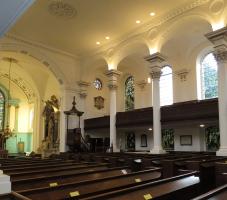 Wanstead St Mary, Interior views.
Inside, the Church feels tall, open and light: the aisles are full height, separated from the nave by thin columns, and full length galleries. The entrance is under the massive organ, and at the other end, through the generous chancel arch is the dominatingly large and impressive monument to Josiah Child. The other monuments, a range of panels, are dotted along the aisles and with a few in the galleries.
We start of course with the enormous Child monument, and then take the rest in date order.
Josiah [Josias] Child, d.1699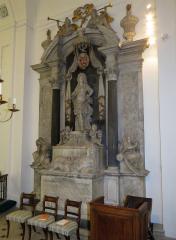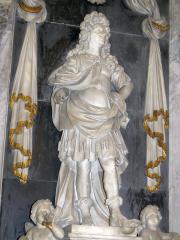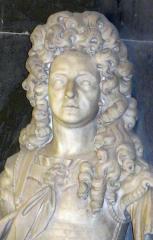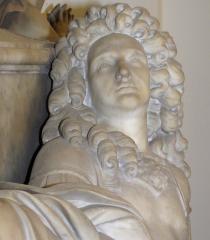 Baronet Joshua Child monument, attributed to the sculptor John Nost II.

Baronet Josias Child, Governor of the East India Company, merchant, and writer on economics, died in 1699. This splendid piece is noted by the historian John Strype, in his Survey of London, updated in 1753 from the original volume by John Stow, in the section on the outskirts of London:
'...a most splendid Monument for Sir Josiah Child Bar[onet], where his Effigies, cut out in white Marble at Length stands; Pointing with one his Fingers downward, directing to the Inscription underneath, to shew who he was; his three Wives, whose Daughters they were, and to whom married, namely their former Husbands; what Children by each. The Monument mentioned to be set up by Sir Richard Child, Bar[onet] his Son surviving, now Earl Tilney.
Underneath lyeth along, on his Side, his Son Bernard, who was elder Brother to Richard.
... There are divers curiously engraven Marble Figures on each Side of the Monument, besides that of his Son Bernard underneath, viz. Two Women fitting on either Side, in very melancholic, lamenting Postures: One leaning her head upon her Hand, the other Hand stretched downward; the other Woman closing her Hands together, and wringing them: Both with Veils over their Heads. And there are likewise, by Way of Ornament, Boys in mourning Postures, and one of them blowing up a Bubble. ...'
The composition centres on Josiah Child (pictured above), standing under a triumphal arch, on a tiered base accommodating a pair of cherubs, and as Stype noted, the reclining figure of his son Bernard Child; the inscription is on the lowest tier. Other figure sculpture includes Strype's melancholic women, and on the very top, two trumpeting angels. The statue of Josiah Child is in the classic style of the 18th Century – strutting forward with one foot extended, hand on hip, the other in a studied gesture, head proud and looking outward rather than downward to the spectator. Again characteristically, and oddly to our eyes, the figure combines the full wig of his times with Classical garb – cuirass (body armour), Roman toga and sandals and a great sweep of cloak and twisted drapery about the waist; his physique too is a mix of the 17th Century merchant, a little rounded in the protruding stomach, and with a middle-aged bureaucrat's face, combined with the muscular arms and legs of a Roman soldier. Pretentious perhaps, but gloriously so.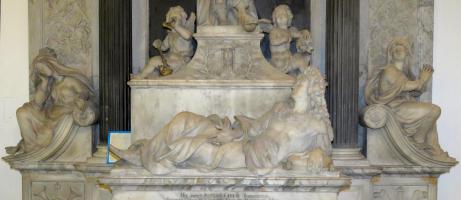 Bernard Child.
If Josiah Child is the noble Roman in action, his son represents the noble relaxing, reclining on a tasselled cushion, his free hand open expansively as if conversing. Again, he wears a cuirass, and is bewigged and sandalled, but has a long drape over his legs. Like his father too, he is prideful, head tilted somewhat back. The quality of both figures is superb: look especially at the expressive hands, and the profile and neck of Bernard Child. There is a largeness to the drapery, with broad masses appropriate to the scale of the monument.
The two mourning female figures seated to either side are excellent things too: hooded, appearing like some medieval queens; one has her hands clasped in prayer, the other leans mournfully on one hand. Up above, the angels are more jolly, youthful figures vigorously blowing trumpets. A flaming funereal urn is to each side.
The viewer can pick out symbolic references in the minor decoration. One cherub holds a skull, as a memento mori; the other holds an upturned torch to indicate life snuffed out; between them is carved an hourglass to show time run out. Larger carved panels show a skull and crossbones with a drape and wreath of olive leaves, and a winged flaming heart on its way to heaven, with crossed trumpets behind, and encircled with a snake swallowing its tail, a rather pagan symbol of rebirth or life eternal.
The monument has been attributed to the sculptor John Nost II (1712/13-1787), though like most of the other monuments given to this master it cannot be proven. Nost's uncle, John Nost I (Nost the Elder, d.1729) came from what is modern day Belgium to England to work for Arnold Quellin, married his master's widow after his death, and became a significant sculptor to the nobility of the time, the bulk of his work being lead garden statuary. The younger Nost is thought to have trained under his uncle, but was apprenticed to Henry Scheemakers in 1726. His known works include several in Ireland, where he lived from 1750 to the early 1760s.
A monument as spectacular as this is rare, but there are other examples in London of figures like Josiah Child's: Sir Andrew Riccard in St Olave Hart Street, John Bushnell's figure of John Mordaunt in Fulham Church, or much nearer by, the Trafford monument in Walthamstow, all have similar stylish poses. Reclining noble Romans like Bernard Child include Sir William Hicks in Leyton Church; an even more flamboyant one outside London may be found in the statue of Sir Wiliam Gore in Tring, Herts. Everything else in the Church pales in comparison, but there is actually a good selection of panel monuments, including one with figure sculpture. We take them in date order:
Other 17th and 18th Century monuments:
19th Century monuments:
We note en passant one 21st Century panel, to Peter Brown, d.2015, Churchwarden. A plain white panel with black backing.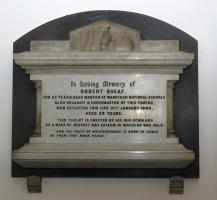 <

J. Looker of Wanstead, panel to Robert Sheaf, d.1894.
Modern brasses
There are several plain brasses of the 1900s and thereabouts. We may note:
Also in the Church
Churchyard
To the side and behind the Church is the churchyard, with a fair crop of tombstones and more expensive monuments in a romantic setting. They include a good selection of different types of crosses: crosses fleury, Celtic and so on, along with one with a ship's anchor, one with a decent angel standing in front of it and another with an angel clasping it [see this page for some examples of crosses]. Also notable are a series of chest tombs (big boxy monuments), and while the monuments are overwhelmingly 19th and early 20th Century in date, there are a few 18th Century headstones including for example with skull and crossbones. And amidst its smaller brethren stands one mausoleum-like structure, actually a sentry box, with domed top and acroteria - apparently marking the grave of Joseph Wilton (1722-1803), a fine portrait sculptor who was one of the founding members the Royal Academy.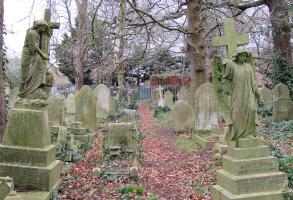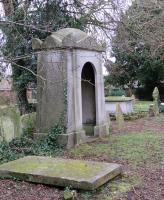 View in Wanstead Churchyard, and mausoleum said to mark grave of the sculptor Joseph Wilton.
With many thanks to Wanstead Church authorities for permission to show pictures from inside the Church: their website is at www.wansteadparish.org/our-story/. The Church is open on Sundays for services, and on some Saturdays; it can be opened at other times for visitors by arrangement via the Parish office.
South-West to Leyton Church // or North-West to Walthamstow Church // Essex-in-London churches