Monuments in All Saints Parish Church, Fulham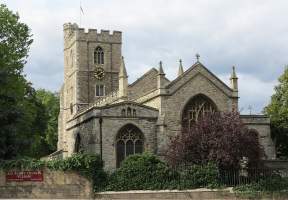 All Saints Fulham.
All Saints Church, Fulham, is conveniently situated a couple of minutes walk from Putney Bridge Station, just north of the river. This church is well endowed with monuments from the late 16th and 17th Centuries, as well as more minor later work, with altogether over two score memorials, a considerable proportion of which have interesting carving. The building itself includes a medieval tower, the rest being a sympathetic rebuild of about 1880 by the architect Arthur Blomfield. What we see today is much as Blomfield left it, a Gothic building, battlemented, all in Kentish ragstone, with the dressings in Bath stone, more or less matching the early 19th Century refacing of the medieval tower.
The pictures of memorials inside the church are courtesy of All Saints, and no reproductions should be made without their permission: their website is at www.allsaints-fulham.org.uk.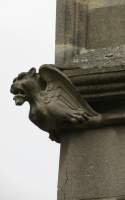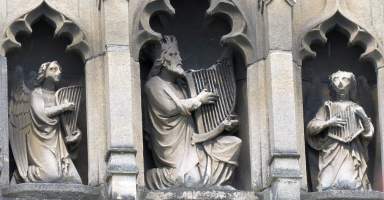 Carvings on the exterior of the church.
We start with a sequence of early memorials, commencing with a brass and an early panel, and including half a dozen showy and significant monuments from the 1890s through to 1610, with and without figures, and all worth contemplation: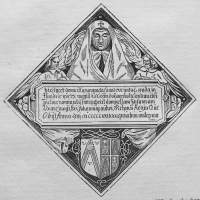 Brass to Margaret Saunders, d.1529.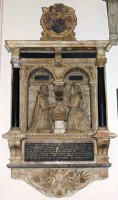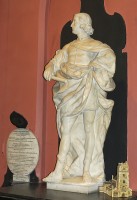 17th Century figure sculpture: Jane Payne, 1610, and Lord Mordaunt, 1675, by Bushnell.
This brings us to the end of this sequence, and we move on to the latter 17th Century:
The later works, a mix of rather plain works with a few which stand out, sculpturally speaking:
Dr Edmund Gibson, d.1748, Lord Bishop of London, Dean of the Chapels Royal, and a Lord of the Privy Council. Our only mid-18th Century monument, grand in a different way, with the inscription in two parts, briefly on a hanging drape, on dark and tan brecciated marble, then below a shelf, a larger panel with notes on his character etc, 'eminently distinguished, not only by his Invaluable Collection of [C of E] Laws, but by his prudent & Steady Opposition to every Attack made upon Them…'. Book, mitre and quill pen on the baroque apron, and much minor detail. In its own way, taking classical down a baroque route as far as it can go.
Christopher Wilson, d.1792, Lord Bishop of Bristol, wife Anne, d.1782, herself daughter of the Bishop of London, and two sons and one of their wives. The plaque in a thick surrounding frame, as if a massive marble fireplace, with ornate curved pediment bearing flowers, and in the lunette a small coat of arms. Signed by Dawson, Fulham – not a familiar name.

Early 1800s panels: Elizabeth Hatsell, by P. M. Van Gelder, and Viscountess Ranelagh, by Thomas Cook.

Elizabeth Hatsell, d.1804, previously married to Major Newton Barton, the monument erected 1805. An unusual one – the rectangular panel with plain side pilasters has two swelling, fluted side pieces which almost look as if the intention had half been to put some subsidiary sculpture on the sides. The apron is as if with swirling drapery around a small circlet, presumably once bearing a coat of arms. On top a more conventional small pot with drape, with the black backing shaped as a pediment. Signed 'P. M. Van Gelder, Fc' [Fc = fecit, or 'made it']. Peter Van Gelder, or Vangelder, was of Dutch origin, but lived in London from a young age, and carved a number of signed works across southern England.
Caroline Elizabeth Viscountess Ranelagh, d.1805, her father Sir Philip Stephens, Bt, d.1809, husband Thomas, Lord Viscount Ranelagh, d.1820, and two infants, white panel with pilasters, unusually with bananalike leaves hanging down, with bluebells beneath, ears above, curved pediment with coat of arms with two griffins, and below, apron with crossed branches. Delicate work by the sculptor Thomas Cooke of London.
Madame de Stark, d.1805, little oval panel, no ornament or border.
Jemima Bigge, d.1806, and daughter Eliza, d.1819. Plain panel with a modelled border, on black backing. Signed by PISTELL, New Road. William Pistell has several not very adventurous works in London churches - see this page.
Revd. Beilby Porteus, Bishop of London, and Dean of his Majesty's Chapels Royal, d.1809, a plain panel with a dark border by the obscure statuary, Coulman of London.
Lady Sophia Margaret Kent, d.1834, and husband Sir Charles Egleton Kent, Bt, d.1834, with a poem. With curvy pilaster sides, fluted with ferns and ears on top, a pediment with coat of arms, and a frondy apron.
William Townsend, d.1836? with a low relief bust of an austere, balding man, clearly an intellectual, on a tomb-end with swirly pediment with a drape hanging down asymmetrically on each side.
John Goldsborough Ravenshaw, d.1840, a Director of the East India Company, and wife Hannah, d.1862. Plain panel with shelf and shield of arms above, with fronds, on a shaped black backing. Signed by the Patent Works, Esher St West.
Thomas William Ravenshaw, d.1842, Colonel of the Royal Berkshire Regiment, panel with pilasters and a pediment bearing a cross with a book behind, itself covering an anchor and two sprigs of foliage. Beneath, a small shield on the apron between two brackets. With a black backing. This is a minor work by the prolific Humphrey Hopper.
Theodore Hook, d.1841, square bronze panel with wreath, and surrounding blue-green tile in a narrow metal border. The style is of the 1890s or later, and as the panel was put up by his grand-daughters, presumably the monument was erected considerably after his death.
Mary Barnard, d.1842, white panel with upper and lower shelf on shaped backing.
John Thomas Bigge, d.1843, one time Chief Justice of Trinidad. Plain chest tomb end on black backing, presumably related to Jemima Bigge noted above.

19th Century: panels to William Townsend, Sir John Beckett and Alfred Bassano.

Sir John Beckett, Bt, d.1847, of Stratford Place London, and Somerby Park, Lincolnshire, and Revd George Beckett, d.1843, as a casket of bath-tub design seen side on, with the panel on the side, diagonally fluted ends, little carved feet, and on top an ornate pot on a stand, flanked by a palm tree and a more conventional deciduous tree, all on a black, shaped backing.
Sir Charles William Kent Bt, d.1848, captain in the first regiment of life guards. As a chunky tomb-chest end, without backing (see earlier Kents above, 1834).
Robert Richard Wood, d.1857, a bordered panel on a dark backing obscured in a corner of the tower.
Brass to Francis Blomfield, d.1860, son of a Bishop of London, lost in the wreck of the Northerner off Cape Mendocino, North America. In the style with black letters, red initials, with scrolly inscribed border, and a feature made of the corners in the form of bosses. Signed by T. Peard [Feard? Beard?] 159 High Holborn.
Francis Matthias Bassano, d. 1869, wife Charlotte, d. 1855, and offspring, as a Gothic window in stone.
Alfred Bassano, d.1882, Major General at Indian Mutiny etc. Panel with surrounding blue and white tiles and floral devices, and little gold mosaic borders, very arts and crafts.
Susan Annie Easton, d.1907, Mayoress of Fulham, Panel with ornate oak leaf wreath in bronze, shelves above and below, and a pediment above, all on a black backing.
Edward Beslay, d.1909, of Hurlingham Court, Fulham, coloured bronze panel with the usual black letters and red capitals, mildly decorated border, and coat of arms.
25th Cyclist Battalion London Regiment, two WW1 monuments, comprising a panel with wreath and alabaster surround, and a smaller bronze panel.
Matthew S. Morrison, d.1925, churchwarden, circular monument with coloured wreath and ribbons around, unusually late for this sort of work, and most decorative.
William Richard James McLean, d.1932, Priest and Colonel, and wife Esther Fanny McLean, d. 1938. Plain stone.
Martin Stevens JP, d.1986, MP for Fulham, brass roundel with the House of Commons portcullis.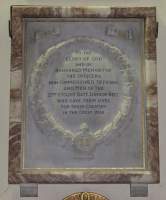 After WW1: monument to the 25th Cyclist Battalion London Regiment.
I should mention one further monument, as a black panel with Gothic window surround, above the Thomas Ravenshaw memorial, which I could not read; also that there are other bronze panels, including Sidney Herbert Foster Monel(?), d.1915 in action in the Dardanelles; and a modern panel to William Sharp, no date, surgeon to King George III etc etc.
All in all a most satisfying church. The ambience is enhanced by some decorative elements, including carved, gilded wooden angels with wings held high, presumably from the end of the 19th Century, a carved half figure of Virgin and Child, of earlier date, two fonts, of medieval and 17th Century date, and a fine beamed roof. There is a goodly amount of stained glass from the Victorian 1880 rebuild, the artists being the firm of Heaton, Butler and Bayne. Apparently the Reredos, with its painted panels of Moses, David, Isiah and Aaron, is by the same firm, but dating from a few years later.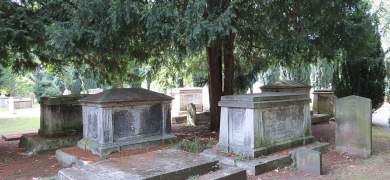 Some of the chest tombs in the churchyard.
Outside, the church is adorned with minor sculptural elements (see near top of this page), including gargoyles, and small angels and a crucifixion of 19th C date, and the pleasantly overgrown churchyard contains a number of tomb chests of various designs, though nothing particularly sculptural. There are however some sculptural things to see by the church and in the surrounding open spaces. There is a crucified Christ in bronze under a canopy, with a WW1 dedication, in the churchyard. Also a modern work, of Modiglianilike thinness, Mother and Child by Helen Sinclair, dated 2000. In a separate small open space is a fine war memorial, as a Portland stone obelisk, with a bronze standing female figure holding a wreath and a torch on top, and also in bronze, a kneeling, grieving cherub in front of a cross below. The sculptor was Alfred Turner, an artist of merit who came to the fore rather late for these pages. Apart from several war memorials, he has an important public work in the panels for the front of the Old Bailey.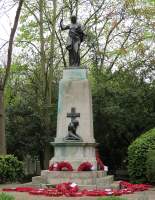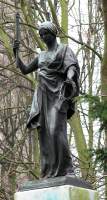 War Memorial, by Alfred Turner.
Nearby, a pleasant walled enclosure, with a central stone fountain bearing dolphins, and several weathered stone statues on plinths, entitled Protection, Adoration, Grief, and a Leda in a different style. Although the faded inscription on a couple of these looks more like JW than FW, apparently all of these are by F. Wedgwood, not a sculptor I am familiar with. Also there is Affection, an excellent nude mother and child group by Herman Cawthra, and elsewhere in the vicinity, and without a plinth, a particularly fine Eve Tempted by Alan Howes, I believe.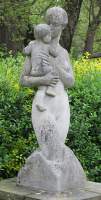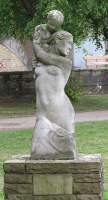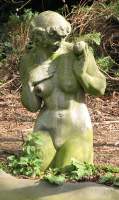 Affection by Herman Cawthra, Protection by F. Wedgwood, and Eve Tempted by Alan Howes.
Also just by All Saints is the excellent Sir William Powell's Almshouses, founded 1680, rebuilt 1869 with a good tower, and gothic sandstone stone sculptures of female saints: Miriam, Anna, Deborah, Dorian, Ruth and Mary; and Faith, Hope and Charity. Good details all along windows, including gargoylic fish.
Across the road from the church, on the side of an ugly modern building, is a highly stylised Henry Moore-like figure of a man with what seems to be a swan.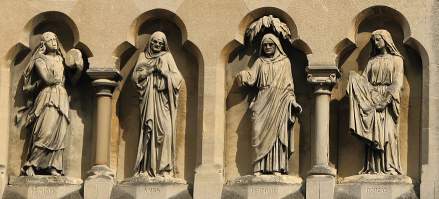 Figures from Powell's Almshouses.
Monuments in some London Churches // Churches in the City of London // Introduction to church monuments
Angel statues // Cherub sculpture
Visits to this page from 13 Mar 2014: 10,862