Tring Church, St Peter & St Paul, Hertfordshire - Monuments
Tring Parish Church, St Peter and St Paul, has one truly grand monument, to Sir William Gore and his wife Dame Elizabeth Gore. A second monument, to the later John Gore, would be grand anywhere else but next to Sir William. There is a further figure piece to William Kaye, and a relief portrait of Edward Pope, both Victorian, and a couple of minor panels, but whatever other monuments were once in the Church, they have been swept away. The Church building itself is grand and lofty, mostly 15th and 16th Century in date, with a Victorian makeover in the 1880s which supplied much of the Church furniture.
The Church building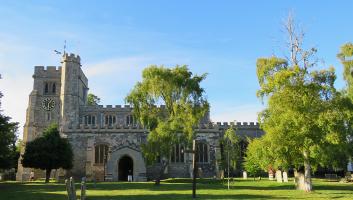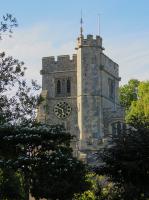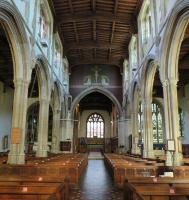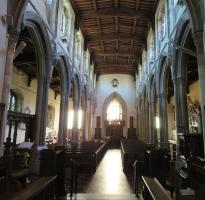 Tring Church of St Peter & St Paul, exterior, tower, and views along the nave.
The Parish Church of St Peter and St Paul, Tring, is set back within its large churchyard, making for fine views from the main road and adding to the sense of size and grandeur. We see a relatively low tower for the length of the Church, dating from the 14th to the 16th Centuries, three stages high and with a turret, with a good crop of gargoyles. The external construction is flint with stone dressings, much renewed, and the Church has battlements all round and on the tower.
Inside, most is either 15th and 16th Century and Victorian, with the odd window and other work of earlier date. Between the arcades to the nave are corbels supporting the shafts of the clerestory, and each of these is carved as some grim beast or group. They date from the 15th Century apparently, and retain a medieval aspect.
But let us look at the monuments. We start with the Gores, then the rest.
Monuments to the Gore family
Sir William and Dame Elizabeth Gore, early 18th Century.

Sir William Gore, d.1707, and his wife Dame Elizabeth Gore, d.1705. The principal monument in the Church. It centres on the reclining figures of the deceased couple, shown as if giving informal audience, beneath a huge canopy with hanging drapes, coat of arms and snuffling cherubs high up. The figures are beautifully carved and composed, with expressive hands, fine clothes, conveying a sense of relaxed gracefulness. Who was the sculptor who made this monument? Information on the Church website suggests Grinling Gibbons or his workshop, and John Nost the Elder has also been suggested by Pevsner, doubtless picking up on the original proposal by Mrs Esdaile, pioneer of the study of English church monuments, but we cannot know. Regardless, a masterly work. More on this monument on this page.
John Gore, d.1763, son of Sir William Gore, his wife Hannah Gore, d.1763, daughter of Sir Jeremy Vanacka Sambrooke, Baronet, and their only son John Gore Junior, d.1746, aged 21. Another very large monument, set on the wall. It consists of a casket, seen side on, and bearing the inscription, on which is a tall obelisk or pyramid bearing a coat of arms within a cartouche, and the profile portrait of John Gore carved in relief within a roundel. Above this is a winged cherub head, and hanging drapery caught up in knots and descending to the sides. All this is framed by an arch, within a portico with fluted Ionic pilasters to the sides, and an entablature and pediment structure above, a curved one of joined spirals with a small pot in the centre. To the sides of the portico at the base are a pair of free-standing putti, one wiping his eye with a handkerchief, the other wringing his hands. The whole is on a sideboard-like base, with further inscription. Unlike the earlier Gore monument, which is monochrome, John Gore's monument includes a variety of coloured marbles, adding to the sense of richness, and a feature of monuments of that time.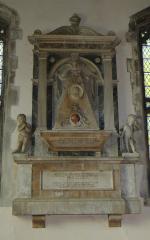 John and Hannah Gore, both d.1763.
Other Monuments
Maria Anderson, d.1638, with a long Latin inscription. Plain panel with upper and lower moulded shelf of alabaster. But the panel is in white, streaked marble and would seem to be a modern copy of the inscription on the floor slab to her, which I was not able to see, though there are several other slabs to members of the family. The paintings of Moses and Aaron, noted lower down, may be the gift of Sir Richard Anderson of Pendley, of the same family.

William Kaye, d.1838, by Joseph Browne of London.

William Kaye, d.1838. A fine panel with a carving of a mourning girl, resting her hands on a funereal urn. The monument is high up, tucked away, and frustratingly hard to get a good view of. I could see it only at an angle. The girl is under a frame with side pilasters, a blocky top bearing a small shield of arms carved in low relief, too shallow for a pediment, resting on curly brackets, and with a chunky base bearing the inscription, and supported on two brackets carved with leaves. There is a shaped black backing to the upper part of the monument, providing contrast. This panel is particularly interesting as being a signed work by J. Browne of London, dated 1843. This is Joseph Browne, who was a supplier of marble and artificial stone as well as a monument maker and chimneypiece carver. The figure of the girl is fairly straightforward, Classical, round faced, with long hair, and wearing Classical drapes tied high at the waist, leaving the arms and one shoulder bare, and below, with a long dress down to the feet, and caught in a knot to one side of the thigh. A further piece of drapery is over one arm. The anatomy is a little odd, particularly the further arm, but the detail is fair, particularly the visible hand.
Edward Pope, d.1898, a Victorian semi-Gothic monument, with a carved portrait. A tall panel resting on a shelf supported on a blocky base on little steps. The panel has pilasters to the sides, with Classical capitals, with spikes above, but in between is a blind Gothic arch, trefoil, enclosing a small cross and a roundel with a bust of Dr Pope. We see him in three-quarters view, in late middle age, with some force of character expressed in the bushy eyebrows and hooked nose. With his shortish hair and sideburns, he is the epitome of a late Victorian gentleman. But no signature of the sculptor that I could see.

Gothic panel to Edward Pope, d.1898.

John Hemmings Reader, d.1970, Treasurer of Tring Parochial Church Council, and wife Kathleen Reader, d.1988, plain stone panel with gilt and blue painted frame.
Also in the Church
The corbels to the clerestory carved with beasts and angels have already been mentioned. Also of note are:
Outside the Church
The churchyard has been mostly cleared and set to grass, with a few still-young trees, an idyllic setting for the Church. Some number of simple headstones remain in situ, some Gothic in outline, and with the odd minor carved embellishment. Around behind the Church are several large raised ledgers, somewhat raised tombstones with slanted sides and tall crosses upon them. And in front of the Church towards the high street is a tall churchyard cross raised up on four steps and a central plinth, with Crucified Christ at the top, serving as a war memorial.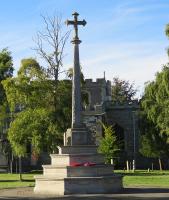 Tring Churchyard Cross.
With many thanks to the Revd. Huw Bellis for kind permission to use pictures from inside the Church; see the Church website at http://www.tringteamparish.org.uk/tring-history/4588959395.
Also in Hertfordshire: monuments in other Hertfordshire churches including Aldbury Church, Wheathampstead Church, Broxbourne Church, Aldenham Church, Watford Church and Abbots Langley Church; // Hertford War Memorial
Cheslyn Gardens statue, Watford
Introduction to church monuments // Angel statues // Cherub sculpture
Sculpture in some towns in England
Visits to this page from 1 Oct 2016: 3,420