Sir Francis Legatt Chantrey RA (1781-1841)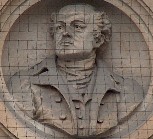 Francis Chantrey.
Francis Chantrey was one of the most important establishment sculptors in the early 19th Century, with public statues all over Britain, a large oeuvre of portrait busts, and a range of church monuments. He became very wealthy and had a profound influence by reason of his Bequest, which allowed the Royal Academy to purchase works of art executed in Britain for the national collection (later the Tate Gallery, now Tate Britain).
Francis Chantrey was born at Norton near Sheffield, his father being a carpenter, and was initially apprenticed to a carver/gilder named Ramsay. The then well-known mezzotint engraver Raphael Smith was a frequent visitor to Ramsay's shop, took a liking to Chantrey, and gave him drawing lessons. Chantrey started to paint portraits, and moved from portrait painting to wood carving and back again before making his first attempts at clay modelling. Finally in 1809, he exhibited a Head of Satan at the Royal Academy, which led to commissions to make busts of Nelson and other admirals for Greenwich Hospital. His big break came with another bust at the Royal Academy in 1811 - Henry Tooke - which was so well received that it brought £12,000 worth of commissions to the sculptor. A well-chosen marriage to his cousin Ann Wale brought a further £10,000 to help to establish a good studio and purchase property.
Equestrian statues by Chantrey: George IV, Wellington.
Chantrey's wealth and fame grew together. In that first successful year of 1811, he charged 80-100 guineas for a bust, which he was able to increase to 120-150 guineas in 1814, 200 guineas by 1822, and a lucrative 300 guineas for a bust of George IV. Chantrey also made some useful trips abroad - to Paris in 1814, and in 1819 to Rome, where he visited the studios of Canova and Thorvaldson, and bought marble at Carara. He had already become ARA in 1815, and had been elected RA just three years later. In 1835 he was knighted, and by the end of his life had built up a huge fortune, used to establish the above-mentioned bequest.
The very large majority of Chantrey's work is portraiture and portrait statues and monuments with portraits, and he excelled in producing characterful, thoughtful portraits in a highly finished style, with a sense of stillness and dignity, thus rather Classical. Apparently he was strongly driven by money, and this is perhaps also one reason why almost all his work is portraiture, which was far more lucrative than works of imagination. However, his church monuments give opportunity for ideal figures, typically mourning girls, classical in a pure sense, in face, pose and drapery.
Canning, George III, and Pitt.
Chantrey's immense output means that his work can be found in many towns and churches and art galleries and great houses across the country. Among his portrait statues, we should mention in London, William Pitt in Hanover Square, described in the first volume of the Penny Magazine as a statue 'in many respects the finest in London', Joseph Banks in the Natural History Museum, and the equestrian George IV now in Trafalgar Square and Wellington in front of the Royal Exchange. (For standard photos of these two equestrian works, see this page for George IV, and this page for Wellington.) Dalton in Manchester Town Hall is a favourite statue by him, and among many others, we can mention Spencer Perceval in Northampton, William Roscoe in Liverpool, and Canning in the Town Hall there. Abroad, his George Washington is in Boston State House, USA, Elphinstone and Babington in Bombay, and Canning in Athens.
Ideal female figures, from monuments by Chantrey.
A few of his church monuments include the Sleeping Children (1817) in Lichfield Cathedral, a series of portraits in St Paul's Cathedral (including Gillespie and Heber) and in Westminster Abbey (including James Watt and Stamford Raffles), Bishop Bathurst in Norwich Cathedral and the Earl of Malmesbury in Salisbury Cathedral.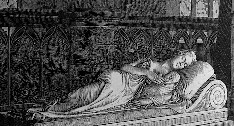 Lady Stanhope monument, Chevening.
Visitors to this page since 13 Mar 2014: 6,043