Matthew Cotes Wyatt (1777-1862)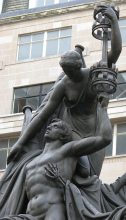 Matthew Cotes Wyatt's Nelson in Liverpool.
Matthew Cotes Wyatt was a neoclassical sculptor, one of two significant sculptors in the prolific Wyatt family, many of whom were architects (the other sculptor was a distant cousin, Richard James Wyatt, and a nice example of his work is in Merton Church, see this page). M.C. Wyatt's father was James Wyatt, who was one of the more prestigious architects of the dynasty.
M. C. Wyatt originally commenced his artistic studies in painting, and showed some of these, mainly portraits, at the Royal Academy, where he had been a student. He also produced some decorative work, for example painted murals and ceilings. However, from about 1815 he turned more to sculpture, being largely self taught, his first major commission, and I think his most important design, being the Nelson Monument in Liverpool. He did not execute this work, and on this important piece of public sculpture, Sir Richard Westmacott RA was his collaborator who cast the whole in bronze (see this page for description and more pictures.)
A second early work by Wyatt was his design for the monument to Princess Charlotte (1820-1824), in St George's Chapel, Windsor. An account of the monument from a few years afterwards described it as follows:
'The body of the departed Princess is represented, covered with drapery, resting on a bier at the moment the soul is supposed to have quitted its earthly tenement. The sorrowing forms at the corners are those of attendants. These, together with the designed image of the corpse, the right hand of which, falling over the side of the bier, is the only part unveiled, contrasts with the group above, namely the spirits of the mother and her infant, ascending, and attended by angels…'
In London, Wyatt's work is represented by his equestrian statue of George III (1836) off Trafalgar Square, noted on the page on this site for Cockspur Street.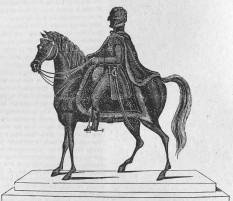 Wooden model for Wyatt's statue of Wellington for Constitution Arch.
At one time, Wyatt had an oversize equestrian statue of Wellington in London as well, on top of Decimus Burton's Constitution Arch (put up 1846); pictures from the time show it to have been disproportionate to the arch (see picture near bottom of this page), and it was taken to Aldershot, where it still stands, though I have not been to see it. (Constitution Arch now has upon it the highly satisfactory group of Peace in her Quadriga, by Adrian Jones.) The Wellington statue had first been emplaced in wood a few years earlier, see picture above, and a rather prescient note at the time noted that 'Doubtless it was placed there to see whether the site was proper for a statue. The arch seems made to be the pedestal of a group, and… [the wooden piece] demonstrates two things, - that the position is a good one, and that a bad statue placed there would be an intolerable eye-sore.'
Among his other work, the best known are probably the mausoleum statue of the Duchess of Rutland for Belvoir Castle, and an expensive statue of a dog of the Newfoundland breed called Bashaw, commissioned by Lord Dudley and shown at the Great Exhibition of 1851, and now in the V&A collection.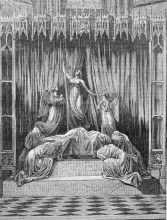 Wyatt's memorial to Queen Charlotte, Windsor (St George Chapel).
Wyatt has attracted something of a mixed reception by critics, as have his individual works of sculpture, with some ascribing his success to the early boost given by his influential father, and later Royal patronage. However, it is hard to see the Liverpool Nelson Monument, and not feel that here is a grand and noble neoclassical work of sculpture, entitling Wyatt to his place in history.
Visitors to this page since 1 Jan 2014: 5,857