St John the Evangelist Church, Stoke next Guildford, Surrey - Monuments
St John the Evangelist, Stoke-next-Guildford, a 20 minute brisk walk out northwards from the centre of Guildford, makes an interesting visit for its its ambience and its monuments – a goodly number of panels from the plainest through to several with good sculptural decoration.
The Church itself is mostly Victorian, with a few earlier features, and the tower being largely of the 15th Century. It is this tower, square, rather squat, and battlemented, which forms the main feature of the exterior, the rest being the rather plain walls, windows and roofs of the broad nave and aisles. Having said which, the Victorian coating of flint and large stones and the buttressing give a unity to the Church, and its site within its large churchyard is fine.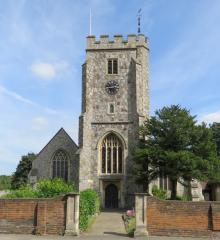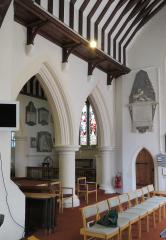 St John the Evangelist, Stoke next Guildford.
Inside there is an exposed-beam roof, low pillars, some ancient, supporting arches separating off the aisles, and a sense of several explorable spaces rather than just one (see an example above right) – and all those monuments on the walls, our interest here. In all, the Church contains over 30 wall monuments, with several from the early 18th Century, the majority from the 19th Century, and a few into the 20th Century. Most are shaped white marble panels, or the white-marble-on-black panels popular from the 1780s through to early Victorian times, but among them are four with figure sculpture, and a couple of good portraits in high relief. Also some variety of minor carving exemplifying a range of the types of panel of this period. A good number of the panels are signed by the sculptors or stonemasons who made them, which is always interesting, and we can find works by important sculptors – John Flaxman, John Bacon Junior, and E.H. Baily, and by less familiar names including Charles Regnart and C.H. Smith, as well as simpler works by a local man, J. Smart of Guildford, by the prolific Gaffin of Regent Street, and others.
18th Century panels:
Price monuments: a series of five simple panels, all of similar shape, being a rectangle with a segment of a circle at the top to make a shallow arch and leaving a bit of corner to each side. They commemorate the Price family and their relatives, starting with John Price, d.1723, Rector of Oetiley [Oateley] and his wife Sarah Price, d.1732, and continuing with their offspring and their spouses through to the middle of the century. Dr James Price was 'the last of the alchemists, who figures prominently and discreditably in the scientific history of his day', whose claims to have made gold and silver led to him winning an Oxford doctorate and being elected FRS before being found out as a fraud, and committing suicide by drinking Prussic acid.

Plain marble panels from the 18th Century: Price, Gulston, Dyson.

John Bullen, d.1740, his wife Elizabeth, d.1775, and son, also John Bullen, d.1776. Plain panel with domed top, perhaps having lost some frame.
John Shrubb, d.1753, and the Revd. Henry Shrubb, d.1879. A plain marble panel with room for further inscriptions for later Shrubbs, never added.
David Irish, surgeon, undated, his third wife, Ann Irish, d.1746, and three daughters, Magdalene, undated
, Sarah, d.1766, and Jane, d.1769. Plain white rectangle with a thin dark frame, and a corbel at the base carved as a cluster of leaves.
The Rt. Hon Jeremiah Dyson, d.1776, wife Dorothy, d.1769, and further members of the family through to 1795. A tall panel cut to a series of curves at top and base, but without sculptural decoration. A single small bracket at the base. Later Dyson monuments are noted below.

Charles Regnart's sculpture of Ann Robertson, d.1784.

Ann Robertson, d.1784, the earliest of our figure pieces. The inscribed panel has on top of it a shelf, on which is a statue of a girl, mourning over a broad, narrow stemmed funereal urn. She has a less usual pose, being seated on the floor or some low unseen hummock, her feet out to the right, her body heavily angled to the left, and so partially leaning on the pot.. She is a youthful creature, with Classical nose and and sad expression, and a full figure. She wears a hooded outer garment over some lighter chemise, with splendidly undercut folds across her stomach and over her legs, giving good effects of light and shade. It leaves her lower arm uncovered, and also her feet – very individual feet with somewhat splayed toes. Behind her is a backing panel of streaky grey marble cut to obelisk shape, with the branches of some tree up the right hand side to avoid the focus being too much to the left. Below, to left and right of the inscription are fine goats' heads in high relief, with curved horns and sardonic expressions (one is shown at the top of this page), holding in their teeth small handkerchiefs, a hankering back to the time of Durer. At the base, a small apron bearing a painted shield of arms with a nicely carved ribbon, and to the sides, two blocks carved with stylised four-petal flowers in low relief, and bearing the signature and address of the sculptor, C. Regnart, Sculptor, Cleveland Street, Fitzroy Square, London. Charles Regnart was an excellent sculptor of church monuments, and it is always a pleasure to see his work. It may be, but not necessarily, have been carved some while after Ann Robertson died, because nearly all Charles Regnart's other works date from at least a decade later.

Henry and William Parsons of Guildford.

Henry Parson, d.1791, Mercer and Draper of Guildford, and his brother William Parson, d.179?, also a Mercer and Draper of Guildford, and the Revd. James Parson, d.1827. A curious combination, for the inscriptions are on a pair of brass panels, each with a shield of arms inscribed at the top, and these are set next to each other in a stone double frame, curved at the top and with separate compartments for two winged cherub heads. We are used to brasses as being either medieval, or revival pieces from the late 19th Century onwards, but this piece reminds us that there are 18th Century examples too, rather unusual and sometimes, as here, idiosyncratic. An interesting piece. And the brothers Henry and William Parson were interesting too – the source of their wealth reputed to have been buried treasure in a vault they discovered under their house in Guildford High Street, and spending some of it on the splendid brick almshouses or Hospital dated 1796 along the main road from Guildford to Stoke.
Richard Gulston, d.1795, and his wife Wilhelmina, undated. They were formerly of Widdial Hall in Hertfordshire. A plain horizontal oval, but with excellently cut text, some of which is italic.
19th Century Monuments:
William Aldersey, d.1800, erected by his wife Harriet. Above the inscribed panel is a tall plaque with a fine sculpture of a mourning woman, clearly the widow, laying her head on her hands, which lie atop a funereal urn on a plinth. She wears a loose Classical drape with a massive looping belt of fabric wound around her, high over the breasts. Her head, like her body, is hidden under the bulky drapery, which is less usual. At the top, a shelf, on which is a pediment cut piece of marble with painted shield and motto, and beneath it, a phrase from the Lord's Prayer, 'Thy Will be Done'. Signed by John Flaxman, one of the most excellent of sculptors.

John Flaxman's sculpture for William Aldersey, d.1800.

Elizabeth Ann Creuze, d.1804, erected by her husband, John Creuze, d.1825. With a fine alto relievo carving of a girl standing next to a stand or plinth, grasping a flaming lamp upon it. She stands with head bowed, wearing the lightest of drapery, a thin shift down to her bare feet, tied under the breasts with a cord, and with short sleeves. Over her head is a cowl of thicker fabric which hangs down behind her, held in one hand and falling in graceful folds to the floor on one side, and draped over her other arm. The plinth bears a thin drape across it and hanging down to the sides, and on its visible face has a circle in which is carved the Pelican feeding its young. The whole is on a dark backing rising to a pointed arch, at the top of which is a carved shield of arms, and with a narrow frame of streaked white marble behind that. The short lower part of the monument, beneath a shelf, contains the inscription, and on the two side supports has low relief carvings of flowers. By John Bacon Junior, eminent sculptor and maker of many church monuments.

John Bacon Jr's monument to Charlotte Smith, d.1806, and details.

Charlotte (Turner) Smith, d.1806, and sons Charles and George, who both died in the West Indies in the Service of their Country. Panel with curved base and upper shelf, on top of which is a carving of a lyre surrounded by a semi-wreath, and at the base is a carving of crossed swords and branches and other small military accoutrements, shown below centre.
George Smith, d.1808, wife Charlotte Smith, d.1833, sons George Fordyce Smith, d.1817, and George Moubray Smith, d.1819, both lieutenants in the Madras Light Cavalry, and other offspring to 1857. Plain panel with thin upper and lower shelf, cut to pediment shape above and a wavy apron below, on a shaped black backing with two supports. The only ornament is a painted low relief shield of arms (picture below right). Made by the Patent Works, Westminster, a company that two decades later was making rather more sculptural panels; their pieces may be found dotted around churches south of London and elsewhere.
Nathanael Hillier, d.1810, erected by his wife Susanna Hillier, d.1820, and noting his two daughters as co-heiresses. Panel cut with half-oval removed from the base, to leave two legs and a cap wherein is a shield of arms with one remaining small drape out of a pair, and the mark of a ribbon, presumably with a motto, now gone. There is an upper shelf, on which it's a broad, low pot or funereal urn carved in high relief, with the handles of Acanthus leaf design. On a black backing, and again signed by John Bacon Junior, whose work we met in the Elizabeth Creuze monument noted above.
Thomas Philpot, d.1818, 'who was during 25 Years in the Service of the Honorable East India Company in Bengal. His Life was an Example of spotless Integrity, and the most active Benevolence towards his Friends and Good will towards Mankind'. Plain oval.
Children of Revd. John West, three of them who all died in the space of three weeks in 1818, and his wife, Harriett. Panel with upper projecting pediment, bearing a winged cherub head; there is only one wing, and no sign of another. A segment of a circle at the base has a lightly inscribed pair of crossed palm leaves. (If you like winged cherub heads, lots more on this page).
Jane Hughes, d.1819, a plain white panel on two block supports. But the inscription is a good one: 'So earnest and unremitting was her anxiety in the discharge of her domestic and social duties, that her only surviving Sister (by whom this Stone is erected) might have been led to record her virtues in terms of exultation had not the spirit in which she performed her religious duties powerfully inculcated the vanity of confiding in any merits but those of a Redeemer.'
Grace Barnaby, d.1823, wife of Vice-Admiral Sir William Barnaby, Baronet. Plain, broad oval marble.
Georgiana Grace Chamier, d.1826, daughter of Vice Admiral Sir William Burnaby, Baronet, and wife of John Chamier, Member of Council at Madras. Carved as a hanging drape, held taut between two unseen supports to the sides, and hanging down in simple small folds. Behind the top is a circlet formed by a snake biting its tail, symbol of rebirth and eternity (more snake sculpture on this page). On a streaky grey shaped backing panel, By C. H. Smith of 29 Clipstone Street, London.

C.H. Smith, panel to Georgiana Chamier, d.1826.

William Towers Smith, d.1826. The inscribed panel has a half oval cut from the base to leave two chevroned feet, and an upper shelf on which is a small standing female figure of Justice, with her sword and scales and blindfold, for Mr Smith was a magistrate. This little figure is vigorously carved, with fairly simple yet effective drapery which gives nice lines outlining her torso and legs, and a pleasantly feminine appearance. Her arms are a little long for her height and her hands large, but this is an acceptable compositional device in a small figure where detail needs to be seen. To the sides are two spirals, each enclosing a flower. On a shaped black backing,and signed by the local mason sculptor J. Smart of Guildford, whom we meet again below.

J. Smart of Guildford, monument to William Towers Smith, d.1826.

William Smith, d.1798, his wife Sarah, d.1851(31?), and family (two more plaques to the Smith family are noted below). Tall panel with cut out curve to the base, to leave two short legs, with zigzag embellishments. Near the top, a shelf with mouldings, the whole being on a rectangular black backing. By J. Smart of Guildford.
Mary Anne (Newbolt) Dyson, d.1832, with a brief eulogy. Cut to 'bread board' shape with two handles at the sides, on a rectangular black backing, and signed by Burgess, probably not to be identified with the firm of Burgiss of Uxbridge.
Jeremiah Dyson, d.1835(3?), same style of panel as his second wife, noted above; his panel also notes his children by her and his first wife, Elisabeth. Signed by J. Smart again.
The Revd. Robert Philip Blake, d.1841, Curate to the Church. A nicely composed piece, with fluted upper shelf and curved sidepieces, and on top, a small pot in high relief with drapery, curled up to the sides. On a shaped black backing. Signed by Adron, New Road, London, not a familiar name to me.
Eliza Paynter, d.1844, wife of the Revd Samuel Paynter, Rector of the Church. One of several monuments to this family, the later ones being noted lower down this page. This time the monument is styled as a tomb chest end, with the profile portrait of the deceased in a roundel in the centre of the visible side. Above is a lid, bearing a painted shield of arms, and with a large drape which covers part of the front of the monument and hangs down asymmetrically on each side. The inscription is on the thick base, which is supported on blocky feet, slightly carved. On a grey, shaped backing panel and signed by the eminent sculptor E. H. Baily, who made a number of monuments with portrait medallions like this. The portrait shows Eliza Paynter looking very young, far younger than when she died, with piled up hair to leave exposed her long, beautifully curved neck.
Edmund Smith, d.1845, his wife Mary Smith, d.1844, and daughter Charlotte Smith, d.1841. The panel has the curved cut out at the base to form two feet to the sides, cut with triangular teeth, that we have seen already. Beneath the top, a shelf with mouldings, and the whole is on a black rectangular backing plate. A picture is further up the page. Signed Pennells, late Lee, Horsham. Lee is in South London, while Horsham is about 15 miles south east of Guildford.
Mary Stevens, d.1852, wife of the Curate of the Church. A Gothic panel, with a Tudor style surround of stone, with crocketed pinnacles and similar crenellations across the top, and at the base, two carved corbels. This style of panel had an appeal to the Victorians, and there was something of a revival of the Gothic in Victorian monuments, as in their other productions, above all architecture.

Gaffin's tree for the Revd. Stevens, and Mary Stevens' gothic panel.

The Revd. William Henry Stevens, Curate, d. 1855. Monuments carved with a withered bush in a pot to symbolise death are not unusual, but here we have a funereal urn carved in high relief, with a drooping branch behind it, and lying with the leaves around and over it, much as a pot might be partially covered with drapery. It rests on the lid of a casket, also seen in plan, with little feet and slanting sides. The black backing is shaped to a broad obelisk above, and has small block supports below, and is signed by Thomas Gaffin of Regent Street, most prolific of the firms producing white-on-black panels of this type.
Lieutenant Henry John Richards, d.1858. He died of a fever after being engaged at the relief and conquest of Lucknow in the East Indies. Also commemorating Caroline Richards, undated, who was either his wife or that of his father. The panel, which has upper and lower shelves and blocky supports, has at the top a carving of crossed flags on spears, with rapier and bayonet behind, a wreath in front, and plumes above, all carved in high relief.
Mary (Mancles) Wake, d.1868, who died at sea returning from a voyage to India. Oval panel with a rim, on a black oval backing. At the top is a very small crownlike device with motto and ribbon, lightly carved.
20th Century Monuments:
Revd. Francis Paynter, d.1908, Rector of the Church for 34 years. A charming panel with a profile portrait of him carved in relief, within a roundel above the inscription – it is clearly intended to match the much earlier monument to Eliza Paynter noted above. There is a thick border around the panel with low relief carving of droopy 1900s flowers, irises I think, and outside of this, further marble segments cut out to form elegant curves. At the base, a shelf, then an apron similarly cut out, and with a roundel with a carving of an open book. If the artist signed his work, I did not notice it.
Sarah (Paynter) Lloyd, d.1912. She was daughter of the Revd. Samuel Paynter. The inscription in a Celtic font text on an oval, with carved leaves around the top, oak and ivy to symbolise strength and memory, and a coloured lozenge of arms with a tiny cord around it. On a light grey, streaky marble backing panel. Characteristic of the times.
Captain Harold Wilson Savage, d.1915, killed in action at Chunuk Bair in the Gallipoli Peninsula. Plain rectangle on a black backing, harbinger of the sparse, austere plainness of later panel monuments across the land.
Eliza (Paynter) Treeby, d.1930, daughter of the Revd. Francis Paynter, Rector of Stoke. Another oval on a grey backing panel, with a small carving of a bunch of flowers. This, the last of the monumental panels in the Church, hangs near to the other Paynter memorials.
Also in the Church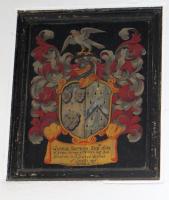 Outside the Church
Outside, the large churchyard, which extends across the road, contains a variety of headstones, of Gothic and Classical form, a fair number of crosses including Celtic ones (see the page on Cross monuments, and the page on Churchyard monuments) as well as a number cut to unusual shapes such as keyholes. There are a fair number of chest tombs of various types, and in various states of preservation. What sculptural ornament there is, is minor. There is also a tall cross as a World War I memorial.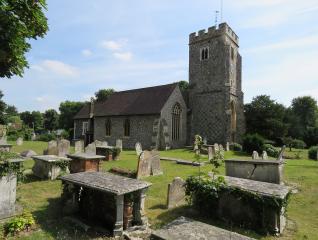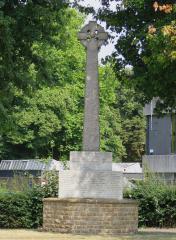 St John in its churchyard, and Stoke War Memorial.
With many thanks to the Church authorities for permission to show pictures of the monuments inside; their website is http://stjohns-stoke.co.uk/.
Also in Surrey: Walton on Thames Church // Richmond Church // All Saints Church, Carshalton // St Martin's Church, Epsom // and formerly in Surrey: St Mary the Virgin, Merton // St Mary, Battersea
Monuments in some London Churches // Introduction to church monuments
Angel statues // Cherub sculpture // Sculptors
Visits to this page from 11 Dec 2016: 4,844