Christ Church Esher - Monuments
Christ Church Esher is constructed of orangey stone, with limestone dressings and slate roofs, to the design of the notable architect Benjamin Ferrey, and is a bulky mid-19th Century church with square, buttressed tower and a steeple. Surrounded by trees, it is this steeple and the clocks which are most easily seen from Esher High Street, but a good view from the tower end can be seen from the churchyard. It is pretty much as when it was built, with two modern additions, mostly glass, to the sides of the tower. The old parish church of St George also survives and is visitable, and its monuments are noted on this page.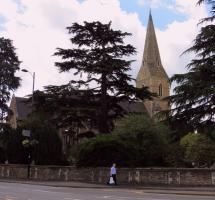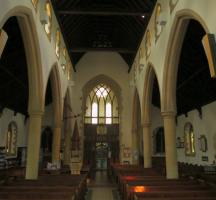 Christ Church Esher, exterior and interior.
Inside, the tall, narrow nave is separated by arches from the aisles, and the high wooden ceiling, very dark, with clerestory beneath, emphasises the height further. The monuments are dotted around the interior, and include one Elizabethan panel with a statue from the previous church, two grand monuments to relatives of Queen Victoria, one with a bust, the other with an effigy and relief panel, and a few other panels from the 19th and 20th Century, including to an important sculptor, F. J. Williamson, favoured by Queen Victoria, responsible for several works of sculpture in and outside the Church, who lived locally for some years and is buried along with his family in the churchyard.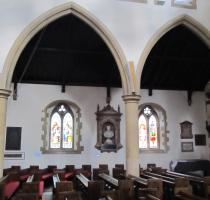 Monuments
Sir Richard Drake, d.1603, who married Ursula Stafford. A typical kneeler monument, thus with a kneeling Elizabethan knight, rather modestly sized, within an arch, with Corinthian pillars to the sides, entablature and coats of arms above, and the inscription below, in gilt on black, which is also typical of the period. He is shown in full plate armour, but with ruffs at neck and wrists, and pantaloon-like fabric at side and rear; he wears a prominent dagger stapped from his waist. He is kneeling on his tasselled prayer cushion – almost always the case for such figres, and with his hands in an attitude of prayer; often, but not in this case there would be a prayer stool in front of him. While his face is stiff, there is a nice curve to his back, thigh and calf which gives him a more naturalistic look than many statues of this date.

Sir Richard Drake, d.1603, a kneeler monument.

At the top, his complex shield of arms, painted and with knight's helm on top, is surrounded and supported on the cut stonework known as strapwork; unusually, there are little wings to the sides. Above the side columns are smaller shields of arms. Down at the base, below the inscription, is a separate Latin inscription, and a final bit of strapwork with little carved scrolls and a central black ball as extra decoration. A small brass inscription is on the wall underneath. The whole is in alabaster, with the figure painted and various edgings, the capitals of the pillars, and the several small carved flowers all gilt. An information notice next to the monument notes that he was related to Sir Francis Drake, and that his own son, also Francis, who erected the monument, was a benefactor to Walton on Thames and Esher.
Two 19th Century princes: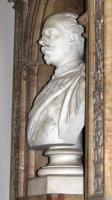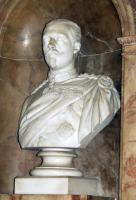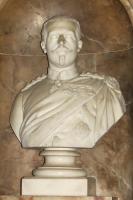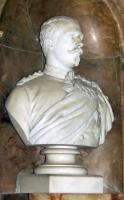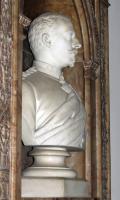 F.J. Williamson's bust of Prince Leopold, Duke of Albany, d.1884, different aspects.
Spicer family monuments:
And the rest of the monuments, in date order:
The Revd. Samuel L Warren, d.1895, Rector of the Church for 25 years. Panel with geometric design border of inlaid triangles and diamonds made in purplish, black and pale marbles, and an inner border of alternating dark and pale blocks. A typical colourful panel of the turn of the 19th Century; note however that what we have here is patterning rather than carving.
Robert Hawthorn Collins, d.1908. A colourful Arts and Crafts rendering of the Classical tablet. So we have the usual central inscribed panel with border, outer scrolls, upper entablature and pediment enclosing a shield of arms, and lower shelf. But instead of cool white marble, we have reddish and pale buff alabaster in lines and alternating blocks to give a stripy effect, and immediately surrounding the central plaque a wide border of lightly carved leaf and flower designs with roundels of serpentinite, which material also fills the small pediment. The little painted shield of arms is surrounded by a wreath, with a bit of gilt too, and the entablature has further low relief carving of festoons and ribbons, so recalling the monuments of the 18th Century. A good thing.
F. J. Williamson, d.1920, memorial to the Victorian sculptor who lived in Esher and was a favourite of Queen Victoria. With a bronze panel by Williamson himself, showing Christ as a shepherd, surrounded by three sheep and two lambs, with other sheep lightly sketched in behind, a distant mountain, and two palm trees. There is a green serpentine backing.
The Duchess of Albany, d.1922, plain tablet with frame dedicated by members of her household.
20th Century inscriptions on plain panels to Harry and Maud Allen, 1959, and Mary and Harry Henry, 2010.
Brasses
Also in the Church:
Font in white marble, with circular bowl, outside with trefoil pointed windows and minor carving, and clustered pillars attached below, and a spiky Gothic font cover of wood, all crocketing and spikes, raised and lowered by a winch with nice ironwork.
Several wooden furnishings, including a wooden pulpit with sounding board, raised on a thin stem; a small wooden WW1 memorial panel; and two small wooden angels, raised up on thin pillars.
Painted brassy coat of arms, with the usual lion and unicorn supporters, but the lion having the face almost of a human and wearing a crown.

Some decent stained glass windows, 19th and early 20th Century, including by Ninian Comper and A.K. Nicholson - see example of the latter artist's work at top of page.
Churchyard
Outside in the churchyard, there are two large monuments with figure sculpture which we shall come to in a moment, but we must first note the monument to F. J. Williamson, the important 19th Century sculptor who lived in Esher and with a panel we saw within the Church. His wife, Elizabeth Patman, died first in 1903, and he died in 1920, as is recorded on a panel on the blocky base of a crucifix; a considerable number of offspring and relatives are noted on panels on the other sides. Although there is some small decoration, there is no sculpture on this monument, that being found on the panel to the sculptor inside the Church noted above.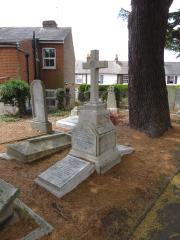 F.J. Williamson, sculptor: family tomb.
Edith Amy Doveton Clarke, d.1897, statue of the deceased as a girl with a lyre, seated on a plinth with a tall canopy raised on four square columns, and with a pedimented roof on top. She sits with one leg over the knee of the other, poised sideways on her chair, so that one hand is on the high back rest, the other lower down, fingering her lyre or harp; a songbird is seated underneath. She is shown as a youthful beauty, her hair tied up to show her slender neck, head turned modestly to one side and downward looking, pensive. She is wearing light draperies leaving the supple arms free, and belted to emphasise the girlish figure; below, the drapes form a long skirt from which her sandalled feet emerge. Unfortunately there is some black staining of the head and side, so that the best view is from the left hand side.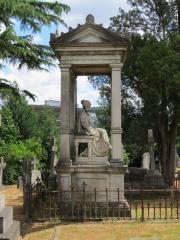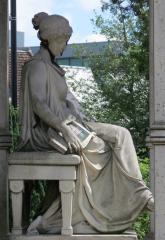 F.J. Wiliamson's monument to Amy Clarke, d.1897.
Lord and Lady Esher, one of two large monuments carved by F. J. Williamson. Truly a monument more suitable for inside the Church than out. A great stone tomb chest, on which rests the larger than life effigies of Sir William Brett, Viscount Esher, d.1899, and his wife Eugenie Viscountess Esher, d.1904, underneath a canopy. Small panels on the sides of the base note later members of the family through to 1975, and at the end is carve a pile of military emblems, including helmet, sabre, bearskin, and a rolled up parchment, perhaps a map. The effigies lie side by side, heads raised on a pillows, with their robes under them. The Viscount has an elaborately carved upper robe, and has a judge's wig; one heavily sleeved arm is across his chest, the other lies by his side. The Viscountess is dressed more simply to emphasise her slender figure, and her hands are over her heart. The sculptor has given us portrait statues, with an emphasis and heaviness to the features to suit the stone, which despite the canopy, has lost something of its surface to the weather. Extremely good sculpture showing the quality of F.J. Williamson's work.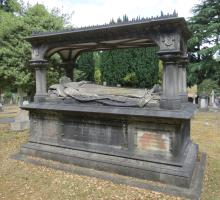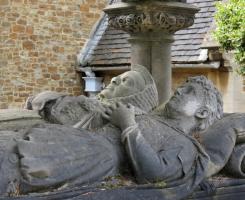 F.J. Williamson, statues of Lord and Lady Esher.
There is a goodly range of other interesting tombstones in the Churchyard, including General Sir William Gardiner, a chest tomb with ornate railings. We may mention as well the obelisk to Louisa Matilda Tindal, d.1884, with her inscription on an oval resting against the tall obelisk and partially draped (her husband, Thomas William Tindal, d.1903, has a conventional inscription on the base to one side); I wonder if this could be one of the 'several other' monuments in the churchyard by F. J. Williamson?
Stanley Grossmith, d.1924, and family, with a statue of a girl crouched mourning, head on hand, other hand holding a finely carved wreath of roses. She is dressed in Classical drapery, flowing and elegant.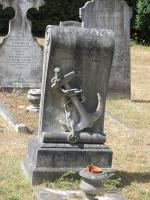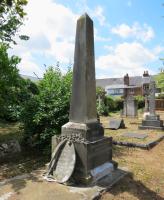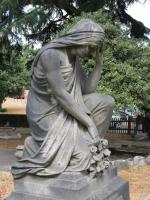 White, Tindall and Grossmith memorials.
Among other tombs, we may note the panel to Francis Edwin White, d.1932, with conventional relief angel, that to Simpson, d.1929, with an anchor and chain, and the panel to Elizabeth Palmer, d.1924, and Charles Palmer, d.1932, her husband, with charmingly rendered bluebells to the sides and top.
Queen Victoria Vitrix memorial
The final monument by F.J. Williamson in the centre of Esher, a few hundred yards away from churchyard. It consists of a tall red Aberdeen granite plinth in several stages, with a medallion of Queen Victoria on the front, and a statue of Britannia above. The Queen is shown in old age, rather similar to her last portrait on the old pennies of the time. The portrait bust has her upper body somewhat more than three quarters facing the viewer, but her head turned left in absolute profile. The portrait is unidealised, unsentimental, and conveys a look of some severity, with a sharp gaze. She wears a small crown, and a large head cloth, with the usual necklace and other jewellery below.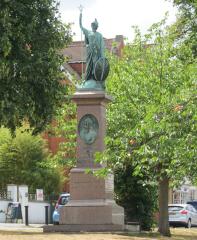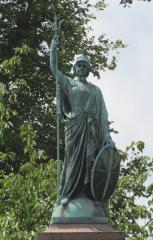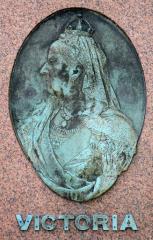 Esher's Queen Victoria memorial, by F.J. Williamson.
The figure of Britannia stands stiffly upright, tall trident in one hand, clasped just underneath the fork, other hand on the rim of her oval shield, which bears the national flag. She is youthful, with an Amazon's physique, with a strong chin and a powerful neck; her hair, shoulder length, is constrained under an Athenian helmet. She wears mail armour with a robe over it, caught at the shoulder and at the waist, with a fine bunching up of the drapery adding variety and interest to the statue.
With many thanks to the Church authorities for permission to show pictures of the monuments inside; their website is https://www.esherparish.org.uk/?q=content/parish-churches.
Also in Surrey: St Martin Epsom // St Mary, Walton on Thames // St John the Evangelist Church, Guildford // All Saints Church, Carshalton // St Mary's Church, Beddington and formerly in Surrey: St Mary the Virgin, Merton // St Mary, Battersea
Monuments in some London Churches // Introduction to church monuments
Angel statues // Cherub sculpture // London sculpture // Sculptors
Visits to this page from 28 Sept. 2017: 6,490