St George Church. Esher - Monuments
The Old Church of Esher, St George, was kept intact after the larger Christ Church was built on a separate site. It looks quite charming today, though a leading 19th Century gazetteer called it 'small and mean, with an ungainly excrescence on the South, built by the Duke of Newcastle as a chamber pew for the lords of Claremont and Esher Place'. That excrescence, pictured at the top of this page, is better seen inside, is thought to have been designed by Vanbrugh in 1725-6; the little nave is of about 1540, thus St George is a rare Tudor period church, and the north aisle as late as 1812. There is a charming little wooden bell turret above the door.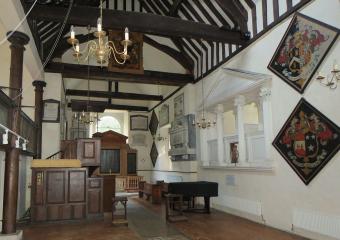 St George Church, Esher, exterior and interior.
Inside, it is small, atmospheric, with open roof with darkened wood beams, and a gallery at the west end, noted as being the gift of the Governor of Jamaica, Sir Thomas Lynch, dated 1840-41. The monuments we have come to see are scattered around the walls, adding considerably to the ambience. There are a couple of dozen of them, all wall panels, with several having fine carving, and a fair number signed by the sculptors – the most significant being Henry Cheere, John Flaxman, and F.J. Williamson. The earliest monument in the Church, to Sir Richard Drake, d.1603, with a kneeling figure of the man who was in his boyhood when the Church was built, is no longer present but was transferred to Christ Church, where it can still be seen.
Monuments
Thomas Whincop, d.1701.

Thomas Whincop, d.1701, 'late of London, Turkey Merchant', presumably referring to importing Turkish carpets rather than the bird, his wife Judith Whincop, d.1708, and sons Thomas Whincop, d.1694 and James Whincop, d.1691, and an infant, Edward Whincop, d.1687. A beautifully carved cartouche, with violin-shaped body surrounded by a band of scrolling, flowers and foliage, with coat of arms at the top surmounted by knight's helm and mantling, two plump winged cherub heads on the upper edge, and a winged skull of death's head at the base. Splendid.
Sir William Glegg, d.1706, and his wife Dame Elizabeth Glegg, d.1711, erected by their son William Glegg of Gayton. A large oval, with the thinnest of frames, with a painted shield of arms on top.
Dame Mary Fowler, d.1741, wife of Sir William Fowler Baronet, and daughter of Sir Robert Cotton Baronet, her daughter Mrs Elizabeth Fowler, d.1710, her sister Mrs Penelope Cotton, d.1737, and another daughter, Mrs Hester Fowler, d.1758, who erected the monument – which fact is recorded twice. A splendidly ornate 18th Century production, with much delicate carving. The central inscription is on a panel with raised top to allow for low relief carved crossed branches, and around the shape thus formed is a narrow border with repeating patterns, curls at the bottom and top, which latter is the seat of a nice cartouche, now empty of its painted arms, with carved flowers to either side. At the base on the apron are three linked winged cherub heads, and three termini carved with minor leafy designs. Much tiny repeating ornament, a restless outline, and the effect of richness is heightened by the backing being of a tan and black marble, much striated. An excellent thing, signed by the notable sculptor Henry Cheere.
John Mountford, d.1801, and his wife Mary Mountford, d.1820. Chunky little monument fo white marble with upper shelf and block feet, otherwise undecorated.
Elizabeth Augustus [Lady Hervey?], d.1802 [?], dim inscription surrounded by repeating maze pattern border, the main feature being a curved pediment bearing a coat of arms in front of a drape: the supporters are particularly lively beasts. On a shaped grey backing.

John Flaxman's monuments to Elizabeth C. Ellis, d.1803, and Elizabeth G. Ellis, d.1820.

Elizabeth Catherine Caroline Ellis, d.1803, and her daughter Elizabeth Georgiana Caroline Ellis, d.1820. Two separate monuments, with the daughter's panel being placed directly on top of the mother's, which is substantial in size. This lower, larger panel is styled as a tomb chest end, thus with the inscription on the long end of the tomb chest, which has a lid above a shelf, like a low pediment, on which stands a small dove and which has acroteria ('ears') at the sides. This all stands on two blocky feet, each bearing a slight relief carving, anthemion fashion, and these rest on a shelf, itself with two brackets carved as lion heads; in the centre is a nicely carved sprig of flowers. The whole is on a rectangular black backing. Seated on top of all this, the panel to the daughter has a circular design, the inscription being encircled by a wreath of lilies, nicely carved, some open, most closed, and this within a square frme with flowers at the corners, and then an outer border of grey marble. A delicate design, and signed by no less than John Flaxman, most eminent of British neo-Classical sculptors of his time.
Henry de Ponthieu, d.1808, son John de Ponthieu, d.1813, and the former's wife Anne de Ponthieu, d.1817, mother of John. Another double height monument, with the upper panel commemorating the father, with upper shelf and an almost semicircular pediment, bearing a carved tree and motto, and beneath, a heavy base, broadening out, with a narrow line of carved foliage, forming two crossed branches. This base forms the upper part of the panel below, which has side pilasters, a lower shelf, brackets to the sides with carved wreaths, and a central shield of arms. All in white marble with thin grey backing. It was John de Ponthieu who paid for the north aisle to be built.
Mrs Mary (Senhouse) Gregory, d.1815, and Jemima Senhouse, d.1787. Frugal white on black panel, with fluted side pilasters, narrow upper shelf, and feet, on a black backing.
Maria C. Hughes, d.1819, and her husband, Captain Hughes R.N., d.1819, three months after his wife. Chunky panel with upper rimless pediment bearing a carving of crossed branch and downward slanted torch, with solid base and feet, and a grey shaped backing (see picture below left). hughes swann diggle seaford

White-on-black panels, early 19th C casket shape: Hughes, Swann, Diggle and Seaford.

Henry Scott Swann, d.1824, and his son Captain William Henry Swann, d.1811, 'killed at the Battle of Barossa'. Casket end, with side pilasters, a small urn above, nicely carved, and below a blank apron, with shell designs carved at the sides (above, centre left). On a shaped black backing.
Elizabeth Diggle, d.1810, and husband the Revd. Wadham Diggle, d.1828, 51 years Rector of the Parish, erected by their children. Panel with upper and lower shelves and cut to pediment shape above; the one bit of sculpture, most idiosyncratic, is that the side-pieces have outward-looking winged heads at the top, and feet at the bottom (above, centre right).

T. Marsh of New Road: Gothic panel to Barwell Browne.

Barwell Browne, d.1828, his second wife Ruth, d.1826 or 8, his brother Augustus Browne, d.1836, and his wife, Ann Browne, d.1840, erected by unnamed parents. And added later, another Barwell Browne, d.1844. A Gothic tablet, as a broad arched Tudor blind window with the inscription on the 'pane'. That inscribed panel is in marble, but as is the custom with Victorian revival Tudor panels, the surround is made of a pale stone. There are tall side lights and clustered pilasters, leafy spandrels, further carving of vine leaves on the mouldings, and at the top, a line of crocketing, also vaguely vinous. At the base, four quatrefoils, the centre two with painted shields of arms. The base has two termini. A typical panel of the breed. By the prolific stonemason T. Marsh of New Road, London, who was happy to make monuments in Classical, Gothic or indeed Egyptial style as the occasion demanded.
Frances Woodhouse, d.1834 (?) and Ann Catherine Woodhouse, d.1839, plain panel with upper and lower moulded shelves, and supports, on black backing. Again signed by T. Marsh of New Road, and a modest example of a Classical panel by him.
Mary Holroyd, d.1834, and husband John Holroyd, d.1840. Tomb chest end, with side pilasters bearing upended torches, upper Egyptianised shelf, and a narrow lid bearing a small roundel with shield of arms; feet carved with anthemion below, on a shaped dark backing.
George Cookson, d.1835 (?), and other members of the Cookson and Auchmuty families through to 1839. White on black panel, with substantial upper shelf on which sits a draped pot, small feet underneath, and a central shield of arms. On a shaped, dark backing, and signed by the mason, Burston of Pentonville, London.
Philip Thomas Spicer, d.1837, who died of fever on his way home from Sierra Leone, having assisted in the liberation of 417 slaves. Panel with side pieces, cut to pediment shape above, with a carved dove flying downwards. On a shaped black backing.
Lieut. Col. John Peter Addenbrooke, erected 1838 by his friend and executor Lieut. Gen. R. S. Long, with a eulogy. A fine casket-end tomb, with the outward sloping sides carved with wavy lines, resting on lion feet, a complex shelf at the top, and the lid ornamented with a central pot with ringed handles and a carefully carved group of a sprig of oak, indicating strength, sabre I think, the end of a cannon, and ribbons, and with acroteria to the sides. Below is further minor carving, and a central shield of arms. All on a shaped dark marble backing. Signed by John Bacon and Samuel Manning. The overall impression is of a compact, solid and ornamental monument, with a good eye for appropriateness of scale.

Bacon and Manning: decorative memorial to Lieut. COl. Addenbrooke, 1838.

Lieutenant Henry Wadham Diggle, d.1841, of the 13th Regiment Bombay, his father being in the Bombay Civil Service. White on black panel, made as a tomb chest end, thus with feet below the inscribed panel, carved with Acanthus leaves, a shelf at the top with mouldings, and on top of this a small, broad pot or urn with a lid and leafy handles. Below is a painted shield of arms. On a shaped black backing. Clean-cut work by the mason John Trigg of Kingston upon Thames.
Charles Rose [Ellis], Baron Seaford, d.1845, of Esher and his second wife, Louisa [Berkeley], d.1877. Panel with border of repeating line design, two small feet, and at the top, a fairly sculptural shield of arms with supporters of a goat and eagle. I think by Thomas Gaffin, but the signature was indistinct. See picture further up this page.
Thomas Roberts, d.1845, noting that he died on Christmas Day in ornamented font. On a panel carved as a vertically unrolling scroll, fairly simply done. On a shaped black backing, signed by the mason, James Wood of Kingston upon Thames.

F.J. Williamson's 1880 monument to Princess Charlotte and Prince Leopold, and details.

Princess Charlotte and Prince Leopold, a major work carved in 1880 by the eminent local sculptor F.J. Williamson. It runs across the width of the aisle, from the floor upwards, and is made as a triptych in the form of a Venetian window, thus with a raised round-headed arch in the centre. In the centre, the Prince and Princess tending the poor; The central couple are flanked by two groups, to the left, an elderly man with asmall boy, taking the hand of the Princess; to the right, a kneeling woman with a little girl; behind, an angel soars in relief. The left hand panel is a typical 19th Century death scene, here Princess Charlotte, with grief-stricken husband kneeling next to her, angel standing by, the departing soul in low relief above and to the rear. The right hand panel shows Leopold accepting the crown of Belgium from a kneeling girl, with a figure of Minerva standing behind. All very Classical, rather overly sweet and sentimental in pristine white marble – a good coat of grime would help enormously – with some nice details, for example the dog. It was brought to the Church from nearby Claremont.
Sir George Seel, Kay, Lady Smallpeice (sic), and Roger Fenwick Martin, 1965, for their work in restoring the church. Plain slatey black panel.
Walter Hayes, d.2000, 'who helped to preserve this church as Chairman of The Churches Conservation Trust', and his wife Elizabeth Hayes, d.2012. Plain, unornamented panel of Carrara marble.
John Gould Floyer, Rector of Esher 1747-77, and fellow of Wadham College – a wooden panel in old style, with pilasters to the side, upper and lower shelves, and a decorated top with painted shield of arms. Modern I would think, but well made.
Also in the Church:
Most noticeable is the separating wall to the Newcastle Pew, like a Greek temple, with free-standing Corinthian pillars and a tall pediment without entablature (picture below centre).
Painted memorial to Vere, Late Lady Lynch [d.1681], noting others of the Cotton family etc, dated 1703. Above the inscription is a strange painting of the deceased, kneeling in front of a stool (prayer book holder) under an arch, as if it were an early 17th Century kneeler monument.
The font, round white bowl with fluted sides on an elegantly thin stem (picture above left), dating from 1829.
A few hatchments, in the usual sober heraldic colours.
Three small panels of stained glass.
Painted Royal arms, of George II apparently (picture above right).
A wooden triple decker pulpit, 18th Century, without carving.
Churchyard
The little churchyard is evocative, but the monuments are generally worn and mostly nameless. Best is the monument to Jacob Bright, d.1899, and his wife Ursula Mellor Bright, d.1915, up against a corner of the Church, stepped, pillared and with a small statue of a girl holding an anchor in one hand and pointing to heaven with the other - see picture below.
With many thanks to the Church authorities for permission to show pictures of the monuments inside; their website is http://www.stgeorgesesher.org/History.htm. Also thanks to the marvelous Churches Conservation Trust who look after this church: see https://www.visitchurches.org.uk/visit/church-listing/st-george-esher.html
Christ Church, Esher // Monuments in some other Surrey churches
Monuments in some London Churches // Introduction to church monuments
Angel statues // Cherub sculpture // London sculpture // Sculptors
Visits to this page from 14 November 2017: 2,658