Watford Church, St Mary, in Hertfordshire - Monuments
St Mary's Church Watford, just off the High Street in the town centre, contains two significant monuments with figure sculpture by Nicholas Stone, a most celebrated English sculptor, alongside a large variety of tablet monuments of much interest.
The Church itself is faced in flint with pale stone dressings, the main feature being the square tower, heavily buttressed, which bears both a small central spire or spike, and a newel turret (corner turret). The tower is 15th Century, and although parts of the building date to the 13th Century, and fragments even earlier, a comprehensive refurbishment of 1871 gave the Church the appearance we see today, including the flint facing, and the porches. It is of good size and breadth, and inside, the nave feels lofty: it is supported on a row of six pointed arches with a clerestory, all in white, with a dark wooden ceiling. Most of all this is 15th Century, much worked over in the Victorian restoration. Aisles to the sides, and two chapels, most importantly the Essex or Morrison chapel, put up in 1595 by Bridget, Countess of Bedford. Her monument has departed to Chenies, along with another figure piece, but much still remains, and the feeling of this space, crowded with monuments, and with a dark screen, is the most ambient in the Church.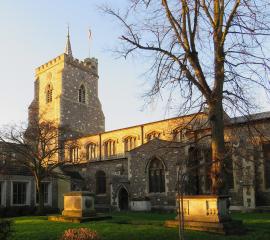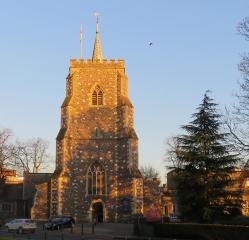 St Mary's Church, Watford, with its 15th Century tower.
The figure pieces are in this chapel, and the mural monuments more widely distributed. We start with the two grand pieces, and then the rest in roughly date order.
Sir Charles Morison, d.1619, monument by Nicholas Stone erected 1619.
Sir Charles Morison, 1619, 'Knight of Casiobury', a monument on the grandest scale, with Sir Charles reclining in full plate armour under a tall canopy, with respectful kneeling figures of his son and daughter at either side, and on top, small angels. The figure of Sir Charles is in white marble, the rest, many many tons, in the pinky-brown alabaster much beloved of the sculptors of the time, providing an opulent setting.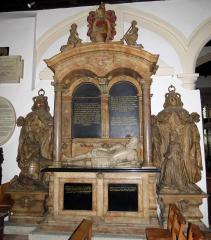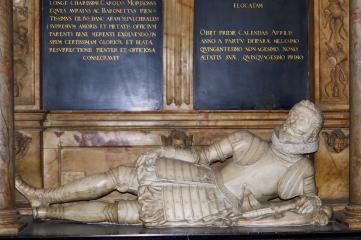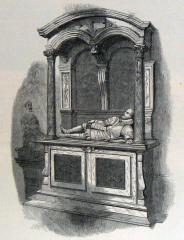 Monument to the elder Sir Charles Morison, d.1619, by the sculptor Nicholas Stone.
The sculptor Nicholas Stone shows Sir Charles in late middle age, with a strong brow and nose, fine flowing whiskers, a pointed beard and wavy hair combed back from the forehead; above his armour he wears a vast ruff. He has the gnarled hands of an active man, one on his raised hip, the other on the pommel of his sword, which rests on the cushion supporting his elbow. His pose is casual, as relaxed as one can be wearing plate armour.
The figures to the left and right are on separate blocks of alabaster. Sir Charles' daughter, to the right, is in conventional kneeler pose: staring straight ahead, hands missing but originally raised in prayer, rich, bulky clothes which hide her figure and give the aspect of a dumpling, and kneeling on a tasselled cushion. But the man to the left, Sir Charles' son, is different. He kneels on one knee, not two, has his hand against his breast, chest out, head back and turning a little towards the viewer – a dashing figure of noble aspect. Both figures have canopies of knotted drapery above and behind them, forming a tentlike affair with a bell-like top bearing their painted arms. Far higher is the central canopy, borne on smooth-polished pillars to the sides, supporting a pair of arches bearing the weight above, with curved top shelf supporting Sir Charles's coat of arms, and with the statues of angels kneeling on either side. They have nice Renaissance poses, with lithe turning bodies, and loose, heavy drapes leaving their breasts exposed; the one blows her long trumpet, the other holds some handled object I could not discern.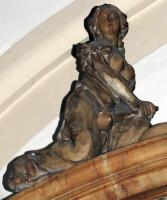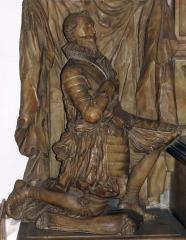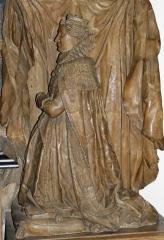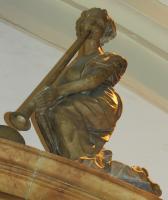 Son and daughter of Sir Charles Morison, and the angels.
The twin inscribed panels, in the usual gilt on black of the time, are within the arches with supplementary information also in Latin on panels on the high base of the tomb. There is much minor decoration, including a goodly number of winged cherub heads.
Sir Charles Morison, Baronet, and his wife Mary, 1630, by Nicholas Stone
Here we have the same son we saw in his father's monument, with his own monument on the other side of the Chapel. Sir Charles Morrison, Baronet, died in 1628 and the monument was put up in 1630. Here we have two full sized reclining statues: the younger Sir Charles reclines on his side, in rather similar pose to his father in his monument, though the figure is reversed and he rests one hand on a skull. His wife Mary lies in front of him, a little lower, and supine with only her head raised on two cushions, so that the viewer can readily see them both. Both figures are in pale stone, and we may note the harmonious relationship between her hands and his as seen from in front. Her ruff is very large, and her face youthful and sympathetic: we are used to the old and hatchet-faced grimness normally bestowed on elderly surviving widows in monuments of this period.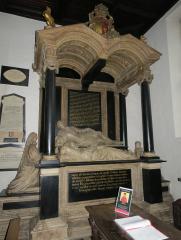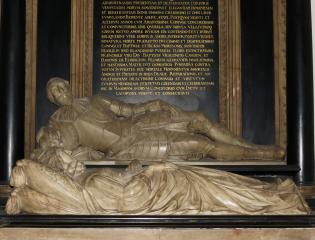 Sir Charles Morison, Baronet, and wife Mary, 1630, by Nicholas Stone.
Again we have kneeling figures to the sides. To the head, a full-grown and plump-faced girl (their daughter Elizabeth, we can presume) in the normal praying attitude, and with the normal shapelessness derived from her thick robes, though considered as drapery alone, there is a fine sweep to the folds of her outer garment. At the foot end, we have a youthful lad, and a small boy behind him, the two sons, who both died young. The youth is quite sympathetically portrayed, and as ever with Nicholas Stone, the treatment of the hair and details of the clothing is most fine. The smaller boy, rather damaged in his face and hands, is noticeably more mobile in pose than his sister.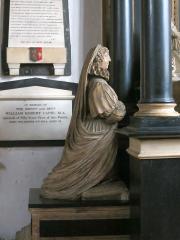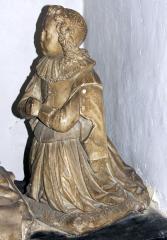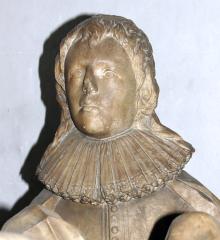 Figures of the children of Baronet and Lady Morison, 1630.
The canopy to the central figures is even more grand than for the father: four pillars of black marble rise to support a deep double arched canopy, much decorated and gilt, with angled roofs above supporting the painted shield of arms, prancing horses at the left hand corners, and some broken bull's head on the right front corner at least. Again, much in cherub heads and other lesser decoration adorns the monument.
We might mention that the seat of the Morison family - later the Elizabeth noted above married into the Capel family and engendered the Earls of Essex - was Cassiobury, a view of which is below; gradually it grew to contain a celebrated collection of paintings. Alas, the house was pulled down in the 1920s. Part of the grounds remain as Cassiobury Park, Watford.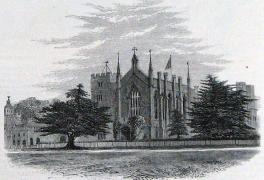 Cassiobury, seat of the Morrison family.
The rest of the monuments:
Kneeler monument, c.1580. A mural monument, with a female kneeling figure typical and conventional: thus grim and unflattering of face, kneeling on a red-painted cushion with tassels, and with lost hands raised in prayer. She wears a heavy construction on her head, and her long black-painted skirts hide her feet and flow off the back of her cushion. In front of her, a table bearing a support for a religious book (usually there would be a thinner desk or faldstool), with Biblical quotation on the side; behind this, we see an hourglass, emblem of time passing. She sits under an arch within a typical mantelpiece like canopy, with black shafted pillars, flat top, painted shield of arms in a roundel, and smaller shields of arms to the sides. Beneath, a blocky sideboard with central inscription, now gone, surrounded by strapwork. All in the popular pinkish alabaster against which her white face is contrasted.

Captain Francis Vernon, d.1647, 'of the Vernons in Cheshire of the House of Haslington', with a reference to the monument in the text: 'Be faithfull Marble in the trust // To the memoriall of the lust // And when though no more shalt be // His fame shall last & eternise thee. // But weepe sad marble, weepe & woe // All that looke on thee so to do // Stand full of tears, make thee relent // For whom thou art a monument.' Erected by his wife, Ann Vernon. An oval panel, with nothing else surviving of whatever monument that once was, excepting his carved knight's coat of arms, with a knight's helm above, surrounding plumes, and a female half-figure at the top.

Henry Ewer of the Lea, d.1667, and various relatives who died between 1647 and 1666, black inscribed panel with the pink and red-brown alabaster surround we saw earlier. Thus there are black-shafted pilasters to the sides, with receding ones outside those which descend to curly scrolls, and carved hanging flowers outside those. Above, a thin entablature, shelf and curved pediment, broken at the top and with a coat of arms on and above it; a bit is missing and replaced with a modern base, which does not try to capture the correct shape. At the base, a nicely carved apron with a blank shield of arms – it would have been painted once – with a little death's head at the base. A noble piece.

Anna Carpender d.1689. Cartouche, high up, worn, and hard to read, though the inscription is in Latin. Cartouches have oval or carapace-shaped centres, as here, and broad borders with carving, here scrolls and knotted and hanging drapes. Above the inscription is a winged cherub head, and below, a painted shield of arms with scrolly surround. A tth every top is a small funeral urn. A good example of the type. More about winged cherub heads on this page, and carved skulls on this page.

Silvester Chilcott, d.1711, another cartouche monument, with the central tortoise-shell shaped and domed inscribed panel surrounded by a thick border of scrolling, foliage, and two cherub heads to the sides, and at the base, a heart, painted red; perhaps it was once a shield of arms.

18th Century carved panels: Chilcott, J. Vernon, and the later Whitfeld.

Jacob Vernon, d.1720, with a Latin inscription. A large monument carved as a hanging drape, knotted at the upper sides, with thin drapes hanging freely to the sides, and a fringe at the bottom, pushed upwards and over a pair of winged cherub heads, well carved, and with parted lips. The upper part is complex for a hanging drape monument, more like the top of a cartouche. Thus the drapes are piled up, around and behind a painted shield of arms, with knight's helm on top and acanthus leaves, and beneath the shield a pair of leafy branches crossed. A good piece.

Elizabeth Skinner, d.1731, on a plain streaky marble slab with brief Latin text, and on a matching panel, 'Johann[is]', perhaps her husband.

Thomas Whitfeld, d.1731, with a brief Latin script, plain black-streaked white marble, likely Carrara.

Thomas Whitfeld, d.1737, and his wife Elizabeth, d.1743, and their grandson John Whitfeld, d.1795. A typical 18th Century grand tablet, with receding pilasters to the sides with oak leaves on the capitals, a blank entablature, and above, a curved, broken pediment enclosing a painted shield of arms with a heavy carved surround. See also below.

Thomas Whitfeld, d.1762, and wife Hannah, d.1761, noting their seven children. A hanging drape monument on a black backing with shelves, rather similar to the John Denne monument noted below, but simpler in the drapery.

18th Century carved panels: Chilcott, J. Vernon, and the later Whitfeld.

Rt. Hon. Lady Mary Forbes, d.1782, daughter of William, 3rd Earl of Essex and Lady Jane Hyde, daughter of Henry, 4th Earl of Clarendon and 2nd Earl of Rochester, with a long eulogy. Nice marble oval, with narrow rim, carved as if hanging from a loop of fabric above, and with a terminus below, carved in relief with symmetrical scrolls and acanthus leaf and shell.

Jane Bell, undated, but 1771, erected by her husband John Bell, see below. Panel cut with little feet and a 'roof' rather than a shallower pediment shape, to accommodate a painted coat of arms in a circlet, and with a moulded top, and with a eulogy in praise of her fortitude in the face of a slow and incurable malady – it is recorded as having been written by Samuel Johnson.

John Bell, d.1796, the husband of the Jane Bell noted above, nicely carved text on simple white monument with little feet, and a moulded shelf above.

The Hon. John Forbes, d.1796, a son of the 3rd Earl of Granard. Admiral of the Fleet and General of Marines. Breadboard-shaped panel with inscribed line border round the text, protrusions at the sides, and a loop of ribbon at the base. Placed upon this, in contrasting black to the white inscribed panel, is a brownish or gilt painted shaggy dog or bear in low relief. An odd and unlikely juxtaposition.

Denne family:

John Denne, d.1741, and various of his family through to 1780. One of those rather excellent monuments designed in the form of a hanging drape, tied in knots at the two upper sides, with hanging drapes to the sides. It is on a black backing, with upper and lower shelf, also black, and supporting two curly brackets beneath.

Ann Denne, d.1790, by the statuary John Golden of High Holborn.

Ann (Carpender) Denne, d.1790, a polychromatic piece with a broad obelisk above. Really rather decorative, in a light, delicate fashion, somewhat in the style of an Adam brothers interior. The central inscribed panel has a border of yellow-and-black rosso marble, with side pilasters bearing decorations in low relief – oak leaves, scythes, and ribbons – and upper and lower framing in off-white marble. Beneath is an apron, a segment of a circle with webbing, and a thin central portion of red and white marble; to the sides are two brackets carved with Acanthus leaves, one bearing the name of the sculptor: John Golden of 97 High Holborn. Above, a thin shelf and then a central block in coloured marble with the arms of the deceased, surrounded by a ruined wreath of oak leaves; On top, a high relief pot or urn, narrow-stemmed and with small drapes to each side; on the outer wings of this structure are two smaller, thinner pots. Behind this and curving upwards is the black obelisk backing, really rather broad, and upon its upper portion is a carved drapery held at the centre and sides, tassels hanging centrally, free-hanging cloths to the outer sides. Extremely good composition and avoiding all sense of weight or blockiness. A rather similar monument by the same sculptor may be seen in the church in Beaconsfield, Bucks (John Bates, d.1785).

Cornelius Denne, d.1809, 'eminent Banker in London' and benefactor to the parish. With a fluted border with squares bearing stylised flowers in relief at the corners. There is a thin, dark surround, and above, a shelf, with a Gothic arch of the same dark-and-pale marble above, bearing a painted lozenge of arms. Put up by his wife, Elizabeth, whose monument is noted below.

Elizabeth Denne, d.1812, daughter of Cornelius and Elizabeth Denne, whose monuments are noted above and below. With the same border as her parents' monuments, but above the upper shelf, cut to a rough pediment shape, with ears, and a relief pot; some small floralities are carved to each side.

Elizabeth Denne, d.1816, also commemorating an unnamed daughter (who is another Elizabeth, noted above). Identically shaped monument to that of her husband noted above, but with an oval bearing the arms instead of a lozenge, and under this, the remains of carved, crossed branches of olive and oak (peace and strength).

Back to the other monuments, including various members of the Capel family, which we recall Elizabeth Morison whose statue we saw above married into, and thus giving rise the the Earls of Essex:

Samuel Moody, d.1823, his wife Jane, d.1823, and relatives through to 1834. Pale panel with inscribed line border, upper shelf and little brackets, moulded.

Nicholas Darlington Kent, d.1831, with a eulogy, with the words including that 'This tablet coldly records what is warm in the hearts and on the lips of those who survive to mourn him'. White panel cut with little feet and decorated corners, on a black backing panel with upper shelf, and above this, a strangely-cut upper portion, too high for a pediment, wavy and bat-eared, upon which is the low relief shield of arms of the deceased. At the base, a shelf with gadrooned (wavy shell-like) lower part.

Harriett Ford, d.1837, painted retro panel by K or R Conomin.

Harriet Ford, d.1837, painted and gilt, with the inscription on white with coat of arms above, encircled by strapwork and bunches of carved fruit and berries, all painted, somewhat Christmassy and somewhat in the style of monuments of a couple of hundred years previous. It is signed in difficult to read script, probably K. or R. Conomin. Original.

Harriet, daughter of George, Earl of Essex, d.1837, with a eulogy. Tall white panel with heavy upper shelf and lower base, cut to pediment shape above, and with two solid brackets supporting below, all on a shaped backing of fossiliferous black marble. By the prolific stonemason Crake of London.

Mrs Elizabeth Poyntz, d.1811, and husband Major General Poyntz, d.1837, plain plaque with thin border.

George, Fifth Earl of Essex, d.1839, with a eulogy. In the form of a carved hanging drape, depending from two ends of a bowed stick or mast, with coronet and crossed branches upon it, and with a low relief shield of arms under the text. Well carved, on a shaped base of mottled grey marble.

Major General Sir Charles Deacon, d.1842, of the Madras Army, and his wife Joan Ann Deacon, d.1856. As a tomb chest end, with feet, side pilasters, and a lid or pediment, rather blocky, on which is carved the regimental crest. On the side pilasters are interesting carved devices, perhaps scabbarded daggers, wound round with olive branches, suggesting peace after war. On a shaped black backing.

Captain Thomas Nicholl, d.1842, killed in action at Jugdulluk, Afghanistan, a member of the Bengal Horse Artillery. In the style of a tomb-chest end, and a nice example of the type. Thus there is an upper lid, on which is a draped pot, the drapes lying roughly in the shape of a pediment, and beneath, supporting feet carved with stylised leaves or florets. On a black backing, with a curve at the top. Signed by Bedford of Oxford Street, whose work is widely found around London. This is an example of one of the firm's stock designs, similar ones being found in, for example, Teddington Church (Thomas Woodrouffe Smith, 1811 & 54), and St Anne, Kew Gardens (Joseph Hobbs, d.1838).

Major Henry Robert Capel, d.1847, 2nd Battalion of the Rifle Brigade, son of the Revd. William Robert (see below) and Sarah Capel. Almond-shaped white panel on a rectangular black backing.

Bedford of Oxford Street, statuary: Nichol and Pidcock monuments.

Georgiana Pidcock, d.1852, and husband John Pidcock, d.1863, white panel with upper shelf and cut-out pediment bearing a carving of an open book in front of a leafy branch. Beneath, a chunky base with two supporting brackets, and the whole on a black, shaped backing. By Bedford of Oxford Street, whose work we met in the Nicholl monument noted above.

Lieutenant George Adolphus Pidcock RN, d.1853, 'killed in the act of boarding with the cutters crew a heavily armed junk which attempted to escape when a formidable fleet of pirates was captured off Amoy'. Panel with upper shelf, bearing a decorative repeating pattern, on which is a curved upper portion with a carving of a crossed anchor and sheathed sword, and a piled up rope. On a black shaped backing. By Bedford of Oxford Street again.

James Hulton Clutterbuck, d.1854 at the battle of Inkermann, white-on-black monument, with a shelf and a carved wreath above, cut with feet below, and with the black backing cut to shape and with its own block feet.

Hon. Revd. William Robert Capel, d.1854, Vicar of the parish for over 50 years. Plain white panel with shelf on shaped black backing.

Caroline Janetta, Countess of Essex, d.1862, third daughter of William, 8th Duke of St Albans, put up by her children. In the popular style of a carved unrolling scroll, on a black backing - see picture below left.

Captain George Watlington Clutterbuck, d.1867, erected by his brother officers. With a carefully carved wreath of leaves and small fruits, perhaps olives, tied at the base, around the inscription. There is a shaped black backing signed by the prolific masons, Gaffin of Regent Street. See picture below right.

Later white-on-black panels: unrolling scrolls and carved wreath.

Arthur De Vere Capell, Viscount Malden, d.1879, son of Arthur, 6th Earl of Essex and Caroline Janetta (their monuments noted above and below), noting the donation, destruction and replacement of a window in his memory. Plain white panel with semicircular top and a narrow black backing of the same shape.

Catherine (Stephens), d.1882, wife of George, Fifth Earl of Essex, and her niece Miss Eshter Matilda Johnstone, d.1882. Grand panel, with fluted side pilasters, with Corinthian capitals, and above, a rimless pediment carved with high relief scrolls, leaves and flowers in ornamental fashion. On a shaped black backing, and somewhat behind an elaborate clock, so that the base of the monument is hidden and I could not see if it was signed.

Arthur Algernon Capell, d.1892, 6th Earl of Essex. Another panel carved as a vertically unrolling scroll, with a crucifix and wreath on top, and on a black backing panel - see picture above centre. This sort of monument was most common towards the beginning of the 19th Century, and this is a very late example of the type.

Reginald Algernon Capel, d.1911, and his wife Mary Capel, d.1911 – he was son of the 6th Earl and Caroline Janetta, daughter of the 8th Duke of St Albans. Plain white panel with semicircular top with a narrow black backing of similar shape.

Reginald George de Vere Capell, d.1981, 9th Earl of Essex, and wife Nona Isobel (Miller), d.1997, Countess of Essex. Panel of grey-green stone, with thin border, the only decoration being a painted shield of arms at the top in a semicircular field.
Brasses
Henry Baldwyn of Reedheath, d.1601. Brief text.

Henry Dickson, d.1610, George Miller, d.1617 and Anthony Cooper (no date), servants to Sir Charles Morrison, Knight, and then to his wife Dorothie, Lady Morrison (who erected the monument), and son, also Sir Charles Morrison, Knight and Baronet. So these are the servants of those represented in the grand tombs noted at the beginning of this page. The inscription refers to a 'stone', but only the brass remains, comprising two texts and a fine rendering of the three men. They stand in a group, hands raised in prayer, their robes slightly overlapping to bind them as a group. Their faces are like enough that these are no portraits, but good faces nevertheless, somewhat saturnine, with close cropped hair, dark eyes, trimmed beards and moustaches which vary from figure to figure, the central figure, presumably George Miller, with larger moustache than his fellows. They have high collars, Anthony Cooper's being a full ruff, and wear outer robes down to below the knee above many-buttoned jackets and baggy pantaloons, and we can see that each has a sword sheathed by his side. Presumably the similarity of clothing is because this was the house livery which they would all wear. Fascinating to have this glimpse of this group of 400 years ago.

Brass of a man and his wife, she somewhat smaller than him, in long robes and shown standing, praying, looking straight forward – but I could not read the text.

James Moss, d.1758, Messenger to King George the Second. Brass with short text, cut with a semicircular top and cut out top corners.

The Hon. Randolph Capell, d.1857, of yellow fever. He was a son of the 6th Earl of Essex, and a naval lieutenant. 19th Century brass of the usual type, with blackletter text, with the capitals picked out in red, and a border, but more ornate than the usual. Above the text is a red cross set among a field of crosses, and below is an inscribed cavalry sword wrapped in ribbons behind a shield, with the words Inkerman, Sevastopol as the key battles in which the deceased participated. The incised border consists of intertwined ropes with quatrefoils in every second crossing, and at the corners are larger quatrefoils enclosing anchors. Decorative, and a good example of this type of brass, which was common from the second half of the 19th Century through till after 1900.

Revd. Richard Lee James, d.1921, plain brass with a shield of arms.
There are other modern brasses in the Church; an example is at the top of the page.
Also in the Church:
An ancient chair with griffin and winged lion on the armrests.

A group of several squat chests, two of which are 17th Century, with some carving on panels etc; the chapel screens are also of antiquity.

The pulpit, wooden again, fairly modest for the size of the Church, with minor carving and inlaid panels, apparently dating from the later 17th Century.

Some other carving in Watford Church.

Other fittings date from Victorian times:

The Font, 19th Century with thin marble pillars around a central shaft, octagonal with decent carved scenes in panels on all sides, and a Gothic wooden cover.

Reredos, unpainted stone with Evangelists in Gothic niches, and central Crucifixion, decent late Victorian carving.

Some amount of Victorian stained glass, including a couple of rather excellent single figures, such as the St Cecilia.
With many thanks to the Watford St Mary Church authorities for permission to show pictures from inside the Church: their website is at http://www.stmaryswatford.org/history/.
Nearby: Cheslyn Gardens statue, Watford // Aldenham Church monuments, within walking distance
Other churches in Hertfordshire with Monuments: Tring Church // Aldbury Church // Abbots Langley Church // Wheathampstead Church // Broxbourne Church