St John the Baptist, Aldbury, Hertfordshire - Monuments
Aldbury Church, in the far north west of Hertfordshire near Tring, contains the grand Whittingham-Verney tomb with figure sculpture, set in its own medieval chapel with original floor tiles. There are also a tomb chest and a variety of wall panels, one with a pair of portrait busts, from the 16th-20th Centuries.
St John the Baptist, Aldbury Parish Church.
Aldbury Parish Church, St John the Baptist, is of flint with stone dressings, with a fairly tall square tower, buttressed but unbattlemented, and a long, low body. The tower dates from the 14th Century, 15th Century higher up; most of the external walls of the whole Church would seem to be 19th Century or from extensive repairs in 1905. Inside, there are some remains from the 13th and 14th Century, but again, the overall effect is set by the more modern restorations. The Church is quite long, and feels quite narrow, the effect being heightened by the arcades along the nave and its height. One whole corner is enclosed by a stone screen – the Pendley Chapel, wherein is the Whittingham-Verney tomb, a grand monument taken from Ashridge (along with the screen) by a descendent, Edmund Verney, in the late 16th Century. We take the monuments in date order, which conveniently starts us with the Whittinghams.
Whittingham monument
Sir Robert Whittingham and wife: screen and effigies.
Sir Robert Whittingham, d.1471, and his wife Katherine [Gatewyne] Whittingham. A huge monument, with the full length effigies of the couple lying recumbent on a bed-like structure, each with hands held in prayer. Sir Robert had been Captain of Caen before it fell to the French, later keeper of the wardrobe to Queen Margaret, and Lady Katherine, who was born in Anjou, was one of her maids in waiting. He was killed in the Wars of the Roses at the battle of Tewkesbury. Sir Robert is in full plate armour – the plates allowing movement at elbow and knee are most spiky and well rendered – and rests his head on his helm. His head is unbearded, and his hair, somewhat restored or recut it seems, is short. He rests his feet against a Wildman, covered with curly hair and wearing only a starry or leafy belt, and clutching a cudgel. His unnamed wife has her head covered with a cloth, resting on a pillow, and wears a long mantle above a dress clasped above the waist; her sleeves are fur-trimmed, and her hands better preserved than those of her husband. Her feet rest on a rather worn animal, cloven hooved, most likely a deer rather than goat or sheep. Around the sides of the block below are panels, some heraldic, others with small figure sculpture. We see figures in vaguely Roman costume, almost miniature versions of Sir Robert, but with oversized heads that suggest they extreme youth. With equally oversized heads are the standing girls, with exotic head-dresses and otherwise in robes as per Lady Whittington.
Around the whole tomb is the stone screen of Gothic tracery [called a 'parclose', open above, blind below - again from Ashridge, it is a bit of surviving architecture from the ancient Priory there. Along with the tomb, this was brought to Aldbury from Ashridge in 1575, by Edward Verney, of the family which were heir to the Whittingham inheritance.
Other monuments
Sir Ralph Verney, d.1546, and wife Elizabeth.

Sir Ralph Verney, d.1546, and his wife Elizabeth [Bray] Verney, 1573/4. An altar tomb, the black cover bearing brasses of the couple, their numerous offspring, and four shields of arms. He is in elaborate armour covered with heraldic symbols, she has a similarly decorated cloak; both are shown praying, which is usual. She was presumably alive at the time the piece was made, for he is shown recumbent, his head on his helmet as a pillow, while she is standing and has no pillow. 9 male offspring ar eranged below him, and three daughters below her. The side of the tomb bears three lozenges of arms, rather obliterated.

Thomas and George Hyde monument.

Thomas Hyde, d.1570, and his son George Hyde, d.1580. The inscription is at the bottom and virtually unreadable, but the monument is a fine alabaster wall piece. Two parallel panels are carved in high relief with strapwork, the Dutch-originated decorative style found on so many tombs of the period, and here incorporating hanging fruit, scrolls and flowers around a central skull in each panel. To the centre is a black-shafted column, and to the sides, red and white marble ones. Above, an entablature and broken pediment incorporating more inset marble, and a the top, a painted shield of arms within a circlet, again typical of the period. Heraldic shields are in panels at the receding base to the monument.

Thomas Hide [Hyde], d.1665, and detail.

Thomas Hide [Hyde] of Aldbury, d. 1665 [Thomae Hide de Aldeburia], a panel with a long Latin inscription on black slate. It is surrounded by a thick frame of stone rather than marble, with extended curly sidepieces at the top and a small arched pediment, too small and the whole looking rather top-heavy. Underneat his a thick marble shelf, under which is a central black panel bearing a winged cherub head, and to the sides of this, two decoratively carved supports with curls and flowers. The thing is so odd that I would think it is the remnants of an original piece which has been reframed and put together – skilfully but with no sense of composition – during the 19th or 20th Century.

Sir Richard Anderson, Bt, and Dame Elizabeth, Lady Anderson; end 17th C.

Sir Richard Anderson, Baronet, d.1699, and wife Dame Elizabeth, Lady Anderson, d.1698. And noting their sons Henry Anderson and Richard Anderson, and daughter Elizabeth Harcourt, undated. The monument is centred on the busts of Sir Richard and Dame Elizabeth, quite full busts, down below the chest, and with the full shoulders, carved as covered with cloth that then seems to hang empty, giving a curious sense of the figures having dissolved away. Each bust is on a smooth, tapered base, and the join between figure and base is disguised with a wrap of drapery, which again leaves an uneasy sense in the viewer. But the sculpture itself is most fine, with the couple shown as the epitome of pride and swagger of the turn of the century. Sir Richard has a plump, self satisfied face showing a penchant for good living, and wears a huge periwig with profusely coiled locks of hair; underneath, a kerchief is knotted at his throat, over a buging waistcoat; below this, and to his shoulders, is knotted drapery. Lady Anderson looks younger, still full of face but with a perfect, columnar neck, and a proud look to her. Her hair is fairly short and curled, to emphasise that neck. She is wearing a thin top, frilly at the collar and with some clasp at the front, and low cut to show her ample figure. Her empty sleeves have a fringe, and as with her husband, there is some drapery to the shoulder and over her stomach, of a heavier stuff.

For the rest, the busts stand within an arch, in fact an entirely open curved pediment, with a large shield of arms with knight's helm and much mantling around it. Underneath is the inscribed panel, with side-pieces, curved apron below, and at the sides, leafy pendants.

John Duncombe, d.1728, and wife Hanna Duncombe, d.1710. Difficult to read inscription, pale on a black panel in a style more typical of the 17th Century. It has a Classical surround, with side pilasters, decorated with inlaid pinky-brown alabaster and with flowers on the capitals, a highlyveined dark marble above the curved top of the inscribed panel, and on the top, a shelf and a pot with carved festoons of flowers to give a roughly pedimental shape. At the base, a black marble apron bearing a paitned cartouche of arms, with side brackets and a lower terminus carved with Acanthus leaves. A colourful piece, as monuments often were at this time and up until 1800.

18th C panels of coloured marble: Duncombe monuments.

John Duncombe, d.1746, wife Elizabeth (Lowndes) Duncombe, d.1712, and children, also noting his second wife, Elizabeth (Arnold). A colourful panel monument, with pilasters to the sides with red and white streaked marble insets, an area above the inscribed panel of darker marble, and black marble in the curvy apron below, which bears a cartouche of arms, painted. At the top, a shelf with a pot on top and floral galands.
The Revd. David Jenks, d.1818, Rector of the Parish, and his son, also the Revd David Jenks, d.1869, Rector of the Parish after his father died. Plain panel cut with little feet, on a black backing panel with a shelf on top and small brackets below.

Revd. Jenks, father and son, 1818.

Harry Grey Jenkinson, d.1887, Midshipman of HMS Canada, who drowned off Nova Scotia, and his son Lieut. Edward John Jenkinson, d.1887. Brass panel on a black panel. It is a typical and good example of the type, with red capitals, and an inscribed border bearing a repeating pattern of stylised leaves with fleurs de lys in the corners. Made by the firm of Cox and Buckley, London.
Richard Mountford Wood, d.1889, Curate and then Rector, and his son Henry Thellusson Wood, d.1928, who was also Rector. Plain white panel with a dark frame on a black backing panel.
Dr. James Brown, d.1914, and his son Lieut. Andrew Cranstoun Brown, d.1916, killed in action at Fricourt Wood. Arts and Crafts panel of coppery colour, with embossed lettering, and a narrow border of stylised little flowers or leaflets, with a black frame.
Henry Robert Gregan Craufurd, d.1920, churchwarden. Plain stone.
Sir James Craufurd, 8th Baronet, d.1970. A small stone panel supported on two brackets, entirely plain.
Also in the Church
An ancient long chest of wood, rudely made of sawn timber.
Splendid ancient tiles on the floor, terra cotta and black, some with simple traced designs upon them. Medieval.

19th C Font, older chest, and medieval tiles.

The font, a great stone thing, 19th Century, with a bulbous egg-shape supported on a central shaft and four slender columns of serpentine, with carved capitals.

Reredos and WWI panel, marble and alabaster.

A reredos of brightly coloured marbles and alabaster, in panels with tracery at the top and pinnacles above, and a couple of shields, but otherwise no representational carving.
World War I memorial, panel in striking brown and pink alabaster, with upper pediment and side pieces in darkish purple marble. Minor carvin, including painted crossed flags at the base.
Some attractive Victorian stained glass, and some from later, and some from the 16th Century.
A large mural painting with a saint, presumably St John the Baptist, preaching to a crowd (picture below).
An oil painting showing the interior of the Church, with two female parishioners to one side, one pensive, one reading; a sombre piece, rather good. Perhaps 1920s?.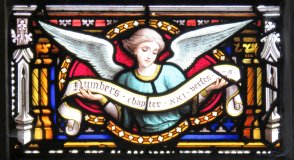 Outside
The Church is surrounded with its churchyard, treed, grassed and with some atmosphere. There has been much thinning out of the headstones towards the front, and those that remain are unexceptional, though showing some of the typical designs. Most interesting and novel are a couple of iron headstones, each with a cross on top surrounded by foliage, seemingly identical casts, rusted and very hard to read.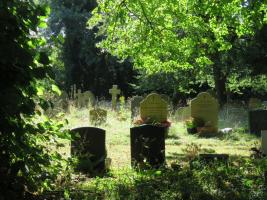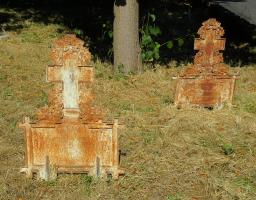 Aldbury Churchyard, and iron headstones.
With many thanks to the Revd. Huw Bellis for kind permission to use pictures from inside the Church; see the Church website at http://www.tringteamparish.org.uk/aldbury-history/4589861525.
Also in Hertfordshire: monuments in other Hertfordshire churches, including Tring Church, Wheathampstead Church, Broxbourne Church, Aldenham Church and Abbots Langley Church
Introduction to church monuments // Angel statues // Cherub sculpture
Sculpture in some towns in England