St Mary and All Saints Parish Church, Beaconsfield, Monuments
The Parish Church St Mary and All Saints, Beaconsfield, Buckinghamshire was put up in the late 15th Century, and given a thorough makeover in the 19th Century: what we see today is mostly the restoration, especially the exterior, though broadly on the lines of the original. The square tower is not so high, but looks good from a distance along the high street, poking above the buildings; it has oversized pinnacles at the corner. The nave, clerestory above and aisles below, all 19th Century work from outside, are in flint with stone dressings.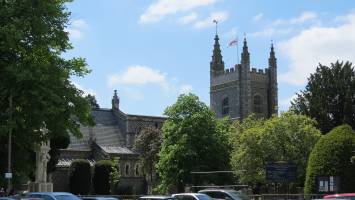 Inside, again mostly what we see is Victorian, including a fine lofty ceiling of wooden beams, and with a few carved half angels with broadly spread wings, in painted wood. There is some exposure of just a little medieval work, including several of the pillars and the piscina. But various of the older monuments which we have come to see have been retained. Altogether there are around 25 monuments, including several more recent ones to the Grenfell and Du Pre families. The most interesting are the two grand altar tombs, some minor figure sculpture of Victorian and later times, and a few panels of typical early 19th Century types, including a few more ornate ones.
Monuments of the 15th to 17th Centuries:
A 15th Century tomb possibly to John Butler, d.1477, as noted by the Victoria County History. It is made of pale Purbeck stone, in the form of an Easter Sepulchre, set into the wall, with grand altar tomb at the base, a recess above, and a canopy with cornice, rather grand. On the base are four square sections, each with broadly carved quatrefoil designs with small heraldic shields. Repeating pattern designs at the tip, and the remains of pendants in front. In the niche, a square on the far end (I could not see the near one), and at the back, the places where brasses once were attached (called 'indents') - you can see these clearly on the picture, but will need to click to enlarge it. Whether or not to John Butler, this grand piece must have been put up soon after the original Church was first erected, so is crucial in giving some memory and ambience among so much of the fabric of the Church which has been renewed.
Altar tomb, noted by the Victoria County History as being early 16th Century, of pale Purbeck stone, with the front decorated with Gothic window designs at the sides and two squares with quatrefoils towards the centre; the middle of each of these has a heraldic shield, apparently the arms of Bulstrode and Mayne. All solidly carved without much detail, but on top there was once a brass of an armoured man, his wife, and children.

Tudor panels, Rumsey monument below.

Nathaniel Rumsey (?). The lower of a pair of Gothic panels in pale stone, very difficult to read. This lower, larger one is Tudor, with the inscribed panel within a window, with smaller panels to the sides, and a straight top with balustrade, most of the crenellations being broken off. The base has a repeating quatrefoil pattern. The smaller upper panel has a wide inscribed panel, a border with pinnacles on the sides, and arms above in a circle within a square; smaller crenellations here too.
Robert Thorpe, d.1638 [1639 in modern calendar]. – the date as inscribed could be 1658, but the third digit seems to be a 2 cut in over a 3. The Royal Commission on Historic Monuments has the date as 1623, but other historical evidence, including his surviving will is dated (proved) 1639. As he died in February, which before the change to the Gregorian calendar would have been counted in the previous year, the inscription on the monument would today be 1639. Black or much darkened stone panel with a border, and a small shield of arms cut at the base. The inscription refers to his wife Anne, 'who in loving remembrance of her deceased husband hath erected this memorial of him to posteritie', and the description of a 'memorial' rather than a tablet suggests that the surviving panel may have had some larger surround, which is not uncommon.

Monuments of the 18th Century:

Rachel Crook, d.1760, her sister Sarah Beckwith, d.1758, and her husband John Crook, d.1764. A fine cartouche, pictured below left, with a central slightly domed panel surrounded by a thick border of heavily undercut scrolling, with Acanthus leaves. The sculptor has carved solid, heavy ornament, giving a firm outline to the piece, and overlaid upon it delicate subsidiary leafy designs, giving a sense of subtlety to the whole. An accomplished work.
Mrs Jane Elstob, d.1779, whose maiden name was also Elstob (daughter of Lewis Elstob of Wiggenthorpe, York). An interesting monument, shown above right. The panel has line and inlaid borders, feet with little triangles, a common embellishment, a shelf above, and upon this, an exceptionally fine carved pot of the Aladdin's lamp type with a drapery partially concealing it. The backing, in a dark marble with thin lines of white quartz and some iron stain, perhaps fossiliferous, has something of a curved apron below, containing a crest, and a more baroque shape above. Crisply carved.
Josias Du Pre, d.1780, Governor of Madras, and wife Rebecca Du Pre, d.1800. They lived in Wilton Park, an important seat in Buckinghamshire. An obelisk monument, the first of three in the Church, with the black obelisk rather pointed and quite tall for this sort of monument, occupying perhaps three quarters of the total height of the monument. Upon it is a Classical pot, narrow stemmed, and perhaps once possessing handles which have since been lost. Below, the shelf on which the obelisk rests is supported on bulging pilasters, with Ionic capitals and fluting. Between these are the inscription; below that, another shelf and two curly brackets. By Thompson of Osnaburgh Street, London, whose monumental work includes the Lady Duckworth monument at Paddington. The plainer panel to Madelina Llewellyn, a relative, is below (see further down page).
Charles Jenkinson, d.1781 and wife Piercey Jenkinson, d.1781. Tall panel with upper and lower shelves, wide enough for side pilasters, which may have been present once. At the base, two brackets and a black central apron.

Late 18th Century Obelisk monuments: Josias Du Pre, John Reddall, John Bates.

John Reddall, d.1782, Commander of the Ship Lord Camden, in the service of the Hon. United East India Company. A second and excellent example of an obelisk monument, with the obelisk or pyramid occupying around half of the total height of the monument. It is in a pale yellowing marble, and upon it is a relief carving of a tall, narrow-based pot, and a lemon-slice object at the top which presumably is a sunburst. Beneath is the shelf dividing the monument into two, with below, the white marble inscribed panel, with a thin inlaid border of colourful marble or alabaster, a second shelf below, and then two solid curly supports. Between these is a black curvy apron with crossed ferny branches upon it.
John Bates, d.1785, Alderman of London, who died 'during his sheriffalty for that city' – a splendid word which seems to have passed out of common usage in recent times. Also his wife, Martha Bates, d.1788. The inscription records that the monument was erected by their three surviving children. Our third obelisk monument, of coloured marble and on a grand scale, being as tall as the Church windows. The panel, on white marble, is within a border of pinky-brown marble, around which is a frame, with inset repeating arches below, as if a balustrade, similar fluting above, and to each side, a pilaster carved in low relief with simply delineated devices: we see a shield with crossed spears behind, a quiver with crossed bow and arrow, ribbons, hanging flowers, an hour glass in a wreath and an open book within a circle of a snake swallowing its tail. Above, a baroque pediment with the central part as a block of dark marble bearing a painted roundel of arms; on top of this, against the obelisk, is a Classical pot, with two smaller pots to the sides. The obelisk, of a mottled black marble, has curved sides, and occupies the upper half of the monument; a panel upon it has the motto 'If God be for us, who shall be against us'. The whole is supported on two curved brackets bearing low relief carvings of Acanthus leaves, nicely carved, and there is a shallow central apron as a segment of a circle which might represent part of a sunburst, but has a curious webbed effect of the low relief carving. The monument is signed by Golden of Holborn, London, and also bears the number 'No. 97'. The statuary John Golden has several signed monuments to his name, including one not so far away at Watford, to John Carpender, d.1790.
Rt Hon Edmund Burke, d.1797, son Richard Burke MP, d.1794, brother Richard Burke, d.1794, and wife Jane Mary Burke, d.1812. Restrained monument in white and grey marble: the oval panel, with its thin border, has on top of it a small, wide urn carved in low relief, and and at the base a coat of arms with crossed branches. The dark grey backing is oval with straight sides. There is also Edmund Burke memorial, emplaced 1898, noting he lived in Beaconsfield from 1769-1797. A portrait in low relief, with painted blue backing and surround; the inscribed panel below is in gilt letters and has his coat of arms next to it; the whole shape, design and choice of brownish alabaster is typical of the revival of the coloured monument at the end of the 19th Century.

19th and 20th Century Monuments:

Robert Stebbing, d.1800, Rector, with a frame, blocky supports resting on budlike brackets, and a curvy rimless pediment above a shelf on top.
Mrs Frances Staples, d.1805, horizontal panel with upper shelf, on a black backing cut with a pediment shape on top; this is occupied by a carved relief Classical pot with curled over handles carved with leaves. By J. Stanton of London, who is obscure, but might be some descendent of the significant monumental sculptors of the Stanton family of Holborn of a hundred years previously: one of these was apparently the carver of the Edmund Waller monument outside – see further down page.
Amelia (Kerrich) Gooch, d.1807, with a casket end design, including upper lid like a pediment with large acroteria ('ears'). Above this on a separate panel is a carving in high relief showing two young girls mourning next to a funeral urn on a tall plinth. A shattered and ruined tree trunk is next to it, indicating the death of the solid foundation of their young lives. The scene has some pathos, one girl leaning on the shoulder of the other, and with her arm around her waist. The treatment of the figures is simple, with each girl wearing a long shift with straight vertical folding, and the hands and feet are a little undersized for the limbs they attach to. Nevertheless, a well-executed piece. By the sculptor William Tollemach [Tollemache] of London.
William Baker, d.1809, lost 'on board that Ship // Which was lost together with the Jane Duchess of Gordon, Calcutta and Bengal, and all on board, // In a tremendous storm on her passage to England'. As a simple casket end, with the sort of feet made of linked balls, and on top, a small lid carved with a flame emitting from it. On a shaped grey marble background.
James Cundee, d.1831, and brother John Cundee, d.1842. As a casket end, resting on small feet carved as delicate buds or clusters of leaves, with a central blank apron, and at the top, a Baroque lid, bearing a plinth for a pot in low relief. On the base, crossed branches, and to the sides, anemone-carved acroteria. On a shaped black backing. A nice, well proportioned monument, made by the monumental mason E. Burgiss of Uxbridge.
Lieut. Robert S. Grenfell, d.1898, 'killed in the charge of the 21st Lancers at the Battle of Khartoum'. Panel with pair of coats of arms in relief on either side of the inscription, a border including a dark marble inlay, and two plain supporting brackets.
Madelina Georgina Llewellyn, d.1903, erected by her brother General Lord Grenfell. The tablet notes she was the eldest daughter of Pascoe St Leger Grenfell and Catherine Anne du Pre. Pale alabaster tablet with a frame.
Margaret Aline, Lady Grenfell, d.1911. A charming monument with sculpture. The central panel, of pinkish marble or alabaster, has a Classical surround, with a curved (segmental) pediment above, broken at the top, containing a wreath and large, likely carved crossed oak branches making a heap of foliage below. At the base of the side pilasters are a pair of angels, rather small, carved with soft outline and poised looking inwards towards the centre. They are similar, both kneeling with hands in a gesture of praying, but not identical.
Lieut. William Bernard Webster Lawson, d.1914, killed in action at Steenstraate, panel within a Classical surround, with open pediment, painted crossed flags within, and sidepieces with curled brackets carved with leaf designs rather than pillars to the sides. At the base, a shelf with mouldings, and two curly supports with Acanthus leaves. All quite chunky.
Captain Sir Edward Hamilton Westrow Hulse, 7th Baronet of Breamore House, Hants, d.1915, killed in battle at Neuve Chapelle. White marble monument, large and in Classical style; there were plenty of designs like this one 200 years previously. Thus around the central panel is a frame, with receding sides with scrolls at the base, an upper shelf with curved pediment bearing an oversized coat of arms, carved and painted, and a shelf with mouldings at the base. All in white marble. There are various repeating decrations at the top, nothing special, but the only naturalistic carving is on the coat of arms, and above the outer scrolls, which have relief carving of stylised leaves and bunches of grapes, quite slight.
Francis Wallace, Lord Grenfell of Kilvey, d.1925, listing his various honours and positions, mostly military but also Governor of Malta, put up by one or more offspring. A white marble panel with border, and small carved wreath at the top and very low relief Maltese cross and some coat of arms to the sides of the inscription.
Col. William Arnold Webster Lawson, 3rd Baron Burnham, d.1943. Rectangular stone panel with broad oval within it, and small coats of arms around that. Austere.
Lt-Col. William Baring Du Pre, d.1946, and wife Youri Wynyard du Pre, d.1942, plain panel in the modern style, but with carved coat of arms, gilt and coloured, and blue and gilt lettering as the only ornament.
Also in the Church:
Churchyard
Among a variety of tombstones in the nicely kept churchyard are a few interesting things:
Edmund Waller monument, ascribed to William Stanton, and detail.

Edmund Waller, d.1687. The most conspicuous monument outside: a tomb chest with a black marble drape carved upon its upper portion, four urns of a chalice shape at the corners, and in the centre, a tall, sharply pointed obelisk like some steeple from the top of the church. Around the sides of this somewhat over half way up are small cartouches, and the base is supported on four winged skulls or deaths heads as memento mori. Pevsner quotes Le Neve as ascribing this to Wiliam Stanton, one of an important group of early English sculptors.
Dame Ann Hyde, d.1686, wife of Sir Frederick Hyde, 'Cheif Justice of Southwales and Sergant at law to Her Excellent Majestie Cathrine Queen of England', a great tomb chest with coat of arms carved at the end, and a second panel on the other side noting her various charitable donations.
A late tomb chest, to Edward, 1st Baron Burnham, d.1916, of Hall Barn in the County of Buckingham and of The Daily Telegraph. With buttresses at the corners, curled round decoratively with leaf designs in low relief, and at the ends, a heavily carved wreath and a coat of arms.

Late tomb-chest to Baron Burnham, d.1916.

Beaconsfield War Memorial

Aside from the Church itself, the visitor to Beaconsfield in search of sculpture should notice the War Memorial outside the Church. It is made in the form of a Victorian Gothic tower, think of Big Ben and many other clock towers up and down the country; the lantern at the top is open and holds an electric light. On the front of the shaft (not shown in the picture below) is a Crucifixion, in the same stone as the rest of the monument.
With many thanks to the authorities at St Mary & All Saints for kind permission to use pictures from inside the Church; see their website at http://www.stmarysbeaconsfield.org.uk/history.htm.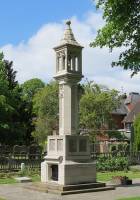 Other Buckinghamshire Church monuments
Introduction to church monuments // Angel statues // Cherub sculpture
Sculpture in some towns in England
Visits to this page from 8 June 2015: 7,870