St Helen Bishopsgate, City of London and its monuments
St Helen Bishopsgate is a precious survival of a pre-Fire of London City church. It is in fact two churches, an ancient Parish Church and the adjoining Benedictine Priory of St Helen. Often described as a nunnery with a secular church attached, the Parish Church was in fact the earlier building, put up in the 12th Century, and the nunnery was founded only in 1204-16, with the Nuns' Quire adjacent to the Parish Church nave. On the dissolution of the Priory in 1538, the central wall was removed and the Parish Church remains, but bigger. And big it is, for a City Church, at 120ft long and 50ft wide in the now doubled nave – though the Nuns' Quire is now also called the North Nave. The walls are mostly 12th and 13th Century, the supporting arches mostly 15th and 16th Century, and on this page with its predominantly sculptural concerns, we need only note further that the Church has continued to be repaired and refurbished, and added to, with two restorations in Victorian times and further changes more recently. Despite everything, to stand in the North Nave, the old Nuns' Quire, is to experience an essentially complete Benedictine church of the 13th Century. It is a privilege to visit it.
The Church itself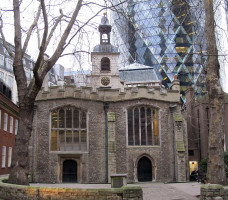 St Helen Bishopsgate, frontage with yard.
A couple of words on the exterior – we see from the outside the two parallel naves, long, broad and low walls – it feels much higher within the Church than it looks from outside – medieval and evocative, with the entrance facing onto the surviving courtyard and once surrounded with picturesque buildings (see engraving below). There is no ancient tower, but a small cupola over the west front, which is 18th Century.
St Helen Bishopsgate has an outstanding series of monuments, including over a dozen really grand ones from an early period, and 50-odd smaller ones, mostly later, with a broad range of 18th and 19th Century types. The collection includes both those which were originally erected in the Church, and those brought here when nearby St Martin's Outwich was demolished in 1877. We start with the early grand tombs.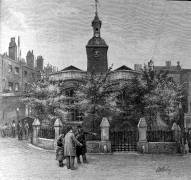 View of St Helen Bishopsgate before modern buildings introduced.
Recumbent Figure Sculpture
St Helen Bishopsgate now possesses four great monuments with figure sculpture where the subjects lie on their backs, recumbent, and we commence with these. They include the oldest alabaster monument in the Church, and we conveniently have one from each of the 14th, 15th, 16th and 17th Centuries.
Altar Tombs and Easter Sepulchre
There are five altar tombs dating from the 16th and 17th Centuries, including an Easter Sepulchre, all grand enough, but of more architectural than sculptural interest, and they include one historic personage of great importance to London: Sir Thomas Gresham, founder of the City's Royal Exchange.

Hugh Pemberton, d.1500:

An altar tomb against the wall with back inset into or against the wall and a canopy roof structure above, a bit like an Easter Sepulchre (though we come to the actual Easter Sepulchre below). There are three panels containing quatrefoils on the front of the altar tomb, and three beautiful ogee (s-shaped) Gothic arches above, crocketed (toothed), and between these arches, many small blank trefoil headed windows. More carving on the cornice above, of alternate four and six-petalled flowers, and on top, a row of many diamond shaped flowers. At the back of the tomb, we see more stone panels where brasses once were emplaced. This architectural edifice is used as a sideboard for books and leaflets, yet here is the monument to Hugh Pemberton, d.1500, over half a millennium old, and surviving from vanished St Martin Outwich.

Easter Sepulchre to Johane Alfrey, d.1525:

An Easter Sepulchre is a construction found in some English churches – not elsewhere I think – where during the Easter period the Church's crucifix and holy paraphernalia would be placed (remembering that the churches in question would have been Catholic then). Thus we have a sideboard-like base, an altar tomb really, but set into the wall, with a frame above it, with outer pilasters, and a central recessed area set right into the wall, with Gothic tracery, and above that, the entablature and something of a canopy. There were once brasses at the back of the recess, which according to the will of Johane Alfrey, were intended as herself as a kneeling, praying gentlewoman, contemplating the Holy Trinity and Saints Catherine and Helen. In the 18th Century there were still two coats of arms there, which proved the Easter Sepulchre was the one in Johane Alfrey's will, but all are gone now. The monument also acts as a squint, so that nuns behind the wall could look in and see the service, for the the panels on the base each form a narrow open window. The sculptural adornment, some repeating small pattern above the recess and perhaps crocketing on top, is much worn, but still, it is an unusual survival of an early 16th Century church feature.

Jonane Alfrey's Easter Sepulchre with Sir Thomas Gresham's altar tomb, and detail.

Sir Thomas Gresham, d.1579:

The monument to Sir Thomas Gresham is a great altar tomb raised on a step. Upon its polished top is his name and date of his burial and nothing more. This top slab and the lower pedestal are somewhat protruding from the sides of the monument, which are in alabaster or marble carved all over with fluting, repeating designs of quatrefoil flowers of different sizes, and in the centre of each side, a device centred on a shield of arms. On the long face and the short one which face out of the corner in to the body of the Church are coats of arms with knight's helms above, similar but not identical. On top of each knight's helm is Gresham's symbol of the grasshopper (really rather rare in sculpture), and all around, scrolly acanthus leaves, beautifully carved, with low relief strapwork behind.

The two sides towards the walls differ from each other. On the short side is an oval shield incorporating three stag heads (it is the arms of Fernely), very medieval in style (see this page for more stag and deer sculpture); the whole being surrounded by strapwork and a variety of fruits – grapes, a split pomegranate, apple, what seems to be a segmented gourd and so forth. The long side has a similar shield with stag heads, more open strapwork with scrolls, more nuts and berries than fruit, and two supporters in the form of nude cherubs, a bit battered, holding downturned torches signifying the extinction of life. Many fine details.

Tomb of Gresham.

Sir Julius Caesar Adelmare, d.1579:

Sir Julius Caesar Adelmare died in the same year as Sir Thomas Gresham. This plain altar tomb, with slightly projecting pilasters at the corners, raised on a moulded base, has as its only ornament the inscriptions and shield of arms in white marble attached to the heavy black slab covering the monument, a shame, as it is known to be by the important early sculptor Nicholas Stone the Elder, for he records it in his extensive notebooks. With a lengthy Latin inscription, and the coat of arms including stylised flowers, and the only significant bit of carving, a fish in the sea, with lower tusks, scaly body, and fins; it has been described as a dolphin, but the scales belie this.

Detail of Sir Julius Caesar Adelmare tomb, by Nicholas Stone the Elder.

Dame Abigail Lawrence, d.1682:

Dame Abigail Lawrence, d.1682, wife of Sir John Lawrence, 'the tender Mother of ten Children // the nine first being all daughters // shee suckled at her owne breasts // they all lived to be of age // her last a son died an Infant // Shee lived a married wife thirty nine years // three and twenty whereof // Shee was an Exemplary matron of this Cittie". The altar tomb is carved as if covered in front with a shroud, with the inscription on a tall plinth upon it, with carved curly side pieces and large hanging buds. Upon this is a smaller block, gadrooned (corrugated) on top, on which stands a small lidded pot or urn.

Monument to Dame Abigail Lawrence, d.1682.

William Kirwin, d.1594:

A railed altar tomb of moderate size. It is nice that the railings are preserved, but it means we cannot see the artistic elements of the tomb properly. We see a tall, rather slender tomb, with oversized upper slab in pale marble. The corners of the sides have low relief carved decoration – ribbons, crossed bones, skull, fruit, hourglass, a book; and each side has a panel with inscribed decoration, coat of arms, and knight's helm. On the side we see a pair of kneelers, male and female, he with hat, wide sleeves, and cape; she with a similar hat and a very broad ruff. Between them is a single female offspring, half size, with shield of arms above. Unlike a sculpture, which would be in profile with the two figures facing one another, or looking straight forward, here we have all three figures in three-quarters view, and angled towards towards the viewer's left. There are inscriptions in English and Latin, to William Kerwin (sic) himself, 'of this Cittie of London, Freemason' (d.1594), his wife Magdalen Kirwin, d.1592, 'by Whome He had issue III sonnes and II daughters', and one of those sons, Beimin [Banjamin] Kirwin, d.1621. The monument has been tentatively suggested as being by the sculptor Epiphanius Evesham by Mrs Esdaile, the historian of tomb sculpture who attributed the monument to Sir John Spencer above.
Kneeler Monuments
Elizabethan Kneeler monuments, sometimes referred to loosely as Tudor monuments, are so called for the kneeling, praying statues of the deceased - there is a whole page about them here. They are often painted, sometimes rather unflatteringly to the sitter in both carving and colour, or may be left in the natural alabaster colour, and if a couple, they generally kneel facing each other across little prayer desks, with their children behind them, neatly divided by sex. The men wear armour if knights, or rich robes if not, and usually have the familiar Elizabethan collars. The women often wear head coverings, and robes or skirts which are usually voluminous, presenting a typically shapeless female figure. Both men and women sit on little cushions with tassels at the corners, and normally the whole ensemble is within one or two arches, with some construction above and below. St Helen Bishopsgate has four such kneeler monuments, and the huge monument to John Spencer noted above has a small kneeler as well as the recumbent figures, and is of the same overall style and period. The St Helen kneelers are typical of the breed.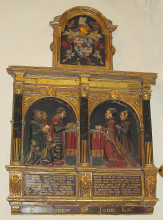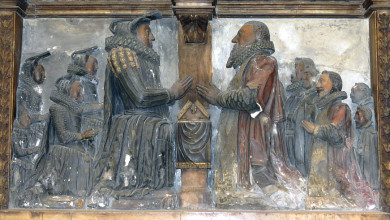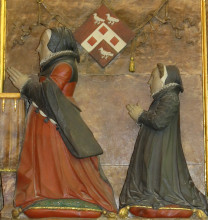 Kneeler monuments: Judd, and figures from Staper and Bonde monuments.
Sir Andrew Judd, d.1558:

Sir Andrew Judd, d.1558, founder of the Free Grammar School at Tunbridge, with a short effusive epitaph, dating from later than the monument itself, noting his three wives: Mary, by whom he had four sons and one daughter [a 'mayde'], Annys [Agnes rather than Ann], with whom he had no offspring, and Dame Mary, who produced a daughter. This kneeler monument is not so large (see mid-19th Century engraving further up page), with an arch under which Sir Andrew kneels with his four sons ranged behind him, facing a second arch under which are his womenfolk: but there is a puzzle here as there are only two females, who by their age could be two of the wives, with one wife missing – perhaps Ann, as there were no children of that union. But this would be unusual, as the daughters are absent too. It is more likely that we see the last wife, Dame Mary, and her daughter, Alice, who was his heiress – it seems that Dame Mary survived her husband, and we can readily imagine that she may have felt that there was no great necessity to record the two earlier wives with their own statues.

Sir Andrew wears full armour under a light cloak, as befits a knight; his hair is rather medieval, he is beardless above a thin ruff, and he wears a chain of office. As usual, the figure is kneeling in front of a prayer desk, here covered with a cloth with border decorations and a fringe. His sons behind him are wearing civilian clothes: long cloaks with upturned collars for the two grown sons, tunics and outer sleeved shirts for the two young children. As generally the case with such monuments, the paintwork means something is likely lost in the surface quality of the sculpture, but the well studied folds of the drapery and the fine quality of some of the details of the faces – the ears, noses and eyes – show a skilful sculptor at work. Dame Mary and her daughter, if these attributions are correct, are rather grim of aspect, especially the former, with a leathery appearance. Both wear double layered head scarves, and have ruffs under the collars of their outer garments, but while the front kneeling figure has a long, hanging sleeve, she behind has a narrow sleeve and is less richly dressed. Fluted Corinthian pillars are at each side and in the centre, and the arches form small spandrels with these pillars, allowing for minor leafy sculptural decoration, and two flattened male heads in the keystone positions. Above, the coat of arms with knight's helm and surrounding acanthus leaf decorations lie within a large arched panel of its own; it seems likely there was something to the sides at one point, for compositional reasons if nothing else. At the base, the inscription forms two panels, one beneath each arch, and between these and at the edges are small panels with sculpture of fruits and berries; a further subsidiary base is beneath this. All in coloured and gilt alabaster.

William Bonde, d. 1576:

William Bonde, d.1576, 'Alderman, sometime Shreve of London, a Marchant Adventurer, moste famous in his age for his greate adventures bothe by sea and lande'. A coloured kneeler monument, again not so large. The kneeling figure of William Bonde is on a panel, with narrow prayer desk, facing his wife across a central pillar, who has a similar prayer desk, and is in a similar panel. He wears a long robe covering his body; there is little or nothing in the drapery to indicate the line of the legs underneath. Behind him are ranged his sons, seven in all, and in their case, for the nearest figures, both sleeves and folds indicate the limbs more fully. His wife, in hood or cap, robe, and with a thin ruff – his is thinner – is shown in middle age, and behind her is the single daughter of the couple, of somewhat greater size than the sons to give some balancing weight to that side of the composition (see picture above, right). On each panel, behind the head of the couple, are coats of arms, and carved ribbons. As well as the central pillar, there are two similar outer pillars, with black shafts and Corinthian capitals, supporting an entablature rather than arches, which are perhaps more usual on Elizabethan kneeler monuments, though the flat top is by no means uncommon. Above is a pediment, broken at the top with a large carved shield of arms in a circle, with knight's helm and scrolly feathers. On top of the knight's helm is a small lion, and lion heads are on the top and bottom support of the circle (if you like lion head sculpture, see this page). The right and left sides of this circle contain grotesque faces of satyrs carved in relief, each with a ball in the mouth (more satyr sculpture on this page). The base of the monument contains receding panels with the various inscriptions upon them; quotations are above the figure panels. A very typical example of a kneeler monument. The relevant volume of Pevsner's architectural guides, as revised after his death, suggests Garat Johnson the Elder may have been the sculptor.

John Robinson, d.1599 and wife Christian Robinson:

John Robinson and Christian Robinson, another kneeler monument, this time unpainted, and with the arches hardly recessed. The kneeling figures, rather modest in size, show the deceased and his wife kneeling facing each other over a rather short prayer table, not really that close to one another but appearing so because although the arches descend between them to a pillar, this is a recessed pilaster rather than projecting forward, so the couple appear able to gaze directly towards each other. Behind them are rank after rank of offspring, separated by sex as usual. There seem to be eight sons, and seven daughters, rather battered unfortunately, and with the sons in front carved as closely identical in posture and drapery to their father as possible. Similarly, the daughters are reflections of their mother, though with less dumpy figures. Even accounting for the poor state of preservation, the repeating drapery suggests that this was not carved particularly imaginatively. The rest of the monument is in coloured alabaster: two Corinthian pillars at the sides, arches above filled with low relief shields of arms and carved ribbons, spandrels with stylised leafy scrolls, and little winged cherub heads above each arch (more cherubs are on this page). Above all this is an entablature, and then a wide base on which is a carved shield of arms within a circlet of strapwork; likely this continued outward and downward and some has been lost. At the base, the inscribed panels curve downwards and towards the wall, and beneath is further strapwork and a lozenge in a circle with more ribbons.

Richard Staper, d.1608:

A kneeler monument, with the figures of Richard Staper, d.1608, and his wife – it must be her, though she is not mentioned in the monument inscription, and their offspring: four daughters ranged behind the mother, and five sons behind the father (see kneeler monuments picture above, centre). He was 'the greatest merchant in his tyme, the cheifest Actor in Discoveri, of the trades of Turkey,and East India...'. Although the name of his wife is not mentioned, the monument casts her as slightly larger than her husband, both in girth and height. Both wear large ruffs, hers the larger, which is conventional, and both kneel on tasselled cushions and have their hands held in prayer, also conventional, though their almost touching hands above the small prayer desk is less usual. There is fine drapery to both figures, and the drapes of the son in the foreground behind Richard Staper are similar but not identical to his father. The daughters, each with the same curious headpiece as their mother, also wear similar costume, though with wrinkly sleeves rather than the fluted one with shoulder decorated with flowers seen on the mother. The two figure groups are under the normal separate arches, descending part way at the centre and with receding central pilaster above and behind the prayer desk. To the outside are two full Corinthian pillars, and within the arches and around them in the spandrels are a mix of low relief carvings of flowers, leaves, ribbons and two coats of arms, now blank; a small cherubic head is at each keystone. Above, an entablature supports a complete superstructure of open strapwork, with central circlet enclosing the coat of arms, here with a lion seated upon the knight's helm, and lower, flat-cut outer portions, each with a grotesque lion head in relief upon it. At the very top is the damaged hulk of a warship with guns extended (see picture below, you will need to click to enlarge). The inscriptions are at the base, under an ornamented shelf, on two panels separated by small panels and corbels carved with flowers.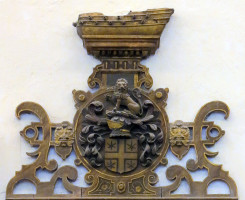 The warship and coat of arms of Richard Staper.
Other Grand Monuments in St Helen Bishopsgate
To these recumbent figures, altar tombs and recumbent figures, we should add three more monuments of massive size, before passing on to their lesser brethren.
Martin Bond, d.1643:

The monument includes an interesting carved panel showing Martin Bond in full armour seated in his tent, resting one elbow on a sideboard on which his helm and one gauntlet lie: we have the sense of a weary hero resting from his labours. His sword rests point down in front of him, and a further sword, shield with arms and pike are behind and above him, on the further wall of the tent. On each side of the tent are armed soldiers, with flamboyant hats, long hair and beards, carrying muskets and wearing tunic, baggy breeches and tall boots. Behind the soldier on the left side as we look at the monument, an attendant holds a horse, waiting for his master. In the background, carved in low relief, we see further tents, implying some army. The whole in alabaster. The panel has on each side a detached Corinthian column, with a grey marble shaft, and pink alabaster behind; below are curvy supports, and the commemorative panel is between, with outer hangings of carved fruit and flowers; at the very base is a small coat of arms with scrolly surround which would seem to be a stylised representation of a pair of guns. At the top is a curved pediment, broken in the centre to admit a coat of arms with knight's helm, both very small, and lots of scrolling around. The inscription notes that as well as being Captain at Tilbury, he was 'Cheife Captaine of ye Trained Bandes of this Citty', a Merchant Adventurer, and a Haberdasher. 'His Pyety, Prudence, Courage and Charity have left behind him a Never Dying Monument'. A short Latin inscription follows, and a note that William Bond put up the monument – presumably the William Bond[e] we have met amongst the kneelers. The Pevsner volume suggests the monument could be the work of the important sculptor Thomas Stanton.

Rachel Chambrelan, d. 1687:

Rachel Chambrelan, d.1687. A large mural monument. The inscribed panel is of normal size, but is surrounded by various adornments to give a much larger composition. The panel, then, is the projecting centre of a broad slab, with two naked cherubs standing at the sides: one weeping and holding a handkerchief to his face, the other holding a flaming torch and dramatically gesturing skywards. Above, an entablature and shelf, then a sort of urn raised on a series of bases, with somewhat damaged festoons of leaves and flowers to each side, ambitiously carved. To each side is a smaller plinth with a flaming lamp in the shape of a stylised shell or boat, very appealing. Underneath the panel is a wavy (gadrooned) projecting shelf, which recedes at its base to a panel with a second inscription, with at the sides small winged cherub heads and wreaths. At the base, a sort of apron made by a small shield of arms over two crossed palm fronds, with hanging drapes caught up at the sides in knots with drop folds. Another pair of winged cherub heads are underneath, and below these, twining trails of carved flowers. Really rather interesting sculpturally.

Walter Bernard, d.1746:

Our only grand 18th Century monument, and perhaps we should have placed it among the altar tombs, as this is what the base of the monument is. Walter Bernard, d.1746, 'Alderman and late Sheriff of this City; in both which Stations He acted to the General Satisfaction of his Fellow Citizens'. A grand monument of coloured marbles and many architectural features. The base, as said, is an altar tomb or tomb chest, placed against the wall, with central section forward, bearing the inscription; the receding sides have upon them free-standing flaming pots. The central part then rises as short stage carved in corrugated fashion, above which is a tall panel of white-streaked dark marble which has upon it a tall slate-coloured obelisk, bearing a coat of arms in a cartouche with the usual knight's helm, Acanthus leaf surround, and crowned with a bear. All finely carved. All of this is framed with two pillars of brecciated marble with Ionic capitals bearing a shelf. On top of that, a central, flaming pot is attached to the wall, and flaming shells are on the sides above the pillars. The variety of marbles and free-standing pots of this many-layered monument make it a grand and ostentatious demonstration of wealth.

Grand tomb of Walter Bernard, d.1746.
So these are the grand tombs of St Helen's Bishopsgate, and we now move on to the smaller monuments, which still include some splendid things, including some of sculptural interest.
16th and 17th Century Monuments
The bulk of these monuments have already been covered, but there are another half a dozen mural (panel) monuments which we note here:
Sir William Pikering [Pickering], d.1542, (cf the later Pickering noted above) with a long Latin inscription, on honey coloured marble or alabaster, with narrow frame, side pilasters with black panels on the shafts, and strapwork above and below. Top centre is a small circlet with a crown device on a plinth – it would once have been a large circle attached at four points to the centre – and to the sides, two broken bases which would once have supported small pots. A characteristic piece of the 16th Century.
Alberico Gentili, d.1608, with long Latin inscription, gilt on black panel with alabaster surround, side pilasters decorated with black shafts and central baubles, elegant open strapwork above and below, and spiked ball termini on the sides, the centre top enclosing a little painted relief portrait, labelled Gentili. Other small details include heraldic seated figure and griffin, an open book, little gilt disks etc. Apparently much of it is a restoration of 1877: but of most remark is that the monument is so similar in general design to that of Sir William Pickering, made over half a century previously: the strapwork above and below, the side pilasters with their black shafts bisected by a circle, the rolling brackets at the side and most of the other details. Perhaps this was the 19th Century restorer at work, copying from the earlier monument as a model.
Valentine Mortoft, d.1641. 'Having lived comfortabley with two wives: The first Ellen Glover, by whome hee had William, who was living at his death. His second wife Margaret, Eldest daughter of Sir Hugh Hamersly Kt & Alderman of London, by her hee had issue four Sons, and three daughters of Which hee left Liveing one Son & one Daughter'. Gilt text on a black backing, with dark frame with mouldings, small shields at the top corners and the centre, Corinthian pillars to the sides, and pilasters outside and further back. Above, an entablature and a segmented pediment which is broken at the top to allow for the shield of arms, which bears a low relief stag with a bird perched on the antlers, and has the usual flourishes and curls around, and knight's helm. At the base, between two scrolly supports is a framed panel with the inscription 'The memorial of the Just shall be had in Everlasting Remembrance.' – the 'J' looks unfortunately like an 'l' to modern eyes. At the bottom are carved two scrolls with festoons, and there are two more small brackets which have upon them carved cherub heads with small wings. Not dissimilar monuments were still being produced a hundred years later. The monument is the work of Nicholas Stone the Elder, whom we met as the sculptor of the monument to Sir Julius Caesar Adelmare, noted in the grand monuments at the beginning of this page.
William Finch, d.1672, with long Latin inscription, gilt on black oval panel within a leafy border, fitted within a rectangle. There are two Ionic side pillars, with black shafts, and a segmental pediment above, broken to admit a scrolly cartouche with arms, finely carved. At the base, two fluted supporting brackets with small winged cherub heads, and a central panel commemorating Esther Finch, d.1673, and a lower panel with arms and two small festoons of fruit, and lightly carved ribbons. Indeed, the general pattern apart from the central oval is rather similar to that of Valentine Mortoft above. There is also a floor slab to his son, George Finch, d.1710, with coat of arms.
John Tufnell, d.1686, oval with plain moulded border, and at the top, an oversized keystone bearing a small shelf on which stands a small object which may be the base of some lost coat of arms. At the base is a carved shield of several crosses, with leaves at the sides. There is also a floor slab to him, from St Martin Outwich. I do wonder about monuments like this, with an oval in such a plain border at such an early date. There are a few other examples: one in St Giles in the Fields (Robert Berthe, d.1677), and further afield, Robert Devenish, d.1704, in Mortlake Church, for example. But far more usual are to have such ovals as the centrepieces of more splendid surroundings of sculpture and architecture – a typical example in the City would be John Lilburne, d.1678, in St Stephen Walbrook. I wonder if these lone ovals such as William Finch are the surviving central panels from lost or broken monuments, reset in rather plain frames in the 19th Century.
John Standish, d.1686. Rather a nice monument: the central panel, with thin upper shelf, is flanked by carved scrolls, leaves and branches, lapping over the top and leaving a central space within which is a small pot. At the base is a grim cherub head, with broad wings extending the full width of the monument, from which drapery loops round back the centre; a small shield of arms is beneath. Unusual.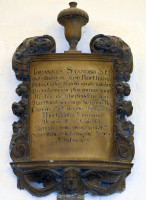 John Standish, d.1686.
18th Century Monuments
The 18th Century monuments in the Church introduce us to the Cartouche, the shield-shaped or violin-shaped panel with sculptural rather than architectural Baroque surround, which is perhaps the most beautiful type of mural monument. Cartouches appear in the late 17th Century, but had their heyday in the first half of the 18th Century, and the three examples at St Helen's Bishopsgate date from the earlier part of that period: Henry White and Gervash Reresby from the 1700s, and Thomas Clutterbuck from 1714 (mini-cartouches just for the coats of arms of a monument are much more common). Towards the end of the century we come across the obelisk monument, starting with Peter Gaussen, d.1788, the best of the five in the Church, but the group as a whole make an interesting collection because each of them has a different shaped obelisk. The point of the obelisk, forgiving the pun, is that it is an Egyptian symbol evoking death and rebirth. However, we start the century with an oddity:
Thomas Langham, d.1700, and detail.

Thomas Langham, d.1700, and wife Eleanor, d.1694, their daughter Rebekah, d.1692, and her husband Benjamin Rokeby, d.1732/3. An interesting composition: the panel has a double border, pinched in at the top by two carved, moulded brackets supporting side shelves, as if the tops of non-existent pillars; outside of these are receding Ionic pilasters. The central position above the panel, in between the empty side shelves (which may once have supported small bowls or the like), is a shield of arms with the usual knight's helm, here with a dove on top, and surrounding Acanthus leaves. At the base is an apron, with carved brackets, and a central cartouche of arms, painted. From St Martin Outwich.
Henry White, d.1702/3, Merchant of Bilbao. A fine cartouche, the first in our series, with a heart-shaped central panel, scrolling to the side, forming niches above for two winged cherub heads to peek out, and with a shield of arms with frondy leaves on each side, and a water bird above. Lower down, the spaces created by the constricting base of the heart contain relief carving of flowers – roses and more daisy-like ones – and at the base, a further cherub head with crossed wings. Elegant and refined.
Gervash Reresby, d.1704, the second cartouche. This one has drapery at the top and upper sides, two rather worn winged cherub heads beneath – it is unusual to have such a clear break in the sculptural framing to the sides of a cartouche. At the top, a mini cartouche of arms, with knight's helm and some residual animal on top, and scrolly acanthus leaves to the sides. The base rests on a slightly carved block, and it seems that some of the lower border of the monument has been lost.

Cartouches, early 18th Century: White, Reresby and Clutterbuck.

Hannah (Stanley) Goodman, d.1708 and Mary (Smith) Goodman, d.1713, the two wives of Charles Goodman, and an infant son, also Charles Goodman, d.1714. A panel with upper and lower shelf, a cartouche with painted arms above, and a curvy Baroque apron below. The monument would once have had side borders, perhaps an outer frame, some pediment above, and perhaps some further coat of arms on the apron. From St Martin Outwich.
Thomas Clutterbuck, d.1714, and Jasper Clutterbuck, d.1697. Cramped text on a small but beautiful cartouche (see picture above right), the third in the series in St Helen's, though it came from St Martin Outwich, with fern-like scrolling on the side, and above, a shield of arms with two winged cherub heads peeking round the sides. A perfect thing.
Francis Bancroft, d.1727, a black panel with three frames, and an upper shelf and entablature, giving a fireplace effect, and making effective use of coloured marble. Above is a large painted cartouche of arms with winged knight's helm and free-standing obelisks on each side, little Egyptian symbols of death and the eternal life of the soul. At the base of the panel, brackets carved with leaves with a central apron carved with strapwork, reminiscent of work of a hundred years previously. Apparently the inscription and most of the monument are of more recent date than that on the monument, which would explain the mixing of styles.
Ann Robertson, d.1730, and several others from the Robertson and Haily family through to 1846. Plain white panel with a black backing. I would think it almost certain that this piece was put up no earlier than 1790, and most likely in 1830 on the death of William Haily.
Richard Backwell, d.1731, with Latin inscription and noting that the monument was put up by his son of the same name, on a central panel with a broad frame, open pediment with carved flowers dangling on the sides. Simple, conventional, but elegant enough. On top are arms in a cartouche; below, a shelf and flat apron with three shields.
Major General George Kellum, d.1732, noting that he served under 'the best of Princes', King William III, and then under John, Duke of Marlborough. Classical marble tablet, with pilasters to the sides, blank curved pediment above, apron with curvy front piece below, all in coloured marble but without ornament, and at the base, a corbel with a carved flower or opening bud, or perhaps opening bunch of grapes.
Charles Burdett, d.1737, and wife Mary, d.1758, erected by son Thomas Burdett. Panel with upper open segmented pediment, more a curved shelf really, a small pot on top, with an electrical wire inelegantly looped around it, and below, a curved apron bearing a cartouche of arms with small Acanthus corbel at the base. A case of a panel which in design terms looks as if it has something missing, presumably to save on the cost: the Jennings monument noted below is similarly cheeseparing.
Robert Dingley, d.1741, a jeweller, his wife Susanna, d.1747, who had six children of nineteen who survived them, one of whom, Robert, erected the monument, which also commemorates his maternal grandparents. The panel has upper and lower shelf, and on top is a hefty drape piled up as if a pediment, and hanging down the sides, twisted rather than drop folds, and in the centre of this, a skull, as a memento mori. The whole is on a dark, streakey backing panel, made in several pieces, and at the base is a shield of arms.
Ann Jennings, d.1773, with a short eulogy in delicate script. Orangey panel with upper shelf and a relief pot above, severely classical, and below, a small shelf under which is a deep apron, upon which are carved two crossed frondy branches; a small cartouche support beneath. This lower part to the monument is in lined grey marble.
John Smith, d.1783, with the inscription that 'By Strict Probity, Sincerity and Benevolence, he endeared himself to ALL who knew him: But more especially to the Poor and Need,y by kind Condescension and boundless CHARITY. Reader, Go and do thou likewise.' With receding side pieces in brecciated marble, a pediment above, and on top of that, an oversize carved cartouche of arms with small helm and acanthus; at the base, a plain, streaky grey apron between two supports (see picture at top of page).

Peter Gaussen, d.1788, obelisk monument with fugure sculpture.

Peter Gaussen, d.1788, and in smaller script, Peter Gaussen, d.1759, his wife Jane Gaussen, d.1747, and further Gaussens through to 1804. An obelisk monument of the better kind, with above, a group of a standing girl and three cherubs. She is Classically draped, with a loop of drapery over her head, a light clingy garment hanging down to her feet, which are bare rather than sandalled, and likely caught at the waist, though we cannot see this. Her nearer arm is bare too, and Classically muscular. The finger of this hand points at the portrait of her husband, in relief on an oval shield: points rather too closely, for the nail almost touches his nose, and her other hand rests atop the shield and the balding head. The shield is held up by one of the cherubs, and a second sits in front with a ribbon, while a third presses against the standing figure's leg and holds up the other end of the ribbon – there is a motto on this: 'With charity, God is well pleased'. As a whole, the group is lively, Baroque and anything but Classically calm: the effect is enhanced by the tortuous geology exposed in the marble of the obelisk behind them. All this rests on a shelf, with the inscribed panel underneath, and to the sides, receding pilasters with carved flaming torches, most elegant, upon their shafts. At the base is a shield of arms in a wreath of carved leaves, with ribboning above, and two side supports, shelly in nature, and a lower central one, as an Acanthus leaf in a corbel.
Henry Peter Kuhff, d.1796, son Peter Kuhff, d.1786, a child, and Frederick Charles Kuhff, d.1792. Our second obelisk monument, the obelisk being above the thinly bordered panel with the monument's inscription, in dark marble, and with upon it a carved pot with fluting and a Roman repeating pattern. This obelisk is slender and elegant, and occupies about three fifths of the height of the monument, about as much as is reasonable without making the monument appear unbalanced.
George Nibbs, d.1796, of the Island of Tortola, and Barister at Law of the Inner Temple, plain marble panel with upper shelf and lower moulded supports.
Elizabeth Ursula Hutchinson, d.1799, husband James Hutchinson, d.1807, and family through to 1826. With fluted sides to the frame, upper shelf, and above, a pot carved in relief, directly against the wall. At the base, the brackets bear symmetrical carved leaf designs.
Monuments from 1800-1850
The majority of 19th Century church monuments are from the early decades, the numerous white marble on a black backing type, with the design frequently in the form of a tomb-chest end, with upper shelf, little legs below, and perhaps a lid above, or a small pediment with 'ears' (acroteria). The monuments to James Hester, John Williams and the Revd. James Blenkarne epitomise the type in St Helen's. The sides of the panel can angle outwards, giving a casket end, as in the memorial slabs to Barbara Gould Simpson and Samuel Winter, for example. Often these tablets are without sculptural adornment, but we may have a high relief pot or urn on top, typically draped, as with Edward Edwards, Revd. John Rose and Henry Ward. The Jane Blenkarne monument has a draped casket on top of a tomb chest end design, all in pale marble, unusual in St Helen's in having a visible signature of the sculptor, William Behnes. Three out of the five obelisk monuments are among the 19th Century monuments, rather late for such things.
Richard James, d.1800, and Thomas James, d.1801, infant sons of Hester and Richard James noted below. Roundel with surrounding frame of colourful alabaster, about as late as coloured monuments are found until very late in the 19th Century when there was a revival, and on top, a small bowl with leaf-shapes carved around the centre, and drapery (see picture further down on pots, left). There is a white marble supporting bracket below.
Mary Teasdale, d.1804. Panel with fluted sidepieces, upper and lower shelf, on a black backing cut to form a pediment, on which is a small painted coat of arms. The whole thing rather broad and squat, and looking as if it had lost a lower half. From St Martin Outwich.
Edward Edwards, d.1818, as a tomb chest end with upper shelf bearing a broad, flaming pot carved in high relief, on an oval backing panel.

Obelisk monuments, later variations: Kuhff, Miles, Thompson and Ellis.

John Miles, d.1814, the large panel (with room for additional family members to be added, but which never were), with upper shelf, most solid, and curly side pieces with carved acanthus leaves, generously large and heavy. Above the shelf are acroteria at the sides, and in the centre, a tall draped pot, itself with acanthus leaf carving, on a short pyramidal backing: this is an example of a pyramid monument where the pyramid is rather less than half the total height of the work. At the base, are two carved supports, again with leaf carving, and between them, a curved plaque bearing relief carvings of two crossed ferny branches. On a dark, stained backing.
Revd. John Rose, d.1821, with an upper panel supporting a pot with fairly ornately carved drape upon it, in relief, on a shaped black backing (see below, right). From St Martin Outwich.
Lt. Col. James Cruickshank Grant, d.1826, of the Honourable East India Company's Bengal Army, erected, originally in St Martin Outwich, by his comrade and friend Captain Thomas Robinson. Crisp panel with upper shelf, relief pot, half-side pilasters and carved leaf corbels, on grey marble backing. An unusual design (below centre).
Henry William Ward, d.1826, wife Ann, d.1848, son Henry William Ward, d.1878, the latter's wife Mary, d.1864, and sister Mary Plummer Ward, d.1881. Panel with upper and lower shelf, small draped pot above and carved-leaf feet below, on a shaped black backing.
Barbara Gould Simpson, d.1827, simple casket end on a grey backing. She was wife of Nathaniel Simpson, whose monument is noted below. From St Martin Outwich.
Hester James, d.1828, and husband Richard James, d.1831. Plain panel cut with feet, and upper shelf, on a plack backing, supported on two small brackets.
Elizabeth Thompson, d.1828, daughter Anne Hedland Boulton, d.1826, and husband Laurence Thompson, d.1855. A late obelisk monument (see picture among obelisk monuments above). There are pilasters to the sides with fluting, a curvy base and central support carved as a leaf, and an upper shelf, which divides the monument in two. The upper portion, accounting for perhaps three fifths of the height, is the grey marble obelisk, with a smaller obelisk of marble within it, bearing a group of carved Classical figures in high relief. There are three, all female. In the centre, a seated girl wearing a hood, and with one arm across her breast, the hand within her thin drapes; I think she is the bereaved mother of the daughter, who died aged just 17. A second figure kneels beside her, clasping her other hand to comfort her, while the third figure, standing and wearing a long cloak above her Classical drapes, touches her shoulder, and holds her other hand aloft pointing heavenwards. The carving is not especially careful, or may have decayed somewhat, but the group as a whole form a nice triangular composition, with some good lines, most especially along the bare arm of the standing girl and down through below, hands and knees towards the bottom left.
Thomas Greenaway, d.1829, and wife Jane Greenaway, d.1817. A white panel with nipped corners on a streaky grey marble backing, with feet, an upper shelf of white marble, and above, rimless pediment with 'ears' (acroteria) bearing a carving of a snake swallowing its tail, an ancient Egyptian and later Greek symbol, symbolic of nature renewing itself, thus here, rebirth of the soul (for more on snake sculpture and symbology, see this page).
John Williams, d.1831, and wife Susan, d.1846. White rectangular panel with the black backing as a tomb chest end, with upper shelf, eared pediment, and feet – far less usual than the normal case where the white marble is cut to form the tomb chest end rather than the backing.

Typical black and white panels from the 1830s: Williams, Baumer and Winter.

Frances Baumer, d.1832, a white marble oval with black surround, and at the top, two crossed, wilting branches, olive and perhaps rather withered oak, as symbols of peace and endurance. Elegant in a light, Adams sort of way.
Elizabeth Ellis, d.1833, and husband, the Revd. John Joseph Ellis, d.1855, rector at St Martin Outwich, where the monument was taken from. An obelisk monument, with lower part centred on an inscribed plaque with upper shelf, bearing a pot in relief, asymmetrically drapes, and above, a shield of arms. The obelisk and backing panel are of a grey, veined marble. The monument appears to bear a signature, but I could not read it.
Revd. James Blenkarne, d.1836, Vicar of the Church for 36 years. A simple white marble plaque cut to the shape of a tomb chest end, with a shelf or lip below the lid, and on a shaped black backing with two plain supports (see picture below left).
Alice Escott, d.1837, 'housekeeper to the late Sir Robert Wigram, Baronet, of Crosby Square'. As a casket end, with scrolling on the lid and carved shells on the brackets.
Samuel Winter, d.1837, of the Isle of Thanet, and nephew of the same name, d.1823, as a casket end, with the lid finely carved with a symmetrical design of stylised flowers, leaves and curls; below the basal shelf are two feet carved as acanthus leaf corbels, and the whole is on a shaped black backing. A fairly ornate example of a common type of monument of this period.

Revd. James Blenkarne, and wife Jane, and relations, the latter by William Behnes.

Jane Elizabeth Blenkarne, d.1840, and infant child David, and sister Sarah Beavington, also d.1840. Blocky little monument as a tomb chest end, bearing a relief of a casket covered with a drape. It is all of a consistent style: blocky shape, blocky feet, blocky casket with solid drapes. It is signed by William Behnes, a sculptor of some distinction who was responsible for a fair number of monuments.
Thomas Rowland Alston, d.1844, and wife Eliza, d.1864. Panel with shelf above with simple scrolls, a chunky lower shelf, two supports and a black backing.
Beaumont Atkinson, d.1847, and son John Joseph Ellis, d.1838, an infant. Styled as a tomb chest end, shelf with mouldings above, lid bearing crossed branches, feet with simply carved leaves in relief, all on a black backing. From St Martin Outwich.
Nathaniel Simpson, d.1849, Secretary of the South Sea Company, and an infant grand-daughter. As a tomb chest end, with pediment above, shelf and two small moulded feet below, on a black backing panel. From St Martin Outwich.
Monuments after 1850
The reason to break at mid-19th Century is because the couple of examples we happen to have in St Helen's Bishopsgate from the late 19th Century belong with the Arts and Crafts revival style which reached its peak at around 1900 or shortly after. This is particularly so with the multicoloured panel to the Revd. John Edmund Cox.
Brasses:
To avoid this page being unduly long, we touch only briefly on the brasses, noting there is a good collection of standing figures, male and female, dating from the 15th and 16th Centuries. They include Nicholas Wotton, d.1482, from the church of St Martin Outwich, where he was the rector, and a noble knight in armour in the person of John Leventhorp, d.1510. Also notable are Robert Rochester, d.1514, and a 1530s figure of a lady in a long robe with two tall heraldic lions inscribed upon the flanks. Best of all is the slender, supple figure of Margaret Wylliams, shown with her husband Thomas Wylliams, d.1495, which in a few elegant lines shows the curvy silhouette of a medieval beauty.
There are also a number of modern brasses, including Alexander Macdougall, d.1835, William Jones, d.1882, Charles Matthew Clode, d.1893, Revd. John Alfred Lumb Airey, Rector, d.1900, James Fletcher, d.1907, and Percy Richard Venner, d.1932, and Maud Edith Venner, d.1966. These serve to show the conventional type of such brasses, which involves typically black letter or capitalised text, with the initials in red, some sort of inscribed border which can bear a repeating design, and a feature made of the corners. The panel to James Fletcher includes the arch of a Gothic window in the design.
Also in the Church:
A couple of fragments to note - a Purbeck marble fragment in the wall from the William Clitherow Monument in St Martin Outwich (he died in 1469) – a simple rosette in a circle, with a central shield carved in relief, and beneath, a Moorish or Venetian fragment, 12th or 13th Century, found inside a monument.
There are many floor slabs, from the 17th, 18th and early 19th Centuries.
An alabaster World War I memorial, Gothic, with a central window to hold the lists of the fallen, and small carved angels at the sides in their own Gothic niches: female to the left, male to the right, holding ribbons which together read 'Their name liveth for ever more'
Octagonal-basined font, in dark marble with inclusions, and red curvaceous shaft
Grand door-cases from the 17th Century. One has reclining angels on the top, a central cartouche of arms with flamboyant scrolling, inserted into a most elegant swan-necked broken pediment; in the spandrels of the fan above the door below, the dark wood is carved to show two further angels, their wings spread. A second has cherubs and lions as supporters.
A wooden pulpit, with a high and large sounding board
Sword rests, including one in iron and crowned, the other a wooden thing with angels at the top.
A brass eagle lectern
A late 19th Century reredos, rather gaudy, with many gilt panels containing religious scenes each involving two or three statues, painted, and rather in the vein of Victorian story-book design when viewed too close, but splendid enough when seen from a little distance.
With many thanks to the church authorities at St Helen Bishopsgate for permission to use photos from inside the Church, and in particular to Mike Burden there; their website is at http://www.st-helens.org.uk/.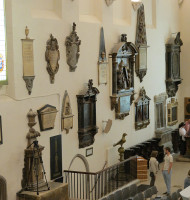 Down St Mary Axe to to St Andrew Undershaft // South to St Olave Hart St // Or to the tower of All Hallows Staining // or south east to St Katharine Cree // South west to St Mary Woolnoth // Eastward to St Botolph Aldgate
City Churches // Introduction to Church Monuments // London sculpture
Visits to this page from 6 December 2014: 1,476 since 1 December 2022