St Mary Woolnoth and its sculptural interest
St Mary Woolnoth, on the corner of King William Street and Lombard Street, by the Bank of England, has one of the most distinctive exteriors of all the City Churches. Inside, it has an atmospheric interior, and a modest collection of memorials dating mostly from the late 18th and early 19th Century.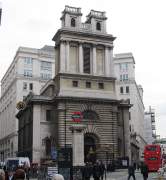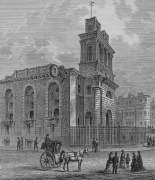 Two views of Hawksmoor's St Mary Woolnoth.
The site has a long history, the first church being built where a pottery and an ancient temple had once stood: so much pottery was found that in less enlightened times it was taken away to mend roads in Southwark. An early 15th century church was damaged in the Great Fire enough that it required a rebuilt by Sir Christopher Wren, but afterwards became dilapidated, and was rebuilt by Nicholas Hawksmoor, previously Wren's assistant, with details by James Gibbs, another notable architect, and was completed in the 1720s (some sources say 1719).
Until the dissolution of the monasteries, the right of presentation belonged to the Convent of St Helen Bishopsgate (still extant as part of St Helen Bishopsgate, with many beautiful monuments), and afterwards passed to the Goldsmiths Company. There are different ideas about where the name came from, including that it derived from some nearby wool-weighing station, and that it was founded by a Saxon, Wulfnoth, on the site of an ancient temple. Perhaps it was this that led Hawksmoor to model the interior on a Roman atrium.
But first the outside. The site is where King William Street meets Lombard Street, which Hawksmoor took advantage by angling the frontage to the former, giving a better front view than is the case for many City Churches. In front of the rather squarish nave is a wide but not deep frontage, rising to two short towers, making the church somehow give the impression of some squat, miniature cathedral. An excellent thing.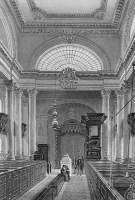 Interior, 1840s; the pulpit has since been moved to the left hand side.
The interior is almost square in plan, and seems to have rested unchanged from the 1870s when William Butterfield in gave it a makeover, removing the galleries. At each corner are a group of three great Corinthian columns, with matching pilasters on the walls, which have dark wood panelling with minor ornament. The mouldings to the ceiling too are panelled with various ornaments, including winged cherub heads and foliage, and there is a great coat of arms with lion and unicorn, three larger sculpted winged cherub heads below, set under one of the semicircular windows. The altarpiece is a strange, solid thing, dark wood with red panels and gilded detail, two twisted pillars, heavy, three cherubic heads above the panel in shaped pedimental position, seven more cherubic heads on entablature above, resting on the pillars. The whole in a recess under an arch, and rather effective and entirely in keeping with the mood of the church.
The monuments, then:
Deputy Gabriel Smyth, d.1737, and great grand daughter Mrs Ann Todd, d.1769, Robert Todd, d.1777, and the latter's daughter Elizabeth Todd, d.1820, added on the apron to the monument – the upper part is a panel with Baroque moulding and shield at top and a small pot with eternal flame. Crisply cut - see picture at top of page.

Simpson of Upper Thames Street's panel to Henry Fourdrinier, d.1799.

Henry Fourdrinier, d.1799 and wife Jemina, d.1781, and two children Edward and Randolph, square panel with flanking pillars, rather blank-faced pair of cherubic heads below. Pillars support a broken pediment with a small central urn. A more substantial monument than the others in the church. Signed by the stonemason Simpson, an obscure craftsman whose premises were in Upper Thames Street by London Bridge; he is presumably the same man who made the panels to Thomas White, d.1805 in St James Garlickhythe and Miles Stringer, d.1799, in St Magnus the Martyr.

Sculpture of a mourning girl, to Revd. William Gunn, d.1806.

Revd. William Gunn, d.1806, curate of St Mary Woolnoth and Lecturer of the lost City Church of St Mary Somerset. The only panel in the Church with figure sculpture, high up in the gallery so as to make it difficult to appreciate. We see a draped girl hugging a decorated classical pot on short pedestal, her head leaning against it. She has a nice pose, with body twisted so that she sits in three-quarter view, but with her upper body towards the pot almost in profile. All against a dark pyramidal backing. To the sides are acroteria ('ears') and beneath a shelf decorated with a Roman repeating design, is the inscribed panel, with inlaid black marble crosses to the sides, and floral carvings on the brackets below.
Revd. John Newton d.1807, and his wife Mary [Catlett] Newton, d.1790, a tall, pyramidal pale marble plaque against a similarly-shaped streaky grey marble backing. The tablet is signed J.B. The inscription, noted as being composed by the deceased, starts 'John Newton, Clerk, once an infidel and libertine, a servant of slaves in Africa, was by the rich mercy of our Lord and Saviour Jesus Christ, preserved, restored, pardoned, and appointed to preach the faith he had long laboured to destroy…' It is unusual to have a white marble obelisk on a dark one, with the inscription upon it rather than underneath, and this is explained by a note below, that Revd Newton 'directed [his epitaph] to be inscribed on a plain marble tablet'.
Mary Harryman, d.1813, and husband William Harryman, d.1824. The panel is within a frame, slanting inwards in a downward direction and curved at the base, with a small corbel carved with a bud below. At the top, carved scrolls and flowers in pedimental shape. I could not read the signature on the thin black backing.
Miles Satterthwaite, d.1815, and Mrs Ann Satterthwaite d.1816, and their daughter Mary Satterthwaite, d.1849. A rectangular plaque with a large draped lamp above against a dark obelisk backing, little heraldic device in gold and red below - see picture above right.

John Mallcott's panel to John Baron, d.1833.

John Baron, d.1833, a banker of Lombard Street, and his mother Eleanor, d.1843. Simple panel with upper shelf bearing a small pediment and acroteria; in the centre is a snake swallowing its tail, symbol of eternity (more on snake sculpture on this page). At the base, a deeper shelf and two supporting feet carved with anemone patterns. By the firm of stone masons J. Mallcott. There were three generations, all called John Malcott or Mallcott, and their work is dotted around the City Churches and elsewhere: the elder Mallcott's own memorial panel survives within the ruins of Christ Church Newgate.

Stone mason Burston of New Road: panel to William Kentish, d.1830.

William Kentish d.1830 and wife Ann, d.1838, both originally of Chatham in Kent. A plaque in the shape of the end of a chest tomb with a bright coat of arms (motto 'Strive and thrive'), and note of the will of Thomas Kentish of St Albans, d.1712 which arranges for the education etc of four boys, ideally named Kentish. The panel is by the obscure stonemason Burston of the New Road.
Revd Samuel Birch, d.1848 and wife Margaret, simple panel on brecciated background.
Revd Robert Dear, d.1872 and son, Revd RCL Dear, d.1871, an Oxford don who died of fever at Innsbruck, a small curiously bordered panel with a little cross in relief.
A tablet to Edward Lloyd, d.1712, who was a member of the church, and in the 17th Century started the Coffee House which in the 19th Century gave rise to the Corporation of Lloyds, which body erected the tablet in 1931 – it is a dark oval plaque with a miniature coat of arms borne by two tiny lions, successfully looking more ancient than most of the other monuments.

Edward Lloyd, 1930s panel to founder of 'Lloyds of London'.

We note that adjacent to the church on King William Street, and abutted against it, is the former entrance of Bank Station, designed by the City architect Sidney R.J. Smith, a low construction of five bays, making a rather nice ensemble with blocked windows behind, and bearing two large sculpted figures in high relief: they are Electricity and Speed, by Oliver Wheatley, a sculptor of some minor prominence in the art nouveau era.

Oliver Wheatley's sculptures Electricty and Speed for Bank Underground Station.

We can explore further, behind St Mary Woolnoth, thus between King William Street and Lombard Street, in Post Office Court. That is where the General Post Office had stood from the 1630s to the 1820s. Here on a wall are half a dozen obscure bits of sculpture: they apparently come from a later building on the site, but that was put up in at the end of the 1930s, and at least one of the plaques commemorates the General Post Office with the dates 1630-1951. Despite the VR monogram on a couple of the plaques, 1951 looks right for the set - conceivably associated with the 1951 World Fair? Along with the GPO plaque with carved oak leaves and acorns, we see a phoenix rising from the flames, a crane and stag in the style favoured by H.W. Palliser, heraldic shields, doves with a shield, and a ship.

With many thanks to the Church authorities for permission to show pictures from inside St Mary Woolnoth; their site is at http://stml.org.uk/about/

Post Office Court sculpture, ca. 1951.

Just west to St Stephen Walbrook // West along Cheapside to St Mary le Bow // North and East along Cornhill // East along Fenchurch Street to St Gabriel's churchyard

City Churches // London sculpture // Sculptors // Introduction to church monuments

Angel statues // Cherub sculpture

Visits to this page from 19 Feb 2012: 7,950