Monuments in Mortlake Church, East Sheen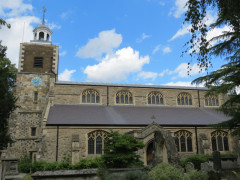 Mortlake Church.
The Church of St Mary the Virgin, Mortlake, in East Sheen, South West London, was built in 1543, and the Tudor tower survives from that time. It replaced a previous church in a different location, and a 15th Century font survives from that building in the present one. The church grew steadily since its erection, with the south aisle being added in 1725 the north aisle lengthened in 1816, with extension to the south aisle and the nave in an early Victorian restoration by the architect Samuel Beachcroft in 1840, and William Blomfield making further changes in 1885 and 1906.
The monuments date from the late 17th Century onwards, with three from the 17th Century, then fairly evenly split between the 18th Century, early 19th Century, and Victorian times, with a couple more from the 20th Century.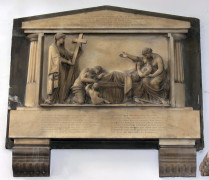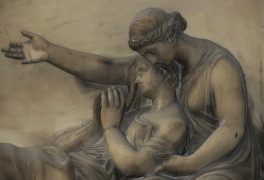 Monument to Ursula Sidmouth, d.1814, and detail.
We start with four monuments from the family of Viscount Sidmouth:
Rt Hon Henry Addington Viscount Sidmouth, d.1844, Prime Minister in the 1800s, described on the inscription as 'a statesman – through nearly half a century of service in the highest offices of England, faithful to his sovereign, and devoted to his country'. Rather a nice monument, the inscription is on the front of a casket end, with striated side piece, the other side covered by a heavy drape. Diagonally along the base is laid a long crucifix, with an open Bible in front, and on a small shelf is some coronet on a tasselled cushion. There are two heavy supporting brackets, and perhaps at one time an apron between them.
Ursula Mary, d.1814, wife of Henry, Viscount Sidmouth (above), who erected her monument. The inscription, unusually, is on the pediment of the monument, the central panel being occupied by Classical figure sculpture. The collapsing figure of Ursula reclines on a divan, her upper body and head held up by a seated female figure, perhaps an allegory of Music, for she appears to have a harp at her feet. At the other end of the bed, another female figure, semi-draped, mourns against her feet, while holding an infant; a second, somewhat older child is seated on the floor. To the left, an allegorical figure of Religion stands, with tall crucifix. The faces and drapery and carving generally is good, and the posing excellent, with an unsymmetrical but well balanced composition. To the sides are fluted Ionic pilasters, and beneath is a deep base with a poem inscribed on it. Two heavy brackets complete the monument, a note of discord in the otherwise well proportioned whole. But who was the sculptor?
Hon. Henry Addingon, d.1823, eldest son of Henry Viscount Sidmouth and Ursula Mary his wife, noted above. As a rather broad casket end, with feet, pediment, with minor decoration, on shaped black backing, somewhat damaged.
Mary Anne Ursula, d.1847, daughter of Viscount Sidmouth, with solid pediment bearing a relief of a chalice in a roundel. Below, a narrow shelf and two shallow brackets. All on a shaped black backing, the whole being rather cracked.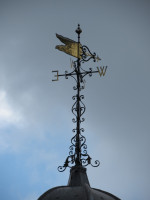 Weathervane.
The rest of the monuments, in date order:
17th Century: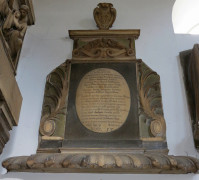 William Hawkins, d.1677.
Jonathan Clark, d.1670, and added later, John Clark, d.1679, his brother, who was a 'Major in the Army which Restor'd King CHARLES the Second under ye Conduct of Gen; Monck, afterwards made Captaine in his Ma[jes]ties Guards whence Commanding his Company over into Flanders he contracted a disease whereof he dyed…' A black panel with a rich alabaster surround, with frame, curly side pilasters, somewhat carved, completely broken pediment with central coat of arms and the sides little more than curled acroteria, each enclosing a carved flower.
William Hawkins, d.1677, with a Latin inscription on an oval panel, within a rectangle. It looks rather unusual because only part of the surround is in place. To left and right are scrolly plants, on what appear to be the lower parts of receding pilasters. Above, some sort of entablature with shelf on top, and bearing a carved device of two S-shaped scrolls and what looks like an upside down festoon. On top, a shelf, bearing arms within a cartouche. The base is a thick shelf, rather broader than the rest of the monument, with a shell design. What form did this monument start in? Perhaps with a double frame, indicated by the width of the lower shelf, and with the upper panel bearing the festoon – which we must be suspicious of as being the wrong way up – as one of three across the upper part of the monument. Regardless, what is left shows a largeness of carving appropriate to the scale of a large monument.

Francis Coventrye, d.1699, and details of figures, sculpted by William Kidwell.

Hon. Francis Coventrye, d.1699, the noblest monument in the church. The calligraphic text cut on a black panel states that he was 'second son, by a second marriage, to the Rt Hon. Thomas Lord Coventrye, Baron of Alsboroug[h] and Lord Keeper of the ye Great Seal of England in ye reigne of King Charles I'. To left and right, caryatid girls support a heavy entablature and broken swan necked pediment, with flowers over the curly ends, and a pot in the centre. Below, a small but complexly carved apron with festoons and a central shield at arms, shell-bracket below. Two further curly acanthus brackets to the sides. A winged cherubic head above the inscription completes the monument. The caryatid girls deserve study. Rather tall and slender, standing with crossed legs and leaning slightly inwards, they are anything but structurally supportive. They rest the pillar tops on their heads, the bent arms serving only to steady the mass above. Their faces are rounded, their hair curly, and their thin garments reveal rounded bellies and shapely thighs; each has the forward leg exposed in front of their long drapery skirts. Elegant and frivolous, particularly in the looped sleeves, which are beautifully carved. Prominently signed on the base of the left hand caryatid by William Kidwell, a sculptor of obvious merit who spent most of his life in Ireland; the same sculptor made a smaller but still elegant cartouche monument to John Harvey, in St Mary at Hill in the City of London.
Beneath it, a plain panel to his wife, Dame Margaret, afterwards wife of Sir John Thorold, who left a bequest to Mortlake parish, and a note that the monument, presumably to Coventrye rather than the wife, was repaired by W. Earl of Coventry in 1811.
18th Century: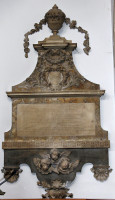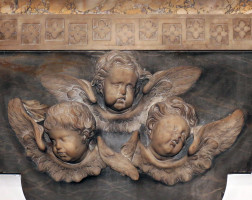 Nicholas Goschall and wife, mid-18th Century.
Robert Devenish, d.1704, wife Elizabeth, d.1701, monument erected by their daughter Mary, d.1743. He was 'Norroy King of Armes'. Inscription on a slightly domed oval, near circular, with a rim and a small pot on top.
Nicholas Godschall, d.1748, and wife Sarah, d.1750, with eulogies to each. An ornate 18th Century monument, with the rectangular panel bearing the inscription on a brecciated orangey marble backing occupying only the central quarter of the monument. Above, a tall truncated baroque structure, much taller than a pediment, has upon it two wreaths, nicely carved, and above that, a pot with loosely flying floral ribbons to each side, without a backing. Beneath, the apron is cut in baroque fashion, and has two side brackets as carefully carved shells; a central bracket is of acanthus design. Occupying the central portion of the apron are three cherubic heads, their wings overlapping. A most fine monument.
Will Henry Lambart, d.1766, an infant, rectangular panel with heavy black frame.
Harry Spencer, d.1769, and wife Elizabeth, d.1784, on an oval within a black frame.
Elizabeth Upton, d.1771, oval on a shaped dark backing, with lower shelf and upper one cut as the rim to an open pediment.
Peter Barker, d.1783, wife Clare, d.1829, and sons William, d.1823, and Thomas Dobbins, d.1806. As a casket end with anemone acroteria.
Frances Mary Coderc Browne, d.1791, husband William Browne, d.1803, and John Herbert Browne, d.1833. As a tomb chest end with upper shelf, cut out eared pediment, and little feet, on shaped black backing. Signed indistinctly by Woodiss, Sheen. This is the earliest of several monuments in the Church by this local family of stonemasons (see this page).
Jane Johnson, d.1795, oval in a rectangle, with border of simple pilasters, entablature, upper and lower shelf, with two small acorn-shaped pots on top, flower designs on brackets.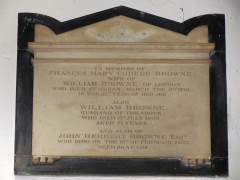 Tablet by local stonemasons Woodiss of Sheen.
Early 19th Century:
Elizabeth Francis, d.1804, and sister Harriet Francis, d.1803, and on a separate panel, Sir Philip Francis, their father, d.1818. The two panels side by side, with pilasters at the side (moved outwards on the right with the death of the father), acorn fineals at the upper corners, floral brackets below. All this placed above a door – though it may have been differently sited in the past.
Charles King, d.1814, wife Ann, d.1791, and son John, d.1807, who like his father was a doctor, and who was interred near Montivideo, South America. Later offspring recorded below. Shaped as a simple tomb chest end with small upper lip rather than shelf, and feet, on a dark backing.
Thomas Philip Bagge, d.1816, a child who died of measles while at an academy in East Sheen. Rectangular panel with shelf above, bearing a small urn with curly handles, on a shaped black backing.
Augustus Wheatley Moffat, d.1817, an infant, and Jane Moffat, d.1823, on a separate plain panel, the two forming a square attached to a larger square backing with two small supports. This plain monument is signed by the mason, but is mounted high on the wall and I could not read it; it might again be Woodiss of Sheen.
Catherine Cholmondeley, d.1823, wife of George James Cholmondeley of Cholmondeley in Cheshire. A roundel within a square with incised lines, this being recessed within a larger square border. Above a small shelf is a large cut-out pediment bearing a coat of arms in relief, and at the base, a small bracket bears the name Reeves & Son of Bath. Several works by that firm may be seen in Bath Abbey, others are across the West Country. Why then this piece in Mortlake? The clue would seem to be that the best of the Bath Abbey monuments by Reeves & Son is a figural piece to Elizabeth Moffat, d.1791, wife of William Moffat of Queen Square Bloomsbury; and here in St Mary are later Moffats, noted below. We may guess then, that the firm became known to the Church when that family were considering mounumental masons for their tombs, and was then picked up by the Cholmondeleys.
John Larpent, d.1824, and wife Anna Margaretta, d.1832, horizontal panel, clipped at the corners, with a surround of stone, and four small flowers at the corners, and signed by Woodiss, Sheen, on one of the modest supports, which, curiously, have been swapped right to left.
William Woolfe, d.1828, Vestry Clerk. On a tomb chest end with prominent shelf, cut out eared pediment bearing a carved wreath, little feet, on a shaped black backing. Another work by Woodiss, Sheen.
Four infant children of Edward Penrhyn and wife Charlotte, from 1829-1832. Wavy panel as if a scroll unwinding downwards from the upper shelf. On a shaped black backing, and with two small supports. This is the final work in the Church by Woodiss of Sheen. If we pause to consider these several panels, we find that they are all of a common type, the white marble on a black backing, so common in the early part of the 19th Century; two of which are of almost identical composition. Nothing that innovative, but nicely cut and put together. Mortlake is contiguous with East Sheen, so this is truly a local stonemason.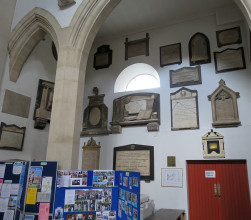 Collection of smaller wall monuments in the Church.
Victorian monuments:
Elizabeth Taylor, d.1837, 'Spinster, of Brick Farm, Mortlake', as a casket end on black shaped backing. Signed by E. Gaffin of Regent Street. The Gaffins were very prolific masons, particularly in the earlier part of the 19th Century, and this monument is typical of their work.
Henrietta Maria Scott, d.1837, panel with the inscription within a reserved Tudor arch, in a rectangular panel, castellated at the top, and with Tudor attached pillars to the sides. All resting on a dark shelf with two brackets. Unusual.
Sir Francis Molyneux Ommanney, Kt, d.1840, 'a liberal and cheerful benefactor' to the Parish, and wife Dame Georgiana Francis Ommanney, d.1854, rectangular panel on black shaped backing with small supports, and above, a very small shield of arms.
Henry… …. d.1849? A Gothic window monument, with a crucifix in the trefoil head of the arch, carved termini, and little baubles along the lower edge.
William Moffat, d.1854, with added inscription to his wife, Jane Moffat, as a Gothic window, with clustered pilasters, and minor carving, and below the lintel, nice downward pointing corbels. On a black backing.
Lewis Mullens, d.1850, an infant, white marble oval with carved bow at top, set into a rectangular black backing with extra triangle at the top to accommodate the bow. Two small brackets beneath. Signed T. Gaffin, 63 Regent Street, London – see note on Elizabeth Taylor, d.1837, above.
Thomas Nettleship, d.1864, wife Anne Ellen, d.1877, and offspring to 1906. Panel with shaped top enclosing a quatrefoil device.
Helen Gilpin, d.1866, wife of William Gilpin of Pale Well Lodge East Sheen, and Treasurer of Christ's Hospital. And daughter Harriet, d.1850. Pale panel with little flowers at the corners, on black backing.
20th Century:
James Wigan, d.1906, a helper in the Parish, brass plaque with incised black border, little red crosses at the corners, and the usual red capital letters.
Herbert Awdry Mais, d.1931, assistant priest. Pale rectangular panel on a serpentinite backing.
Some oval with long inscription, could not read, coat of arms at top supported by two lions.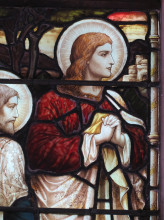 One of the stained glass windows.
Also in the Church:
The Fifteenth Century font, which is of stone, and octagonal in cross section.
Brasses to Abigail Rathleygh, d.1616, and to Richard Bifield, d.1664, the latter in a modern surround with pilaster, broken pediment etc.
Tablet of 1939 to Sir Brook Watson, Baronet, d.1807, erected by the Corporation of Lloyds in recognition of his services to Lloyds, as Chairman, Lord Mayor of London, and MP for the City. With receding pilasters, pediment with twin shields and wreaths in relief, and small stylised pots at the acroteria positions, and minor carving.
Tablet in honour of the crew of the 1st Mortlake Whaler Wangle III lost in the English Channel 1950 with emblem and small bronzy boat.
Modern small slate plaque to John Dee, 'Clerk in Holy orders 1527-1609, Astronomer, Geographer, Mathematician, Adviser to Queen Elizabeth I', with nice calligraphy.
Triptych above the door to the Tower, painted with nativity and Saints Anne and Joseph.
Hatchments.
Some decent stained glass, late 19th or early 20th C.
A Plaque noting the church enlargement in 1840 by the architect Samuel Beachcroft.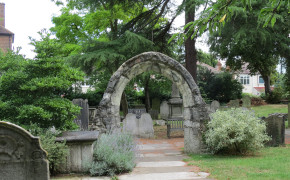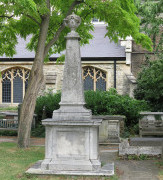 Medieval west entrance, and Edward and Samuel Athawes obelisk, late 18th Century.
The West entrance of the Church was removed in Victorian times and placed in the churchyard, which was sympathetically restored in 1980s. Among various tomb chests and the normal variety of tablets, may be seen those shown here, including one with a skull and crossbones, and another, less usual in design, with an elegant Greek pot with two cherubic heads in low relief. There is also an Obelisk to Edward Athawes, d.1767 and son Samuel Athawes, Virginia merchants.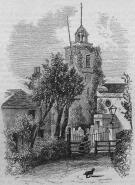 View of Mortlake Church and churchyard in the 1850s.
With thanks to the Church authorities for permission to use photos from inside the Church; their website is at http://stmarymortlake.org.uk/.
A couple of minutes walk from the Church, in North Worple Way, is the Roman Catholic church of St Mary Magdalene, which in its small churchyard has the tomb of Sir Richard Francis Burton, d.1890. The famous explorer of the East and translator of the Arabian Nights appropriately has a mausoleum in the shape of a Bedouin Arab tent, designed by his wife, Lady Isabel Burton (d.1896). An inscription on the front commemorates both of them.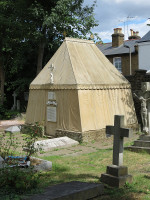 Mausoleum to Sir Richard Francis Burton, St Mary Magdalene RC.
Nearby, Twickenham Church // Kew Church // Richmond Church
Monuments in some London Churches // Churches in the City of London // Introduction to church monuments
Angel statues // Cherub sculpture // London sculpture // Sculptors
Visits to this page from 13 Mar 2014: 7,514