William Behnes (1795-1864)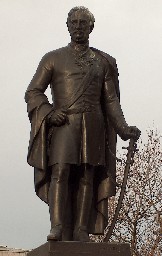 William Behnes's statue of Havelock.
The sculptor William Behnes was born in London, the son of a pianoforte maker originally from Hanover. He was brought up in Dublin, and studied art at the Dublin Academy. The family subsequently returned to London, and after some efforts in the family business, Behnes took up portraiture, studying at the Royal Academy from 1813, exhibiting there from 1815 and turning to sculpture in about 1819, after observing the success of the sculptor P. F. Chenu, who lodged in the same house. Over the next 20 years, Behnes became very successful, mainly with portrait busts, in a cool, unsentimental manner that fitted well to many of his aristocratic and military sitters, and portraits of children. He was also influential in that several important sculptors were either his pupils or his assistants at one time or another, including, by chance, several with the surname beginning with 'W' - G. F. Watts, Thomas Woolner, Henry Weekes, and M. L. Watson, as well as others such as J. H. Foley.
Unfortunately, Behnes did not spend his money wisely, and was declared bankrupt in 1861. He ended his life in poverty in 1864, a year after exhibiting for the last time at the Academy.
Behnes's best work is considered to be his statue of Dr Babington in St Paul's Cathedral, and his most well known is probably the General Havelock in Trafalgar Square. Behnes made several portrait statues of Sir Robert Peel, including for London (now in Hendon Police training school), Leeds (on Woodhouse Moor) and Bradford. As well as his full size statues and innumerable portrait busts, Behnes was also responsible for a variety of church monuments, from simple urns and high relief portraits to full sized figures weeping on gravestones in the early nineteenth century manner. Among these monuments is that in Paddington Parish Church to the famous artist Joseph Nollekins, with a panel in high relief.