Monuments in St Giles Ickenham, West London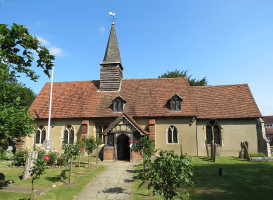 Ickenham Parish Church.
Ickenham, on the Metropolitan Line, consists of one shopping parade off a busy road which is Long Lane, and the station is on the other side of that. The Church of St Giles is at the corner. It has an interesting exterior, long, low, all tiled roof above painted stonework, and instead of a square tower, has a short wood-clad bell tower, with a steeple bearing the weathervane. This bell tower is important in that without it, there would be some doubt to the viewer that this was a church at all. The building dates partly from the late 14th Century, with the bell tower apparently 15th Century, and the porch and the north aisle added in the late 16th Century. The mortuary chapel is thought to be mid-17th Century, and there was the normal restoration in the 19th Century. Inside, the Church feels in two parts, the nave and chancel at one side, the bulky but shorter north aisle on the other, each with its own barrel-shaped timbered roof, and the mortuary chapel at one end of the north aisle. The Church all in all is no more than about 40ft long and perhaps ¾ that distance wide, giving a feel of medieval enclosure.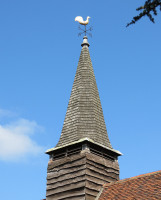 There are just over a score of wall panels, plus two pieces of freestanding sculpture, one of which is a bust of Robert Devereaux, Earl of Essex, c.1650, taken from a screen at Swakeleys. Rather battered, but still with a stern countenance, he appears to be dressed in contemporary clothing with a large collar, and some classical robe knotted over the shoulder and draped across his chest. Behind this is another small slate panel, to whom I could not see.
The bust stands in the 17th Century mortuary chapel, now the vestry, which contains several vertical niches, apparently for coffins from the great house of Swakeleys. Inscription plates remain in some:
Sir Edward Harrington (father of Sir James Harrington), and three of James's daughters – Elizabeth (x 2 – d.1647, 1654) and Katherine, d.1653.
Elizabeth Harington, d.1647, an infant, daughter to Sir James Harington of Swakeley, Knight and Baronet. A simple blocky panel with the lettering in capitals, with some of the letter 'N's inscribed the wrong way round.
Sir Edward Harington, d.1652, Knight and Baronet, eldest son of Sir James Harington, with a note of his place in the family. He married Margery Doiley and had 14 children. An unadorned block.
Monuments:
On to the monuments proper in the rest of the Church, which includes the second freestanding sculptural work as the oldest piece, a couple of pieces with figures in high relief, and among the plainer panels, examples of the signed work of several sculptors and masons, including two local stonemasons, E. Burgiss and Fassnidge & Son, both of Uxbridge.
Robert Clayton, d.1665, infant son of Sir Robert Clayton Knight, and his wife Dame Martha, who died shortly after his birth. A sculpture of a swaddled infant in marble, raised on a cushion, the whole on the tablet with the inscription. Touching.
Robert Shordiche, d.1676, 'sonn & heir of Richard Shordiche Esq, Lord of the Manor & Patron of Ickenham'. Blackened oval, horizontal in aspect, within stone border with festoon and winged cherub at the base, curls at side and top, and central apex shield. A sort of proto-Cartouche, and rather modest for the Lord of the Manor.
Thomas Vyner, d.1707, 'Executor of Sir Robert Vyner of Swakley, Baronet, in which Imployment meeting with great difficultie by the sutting up of the Exchequer in the Reigne of Charles the Second, he so much Impaired his health that for the Recovery thereof he travelled into Italy, and died at Rome'. On a slatey block, with the edges covered. Above it is a small brass, noting he died at Rome in 1707, with a skull and crossbones beneath, seemingly winged.
Mary Clarke, d.1771, wife of Revd. Thomas Clarke. A good example of a particularly attractive type of coloured monument based on an obelisk shape which appeared in the 1730s and lasted through till the 1780s or 90s. The inscription is on a white marble panel, with upper and lower shelves of a black-streaked white marble, and with side pieces of a dark yellow Italian marble, of the type known as Siena. Above, resting on a base is a tall, obelisk shape in grey streaky marble, in front of which is a relief of a Classical urn, with S-shaped handles. At the base, between two thick brackets is the 'apron' of the monument, in on which is a winged cherubic head and two bosses with stylised flowers carved upon them. A good thing altogether.
Revd Thomas Clarke of Swakeley, d.1796, 'for nearly 50 years the beloved and venerated pastor of this parish'. The inscription is rather worn, but happily the sculptural adornment survives. Above a shelf ornamented with repeating incisions is a rounded pediment – almost a full semicircle, with acroteria, which bears a small but delicate relief sculpture of a girl kneeling by a funereal urn. One arm is in front of it, the other behind, enfolding it in a garland. The sculptor was clearly skilled in his carving, but less so in his draughtsmanship – while the drapes of the mourning girl's thin shift are nicely done, an odd cord of drapery lies uneasily diagonally along the top of her upper leg, and though the arm in front is carefully modelled in its musculature and around the elbow, that behind the pot is rather too long. Annoyingly, he signed his work Thomas, but I could not read the rest.
John George Clarke, d.1800, Barrister, 'who by the Rupture of an Artery was suddenly torn from the high raised hopes, the wonder, love and praise of his Relatives and of his numerous and ardent Friends'. With a eulogy. An interesting monument with a high relief sculpture of a male figure, draped across his lower body and back to leave his chest bare, seated in front of a partially shrouded tomb chest upon a plinth. He looks upward towards heaven, and sits with one arm holding an open book, the other stretched out on the top of the chest tomb. It is well modelled, noting especially the subtle musculature of the lower arms, the visible unshorn foot, and the neck, though the pose is slightly uncomfortable. Above is a pediment with acroteria, and some central abstract device. The backing to the monument is a grey streaky marble. The monument is signed prominently by Thomas Banks RA, an important sculptor who made a number of monuments mostly in the 1780s and 1790s, and this work was executed towards the end of his life.
Henry Dearman, d.1800, Minister of the Parish, with a eulogy. Tight set text on a panel with upper and lower shelves, and a blank pediment and little feet. Not wasting of decoration or marble.
Frances Clarke, d.1816, wife of Revd Thomas Clarke noted above. As a tomb chest end with little feet and upper shelf, above which is carved a long crucifix with a wreath round it crossed with a palm frond, modest yet elegantly done. All on a black shaped backing, and signed by Bacon. The date makes this John Bacon the Younger, a prolific sculptor.
Eldred John Addison, d.1818, an infant son of Revd John Addision; on a shield-shaped white panel with upper shelf, and with a similarly shaped black backing.
John Cholmeley Clarke, d.1823, a tomb-chest end with upper shelf and curvy top, the sides being S-shaped curves too; on a grey backing.
Harriett Hawkins, d.1796, young, and sister Elizabeth Truesdale, d.1831, at Ruislip, very old – the panel was put up after the death of Elizabeth. As a simple tomb chest end with upper shelf, on which rests a cross and leafy branch, crossed, with a wreath around them, neatly cut – it is a fairly close copy of Bacon's monument to Frances Clarke noted above, but with the sculpture reversed. On a black shaped backing, again as per the earlier monument. Signed by E. Burgiss, the first of three panels in the Church by this local mason based in Uxbridge: he was active from the 1830s so I would think the panel dates from the death of Elizabeth Truesdale, which fits with the style.
Revd George Hawkins Clarke, d.1838, at Swakeleys, aged just 24. As a casket end, with lion's feet, lip at the top and cover, shelf below, and on a shaped dark backing. The second panel signed by E. Burgiss of Uxbridge.
Thomas Truesdale Clarke, d.1840, son of Revd Thomas Clarke, and wife Louisa Anne, d.1846. As a tomb chest end with rededing side pilasters, oddly modelled as if they were tall narrow windows, and above the upper shelf a high relief of a pot with an essentially symmetrical drape which falls in front on one side and behind the pot on the other. The black backing is cut in a four-sided shape rather than being rounded or squared off, an unusual design. Signed again by E. Burgiss.
Marion Georgina Truesdale, d.1852, young daughter of Thomas Truesdale and Jane Selina Clarke of Swakeleys, and Algernon Adair Clarke, d.1853,, uncle of Marion. White panel with thin shelves, cut to pediment shape above, and with bell-shaped apron below, no ornament, on a shaped black backing. By Edwardes & Co, 17 Newman St, London W.
Revd. John Addison, d.1859, and wife Maria, d.1865. Tall tomb chest end, with upper shelf and little feet and shaped black backing. By Bedford, 256 Oxford Street, a prolific firm of London masons which carried on its business through most of the 19th Century. A separate unadorned oval records the death of Maria Ann Addison, d.1844, aged 19.
Clara Thornhill, d.1865, daughter of Thomas Thornhill of Riddlesworth, Norfolk, and wife of William Capel Clarke Thornhill, of Rushton, Northants. A tomb chest end with upper and lower shelves, small legs, and on the blocky pediment, and coat of arms. On a black backing, dimly signed by some London mason, but I could not read who.
Arthur Herbert Thornhill, d.1874, a child. Plain white panel with gently curved top on similarly shaped backing, signed by Fassnidge & Son, Uxbridge.
William Capel Clarke-Thornhill, d.1898, son of Thomas Truesdale Clarke and wife Jane Selina Clarke of Swakeleys, as a tomb-chest end with upper and lower shelves, a coat of arms on the top lid, and little legs, on a black shaped backing. Signed by the prolific firm of Gaffin of Regent St West.
Gwendoline Blanche Champion de Crespigny, d.1864, younger daughter of W. C. Clarke. A circular panel with a black border, the text being nicely flowing.
Brasses:
Brass to William Say, d.1582, and wife Isabel, set in a great panel of stone, with shields, a long inscription, and separate figures of him, his wife Isabel, and clustered sons and daughters. He has wavy hair and a trimmed beard, and wears a great robe with an edging; no features of the body are shown bar the arms and hands, in an attitude of prayer. His wife, Isabel, has more of a contour to her robed figure. She wears a hood, ruff and collar, has ruffed or padded arms, and wears a belt. The children are numerous – we see seven standing sons, five in the front rank, praying, with two seen behind. The daughters muster a total of nine, five in the front, four in the back, and look rather more spirited. Each wears a bonnet and ruff.
Brass to Edmund Shoreditch, d.1584, and wife Ellen, of the Say family. He stands facing forward, wearing full armour, helmet thrown back on his head to expose his face. He is praying. His wife is a slender creature, in a long elegant robe, and wearing a headpiece; she turns slightly inwards so we see her in three quarters view. Beneath the inscription we have three children, two sons and a single daughter.
Another brass without any inscription has a standing figure of a man in robes, rather similar to William Say above, and doubtless of similar date, and two coats of arms above.
There is one modern brass, to Sophia Parsons, d.1901, a shiny panel with a narrow frame, in Arts and Crafts style.
Also in the Church:
Small panel with Alabaster surround as a World War I memorial.
Wooden chest painted with figures of three warriorlike saints with scimitar, spear and sword, and each holding a book.
Font, hexagonal, with some gilt bird on top.
White panel, presumably plaster, with relief of the Last Supper.
A few panes of 19th Century stained glass, and a modern, oval one, to Patricia Allen, showing a seated deer in a field with flowers, most decorative in treatment.
Outside the Church: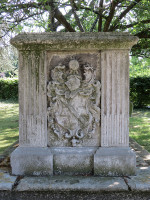 18th Century altar tomb.
Around the Church are a few monuments, and a small graveyard lies behind the Church as we view it from the street. Mostly flat panels, and a very few large tomb chests dating from the 18th or 19th Centuries. Rather than a Church Cross, there is a flagstaff, put up for King George V's Silver Jubilee in 1935, with an octagonal base of plinth plus two steps in Portland stone; the plinth is decorated with relief carvings of trees.
Just across the road is the Village Pump, under a graceful little roofed structure built for ornament more than need. Inside, it is inscribed just below the roof that the well was sunk and the pump erected in 1866, paid for in the will of Charlotte Gell, d.1863.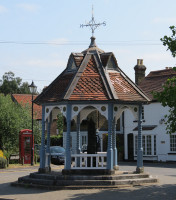 Victorian pump at Ickenham.
Uxbridge Church // Hillingdon Church // Ruislip Church // Greenford Church // Denham Church, close by in Buckinghamshire // Sculpture on the Uxbridge Line
Burgiss of Uxbridge, stonemasons // Other sculptors
Monuments in some London Churches // Churches in the City of London // Introduction to church monuments
Angel statues // Cherub sculpture
Visits to this page from 25 Mar 2014: 5,063