Monuments in St Mary's Church, Denham, Buckinghamshire, near Uxbridge, West London
Denham, just inside South Buckinghamshire, is a short bus ride from Uxbridge on the Metropolitan Line out to West London, and the church there is well populated by monuments. The Parish Church of St Mary, which is faced in flint and with dressings of pale stone and built in Perpendicular Gothic style, has as its main exterior feature a low, square battlemented tower. The nave and chancel extend for some considerable length for what is a fairly small church.
Inside, the Church is long, narrow and high-roofed, with enough oak furnishings to give a historic atmosphere, though the walls are whitewashed. Wall plaque monuments are scattered around the walls, with a particularly good selection nearer to the altar, where stands also a grand altar tomb with two recumbent figures.
The Parish Church's foundation was perhaps 12th Century, with a rebuilding in the 15th Century and various additions and changes through to modern times which have left much of the 15th Century work extant. Its history is that after the Dissolution of the monasteries, Denham, with its great house Denham Place and its church as well, were granted to Sir Edmund Peckham, MP for Bucks, but the family came into debt, and in 1596 the Crown passed the estate to William Bowyer, and thence by descent to a certain Roger Hill and eventually to Abigail Lockey, and by marriage of her daughter, also Abigail, to her husband Lewis Way. It then continued in the Way family. The monuments preserve the memory of these various people, with the Way family being most numerous. Altogether, there are well over 40 wall plaques, including one with a portrait bust and several with minor sculptural adornment. The ensemble is particularly interesting because although there is a lack of the popular marble girls with pots, the Church gives a good selection of many of the more usual types of mural monument: varieties of the Classical tablet, ovals, cartouches, a couple of obelisk monuments, a couple of Gothic ones, and the later white-marble-on-black simpler tablets. The great altar tomb is 16th Century, and there are brasses from this time, and the wall monuments include one 16th Century one, three from the 17th Century, almost 20 from the 18th Century, spaced out across the different decades, with the 19th Century also represented more or less from beginning to end, and with a few from the 20th Century. The Church thus gives somewhat of a little museum of changing styles of monument over several hundred years. We note them in the usual date order: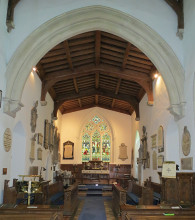 Monuments: The 16th Century tombs of Sir Edward Peckham and his wife, and Sir Roberte Peckham
By the altar is the pair of pale stone effigies of Sir Edmund Peckham, Knight, d.1564 and his wife, d.1570, lying recumbent on a heavy altar tomb right against the wall. They lie in an attitude of praying, but the hands of Sir Edmund, and most of the hands of his wife, are lost. Their faces are also worn and damaged. He is in many-jointed plate armour, but has removed his helmet which forms his pillow, exposing his wavy hair. Some beast lies at his feet. His wife reclines on two pillows, and wears a headpiece over most of her hair, and a high ruff. She has heavy sleeves, and her dress hangs down to cover the feet; as usual in monuments of this date, there is no effect of gravity on the drapery. The base tomb underneath has the look of a Greek temple, with fluted free-standing pillars all the way round the exposed sides.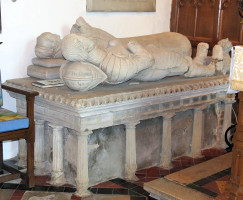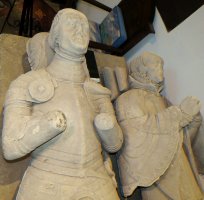 Altar tomb to Sir Edmund Peckham, d.1564, and wife.
We next note the tablet monument to Sir Roberte Peckham, d.1569, with a long inscription in capital letters filling, or over-filling a large panel – this was a common design feature of the times, as if stone were so expensive that every inch should be used. The panel has the narrowest of borders, but above it is a high relief coat of arms in an architectural surround of the same width: this includes Ionic side pilasters decorated with repeating patterns, and above, a pediment enclosing a heart, for it was Sir Robert's heart alone which was buried in the Church. On top, the broken remnants of three pedestals, the centremost of which has some small device upon it. It is likely that all this is the surviving part of some grander monument, perhaps with strapwork or more ornate borders.
Sir Roberte Peckham, d.1569.
<
17th Century wall monuments:
18th Century monuments:
19th Century monuments:
20th Century monuments:
Also in the Church:
We may note a medieval Piscina, crudely cut in Gothic style with a visible basin, and apparently the oldest thing in the Church. There are several early brasses, 15th and 16th Centuries, including two clerics, one a tall, thin figure of with his hands hidden in his sleeves, the other praying. The detachment from the original fabric makes it uncertain if the figures relate to the difficult-to-read texts associated with them. Also in the Church is the brass to Dame Agnes Jordan, Abbess of the Monastery of Syon when it was dissolved.
There is also a section of wall painting, in red, black, yellow and blue-grey on a white background, some scene with figures, some in various hand-waving poses, perhaps in water. Above, centre, is a large angel blowing a trumpet, and smaller angels may also be discerned. The picture would thus seem to be a Last Judgement.
There are two oil paintings, in richly carved, gilded frames, one of which is a Virgin and Child, the other less obvious.
With many thanks to the Church authorities for permission to show pictures of the monuments inside; their website is http://www.stmary-denham.org.uk/.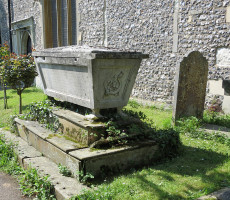 A casket tomb in the churchyard, early 19th Century.
Beaconsfield Parish Church, also in South Buckinghamshire, // and High Wycombe Church, likewise in S. Bucks
Hillingdon Church // West Drayton Church, Hillingdon // Uxbridge Parish Church // Ruislip Church, also in Hillingdon // Sculpture on the Uxbridge Line
Monuments in some London Churches // Churches in the City of London // Introduction to church monuments
Angel statues // Cherub sculpture
Visits to this page from 31 May 2014: 8,932