Thomas Banks (1735-1805)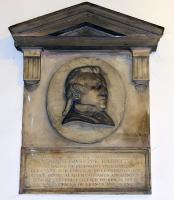 Thomas Banks portrait of Barretti, Marylebone Church.
The sculptor Thomas Banks is known for his various memorials, in St Paulís Cathedral, Westminster Abbey and elsewhere, mostly dating from the last quarter of the 18th Century, though he continued working until his death in 1805. He was born in Lambeth, his father being the land agent of the Duke of Beaufort, and trained in wood carving and sculpture after showing an early proclivity for drawing. Though his employer was the minor figure William Barlow, he contrived to study in the studio of the great Peter Scheemakers nearby. He later studied at the Royal Academy, winning a travelling scholarship in 1772 and went to Rome. By then married to an heiress, he was able to remain in that city for seven years, then after a short time England, travelled to Russia where he made work for the Russian Empress.
In 1774, Banks made his first major monument, to Isaac Watts, for Westminster Abbey, and there followed a series of such things, his peak being in the 1790s, and his most celebrated work being the monument to Penelope Boothby in Ashbourne, Dorset. He also made various portrait busts, though these were not considered so successful. His earlier work included ideal and mythological subjects, and he was able to return to the allegorical genre in the figures for his later monuments. Among his public works, most notable is his Shakespeare panel in Stratford upon Avon, the Four Quarters of the Globe for Dublin Customs House, destroyed in 1918, and the Death of Germanicus, another relief, for Holkham Hall in Norfolk.
Among lesser monuments, in London we may mention two in Marylebone Parish Church, one with a bust, and a relief in St Giles Ickenham, West London, while a good example of a bust designed by Thomas Banks is that to Alderman Boydell in St Margaretís Lothbury, though this was carved by F.W. Smith.
Thomas Banks received recognition during his lifetime, being elected a Royal Academician in 1785, just a year after being elected an Associate Royal Academician. There is a small plaque to him in Westminster Abbey, but his dilapidated gravestone in Paddington Churchyard was buried under a flowerbed in the late 1880s.